Instagram for Dummies: A Beginner's Guide to Using Instagram in 2022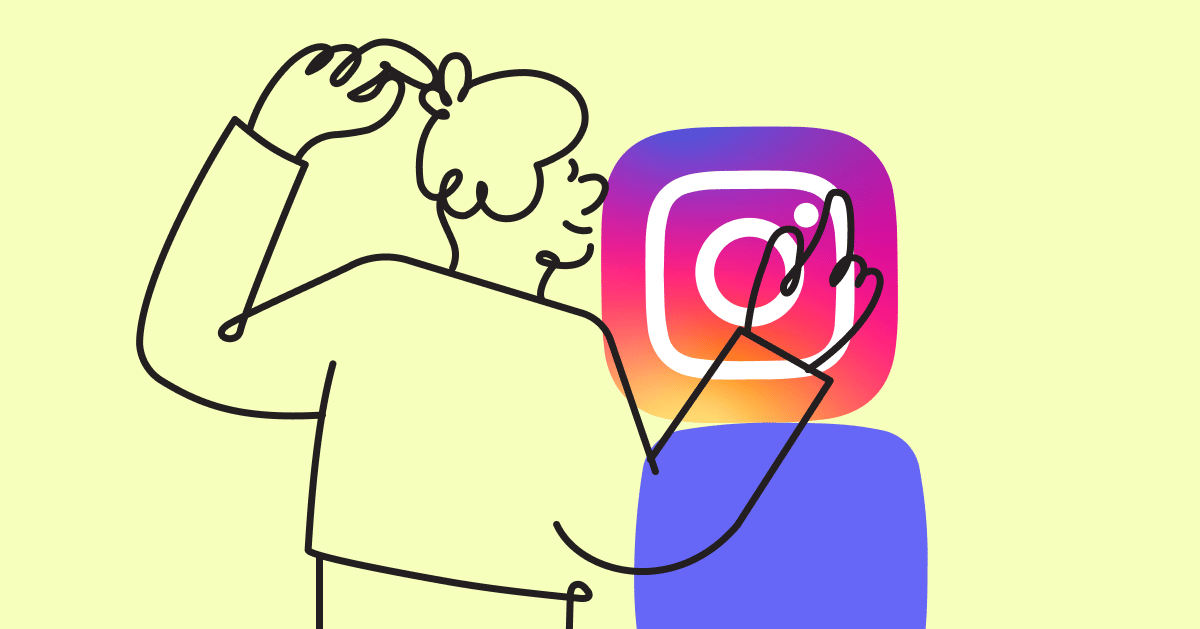 One billion people use Instagram — among them are your target customers. With 90% of Instagram's colossal user base following at least one of the 200 million businesses using the app, you're missing out on potential exposure and revenue if you're not visible on the platform.
So, let's change that. In this guide, we'll walk you step by step through the process of setting up, launching, and optimizing your Instagram business profile.
The beginner business guide to Instagram
How to create an Instagram account
First on your Instagram to-do list is setting up your profile. Here's how to do it.
Create your account. Using the mobile app, press "Sign up with email address or phone number". Alternatively, sign up via a browser by going to instagram.com and hitting "Sign up."
Choose your username. Go for your brand name or something closely related, then enter a password.
Switch to a business account. Go to your Settings, and then Account. Choose Switch account type, and choose a business account.
Add a profile picture. Your profile photo is one of the key elements that help users recognize your brand. It should be something easily recognizable, such as your brand logo or perhaps an image of your flagship store.
Craft an enticing Instagram bio. Your bio is the first thing people see when they visit your Instagram profile, so it needs to be engaging and accurate. Your bio also influences how your account ranks in Google's in-app search feature, so ensure you build a powerful one.
How to change your Instagram password
To change your Instagram password, navigate to your profile and:
Press the hamburger menu button.
Select Settings.
Tap Security, then Password.
Change the password and save.
You should change your password if you notice any unauthorized access attempts, and as a best practice when someone with access to the account leaves your business.
How to post content to Instagram
Once your profile is set up, it's time to start sharing content to your Instagram profile. There are several content format options and other considerations to take into account when you're posting. Here's how to do it effectively.
Post photos
Instagram is best known as a photo sharing app, so posting a photo is a sensible place to start if you're using Instagram for the first time.
To post a photo or image to your Instagram profile:
Press the plus icon at the top right of your screen on the feed page.
Select Post.
Choose an image from your gallery.
Edit the image's appearance by applying filters or using some basic editing tools to adjust contrast, brightness, and orientation.
When you've finished editing, hit the arrow again and you'll be taken to a screen where you'll finalize your post. This includes adding a caption, tagging other accounts, adding a location, and boosting your post.
Press the blue check mark to share your post.
Read more: How to Post on Instagram Using a Computer or PC (The Easy Way)
Share video content to your profile
In 2021, Instagram revamped its approach to video content, and began to allow users to upload both short and long-form video. It phased out the previous IGTV offering and videos are now housed on a user's profile under the Video tab — like this example from Patagonia:
There's been an 80% year-overyear increase in the amount of time users spend watching video on Instagram, which explains why 58% of marketers intend to use video as part of their Instagram strategy in 2022.
Posting a video to your Instagram feed is similar to posting a photo:
Open the app and start a new post.
Choose your video from the gallery. At this point, you'll be given the option to share the video as a post or a Reel.
To publish a regular video post, select Post and tap Next. You'll then be able to add any filters, trim your video, and toggle sound on or off.
Write your caption as usual and publish.
Read more:
Drive engagement with a carousel post
Don't limit your content to video and photo content — try mixing it up with some carousel posts to generate even higher engagement.
Carousels are Instagram posts that feature up to 10 photos or videos in one post. The user swipes left to move through the carousel and view all of the panels. This format has an average engagement rate of 1.92%, compared to 1.45% for standalone video posts and 1.74% for single images. Use them as part of your Instagram strategy to take advantage of these higher rates.
Here's an example from the ManyChat Instagram page:
To post a carousel, repeat the steps for posting a photo or video, but select the Multiple media button. Tap up to 10 of your images or videos in the gallery to add them to the carousel. Once you've done that, you can move through the editing process outlined earlier and post your carousel.
Share a Story
Instagram Stories are displayed at the top of your Instagram feed. Clicking a thumbnail displays the Story, and users can navigate through Story segments by tapping or they can move on to the next Story by swiping left.
Seeing as over half a billion people view Instagram Stories every day, Stories represent a great opportunity to get your brand message in front of engaged users. What's more, half of Instagram's users have visited a business's website to purchase a product or service they saw in a Story.
To create an Instagram Story:
Open the Instagram app.
Hit the Post button and select Story.
Take a brand new photo or video, or tap the gallery thumbnail in the bottom left corner to choose an existing image. Alternatively, select Create to display a plain text message. You also have the option to create a Boomerang clip; this is a short video that plays on a loop.
Browse the range of Story stickers by tapping the sticker icon. Here, you can add other media and elements to your story, such as GIFs, emojis, music, countdowns, polls, and Q&A boxes to entice responses from your followers.
Once you're happy with what you've created, tap Your Story at the bottom of the screen to share it with the world.
Read more:
How to build your Instagram audience
An Instagram account is nothing without followers. These are the users who see, like, and interact with your content, and you have to work hard to get them to follow you. Let's take a look at some foolproof ways to generate new Instagram followers quickly and at scale.
Tell your customers and clients about your Instagram
An easy way to get your first followers on Instagram is to let the people who already trust you know about it. Promote it on your website, blog, other social networks, and your email newsletters. Your existing clients and customers are likely to hit the follow button if they're on Instagram and happy with your services.
Share great content
Anyone can post content, but it takes effort to create and share great content. Make sure everything you share to your page is on-brand, inspiring, and engaging. That way, you'll become known for sharing outstanding content, which will lead to a steady stream of admiring followers.
Read more:
Use hashtags to expand your reach
Hashtags are clickable, searchable words or phrases that help users discover your content. Users can follow hashtags as well as profiles, so use ones that are relevant to your industry and used by others to help increase your exposure. Content will reach new people who don't yet follow you. If they like what they see, they'll visit your profile and follow you.
Hashtags can also help you to get featured on the Instagram Explore page, as the algorithm understands them and factors them into what content to serve to users.
To use hashtags on Instagram, hit the hash key (#) in your caption and begin typing a word or phrase related to your post, industry, or products. Popular phrases will appear as you type, along with the number of times they've been used, which will help you identify good hashtags to use.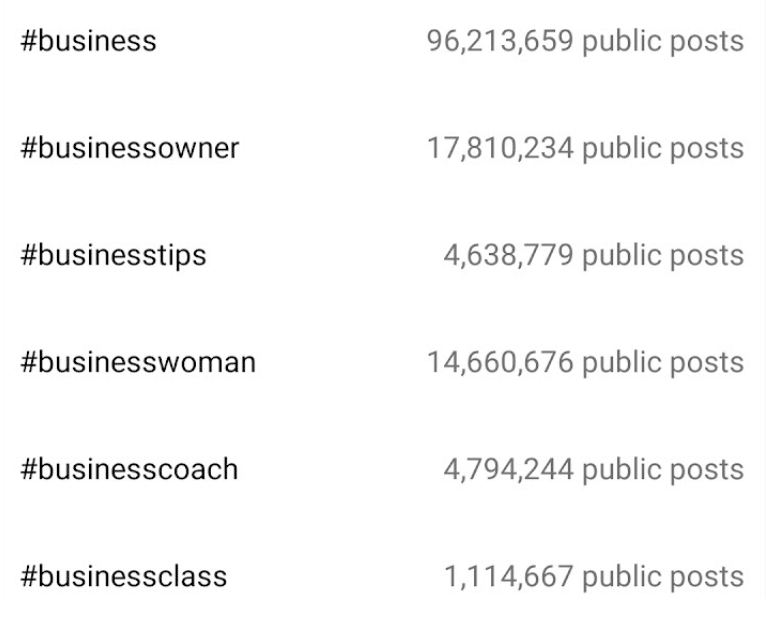 Grow local visibility using geotags
Tagging your content with a location — either a specific address (like your business), or a broader area like a city or town — will help people searching in that area discover your content.
Instagram users can click geotags and see a collection of content tagged with that location, which means your content will be included in these collections.
To add a geotag:
Select the Add location option when uploading a new post.
Type in your desired location (if you have location services enabled on your phone, you'll get a list of suggested locations near you to use).
Hit Share and the geotag will be displayed on your post, just beneath your username.
Use influencers to raise brand awareness
Influencer marketing is a brilliant way to build awareness of your brand and tap into your target audience. Influencers are thought leaders and trendsetters within a particular industry or topic, and typically have large and/or highly engaged followings on social media platforms.
Reach out to influencers and initiate a paid partnership with them. In return, they'll talk about your brand on their Instagram profile.
When influencers mention your brand, it helps to generate awareness and can lead to an increase in followers as your audiences share common interests. You might even generate some sales as a result of the partnership; 87% of people say they've made a purchase after seeing an influencer's recommendation.
Read more:
Start selling on Instagram
It's not all about brand visibility; there's money to be made on Instagram, too. Some 54% of users say they've made a purchase in the moment or after seeing a product or service through the app. Here are some Instagram tips to help you sell through the app.
Open an Instagram Shop
One of the game-changing Instagram developments for eCommerce businesses was the introduction of Instagram Shops. This feature allows you to create a storefront that users can visit, browse, and purchase from, without ever leaving the app. Here's an example from clothing retailer Pretty Little Thing: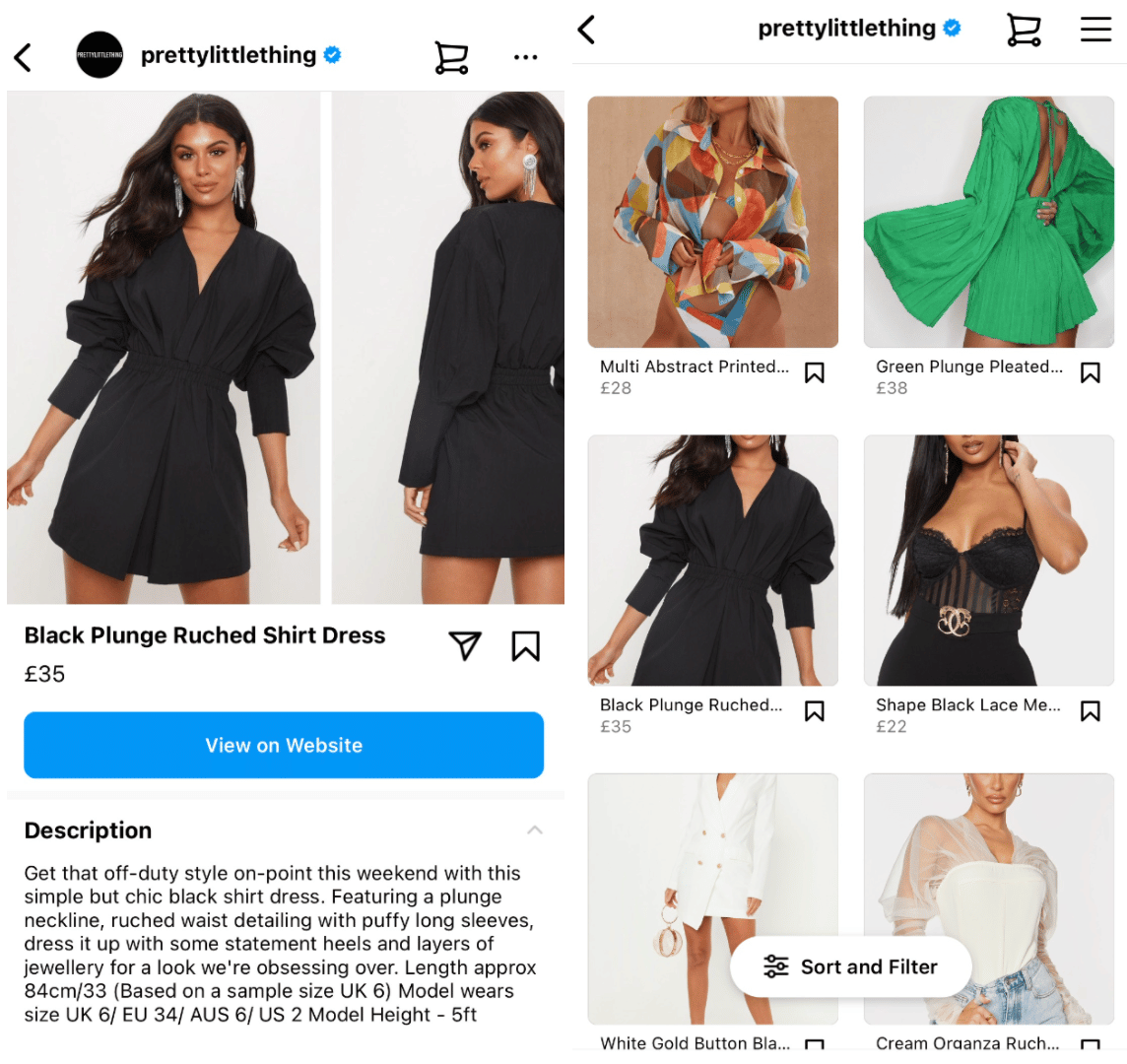 To set up an Instagram Shop, you need to be selling physical products (not services), and have a business account along with your own website domain that you sell from. You can then either build a product catalog, or import your eCommerce website's products from a platform such as Shopify.
Read more:
Create shoppable posts
Ecommerce businesses can also use shoppable posts to encourage followers to make a purchase. At first glance, these appear similar to normal photo posts, but they include a small shopping bag icon and clickable product links. Here's an example from King of Shaves:
To create a shoppable Instagram post:
Open your Instagram Shop using the steps above.
When uploading a new feed post, select Tag Products on the last screen prior to publishing.
Select the products from your Instagram Shop.
Press Done and share.
Run shopping ads
If your budget allows for it, try running some paid ads on Instagram to drive traffic and sales. You can place ads in various areas of the Instagram app, including in the Instagram feed, on Stories, and in videos.
To improve your chances of a positive return on investment, target users by defined interests and demographics, or use "Lookalike" audiences, which means the ads are served to users whose interests and behavior are similar to your existing followers.
Related posts:
Link from Instagram Stories to drive sales
An easy way to get users to your website is to use the "Link" sticker within Instagram Stories. Until 2021, only accounts with more than 10,000 followers could post direct links to their Stories. However, the link sticker now allows any user to add a clickable hyperlink to a Story.
To do this:
Tap the sticker icon and select the link option.
Add your chosen URL to the field.
Customize the sticker text to give users context about the link they're about to click.
Publish the story.
With 62% of users saying they've become more interested in a product or brand after seeing them in a Story, this is a great way to sell on the platform.
Analyze Instagram performance
As you find your feet on Instagram, it's important to understand what's working and what isn't. You'll have a general idea of the types of content that your followers enjoy by gauging reactions in the form of likes, comments, and shares.
Instagram also offers businesses a set of native analytics tools that can provide deeper insight to help tailor your strategy.
"We encourage brands to keep an eye on relevant trends and analyze which content is performing best to create more of it and deliver to their audience what they enjoy the most." — Mireia Boronat, Senior Content Marketing Executive at The Social Shepherd
To find these reports, go to your profile page, and hit Insights beneath your bio.
See post engagement analytics
The first screen inside Instagram Insights provides an overview of your insights over a particular timeframe. The default is the last seven days, but you can filter this by the last 14, 30, or 90 days, previous month, or a custom timeframe.
Inside Insights, you'll find statistics about how many followers you've gained over that time period, along with the number of Instagram accounts you've reached, the number that have engaged with your account, and your total follower count. You'll also be able to view the content you've shared (posts, Stories, and videos).
View your profile growth
Click into the Total followers section, and you'll be able to see a more detailed breakdown of your profile growth over time, including the number of follows and unfollows you've had:
Understand your audience
Knowing your audience is essential for creating content that resonates. The Instagram Insights followers report also provides demographic data that's useful for planning your strategy. It includes information about your followers such as their:
Location (by city and country)
Age range
Gender
Learn the best time to post
Scroll to the bottom of the followers report to learn more about your audience behavior. At the very bottom of the screen, you'll see when your followers are most active, by hour and by day. Use this data to plan your content and schedule posts. There isn't much use in posting new content when your audience isn't around to see it.
Read more:
Automate your Instagram strategy
A thriving Instagram business page is a great thing, but it can become a time-consuming effort if you begin to get hundreds of comments and dozens of direct messages (DMs) per day. And if it takes you a long time to respond, you may find your followers are unhappy.
Data shows 150 million Instagram users have at least one conversation with a business every month, and 39% of them expect a response within an hour of reaching out…yet the average response time is closer to five hours.
To avoid disgruntled customers, use ManyChat Instagram Automation to provide instant responses to comments and DMs based on keyword triggers. This allows you to provide a tailored response outside of working hours or as a courtesy until you are able to personally review messages.
For example, if someone asks about a sale, Automation can help to point them in the direction of your sale pages:
Read more:
Don't delay—set up your Instagram business profile today
It may take a little time at first to set up your presence, but can you really afford to not have an Instagram profile for your business?
With so many users out there who fit your ideal customer profile, you're missing out by not using Instagram to market your products and services. Get started today. Set up a profile, build your presence, and take advantage of Instagram marketing. You'll be thankful for it.
Harness the power of social media with Instagram Automation by ManyChat
The contents of this blog were independently prepared and are for informational purposes only. The opinions expressed are those of the author and do not necessarily reflect the views of ManyChat or any other party. Individual results may vary.