How to Set Up Instagram Shop (& Tips for Selling on Instagram)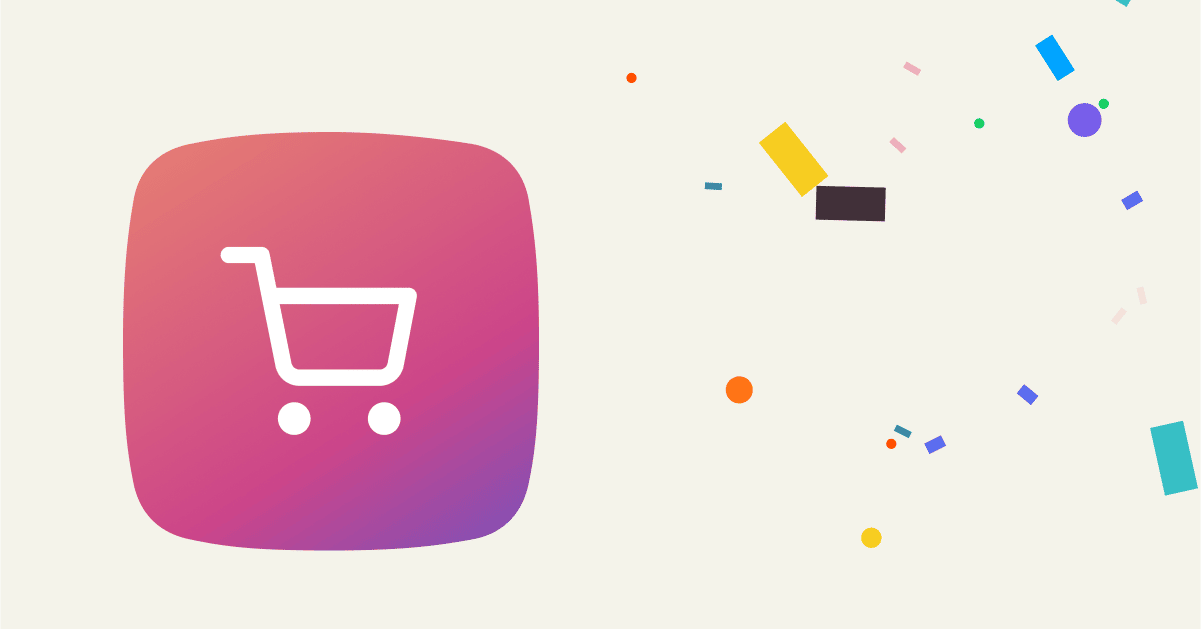 Instagram has an estimated 1.07 billion users worldwide. Furthermore, people spend nearly 53 minutes per day on the app, providing businesses plenty of opportunities for building awareness around their brands.
In the past, businesses could only sell to users through a bio link or Swipe Up feature. These were the only methods available to enter a business's online store, but people had to leave the app. Both methods resulted in a disconnected shopping experience for shoppers and plenty of frustrated retailers.
Fortunately, Instagram recently released Shops to resolve this problem. Now retailers can set up a storefront right in the Instagram app where shoppers can browse and buy products without ever leaving Instagram.
Curious about how to start using Instagram Shops? This guide will walk you through how to set up a shop for your business and provide tips for selling on Instagram.
How does an Instagram Shop work?
Shops are a full-screen storefront that allows businesses to build their brand on Instagram and showcase products inside the app. People can visit a shop from your Instagram business profile or access it through Instagram Stories and Feed.
Once customers are inside your store, they can explore products, browse collections, and even buy products all inside Instagram. Businesses have full control over the shopping experience and can even group products by themes and tell their story.
The best part? Setting up an Instagram Shop is free and easy.
Read more: Instagram Fun Facts and Stats You've Got to See [Infographic]
Benefits of an Instagram Shop
A Facebook survey found that 54% of people admitted to making a purchase either in the moment or after seeing a product or service on Instagram. Shops are a great way for businesses to take advantage of this behavior and offers multiple additional benefits:
It shortens the buyer journey
Instagram Shops reduces friction during the buyer journey and makes it easier for your target audience to browse and purchase your products. Shoppers who see something they like on your Instagram account will no longer have to leave the app to shop for your products.
Selling opportunities for influencers
Influencer marketing often centers around building brand awareness and acquainting users with your business. It was harder to sell products because users would be directed to an external eCommerce website through an Instagram post. People could bounce or leave during the redirect.
Now, you can directly integrate Instagram Shopping into your influencer marketing content to help boost sales. If you post images or videos featuring influencers and your products, add product tags to make them shoppable.
Easier product discoverability
Have you ever seen a product on social media that you're interested in, but the caption doesn't provide any further details? It's frustrating, to say the least.
Shops make product discoverability much easier for users. They just need to tap on a post or browse your storefront to check out products they like. Shoppers can also browse editors' picks, collections, guides, and videos to help them find the product they're looking for.
Read more: Top 9 Organic Instagram Growth Strategies
How do I set up an Instagram Shop?
Setting up an Instagram Shop is straightforward as long as you follow a few simple steps.
Step 1: Confirm eligibility
Before you get started, your business has to meet certain requirements to set up Instagram Shopping. It must:
Step 2: Switch to an Instagram business account
The next step is creating an Instagram business account. Here's how to do that:
Sign in to your account and go to Settings by tapping on the three lines in the top right corner.
Select Account.
Choose the option, "Switch to Professional Account."
Instagram then gives you the option to link your Instagram account to your Facebook Page. Do this! By connecting the two accounts, you'll receive more options when creating personalized ad campaigns and other ad customization tools.
Choose your business category and enter your business contact details.
Tap "Done," and you're ready to go.
Step 3: Upload your product catalog
Visually pleasing product catalogs fuel Instagram Shopping. You can select one of two ways to connect a product catalog to your Instagram account:
Catalog manager. Build your own product catalog from scratch within Facebook Business Manager.
Ecommerce platform partner. Integrate your product catalog with one of Instagram's certified eCommerce platform partners, like Shopify or BigCommerce.
Step 4: Submit for review
Once you have some products in your catalog, it's time to submit your account for review. Reviews often take a few days before getting approval, so don't worry if you don't get a response for a bit.
Take these steps to submit your account to Instagram:
Head to your business account Settings and sign up for Shopping.
Follow the guidance for submitting your account for review.
Check your shop's status at any time by visiting Shopping in Settings.
Instagram may request additional information to prove ownership of your website domain. If that happens, you must complete Facebooks's domain verification process.
Step 5: Turn on Instagram Shopping
Once your account has been approved, you can turn on Shopping features and start tagging products in your Instagram feed.
If Shopping hasn't appeared in your settings, your account may still be under review or hasn't been approved.
Tips for selling on an Instagram Shop
Once you've set up shop, it's time to take advantage of Instagram's top features to help you move more inventory.
Tag your products in Stories
Given that 62% of respondents surveyed said they became more interested in a brand or product after seeing it in an Instagram Story, including Stories as part of your marketing strategy is a must to quickly capture users' attention.
Shopping stickers make it easy to tag products in Stories. When a user taps on the sticker, they're able to see the name, price, and product details. You can place these shoppable stickers on both images and videos.
Convert these otherwise temporary Stories into evergreen content by saving them as highlights on your profile. That way, anyone who comes across your page can easily view your product range by looking at these saved highlights.
Add swipe-up links
Businesses with an Instagram Shop can add Swipe Up links to their Stories that take viewers directly to their catalog or site.
Swipe Up links are particularly effective when combined with promos and discounts. Whenever you're publicizing a promotion, try linking to your Stories so users can quickly find what they're looking for when they tap through to your site.
Adding links minimize friction during the buyer journey by taking users straight to your site, where they can find more details about products they're interested in.
Phone accessory brand Sonix uses a Swipe Up link to help users find out more about its new products:
Create carousels
Leverage in-feed carousels to save users from having to scroll through your entire Instagram Shop to see your products. These multi-image posts are great for displaying a series of products that all are part of the same range.
Take a look at how home decor brand Lolo uses carousel posts to show off different products from the same range:
Collaborate with influencers and tastemakers
Partnering with an influencer can help broaden your product post reach so more of your target audience sees your offering. Choosing the right influencer will also help you build brand credibility with your target audience. Select an influencer who has a known presence in your product niche and an engaged follower base for your best chance of success.
Brands must take pains to ensure that any Instagram posts they produce with influencers are authentic and don't look staged. Consumers are adept at spotting superficial relationships and may stop trusting a brand that publishes inauthentic content.
Sportswear brand RVCA collaborates with professional surfer Luke Davis to showcase its clothing:
You could also organize takeovers and invite tastemakers to curate a collection of their favorite goods from your catalog.
Use call-to-action (CTA) buttons
Take advantage of CTAs to encourage users to take action and buy your products or visit your site. Adding "Buy Now" or "Shop Now" buttons to direct users to the checkout page or your complete product catalog will help steer customers in the right direction when they're ready to move forward.
Kate Spade uses a visible "Shop Now" CTA button that makes it easy for interested users to take the next step:
Set up Instagram Checkout
Instagram Checkout is a quick and secure way for people to make a purchase from your shop—they never even have to leave the app. (Note that it's available for US businesses only at the moment.)
Customers can tap to view a product from a shoppable post and enter the payment process, all in the app! All they need to do is enter their name, email, and billing/shipping information at checkout.
Instagram Checkout also plays nice with commerce partners like Shopify and ShopRunner. You can even integrate Checkout into your platform to make tracking sales and data more manageable.
Read more: From Instagram Automation to Story Ad, Here's How to Sell on Instagram in 2021
Set up an Instagram Shop to drive engagement and sales
If you run an eCommerce business that sells eligible products, Instagram Shopping features have the potential to deliver a huge influx of potential customers and engaged followers. Once you've set up your Instagram Shop, make sure you take advantage of all its features designed to help you get your products in front of relevant users.
If you employ all of Instagram Shop's features, you can quickly realize a solid ROI and improve how customers interact with your brand.
Grow your Instagram following and make sales with Instagram Automation by ManyChat. See if your business is eligible by applying below.
The contents of this blog were independently prepared and are for informational purposes only. The opinions expressed are those of the author and do not necessarily reflect the views of ManyChat or any other party. Individual results may vary.