Instagram Reels vs. Instagram Stories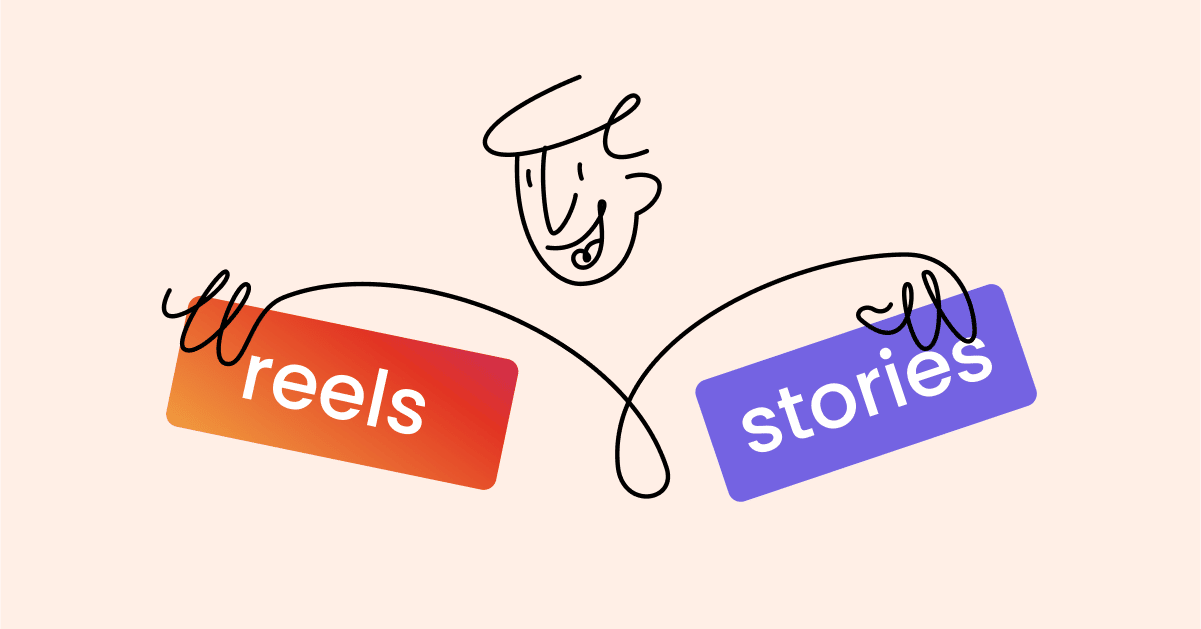 There are more than 1 billion active Instagram users worldwide right now. The social media platform has gone from a niche photo-sharing app to a marketing mecca for brands and creators.
When the Instagram app launched in 2010, it was purely a platform for publishing photos to share with friends. But it has continued to evolve over the years and has added features (such as Stories and Reels) that allow its users to get creative with different media. As with any tool, there are tips, tricks, and best practices that will help you make the most of it.
We'll start with the basics of Instagram Stories and Instagram Reels and work our way up to a solid strategy for utilizing both of these features. You'll be a pro in no time!
What are Instagram Stories?
Instagram launched Stories in August 2016, giving users a new way to share photos and videos. Instagram Stories house content that appears when you click on a user's profile picture. When an Instagrammer publishes a new Story, a colorful border lights up around their profile picture (similar to when they launch Instagram live).
Instagram Stories are only visible for 24 hours unless the publisher saves them to the Highlights section of their profile. Story content is not published to the Instagram feed unless they download the content from Stories and publish it to their feed.
What are Instagram Reels?
Reels came onto the scene in August 2020, giving users tools such as editing options, text overlay, filters, and stickers to create and watch short videos within the platform. An Instagram Reel is effectively several short clips strung together with unique effects and audio.
A user can publish a Reels video on their feed and within Stories. Users with public accounts can share them in Instagram's Explore tab where even non-followers can watch them. (The Explore tab is where many creators and brands reach new audiences.) You can also view an Instagrammer's Reels content via the Reels tab on their profile.
Instagram Stories pros and cons
According to Instagram, more than 500 million users publish and watch Stories every day. But are they worth the effort? Let's compare their pros and cons:
The pros:
Instagram Stories generate lots of engagement and can lead new users to your profile
They are a creative way to share your brand personality via a short video or photo
You can see how many viewers a Story gets and who is viewing them, helping you determine if they are reaching your target audience
Users can send a message directly from a Story
They are shoppable, so users can purchase linked products within a few clicks
Story content can be replayed repeatedly until it disappears, which increases engagement for your Instagram profile (engagement tells the Instagram algorithm that people like your content)
The cons:
Stories disappear after 24 hours, leading to an endless amount of work for social media managers and content creators
All data related to Stories also disappears after 24 hours
Data related to those who viewed the content is limited (no geo-filters or facial mapping)
Story content can appear sloppy or unbranded if not executed well
Instagram Reels pros and cons
Reels has some unique benefits, but it also has a learning curve. Let's weigh the advantages and disadvantages of using Instagram Reels:
The pros:
Reels can increase your organic reach if they show up on the Explore page
You can see how many users "like" the Reel
Reels encourage interaction if you create a video that follows a trend
Reels are shoppable, so viewers can purchase products in just a few clicks
The cons:
Reels can't be promoted via paid advertising
Business accounts can't add licensed music to their Reels
Like all videos, they take time to create and may not be worth the investment, depending on your goals
Tips for your Instagram Stories strategy
If you've decided to move forward and create Instagram Stories, there are some basic tips you can master to get the most out of your efforts. Plus, we'll share a few hidden gems to elicit more engagement on your Instagram account.
Shoot videos and take photos vertically
It may seem like a no-brainer, but make sure you're planning to create vertically-oriented content. It'll throw people off if they get to your brand's Stories and everything is showing up in the wrong direction.
Pay attention to visual branding
Some users see Stories as more casual than feed posts or behind-the-scenes content, but they should still reflect your brand's identity. Would a user recognize your style in Stories without looking at your Instagram handle? Use colors, voice, and specific brand elements to ensure the final product aligns with your company's overall image.
Keep users' attention
Instagram shows still images on Stories for five seconds, which is a long time to stare at a photo (try it!). It's better to publish short videos to capture your viewers' attention and prevent them from tapping through to the next batch of Stories from someone else.
Get to the point, fast
As you can probably guess, Instagram users don't have a long attention span. As a result, it's best to convey your most critical message within the first three seconds of a Story. Stay consistent with your brand messaging, be upfront with your unique selling proposition, and include a clear call to action (CTA).
Don't forget the CTA
Speaking of calls to action, don't forget to tell (or show) users what they should do next. Some good CTAs on Stories are "swipe up" (to visit a specific website), "leave a comment," or "send a DM."
Make a schedule
Stories may seem like content you should create spontaneously, but you should plan them just as you would your other content. You can create Story content outside of Instagram and publish it later. Or, you can use a scheduling platform such as Hootsuite to schedule your Stories as a part of your Instagram strategy.
Tips for your Instagram Reels strategy
If you use Reels effectively, you can attract more viewers to your Instagram profile and drive leads. Here's how to maximize your Reels strategy:
Show your brand's personality
Instagram intended for Reels to be fun and creative. So, use the editing tools, original audio, text overlay, and stickers to make your video clips unique but branded.
Teach viewers something
Reels are a great place to showcase tips, ways to use your product, hacks, etc. Using Reels to post useful, educational content positions your brand as an expert, a smart way to grow your following.
Show off your products
Just like Instagram Stories, Reels are shoppable. This means that if a viewer is interested in something they see in a Reel, they can tap "View Products" to get more information, save it for later, or purchase.
Instagram is a savvy app that intentionally deprioritizes subpar content. More specifically, Instagram warns that blurry content, video with lots of text, anything that doesn't meet the Community Guidelines, or content recycled from other apps (that show logos or watermark evidence from YouTube or TikTok, for example), will be less visible on the app. 
Now you know what Instagram Stories and Reels are, the pros and cons of each, and how to strategize for them. It's up to you to determine if either of them will work for your brand, and if so, what kind of content would be best to build and publish.
Ready to try Instagram DM Automation by ManyChat?
The contents of this blog were independently prepared and are for informational purposes only. The opinions expressed are those of the author and do not necessarily reflect the views of ManyChat or any other party. Individual results may vary.