How to Use Instagram for Ecommerce: The Ultimate Guide for Online Sellers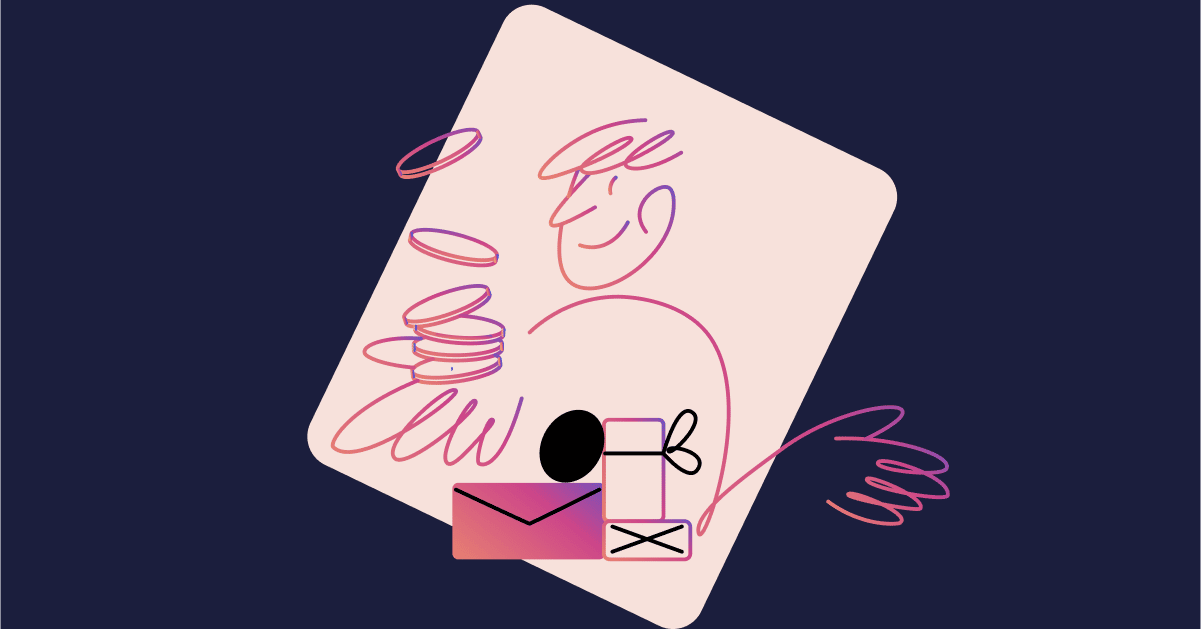 Instagram (IG) made its debut in 2010. At first, like many social media platforms, it was a fun place for Instagram users to post photos and keep in touch with old friends. But today, it's a veritable powerhouse that's become a critical channel for boosting eCommerce sales and brand awareness. 
According to the Pew Research Center, 71%of American adults between the ages of 18–29 use Instagram. A Global Web Index report revealed that 27% of internet users discover new products via social media advertising and another 23% find brands through comments or recommendations on social media. If your business is not on social media (Instagram especially), you're missing out.
Instagram can support your eCommerce business in several ways, from increasing your reach to bringing in sales. Let's review the steps you can take to make the most out of Instagram to achieve your business goals, and reach potential customers. 
Create an Instagram business account
To put your best foot forward on IG, start by ensuring you have an Instagram business account, not a personal or creator account. Having a business account declares your Instagram presence as that of a company and provides you with additional features to help with lead generation.
Making the switch will give you access to Instagram analytics and insights that show you demographic information about your Instagram followers. Using this data, you'll be able to tailor your social media content and even publish it at optimal times.
Share a variety of content types
You can share several different types of content with potential customers via Instagram; each one has its benefits. 
Single image Instagram post
Publishing a single photo harkens back to the platform's roots, where it all began. Instagram initially only allowed its users to post perfectly square pictures that would show up on their profiles and feeds. You can get a little more creative nowadays with the size, but you need to ensure your image still fits in the requisite dimensions for Instagram users (ratios range from 16:9 to 4:5). 
Carousel photos
Instagram's carousel post feature allows users to publish up to 10 photos simultaneously so users can scroll through the images like an album. Not only can you share more pictures—perfect for showing off all angles of a new product or a collection— this format also invites users to interact with your Instagram marketing content. 
Instagrammer @boatsgonewild frequently uses the carousel format to post several photos of its yachts and luxury boats for sale in a single post.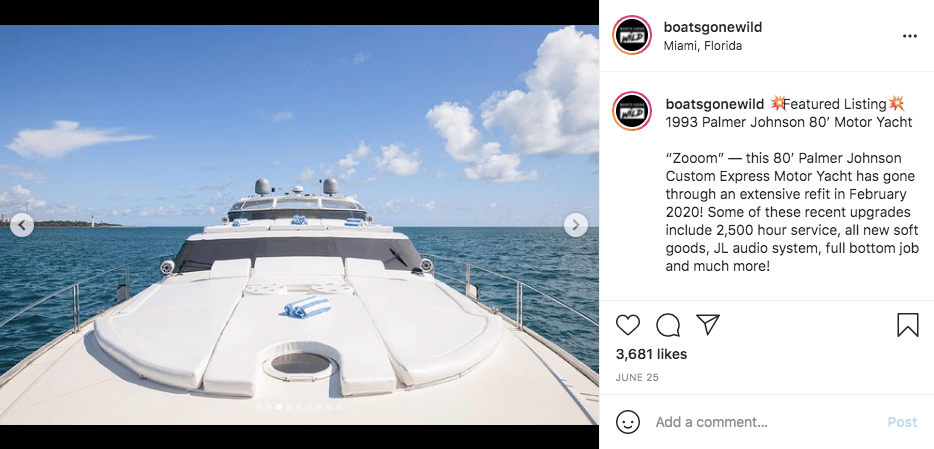 Video
While photos are the most common content on the platform, profiles that feature creative videos enjoy higher Instagram engagement. Instagram automatically plays a video when a user scrolls over it in their feed; they don't even have to click to view it.
In 2020, some brands saw billions of interactions with video content across all social media platforms. When using Instagram for eCommerce business, it pays to spend time crafting one that will catch a user's attention as they thumb through hundreds of posts!
IGTV
IGTV is an Instagram feature that enables brands and creators to publish videos up to 10 minutes long instead of limiting them to one minute (the maximum time allowed for in-feed videos). Users with an Instagram shop looking at IGTV content may notice its immersive nature; it takes over the entire phone screen. Users can like, comment, or share IGTV videos.
Instagram Reels
IG introduced Reels as a feature in August 2020. With Reels, creators, including those involved with Instagram eCommerce, can record and edit 15-second multi-clip videos with audio, effects, and creative tools, then publish and share them with followers on their feeds. Note that public accounts (those that everyone—including non-followers—can see) can make them available to more Instagram users in the Explore space.
Instagram Live
Instagram Live is an in-app feature that allows you to broadcast from anywhere. You can choose to make your live stream public or private, and viewers can post comments and questions.
Instagram Stories
An Instagram Story is another way for Instagram users to share photos and videos. According to Statista, 500 million users view Instagram Stories every day, making them a massive opportunity for any eCommerce business. However, keep in mind that Instagram Stories disappear after 24 hours unless you save them in the Highlights section of your profile.
Promote new products
Given Instagram's visual nature, the social media platform is an excellent place to create buzz around new products through appealing photography or video. Try using graphics or quick movie clips to create a countdown that gets people excited about an upcoming launch.
Supplements company @Obvi does a great job sharing new products and associated launches on its Instagram account.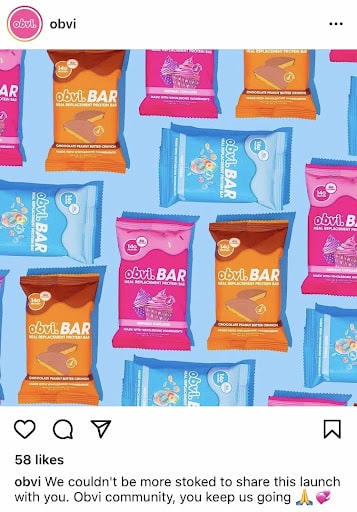 Sell on Instagram via shoppable posts
You can leverage social commerce to enable users to buy directly from Instagram, reducing friction and providing a positive user experience.
In early 2019, Instagram made it possible for users to purchase items they saw without leaving the app, turning the platform into a "digital mall," with each profile becoming its own Instagram shop. Thanks to this feature, users can begin and end their customer journey all in the same place, paving the way for an easy, quick sale.
There are a few different ways customers can make in-app purchases. One way is through shoppable posts. These look very similar to standard Instagram posts and Stories, but they display a small shopping bag icon. When a user clicks once on the post, more information about the product pops up, such as its name and price. If they tap again, they will be taken to the vendor's Instagram store, where they can buy the product.
Clothing brand @Culturekings encourages its followers to buy directly through Instagram via its shoppable posts. As you can see, the clothes in the photo are tagged and linked so the user can get more product information and head right to the online store.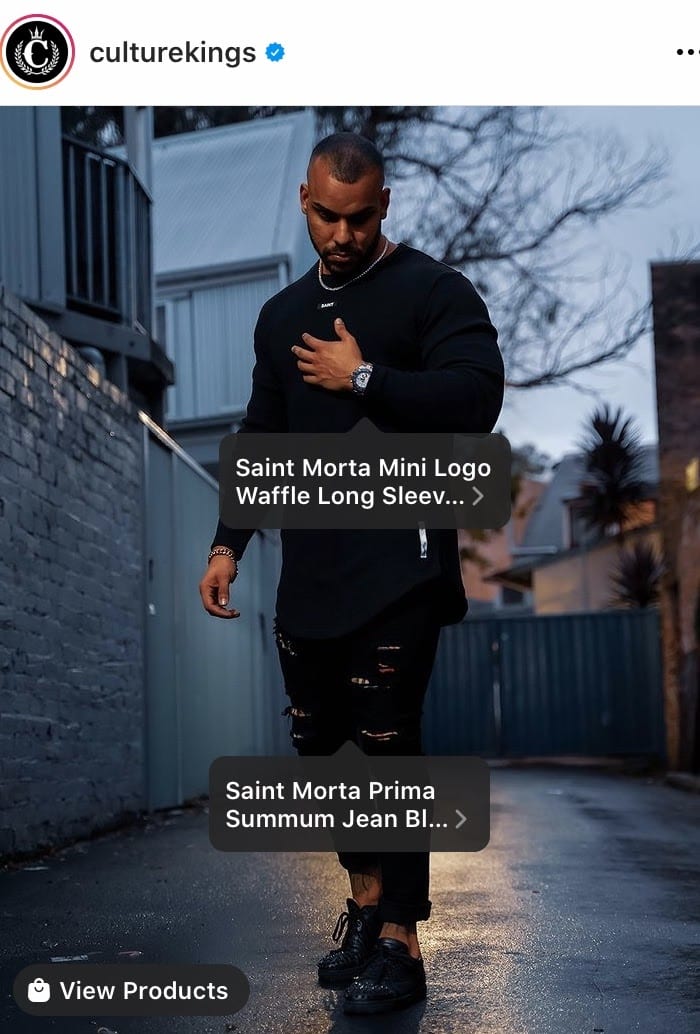 Sell on Instagram via shoppable Stories
A shoppable Instagram Story also features the shopping bag icon, and users can tap on any tagged items to get more information and complete a purchase without leaving Instagram.
With one more click, they can enter payment information and complete their purchase. Purchasing via shoppable Stories is similar to buying from shoppable posts but requires fewer clicks (a shopper can buy directly from the Story). Instagram Story ads are another way to broaden your reach and sell to your target audience in-app. These Instagram ads appear when users are already viewing Stories from profiles they follow and can consist of photos or videos with a swipe up link.
Pull photos from Instagram to your eCommerce site
Plenty of time and effort goes into having a fantastic Instagram profile, so don't be afraid to showcase it on your eCommerce website.
When you integrate your feed into your website, visitors will see your most recent Instagram posts. Including your Instagram profile feed can make your website look more engaging, vibrant, and authentic.
Adding your IG feed to your site is an excellent way to display your content to people who may not see it otherwise. Even better, website visitors will be more likely to follow your Instagram account if they can see what types of content you've been posting.
Share customers using your products
Using your Instagram account to interact with the content shared by your customers can positively impact your social media presence and your eCommerce business. You can like and comment on a user's post, but you can also share it on your brand account.
If your existing customers are publishing positive posts about your products, sharing those posts is a way for potential consumers to see authentic testimonials and prove other people love your products. According to AdWeek, more than 93% of consumers look at user-generated content to inform a buying decision.
Host a contest
Hosting an exclusive promotion on Instagram will engender new followers. You can utilize other social channels to push people toward the Instagram-only promotion and even encourage website visitors to participate.
This promotion could be a discount code just for Instagram followers or a link that leads to a sale or a collaboration. People love being in an exclusive group, and this type of promotion can increase engagement on Instagram. Don't forget your branded hashtag for more exposure!
Share behind-the-scenes content
Publishing behind-the-scenes videos or photos is a great way to break down the corporate walls and connect with your audience. Exclusive, seemingly private content makes viewers feel like they're getting an insider's view, and it will keep them coming back for more.
Don't forget seasonal content
Including relevant, of-the-moment content (like holiday-related posts) as part of your overall marketing strategy is a tried-and-true recipe for success. Not to mention that sharing seasonal or limited-availability products fills viewers with a sense of urgency about purchasing, which can be a boon for sales.
Use national holidays or even creative ones (hello, National Donut Day!) to showcase related products or launch new ones. You can also generate engagement by sharing limited-time deals and holiday tips and tricks.
Integrate chat automation
According to Outgrow, 80% of businesses are expected to implement chatbots in 2021. Chatbots offer immediate customer service—even right inside the Instagram app—instead of making the customer wait for days for a response.
A chat application, such as ManyChat's Instagram Automation, can lead customers to a series of FAQs or provide them with a time window for expecting a representative response. Chatbots can also provide a coupon code or product information.
Conclusion
Instagram is a growing platform, and experts predict that it will only get bigger from here. IG provides many valuable benefits to eCommerce companies when used strategically, from increased website traffic and brand awareness to improved lead generation and sales.
To make the most of Instagram, and get positive Instagram insights, take advantage of the tools available for business profiles. Showcase and link your products using shoppable posts and Stories, and increase your reach with hashtags and user-generated content. 
Once you find your footing, build your following via Instagram-only promotions and partnerships with trusted influencers. Highlight your products in innovative videos and flaunt your popularity with customers by sharing their user-generated content. With the proper planning, you'll start to enjoy the benefits of using Instagram in no time.
Take your Instagram game to the next level with ManyChat. Start free today.
The contents of this blog were independently prepared and are for informational purposes only. The opinions expressed are those of the author and do not necessarily reflect the views of ManyChat or any other party. Individual results may vary.