How to Use Instagram Insights to Fine-Tune Your Marketing Strategy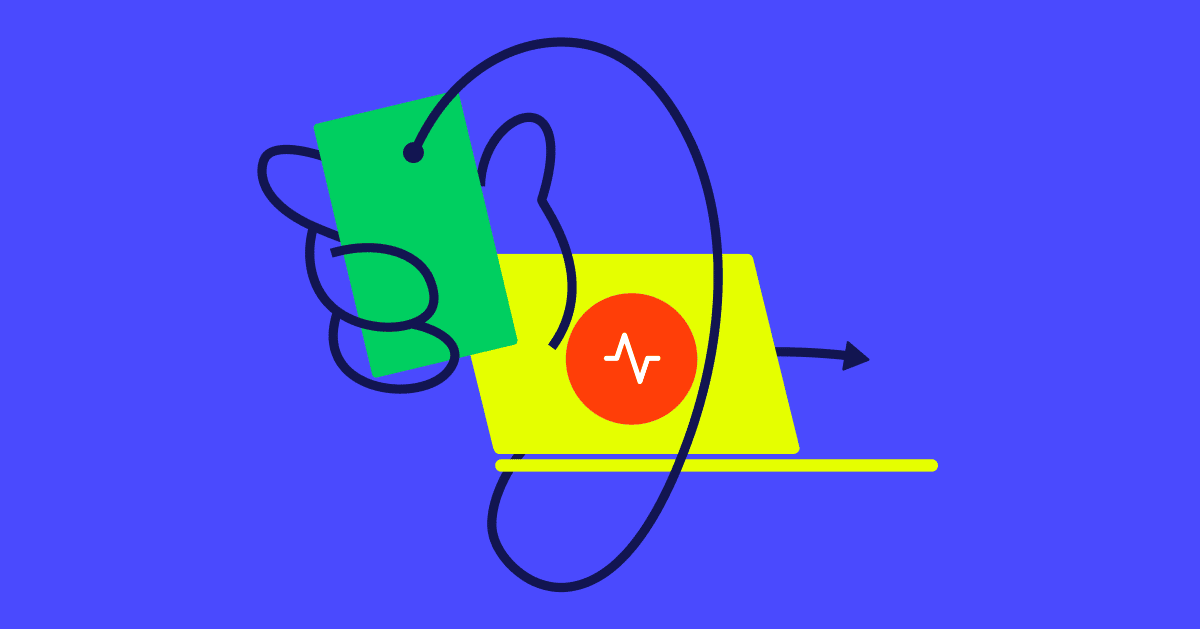 If Instagram is a huge part of your social media marketing strategy for brand awareness, you're in good company. The platform is the most important network for 22% of marketers, beating out LinkedIn, YouTube, and Twitter, with roughly 64% planning to increase their reliance on Instagram over the coming year.
While that may sound like good news, it means competition is getting fiercer. You're competing with thousands (if not millions) of other brands  with unique accounts using the Instagram app to reach their target customers. 
How do you know whether your brand awareness strategy is working? The answer lies within Instagram Insights.
This guide shares how to find Instagram Insights, and use the data you uncover to fine-tune your strategy — whether that's to grow your follower count, strengthen content interaction, increase engagement, or drive sales through your website. 
What is Instagram Insights?
Instagram Insights is a tab that shows important data about your account and the content you're posting. Often referred to as Instagram analytics, you'll get insight into how each piece of content is performing with metrics like:
Reach. This is the number of people your content was shown to. 
Impressions. This is the total number of times your content was loaded in a feed. (If your reach is 100 but 50 of those people see your Instagram post twice, you'd have 150 impressions.)
Audience growth. Chances are, growing your Instagram follower count is high on your list of priorities. More followers equals a greater chance of making money when promoting your products or services through the app. Use this data to see whether your strategy, and the content you shared, is working with unique users.
Interactions. See the number of likes, shares, comments, and profile visits your content — from regular feed posts to Reels, IGTV videos, and Stories — receives. 
Where to find Instagram Insights
Before you can access Instagram Insights, you'll need to confirm that your account has already been converted into a business or creator account.
Choose a creator account if you don't yet have a business or product to sell. It's the account type best suited for bloggers, influencers, artists, and other public figures; whereas a business account provides businesses extra features to sell products and services through the Instagram app.
Regardless of which account type you choose for Instagram impressions, Instagram Insights isn't available for personal accounts, so you need to convert your personal account into a creator or business account in order to access your analytics. 
Here's how to do it:
Open the Instagram app on a mobile device.
Visit your business/creator profile page and hit the three lines in the top right corner.
Open Settings and select "Account."
Press "Switch to a Professional account."
Fill out the form fields with your information (like your business's category and contact details).
Press "Done."
How to find Instagram account Insights
Converted your Instagram personal profile into a business account to get account insights and Instagram impressions? Great. 
Now it's time to find Instagram Insights. To do this:
Open the Instagram app on a mobile device.
Visit your profile page and hit the three lines in the top right corner.
Select "Insights."
From there, you should be able to see data on your entire Instagram account, including how many people your content has reached, the number of interactions it has, and your follower growth over time.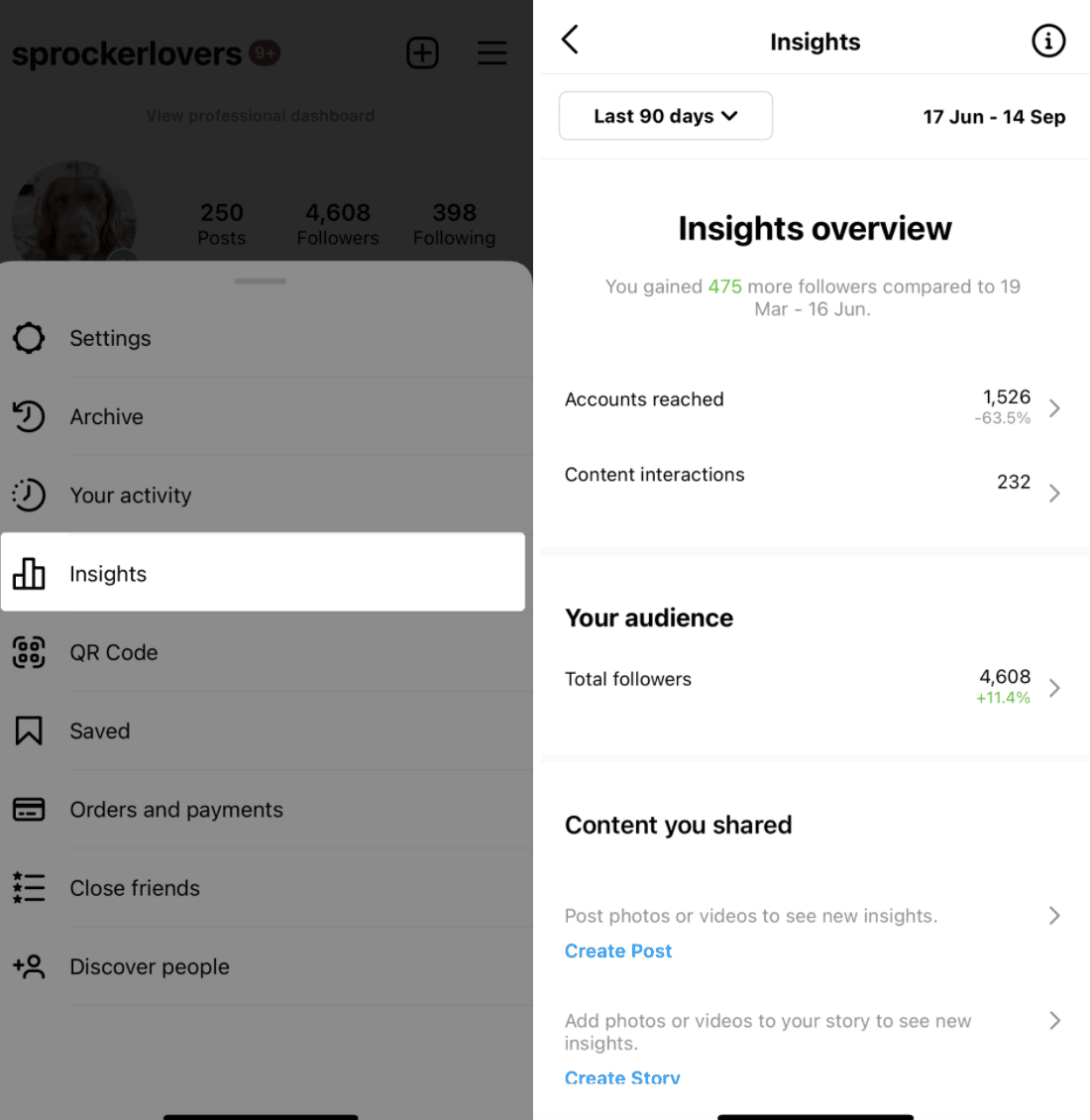 How to find Instagram post Insights
To find post Insights for how each individual post performed, use a mobile device to open the post you want to analyze. From there, tap "View Insights" to see how people interacted with the post, how many bookmarks it has, and how people discovered it.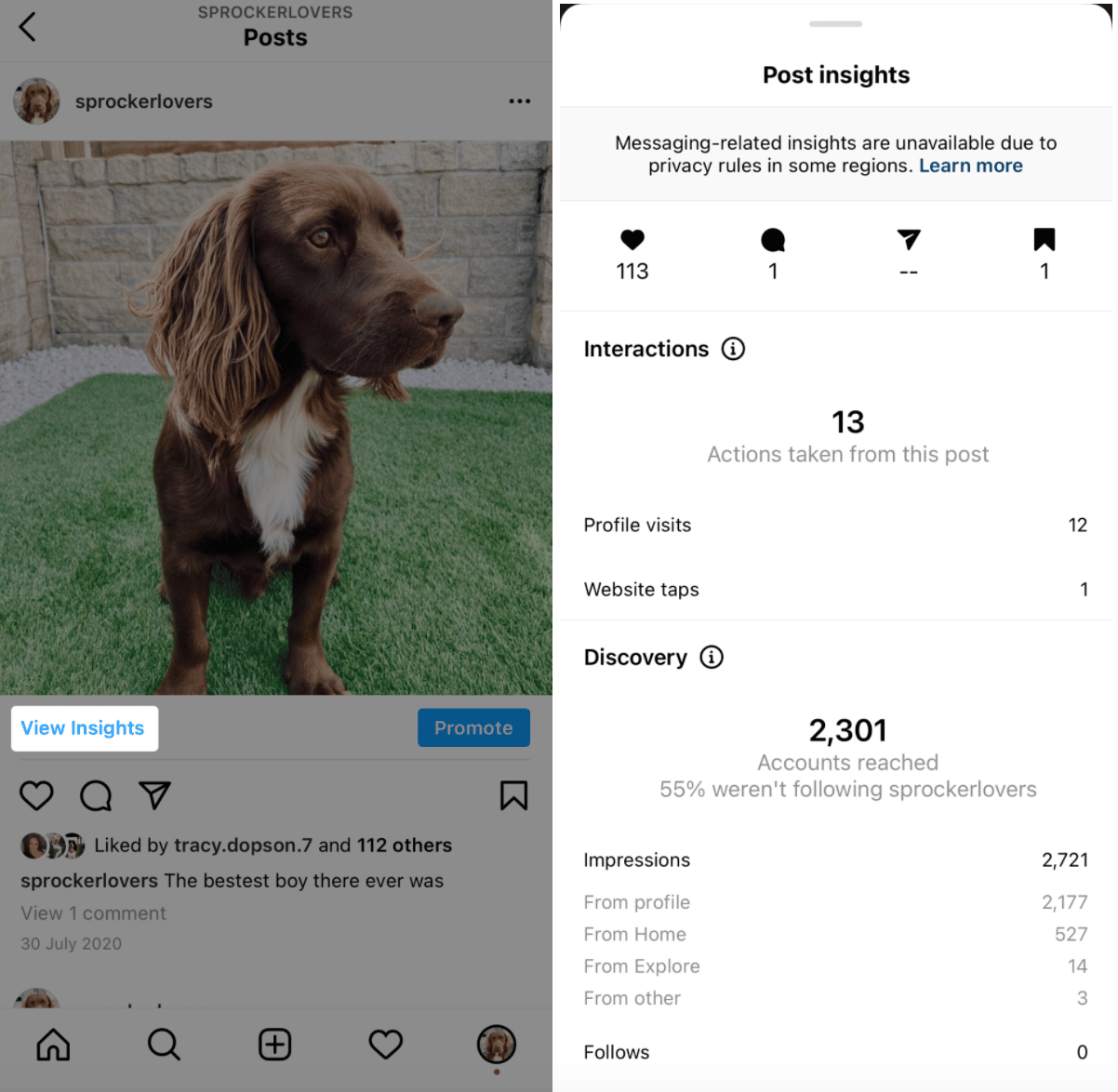 How to find Instagram Story Insights
There's a slightly different process for finding Instagram Story Insights. See how many people found your Story, how they interacted with it, and what they did next by swiping up on your Instagram Story, and select the bar chart icon.
Even though Instagram Stories only last for 24 hours, you don't have to set a reminder using your Instagram profile to check in on your Story Insights before the clock runs out. To see analytics data for expired Stories:
Open your business's profile page.
Select the three lines in the top right corner.
Hit "Archive."
Choose the Story you want to see Insights for.
Swipe up on the Story.
Select the bar chart icon to view Insights.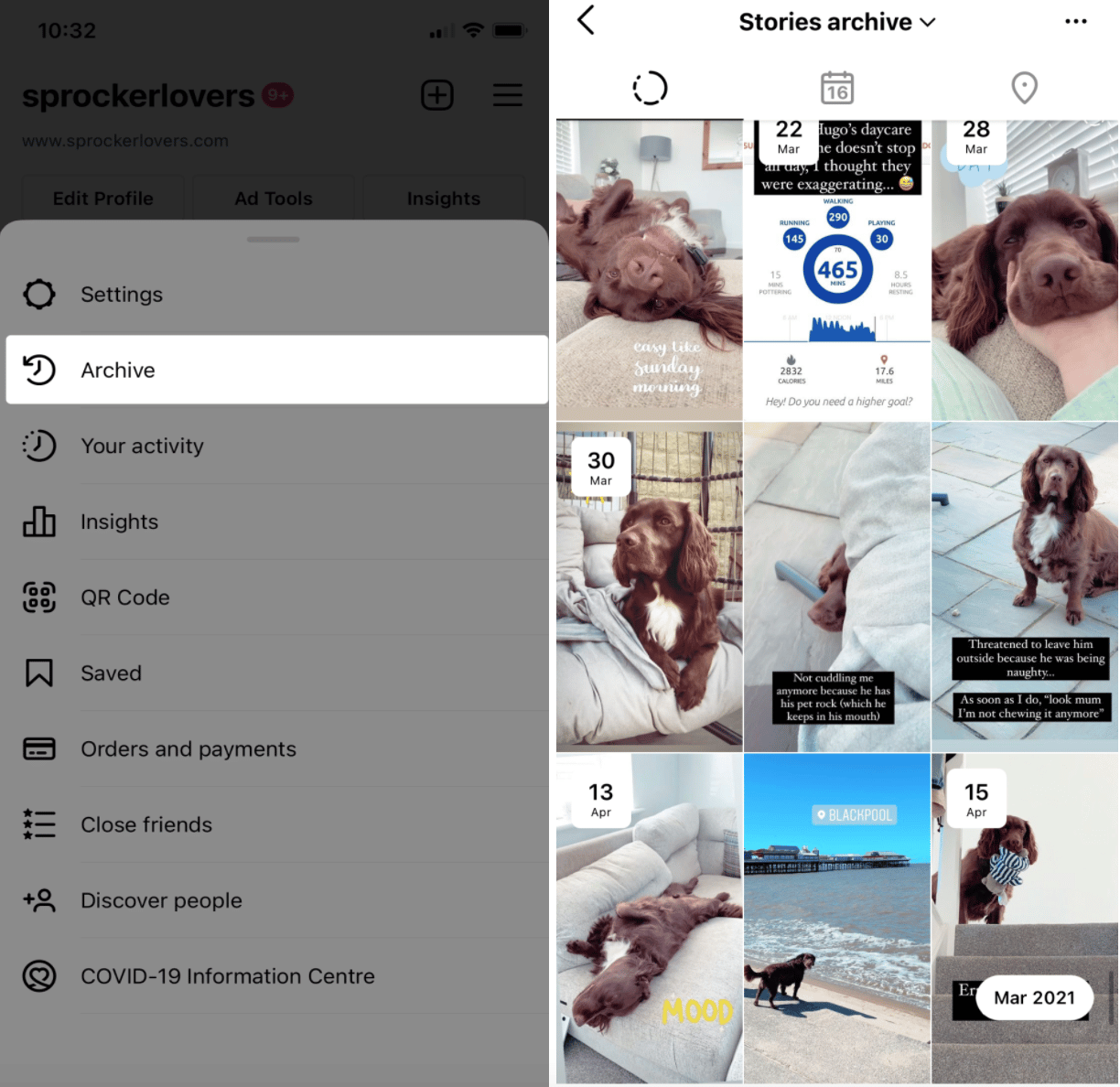 How to find Instagram Reel Insights
One of Instagram's latest features (Reels) is a TikTok rival. If this format is part of your Instagram content strategy, view how many people engage with your Reels using Reel Insights. Find these Insights by:
Opening your business's profile page.
Selecting the Reel tab.
Choosing the Reel you want to find Insights for.
Pressing the three buttons in the bottom right corner.
Select "View Insights."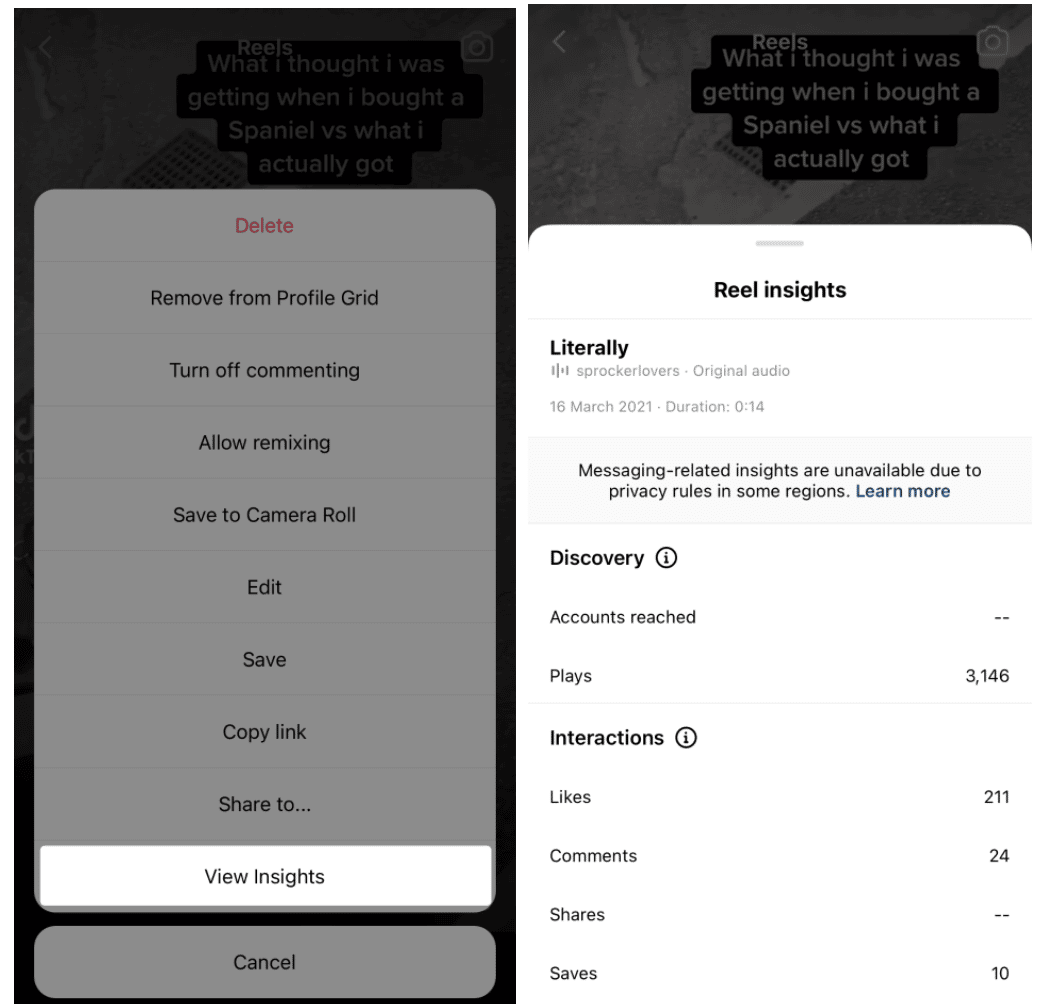 How to use Instagram Insights
Now that we know where to find Instagram Insights, you've just uncovered a goldmine of data to use in your social media strategy. But which metrics should you pay close attention to? And how do you use that data to fine-tune your strategy?
Here are 10 smart ways to use Instagram Insights.
1. Measure your account reach
Your Instagram reach rate is one of the most important metrics you'll find inside Instagram Insights. It tells you the number of unique accounts your content (or profile) has reached over a given time period. The higher your account reach, the better.
Instagram's algorithm prioritizes content that users find interesting, meaning the higher your reach is, the more likely it is that followers are enjoying the content you're sharing.
Don't look at this figure in a silo, though. Inside the Reach tab of Instagram Insights, you can see an exact breakdown of how many followers versus non-followers saw your Instagram content.
If you're reaching more non-followers than followers, it signals you're doing a good job at reaching new audiences. Remember, the algorithm prioritizes high-quality content (as well as high engagement) in a user's news feed and the Explore tab. So, if more people are seeing your content than following you, you're on the right track.
2. Track profile activity
While you're still in the Reach tab of your Instagram Insights, take some time to see what happens when people visit your profile. Instagram business accounts have the opportunity to add a call-to-action (CTA) button to their page. This can be anything from a "visit website" to an "email" button.
See how many people click those buttons with Instagram analytics data. Scroll to the bottom of the Reach tab and look for "Profile activity". You can monitor CTA effectiveness by seeing the number of:
Profile visits.
Website clicks.
Calls.
Emails.
(Note that if you see zero for any of these, don't panic. You need a CTA set-up for these actions before people can complete it.)
Beneath those figures is a percentage showing an increase (or decrease) in how many people took a particular action over a given time period. Use this data to get a holistic view of your Instagram content strategy and the results of tweaking it a bit.
3. Determine your audience demographics
Instagram Insights is a great place to look if you're trying to uncover what your existing audience looks like. Inside the Audience tab of your analytics dashboard, you'll see data about your follower demographics, including:
Age range.
Location (by country, town, or city).
Gender.
Take this into consideration when building your Instagram content strategy. If you find that your top location is San Francisco, for example, consider reposting user-generated content from customers in that area. Geo-tag the location when reposting to your own profile so your branded content can reach more people in the area.
"Additionally, these analytics might help you target Instagram ads more precisely. For instance, if you want to reach an audience similar to your current followers, target their demographics."

— Edward Mellett, co-founder of WikiJob
It's important to compare this Instagram Insights data against sales data. To stand a real chance at turning Instagram into a money-maker for your business, it's crucial to build an audience with similar traits to those who buy from you. If sales data shows your best customers are aged 50+, but your Instagram followers are mainly between the ages of 25 and 34, it could be the reason why you're failing to drive sales from the platform.
4. Schedule content at your peak times
Just beneath audience insights, Instagram Insights shows your followers' most active times. These are the timeframes where your followers are online — and most likely to engage with your content.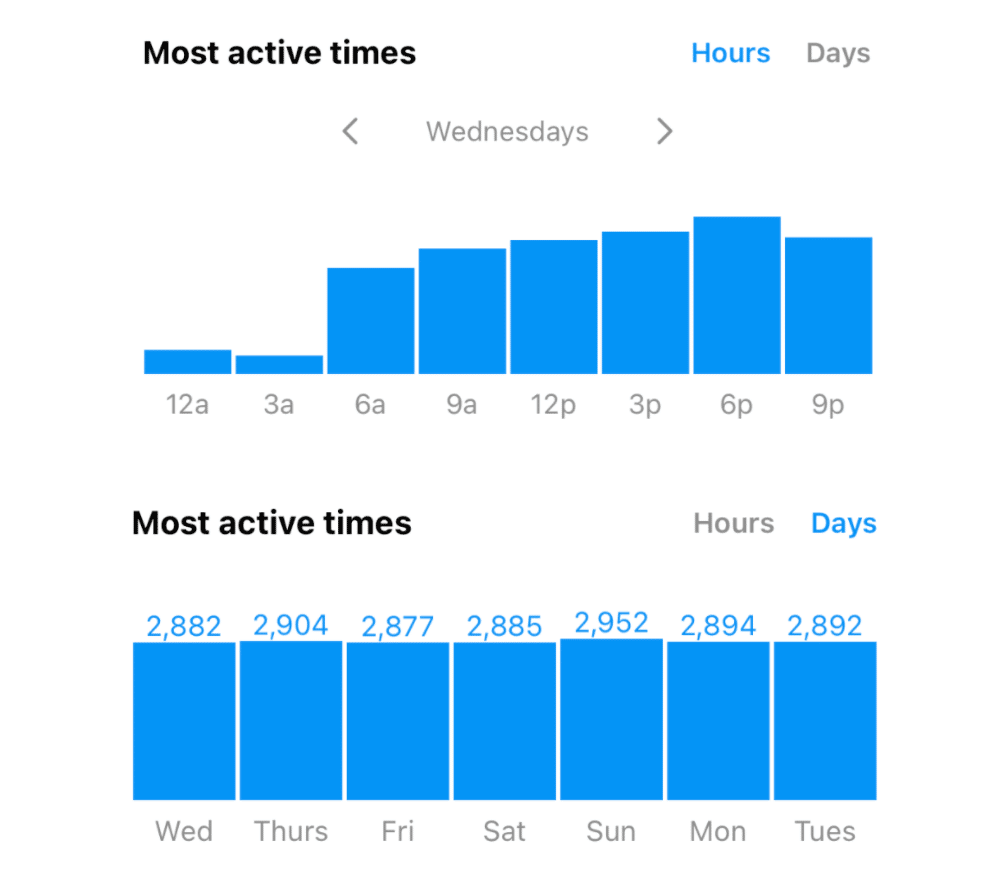 Research shows that the best time to post on Instagram is midday throughout the week and weekend evenings. However, the optimal time for your audience can differ on various factors such as their location, age, and daily routine.
The best strategy? Use optimal posting times for all Instagram accounts in the early days of your profiles. Once you start to build an audience, fine-tune your posting schedule based on the peak times using Instagram Insights. That way, you're maximizing your chances of posting when your audience is online, which can lead to content interaction.
"l have been using the weekly insights to tell what are the best days to post more IG stories and Reels and so far, Friday to Monday works best on the pages I manage."

— Janet Machuka, founder of ATC Digital Academy
Growing your Instagram account is a continuous process of posting high-engagement content, and you can't achieve that if you're posting when your audience is asleep. If you publish at the wrong time, your post may be buried by newer, fresher content by the time your audience opens the Instagram app in the morning.
Pro tip: Once you find these optimal posting times, use an Instagram content scheduler to post content at peak times for you. With an Instagram content scheduler, you can batch upload and create content on these types of platforms, and ditch the "Post on Instagram!" reminders.
5. Analyze how users discovered your content
Speaking of reaching more people with your business's Instagram content, it's a smart idea to look at Post Insights when analyzing how people find you. To do this, find the post you want to analyze, hit "Insights", and scroll down to "Discovery." You'll see the number of Instagram users who discovered that content through:
Home (their feed).
Your profile.
The Explore tab.
Hashtags.
It'll also show how many people followed your account directly after viewing that post.
You're looking for a few things here. The first is how many people saw your content organically in their feed. A high number indicates that Instagram thinks your content is interesting and users are highly engaged in your content.
The number of impressions from Explore are interesting, too. The Explore tab is one of the most popular parts of the Instagram app, providing users with a way to find content from accounts they're not already following. Appearing here — and driving clicks to your post through it — means you're reaching new audiences and have a shot at turning them into followers.
It's important to analyze your account's Discovery on a post-by-post basis in order to piece together which content type is most effective at being found through each method. Break down your content by type (be that topic, format, or theme), and record the top discovery method for each.
Let's put that into perspective and say each of the following content types has different top discovery sources:
Feed video product tutorials: Explore tab.
Carousels with before-and-after images: Home (feed).
Single image user-generated content posts: Profile.
If the goal for your Instagram profile is to reach more people, feed video product tutorials should form the bulk of your content strategy since it's the type of content most likely to reach new people perusing the Explore tab.
If the goal is to engage existing followers, however, before-and-after carousels should form the bulk of your social media calendar. Most people discovering this type of content come from the news feed.
6. Find top feed posts by engagement rate
Granted, the sources people discovered your post through is an important part of Instagram Insights. But what's also important is the engagement rate of each post, or the percentage of people who saw the content in their feed and decided to like, leave a comment, bookmark, or share it via direct message (DM).
Find this data by going to Post Insights. Look at the icons to see the number of people who engaged with the post. Divide those numbers by your account reach to get your engagement rate. In the example below, the post's like engagement rate is 0.1%:
Research shows that carousels get the most engagement. However, much like optimal posting times, you may find that feed content with the highest engagement differs for your followers.
Not happy with your average engagement rate? Hamna Amjad, a social media consultant at EFANI, recommends that "For making the most out of the social media analytics tools, set benchmarks. This helps in identifying which posts have gone above and beyond your benchmark and which posts are underperforming.
"The best way to set a benchmark is to take the average of the KPIs [key performance indicators] you are tracking and multiply it by two. This gives you an aspirational goal. Keep re-examining your benchmark from time to time and bump it up when you start reaching it more often," Amjad concluded.
If you want to push your Instagram strategy to the next level, consider boosting posts with the highest engagement. It's clear they do a great job of engaging people who already follow you, and using Instagram ads can help you reach more people and engage them, too. There's a button at the bottom of Post Insights to promote the post:
"When you see a top post in your Instagram Insights, take a good hard look at the specific post. Analyze your caption, the video or photo's content, any hashtags or mentions within the post, and the time of day you posted. Find out what's making your post successful, and then do more of it."

— Justin Kerby, founder of Something Great Marketing
7. Compare insights by content format
It's worth looking into Story Insights to see which types of Instagram Stories get the most engagement. With Story Insights, you're able to see what people did after viewing your Story, be that:
Follow your account.
Visit your profile.
View the next slide in your Story.
Skip to another account's Story.
Exit the Story.
Compare this data for each type of Story. Does your engagement improve when using stickers? How is it impacted when tagging other accounts in your Story? Does the topic of the post impact how many users engage with it?
Similarly, look at your Instagram Reel Insights to see the types of interactions people have with different Reels. You might find that Reels starring influencers get more comments, or 15-second videos get more shares than those more than 50 seconds long.
Repeat this process for all Instagram formats you're using. You'll start to notice patterns in the most effective content formats, which is bound to have an impact on your posting strategy moving forward.
Pro tip: Has Story Insights shown you how many people reply to your Stories? That's only going to become more popular as your account grows. Save time — and give users immediate responses to their DMs — with Instagram Automation by ManyChat. The Keywords tool sends an automated response to a user based on their query.
8. Discover your top-performing hashtags
Instagram hashtags likely play a huge role in your marketing strategy. That's because users can follow hashtags and see branded content using the hashtag in their feed — even if they don't follow the account that posted it.
But how do you know whether the hashtags you're using are doing their job?
"An important Instagram Insight that is often overlooked is hashtag impressions," said Chloe Sisson, Outreach Coordinator at Zen Media. "Once you post your picture or Reel, you can go into your Insights and see how many impressions your post got via hashtags. This is a great way to see if the hashtags you're using increase your account's visibility or if you might need to redo your hashtag strategy.
"While hashtags may seem like an outdated social media tool, they can actually be a huge help to creators looking to increase account visibility and gain new followers," she added. "Play around with different hashtags on a few different posts and see which ones get you the most impressions!"
9. Find your most successful influencer collaborations
Social media influencer marketing is big business, especially on Instagram. Almost 90% of marketers are collaborating with Instagram influencers; however, measuring the effectiveness of those influencer campaigns is the biggest challenge for marketing professionals.
Luckily, Instagram Insights helps ease that problem.
As part of your influencer marketing process, set clear expectations for the influencer — particularly when it comes to reporting on results. Ask if they're willing to share with you the Insights from your sponsored post a few days after it's published. That way, you can see how many people viewed and took action as a direct result of the sponsored content.
The downside to this is that not all influencers are willing to share their Insights. A good workaround for this is to repost the influencer's content to your own profile. Embed their feed post in an Instagram Story, screenshot the content, and post it to your business's feed.
While it doesn't show Insights about the influencer's audience, you can judge which influencer gets the most engagement for your own followers using your own Insights.
10. Pair your Instagram Insights with other account data
Reporting is a crucial part of any marketing plan. According to Jack Shepherd, founder of The Social Shepherd, brands should be "using the 'Insights Overview' section to look at week-on-week growth and change in accounts reached, content interactions, and total followers to understand how each week's worth of content has performed on an overall basis."
And while Instagram's built-in analytics tool does a good job of how your content performs inside the app, just like any other marketing campaign, it doesn't hurt to benchmark your Instagram data against other tools. Taking this extra step provides you with a bigger picture of your account's performance, and reduces the risk of relying too heavily on data that Instagram may be reporting incorrectly.
(This isn't an outlandish idea. Last year, Facebook — which owns Instagram — admitted to artificially inflating advertising metrics.)
Sense check your Instagram data with metrics from other social media analytics tools like Sprout Social, Buffer, and Later. Not only will it help you confirm that your Instagram Insights data is accurate, but you'll also get access to other metrics that Instagram doesn't show with its own analytics tool.
Sprout Social, for example, highlights data from competitor accounts so you can benchmark your data against theirs.
Use your Instagram metrics today
With Instagram Insights, there's no need to use your intuition when assessing how well your Instagram marketing strategy is going. The Instagram Insights dashboard uncovers crucial data about your account and the content you've shared — from which formats get the most engagement to how people discovered your content in the first place.
Ready for even more insight into your Instagram strategy? Try Instagram Automation by ManyChat today.
The contents of this blog were independently prepared and are for informational purposes only. The opinions expressed are those of the author and do not necessarily reflect the views of ManyChat or any other party. Individual results may vary.