Instagram Automation and How You Can Use It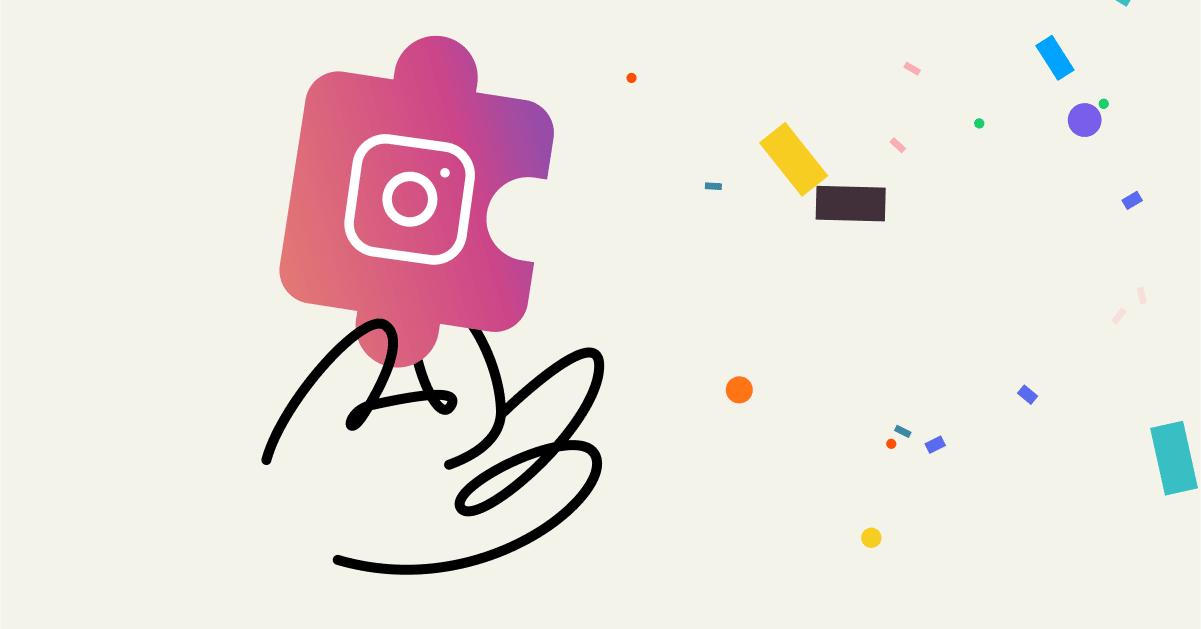 The average small business owner spends six to 10 hours each week on social media. While it might sound like a good idea to invest much of your time into social media, you can cut down your time investment without sacrificing results—especially on Instagram.
Businesses can use Instagram Automation software to take repetitive tasks off their plate. It's a win-win for everyone: followers get real-time responses to queries, and you grow your Instagram following, generate leads, and close sales in less time.
This guide shares what Instagram Automation is and how your business can use it.
Table of Contents
What is Instagram Automation?
Instagram Automation happens when a software manages an Instagram account on your behalf. These tools can send direct messages, schedule Instagram content, and unveil important analytics on your behalf—without needing a real person to do it manually.
You've likely chatted with an Instagram Automation tool without recognizing it. Businesses use them to deliver a real-time response to followers and appear like their profile is always on.
The benefits of using Instagram Automation
Save time on your existing social media workflows
Any social media strategy is time-consuming—Instagram included.
Marketers need to post Instagram content that's follow-worthy to their target audience. Plus, gathering insights and understanding what's working takes time. You're likely juggling that alongside multiple other social media platforms.
The good news? Instead of replying to conversations manually, Instagram Automation tools can analyze the content your audience is most interested in. They'll also respond to conversations and schedule Instagram posts on your behalf. Invest a little time upfront and save hours in the long run.
"This helps not only achieve higher reach amongst the social media community but also helps us, the agency, manage our workload. Us saving time also makes for a more cost-effective client account. We want to spend our time doing deep thinking, rather than admin tasks." — Sarah Keeble, Verb Brands
Get better, faster, and more reliable insight
Another advantage of using Instagram Automation is that you reduce the risk of human error.
Most agencies and marketers manually look through their Instagram analytics for insights. Not only does giving that job to an automation tool get insights faster, but the conclusions you draw won't be at risk of human error.
Gain real followers
It's no secret that building your Instagram follower count is tricky. There are tons of factors that go into a users' decision to hit "follow."
We've found that when users have meaningful conversations with a business on Instagram, they tend to follow the account. Using automation to handle those conversations allows you to do this at scale and consistently build your follower count over time.
However, it is worth noting that you shouldn't use automation to get fake followers. While thousands of fake followers might look impressive on the surface, you won't get the engagement (nor product sales) you're hoping to get from your Instagram marketing strategy.
Drive more sales through Instagram
Modern-day consumers have an always-on mindset when it comes to shopping. Long gone are the days of them heading to the mall with a list of things they're ready to buy. Instead, people use social media to discover new products—and end up buying items they weren't expecting to as a result of seeing it on Instagram.
(It's why Instagram is launching new eCommerce features like Instagram Shops. More than 130 million people tap shopping posts every month.)
Instagram Automation helps you handle the influx of inquiries you get through Instagram Messaging. You can configure automation to answer questions about products, upsell items, and guide people through the checkout process.
What can I use Instagram Automation for?
Are you ready to start using Instagram Automation? Here are four different use cases that'll save you time in the long run.
1. Schedule Instagram posts when users are active
There isn't much point in sharing Instagram content when nobody's around to view it, right?
After all, you're sharing Instagram content to get eyeballs on your content and build a follower's trust in your company. You can't achieve that, nor any other type of Instagram growth, if you're posting when your target audience is offline.
Instagram automation tools allow you to uncover that information. Tools will analyze historical data about the people who follow you—including when they're online. You can then schedule posts to publish when your audience is active.
Let's put that into practice and say your Instagram insights show most users are online on midweek mornings. Your automation tool will create a queue of those times. So, instead of publishing content to your Instagram profile sporadically, you'll add them to the queue and have a constant stream of new content being posted at your optimal times.
"Instagram Automation helps. We spend about two hours every week setting up campaign data and then feed this to our automation system. The content is then "drip-fed" to our business Instagram account according to a specific schedule we configured.
This allows our Instagram channel to remain active, promotes engagement among our audience, and ensures we can continue growing our following without having to man the account 24/7." — Bernadette Welch, Uke-Tuner.com
2. Analyze Instagram follower insights
Speaking of understanding your Instagram followers, Instagram Automation tools often have algorithms that give you a more extensive picture understanding of the people following you. Businesses can use that to their advantage and create social media content their audience is most likely to engage with.
On Instagram, users can follow and view search results for content using hashtags. That means businesses can expand their reach—and position their content in front of people following a hashtag, but not their Instagram profile.
Some automation tools have built-in features that make hashtags easier to manage. Buffer, for example, has a built-in hashtag manager. You can save your most-used hashtags inside the tool and automatically post them when scheduling your Instagram content—no copy and paste (nor memory) needed:
3. Automate conversations when answering FAQs
Did you know that 81% of people use Instagram to research new products and services?
Potential customers could already be following your business' profile. One Instagram Story, or a photo appearing in their feed, could trigger questions.
Depending on your follower count, Instagram customer support could be time-consuming—not to mention hard to keep up with. Instagram Business profiles have split inboxes, but even then, knowing who said what can be challenging.
Some Instagram automation tools can automate the conversations you're having through Instagram Messaging.
In the case of ManyChat, the Automation tool follows a script. You add the answers to some FAQs, and then when a follower asks a question, the software handles it. For example, it can give real-time responses to questions like:
Do you have this item in stock?
What are your opening hours?
What's your returns policy?
People get an instant response—one that captures them while they're in the mood to shop (and not a few hours later when your customer support team gets around to it.)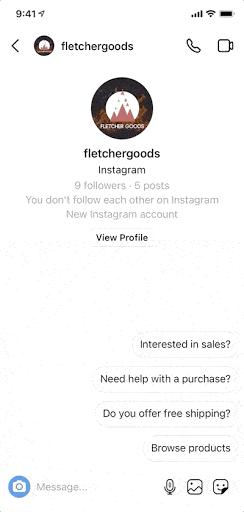 Plus, some Instagram Automation tools can tag conversations you have with followers through Instagram Messaging. Say you're chatting with someone who's asked about stock, for example. You tell them the item will be back in stock next week. The software can tag that conversation as "lead" for your sales team to follow up with when stock returns.
4. Combine conversations across several platforms
One report found that 64% of people would rather message than call a business. It's likely why Forrester predicts the number of digital customer service interactions will increase by 40% over the next year.
If your business is active on several social media platforms, that could lead to an overwhelming number of iniquities to respond to every day. (That, plus recalling which platform you had a conversation with somebody through, is difficult.)
With Instagram Automation, you can combine the conversations you're having across several channels into one platform—including those from SMS, Facebook Messenger, and WhatsApp. Then, your support team only has one place to browse and respond to social media inquiries.
Not only that, but with ManyChat, businesses can use Facebook's growth tools to find customers and reach them through automated Instagram messages. Talk about making omnichannel marketing easier.
What can't I use Instagram Automation for?
Instagram cracked down on spam back in 2018 after some Instagram users created chatbots to inflate their likes, comments, and follower counts artificially.
An announcement said:
"We will begin removing inauthentic likes, follows, and comments from accounts that use third-party apps to boost their popularity. We've built machine learning tools to help identify accounts that use these services and remove the inauthentic activity.
This type of behavior is bad for the community, and third-party apps that generate inauthentic likes, follows, and comments violate our Community Guidelines and Terms of Use."
Here's what that means for businesses: always be super careful when automating Instagram likes, follows, unfollowing, or comments.
A good rule of thumb is to question whether the action is genuine. If not, avoid automation.
Granted, inflating those engagement metrics will increase the reach of your content—especially when the average engagement rate for a business-post sits at just 0.96%. In most cases, high engagement can bring new followers to your profile.
However, it's best to avoid auto-like, auto-comment, and auto-follow/unfollow automation tools to prevent the algorithm from deprioritizing your content. The worst-case scenario is your business' account being flagged for spam and being shut down.
3 of the best Instagram Automation tools
1. ManyChat
ManyChat helps you to manage the entire sales funnel for people buying through Instagram. It's a machine learning tool that handles inquiries coming through to your business's Instagram profile—saving your team time.
One of its best features is automated Instagram conversations. Followers get instant responses to questions about stock, products, or stores. You capture them while they're already in the mindset of buying and save your customer support team from overwhelming.
The best part? It integrates with other platforms, including Facebook Messenger and WhatsApp. You're able to meet potential customers on the social networks they're already using, maximize engagement, and close the deal with people who're interested in your product or service.
2. Buffer
Buffer is well-known for its social media scheduling tool. It's able to analyze when your Instagram followers are active, create a queue for those times, and schedule premade Instagram posts to publish at that time.
Buffer also has other Instagram Automation tools alongside their scheduler. Their first comment feature, for example, automatically publishes a comment when a scheduled post goes live. You can use this to tag your post with hashtags without crowding the caption.
Their Instagram tagging feature also adds a location to scheduled posts, so you don't need to remember to go back and do it yourself.
3. Tailwind
Tailwind is another option if you're looking for an Instagram Automation tool. Similar to Buffer, it has a hashtag manager and content scheduling feature.
However, what's excellent about Tailwind is that it has a smart bio feature that automatically updates the links you're pointing followers to from your business's Instagram page. (This is handy; you're only allowed one link from your profile.)
Tailwind also has a tool that allows you to plan your Instagram profile visually. It's a great tool to have a themed Instagram profile and visualize what your scheduled content will look like.
Get started with ManyChat's Instagram Automation tool
There's no doubt that automation has the potential to save your customer support team time while also generating more followers and pushing product sales through your Instagram marketing strategy.
Grow your Instagram following and make sales with Instagram Automation by ManyChat. See if your business is eligible by applying below.
The contents of this blog were independently prepared and are for informational purposes only. The opinions expressed are those of the author and do not necessarily reflect the views of ManyChat or any other party. Individual results may vary.