How to Use Instagram Geotags to Connect with Local Followers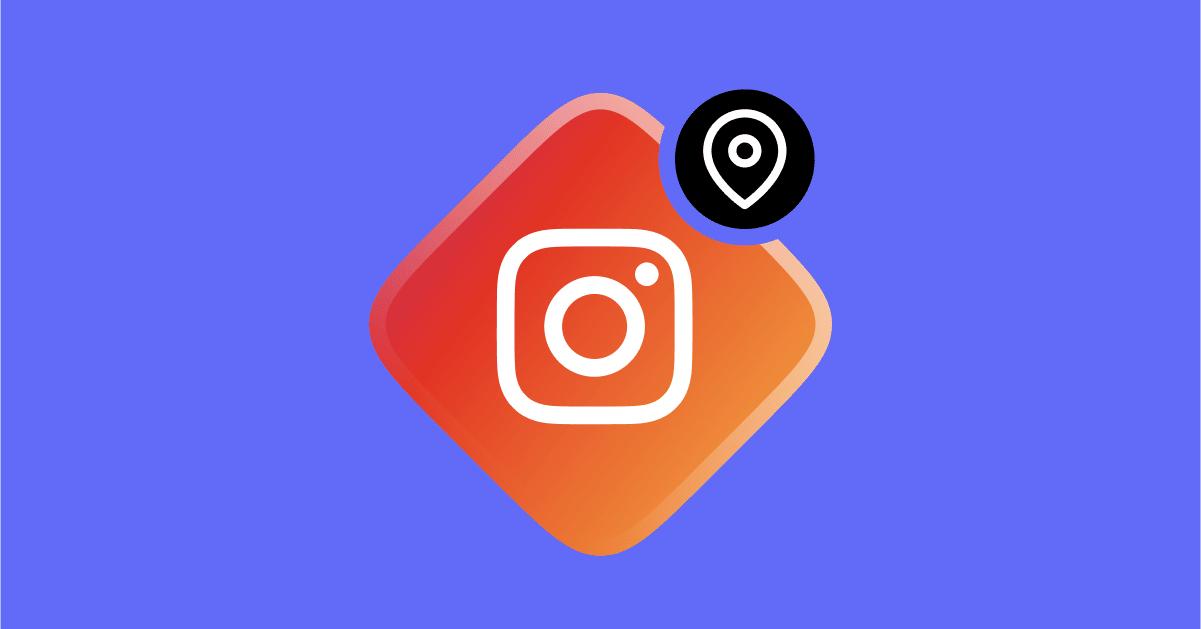 As far as social media platforms go, the Instagram app is one of the most widely used, boasting over 1 billion monthly active users. With such an engaged user base, it's no surprise that over 200 million businesses use the platform to reach potential customers and Instagram followers.
At this point, multinational businesses know that they can tap into a global audience through the platform with unique Instagram posts, but how can Instagram help small local businesses and support their local marketing strategies? That's where geotags come in.
Your business Instagram account can become a hub for your target audience and their local community, thanks to geotags.
This geotags on Instagram guide will help you understand what geotags are, how they work, and when and how to use them. We even included examples to inspire you!
How does geotagging work on Instagram?
Instagram geotags are a way for you to add location tags to your Instagram posts and other content. They appear as small text underneath usernames or hashtag names in feeds.
You can set geotags to a specific location for Instagram users-like a coffee shop-and a general location like New York. You can also set custom locations, which individual users might use to avoid disclosing an exact location. For example, "Iceland, Somewhere Cold" is one way to use geotags without sharing too much information on the Instagram app:
Bear in mind you can geotag locations no matter where you are (which will come in handy later). However, your mobile device location services will provide a default location option when you create new posts.
Benefits of geotagging
You might be wondering why anyone would bother using geotags. Though hashtags and captions should be enough to find new customers on Instagram, geotagging has several benefits:
Discovery – When posts are geotagged, users have the opportunity to discover them organically in search. They can also appear in top, recent, and location Stories.

Local engagement – Many Instagram users have become accustomed to the idea of "checking in" to locations. If you own a brick-and-mortar business, that means you can literally put your business on the map when you use Instagram geotag as more users check into there.

User-generated content – By setting up a geotag for your business, you can leverage user-generated content (UGC) in your social media marketing strategy and deepen relationships with your Instagram followers. (More on this later.)
Now that you know what geotags are and why you should employ them, let's take a look at how you can create them using our step-by-step guide.
How to create geotags on Instagram
There are two main ways to generate geotags, depending on what type of content you're publishing. (There is also a third way, which is using the location name in your hashtags.) First, we will look at feed posts since they are the most common geotag sources.
Feed posts
If a post featuring a geotag shows up in your Instagram feed, you'll notice the location text underneath the account username. To get that tag on your posts, you'll need to follow a few simple steps:
Go to the New Post icon (currently a box with a + sign inside at the top right of the screen).

Scroll to the type of post you want to create at the bottom. (The default option is a standard post.) Then click on the image you wish to post, and hit Next.

Make any necessary edits to the Instagram post, then hit Next again. The third screen is where you'll find your caption space and other settings; go to Add location.

If you use location services, you'll see your local locations available underneath the button. Otherwise, search for the location you want to add.

That's it! Once you've finished with any other settings, click Share, and your post will include a geotag location.
All in all, the Instagram geotag process will look like this:
At the time of writing, geotagging is not yet available for Reels, IGTV posts, or Live posts (unless you save them to your Stories temporarily). However, you can geotag Stories.
Instagram Stories
Geotagging Stories is arguably even easier than geotagging standard Instagram photos. Here are the basic steps:
Start creating a Story by hitting your profile photo anywhere on the app or going to the + icon in the top right of the home screen and scrolling to Story.

Take your photo, or add an image from the + button on the bottom left of the Story creation screen.

In the editing screen, head over to the Stickers icon to add a sticker. There you'll find the Location sticker you can use to tag locations.

Share it using the quick-add buttons labeled "Your story," "Close Friends," or send to specific accounts using the Send to button.

That's it. You've created your geotagged Story!
The whole process when you use Instagram geotags for stories will look like this:
As a bonus for those in the U.S and Canada, Instagram announced new stickers to help businesses cope during Covid-19. They include gift cards and food order stickers, which users can click and then complete purchases through partner sites.
Using these alongside location tags can help ensure visibility to those most likely to purchase food or gift cards from you (i.e., those living in your local area).
Hashtag Instagram locations
The final method for creating geotags is using Instagram hashtags.
The benefits of using hashtags are twofold. First, they can count as double exposure if you're using them on standard posts or Stories alongside geotags. Second, you can use hashtags in all post formats (except Live posts until you save them as Stories afterward). This means you can hashtag locations on your Reels and IGTV posts too!
To add hashtag locations, follow the same steps as adding a location to a standard post, but instead of using the location settings (which you won't see on Reels or IGTV), you can write the hashtag in your caption.
If you're the type to use the "first comment" method for your hashtags, include the tag in there instead.
When you should geotag on Instagram
For small business owners posting on Instagram, every detail matters. Geotags are no different. While you should try to use them as often as possible, there are situations when using them is even more critical.
Promoting a physical store location
If you own a brick-and-mortar store, geotagging provides you an opportunity to promote your store's location to your local (and broader) community. This is especially relevant if you're launching a new store, have multiple stores, or are moving to a new location.
Another reason you should use geotags for physical locations is to provide social proof. When you can show that your store is "real," it gives users who just learned about you more confidence in your brand. The best form of social proof, though, is when other customers geotag your location in their posts.
Check out Biff's, a vegan/vegetarian food brand that supplies premade food to different restaurants:
When potential customers see posts like these, they're more likely to want to have the same experience. Thanks to geotagging, they'll know where they can get it.
When a geotag doesn't exist
Instead of providing a specific address, you can use one branded geotag to cover all your bases — both online and offline. You should geotag a branded location when you have multiple locations, or the area you are in doesn't have an existing geotag.
Using a branded location also delivers the added benefit of further building your brand on Instagram. Furthermore, since it doesn't have to be tied to a physical location, customers can use the branded location wherever they happen to be.
Let's take a look at another one of Biff's customer's posts in which they've used the custom tag for their brand:
Creating a custom location isn't the smoothest process, as you'll need the Facebook app to make one using the "check in" feature. Thankfully, the folks over at Dummies created an in-depth tutorial on how to do this.
Check in to relevant events
If your business is generally mobile, events-based, and on-the-go, you should definitely use geotagging to help customers understand where you've worked before. You can also use event location geotags to help promote your presence at upcoming events.
Take Anna Maes Mac n Cheese, for example:
They used a geotag to help promote their business for an upcoming festival (which also happened to be a branded custom location). It alerted customers about where they were going to be and showed festival-goers on their food options.
How to use geotags
Now you know how to create geotags and the specific situations in which you should use them. Now let's take a look at how you can use them to help improve your Instagram marketing strategy.
Encourage user-generated content
One of the more fun tagging tactics you can try is encouraging your customers to create content and "check in" to your location. When customers check in, it builds social proof, but it can also be a way to let the Instagram algorithm know you're generating conversations.
Take a peek at this post by Green Meadows plant shop:
The company uses geolocation in its original post to attract local people, but Green Meadows also uses location-based hashtags. Its competition for a prize of a lifetime discount requires entrants to share content to their Story, i.e., user-generated content.
Geotag in your audience's location
Another practical tip is to use locations wherever your target audience is based. This one is useful if you're an eCommerce firm without a physical store location or branded geotag.
Since geotags help you gain local visibility in locations pages, they are a quick and easy way to get your content in front of new potential customers.
Here's an example from NewRetroNet:
NewRetroNet's strategy involves relying on hashtags for its regular art-based posts but using the Las Vegas geotag to target buyers in that area when publishing a product post.
Comment on user posts
Engaging with customer content is a way to make your customers feel valued, giving you the best chance at making them repeat customers.
One quirk of the geotagging feature is that businesses don't get notified when people "check in" to their location. You'll need to head over to your geotag page by clicking on it, then manually check out the user content with your geotag.
Check out this interaction between an Instagram user and The London West Hollywood at Beverly Hills:
The user geotagged the branded location, which helped the post become visible to the brand. The London West Hollywood at Beverly Hills then y responded to the post with a positive message. Simple comments like "Thanks for shopping with us!" or "I hope you enjoy it!" or even offering a discount on their next visit is likely to leave an impression.
Side note: ManyChat Instagram Automation can help you automate replies to Story mentions of your brand.
Locate influencers in your area
Our final tip for using geotags is similar to the previous one. However, instead of searching for content to engage with, look exclusively at the users doing the posting.
For this tactic, you may want to widen your location to your local area rather than limiting it to a specific brand (it won't hurt to check). After you've chosen a geotag location, look through the Top Posts on the location page and see which content has generated the most engagement.
After narrowing down the content, check if any of the accounts could align with your brand and see if they're interested in working with you as an influencer. Bear in mind that you don't need to find accounts with tens of thousands of followers; even micro-influencers with fewer than 5K followers can strongly impact local marketing efforts.
Level up your Instagram marketing
Geotags are a powerful yet super-easy way to build brand awareness and find opportunities to connect with your customers on a deeper level. This feature is also a must-have for your local marketing efforts, especially if you run a brick-and-mortar store. Of course, you might not have the time or resources to be able to run these marketing efforts manually. However, with Instagram Automation by ManyChat, you can free up time to create awesome content and grow your brand even more.
Grow your Instagram following and make sales with Instagram Automation by ManyChat. Sign up free today.
The contents of this blog were independently prepared and are for informational purposes only. The opinions expressed are those of the author and do not necessarily reflect the views of ManyChat or any other party. Individual results may vary.