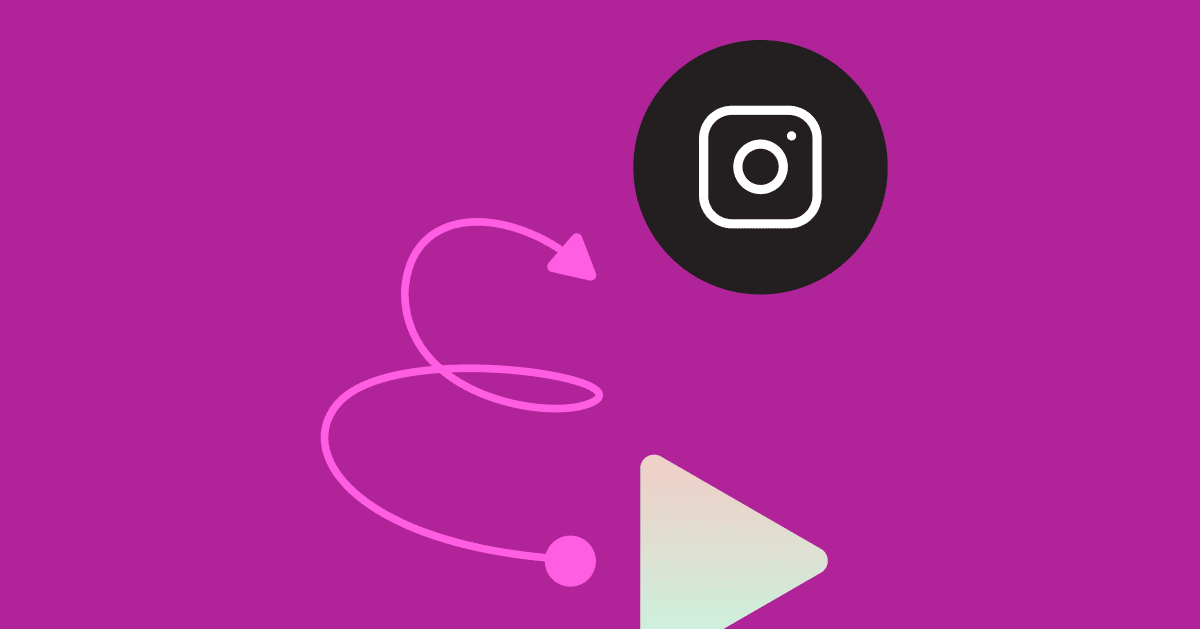 Instagram has been known as a photo-sharing app since its start in October 2010, but it's working hard to keep up with video's popularity now, too. Considering that its Reels competitor TikTok received more traffic than Google in 2021, it's safe to say that video is the future.
This is why you're here: You know the value of video and want to learn how to make better Instagram videos that will engage your audience and get them interested in your business.
This article will cover the different types of video you can post on Instagram, some video best practices for optimizing performance, and a handful of Instagram video tools you'll need to create awesome video content.
Let's get started.
Types of Instagram videos
There are four main types of Instagram videos you'll need to know about; the app recently ditched its unsuccessful IGTV format to focus more on feed videos. Let's review each type and what you might use it for.
Instagram Stories
Instagram Stories are 15-second images or videos that users watch separately from anything you share on your feed. Launched in August 2016 in an attempt to compete with Snapchat, it had captured 500 million daily active users by the beginning of 2019.
Stories are accessible at the top of everyone's home feed and are mixed in with posts from friends and family.
Because Stories move from one user to another seamlessly—often with Stories ads in between—they can be a great way to reach your audience, both organically or via paid ads.
While Stories only last for 24 hours, they can be saved and organized on your profile in separate highlights, as illustrated below on Conair's profile.
Conair currently has Instagram Stories posted on its lit-up profile photo, sharing promotional videos for its audience.
Instagram Story video specs:
Video Length: Instagram's video specs state that Stories can be up to 60 minutes long, but we recommend limiting your Stories video to around a minute
Maximum File Size: 250MB
File Types: MP4, MOV, or GIF
Aspect Ratio: 9:16
Resolution: 1080 x 1080 pixels or more
Instagram video
Instagram videos are posted to your Instagram feed. They show up alongside the images on your profile and in the home feed as your followers scroll through the latest posts.
This means your Instagram videos need to have a catchy hook right at the beginning to entice a user to stop scrolling and watch—more on that in a minute.
You can post a number of different types of videos using this format. How-to videos or tutorials are a couple of the most popular, but other ideas include promo videos, teaser videos, timelapse videos, and more.
Here's an example from PopSockets showcasing a new product launch: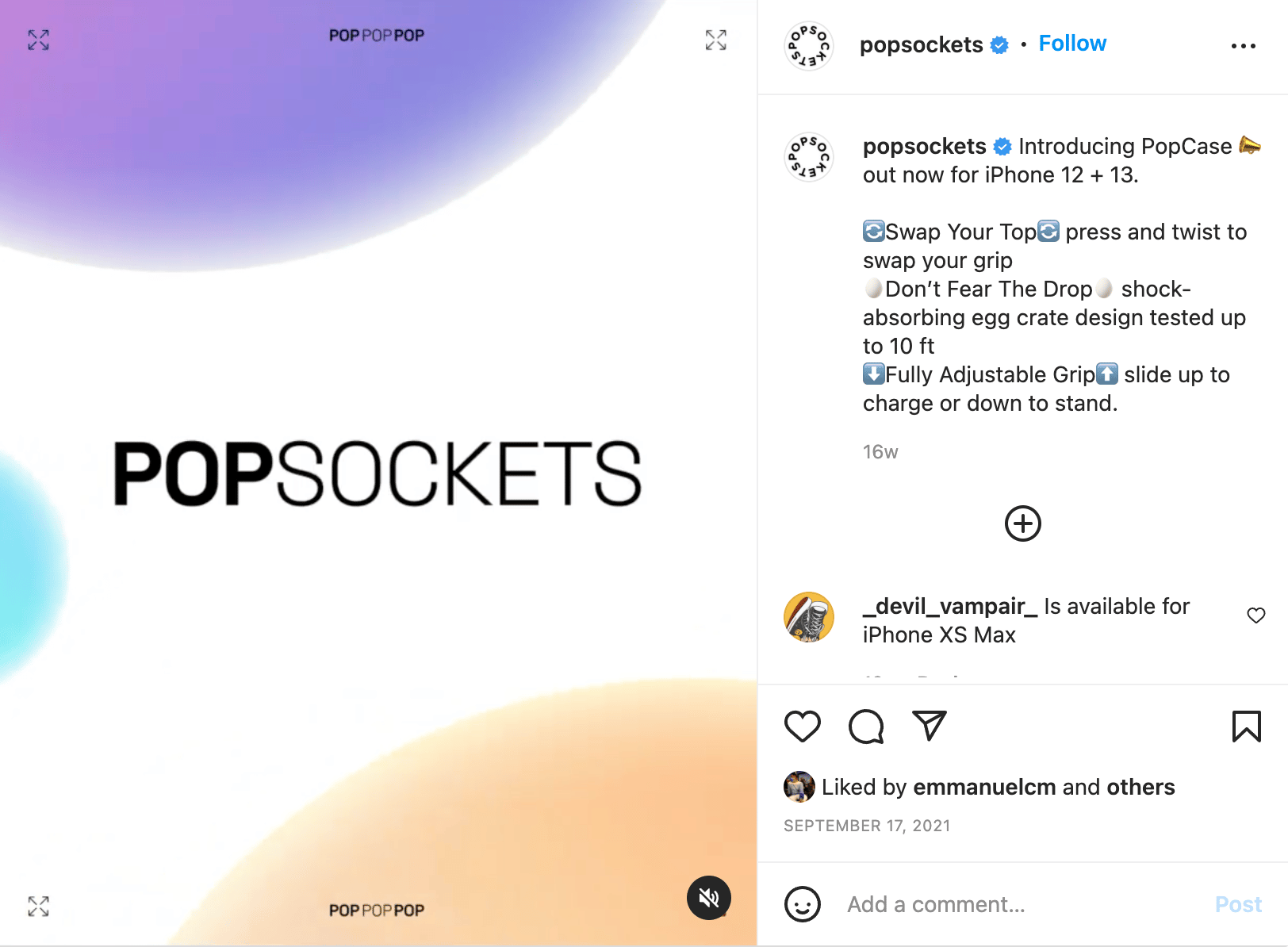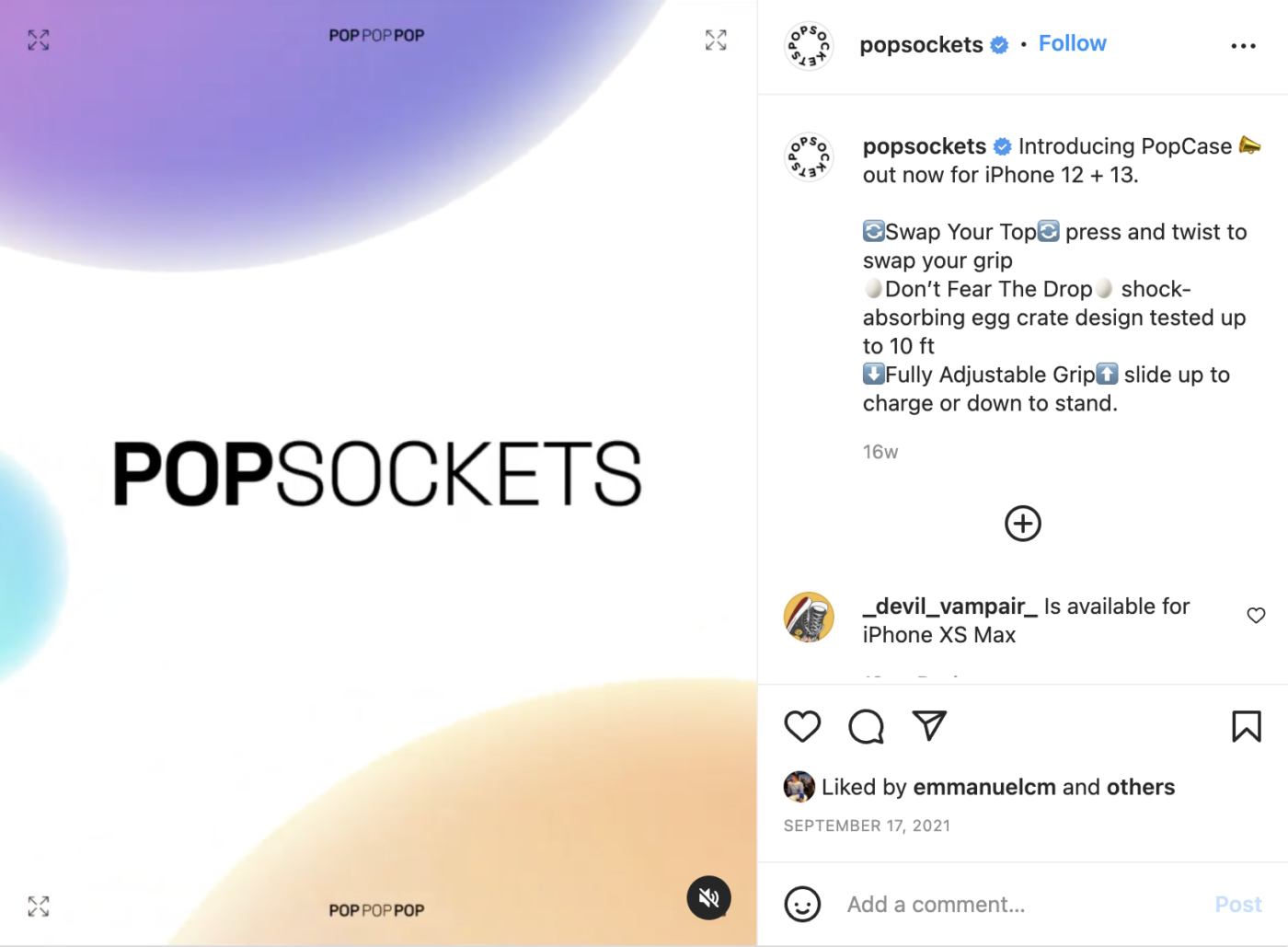 Creating short, eye-catching videos like Popsockets' is a great way to mix up the content you share on Instagram and increase engagement.
Furthermore, since Instagram recently merged its IGTV feature with its regular video content, Instagram videos can be up to 60 minutes long, allowing you to cross-promote your video content across different channels.
Instagram video specs:
Video Length: Up to 60 minutes
Maximum File Size: 250MB
File Types: MP4, MOV, or GIF
Aspect Ratio: 4:5, 1:1, or 5:4
Resolution: 1080 x 1080 pixels or more
Instagram Live
Facebook, YouTube, and Instagram all offer livestreaming options that allow users to broadcast a live video for viewers to hop on and watch in real time.
This is a great way to interact directly with your audience, hold an FAQ session, read comments from followers, and more. Make a plan for your live video, whether you want to share educational content or answer questions and connect with viewers.
When going live, you want to ensure you broadcast to the largest audience possible. You can do this by sharing graphics that tease and promote your upcoming live video on your Instagram feed or in your Stories. Your followers can also find your live video at the top of their feeds. It will always appear before any Stories, ensuring that interested users can easily find your live video.
Instagram Live video specs:
Video Length: Up to 4 hours
Aspect Ratio: 9:16
Instagram Reels
Instagram launched its Reels feature in August 2020 to compete with TikTok's growth in popularity. Reels are short, easy-to-consume videos that can use original sound or source from a library of sound bytes.
There are a number of different ways to use Instagram Reels. You can create quick how-to's, showcase your products in action, share user-generated content, or even hop on fun and relevant trends.
Here's a great example of a quick, engaging, but informative Instagram Reel from The Sill: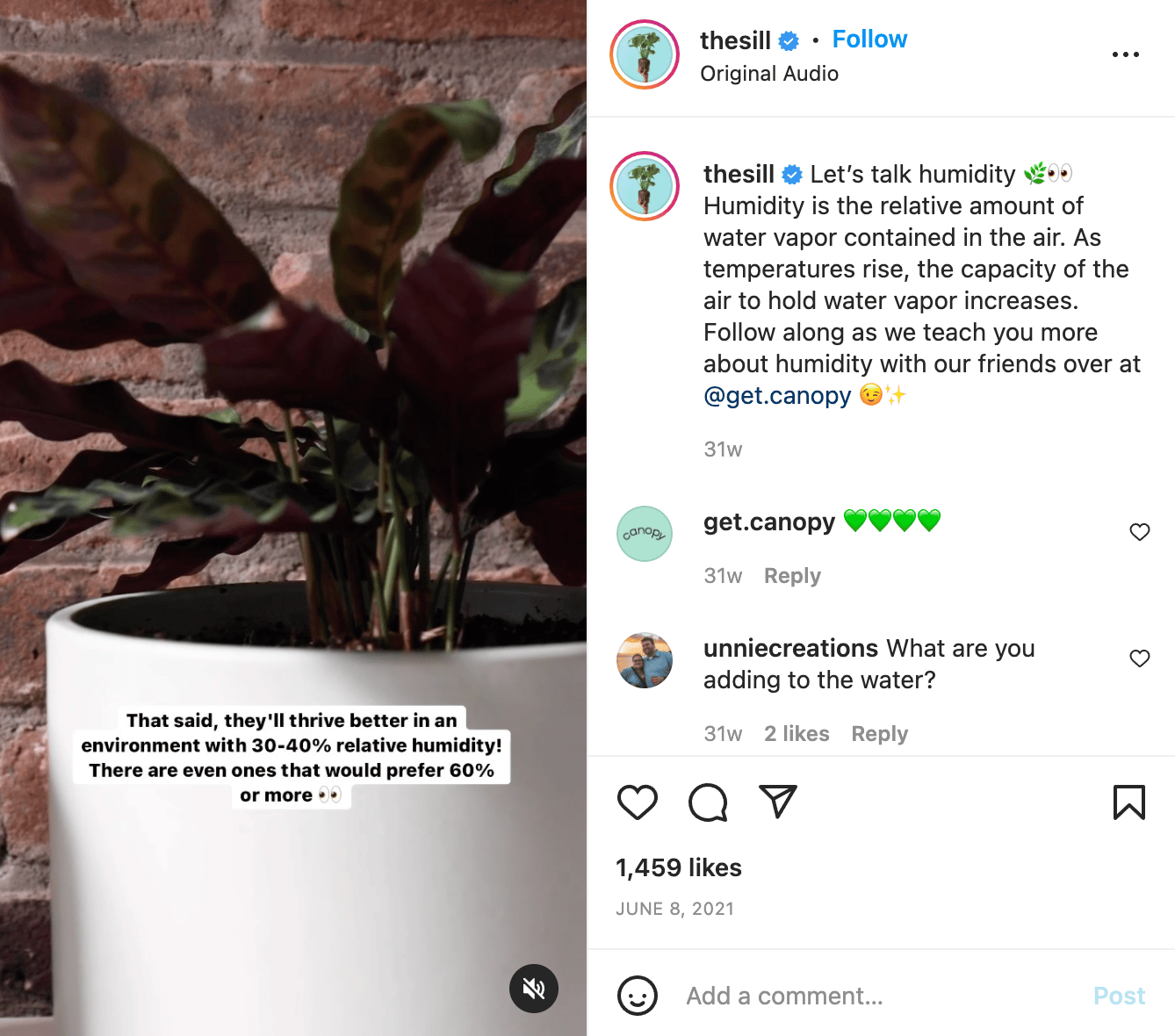 Instagram Reels appear in the home feed (making them easy to find), but there's also a "Reels" icon in the center of your navigation at the bottom of the screen so users can easily start watching and scrolling through videos.
Instagram Reels video specs:
Video Length: Up to 30 seconds
Maximum File Size: 4GB
File Types: MP4 or MOV
Aspect Ratio: 9:16
Resolution: 500 x 888 pixels or more
Instagram video best practices
Now that you have a better understanding of what types of Instagram videos you can create, how long each can be, and what they might look like, let's dive into some best practices.
It's essential to follow these guidelines to maximize performance and get the most out of your video content.
1. Optimize for mobile
Instagram has always been a mobile-first platform (the app only just started allowing users to publish content using a desktop in 2021).
This means that most of your followers will view your content and your videos on a small mobile screen—so optimizing your content to ensure it can be easily seen and understood on a smartphone is critical.
Here are a few ways to do this:
Use big, bold text that's easy to read
Zoom in so viewers can see and focus on your main point
Shoot in vertical orientation so people don't have to turn their phones (unless this is a feed video, in which case you should opt for square videos over horizontal)
This video is a great example of a mobile-optimized piece of content: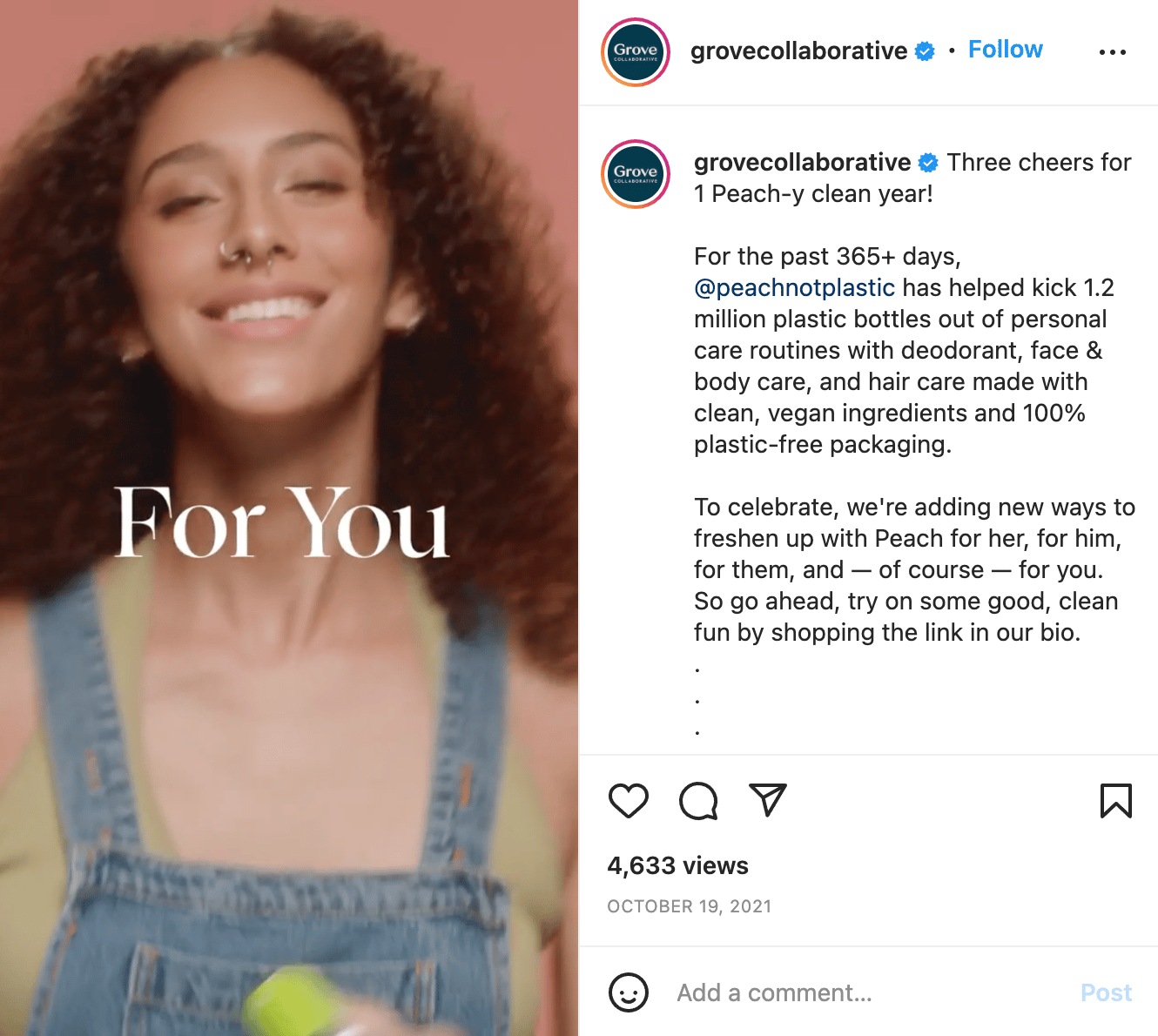 2. Start with a hook
You have three seconds to engage viewers, which means you need to create an eye-catching intro to your video that reels your audience in and immediately captures their attention.
What's going to grab your viewer and really pull them into your video content? Having a customer persona can help you understand your audience and what will interest them the most.
Here's an example of an Instagram Reel that uses a trending sound byte. Most viewers will recognize this sound byte from the first second, enticing them to finish the video and click to the profile to see more: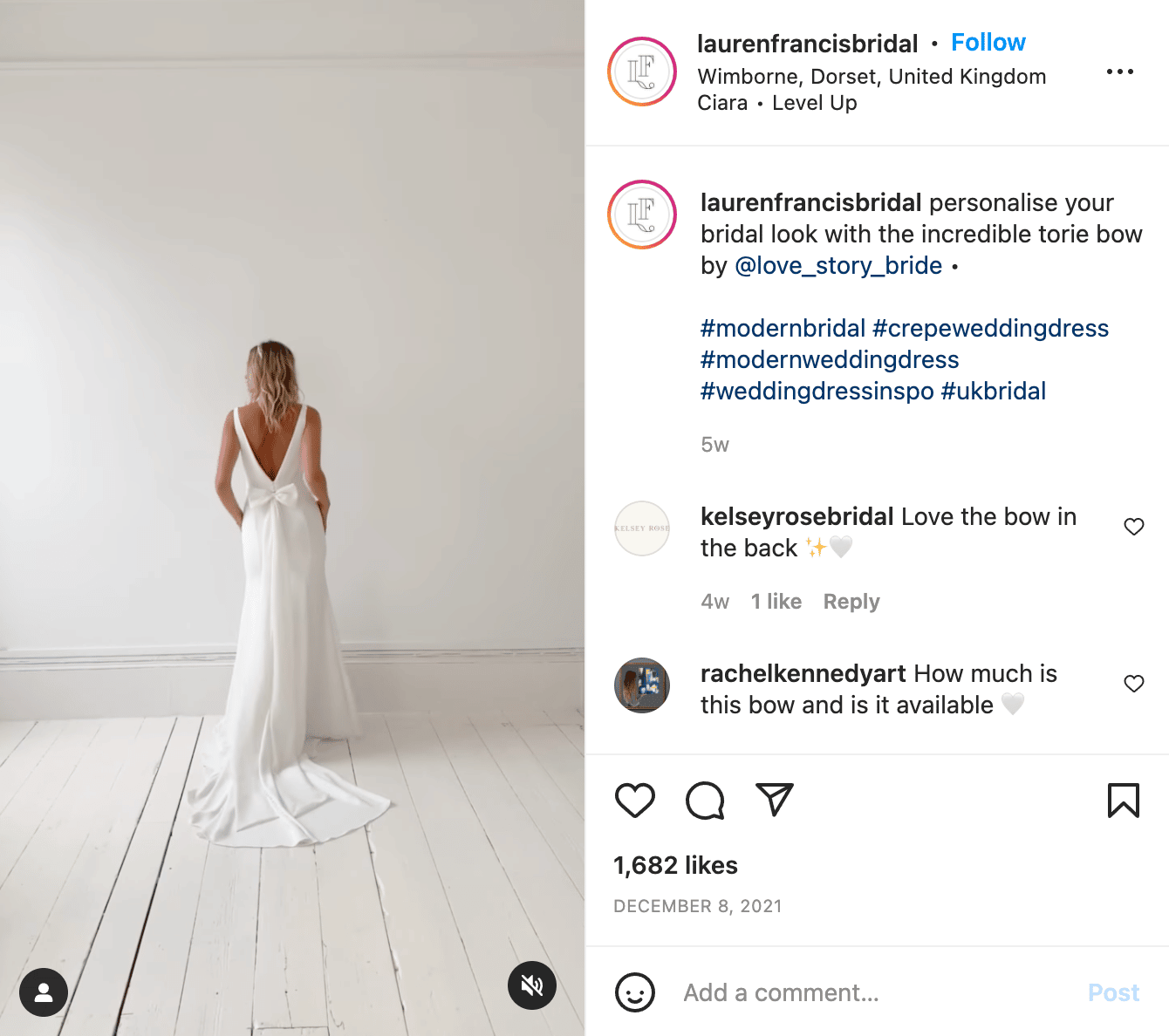 You should also ensure your caption resonates well. Even if your video intro is off the mark, your caption could still garner interest and make someone check out your content.
3. Use sound and captions
Approximately 60% of people listen to Stories with the sound on. But for that 40% who don't (or can't, like deaf people), captions are a must. And when it comes to other types of social media videos (e.g., feed videos), 92% of consumers have the sound off when watching on their mobile device.
Whether you use a popular sound clip, an enticing question or comment, or enthusiastic music, incorporating sound into your video is a great way to grab attention when viewers have their sound turned on.
Furthermore, captions are still essential accessibility and to reach a larger audience. There's nothing more frustrating to someone who can't hear than seeing a video and having no idea what it's saying.
Social media strategist Chelse Hensley says:
"Part of working in social media is persistently finding more ways to be social…for all. Here are some of my favorite simple ways to drive accessibility on social media video:
1) Use #CamelCase hashtags and capitalize the first letter of each word. Not only does this help screen readers differentiate the terms, but it's also easier for everyone to read.
2) Closed captioning is crucial for those with hearing impairments and also enhances content consumption for those of us who scroll on mute while our bosses aren't looking. Instagram makes this SUPER easy with its animated text feature that automatically translates your diction in Instagram Stories to captions!"
Take a look at this video from Nike featuring Megan Thee Stallion—it uses captions throughout to make sure that anyone watching can still read what Megan is saying, even if they don't have the audio on.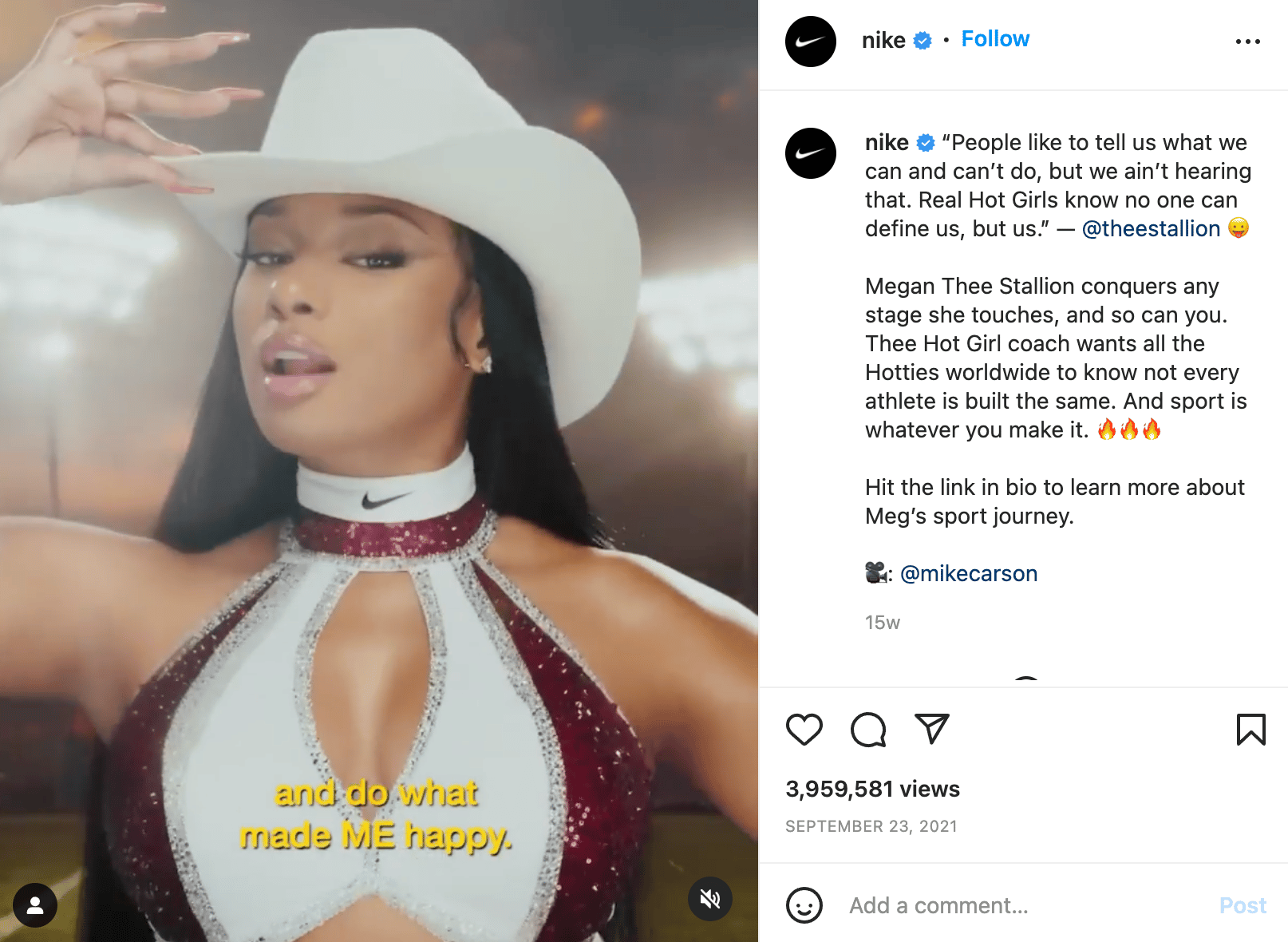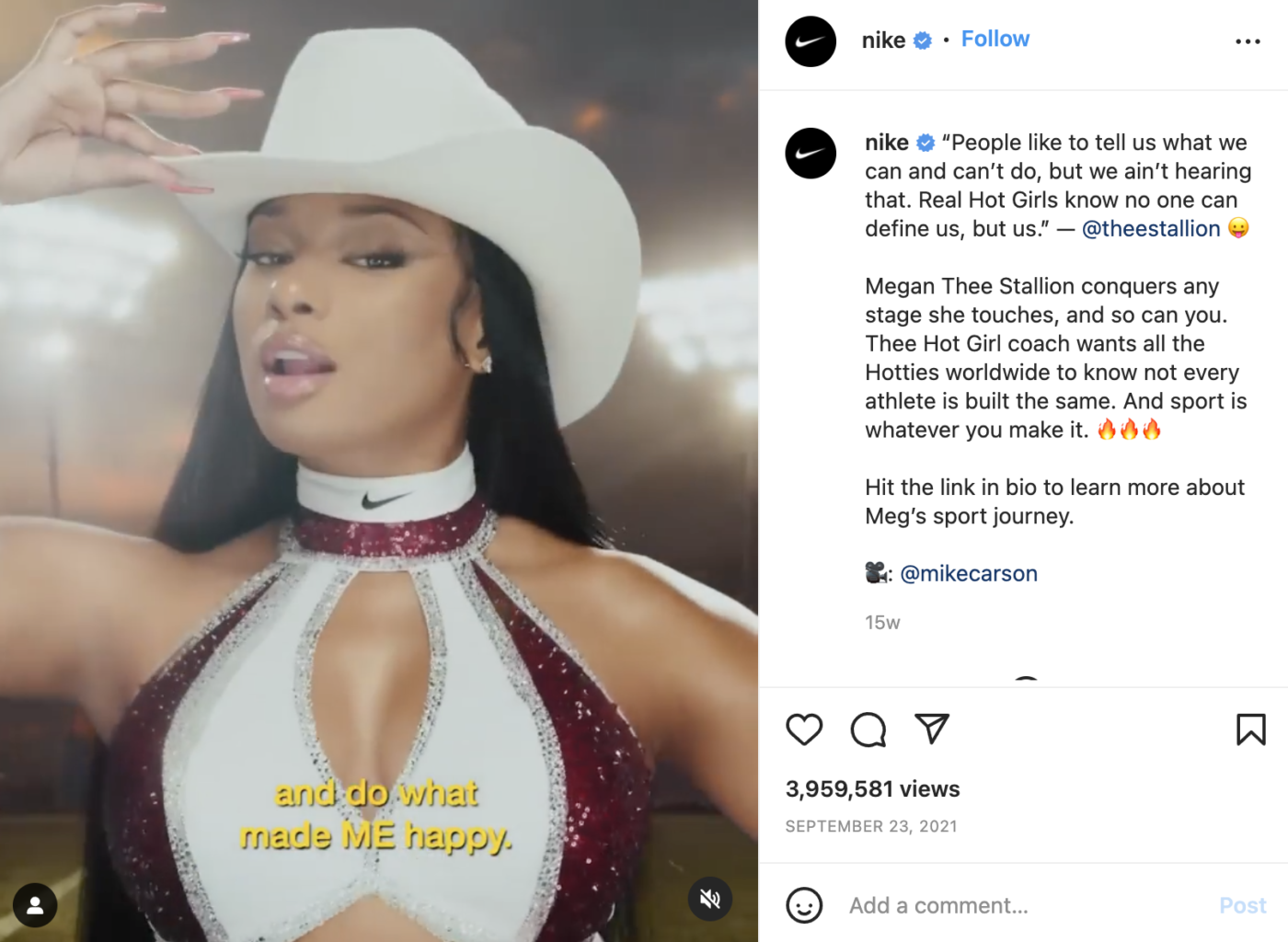 4. Regularly post videos
If there's one social media rule marketers need to adhere to, it's that consistency is key.
Sharing social media content consistently is crucial for generating engagement and increasing your odds that the algorithm will favor your posts. Sharing video content regularly can also further increase your chances of publishing high-performing social media posts and help with converting customers.
Create and stick to a schedule for your Instagram video marketing, whether it's publishing a weekly live video, daily Stories or Reels, video posts, etc.
Planning ahead using an editorial calendar is a great way to stay on top of your video content. Include all your video ideas so your social media marketing team can easily keep up with your content plan.
5. Promote other channels
Use your Instagram video posts to promote your other marketing channels. For example, you could use Instagram Stories to tease a longer video from your YouTube channel or cross-promote a TikTok video on your Instagram Reels.
Now that video has become so prominent on many social media platforms; there are a number of ways you can repurpose content on multiple channels or cross-promote your other platforms to increase reach and engagement across the board.
6. Get creative
There are so many ways to get creative with your video content inside the Instagram app, and we encourage you to try out all of them (not at once, though—that might be overkill).
For example, when publishing Instagram videos to your feed, you can add filters to switch up the look or make your video appear in greyscale. You can also trim videos down to create shorter clips.
Instagram Reels and Stories have a similar video editor. You can easily upload photos or videos from your camera roll and add captions, stickers, emoji, transitions, and more to create engaging Instagram videos.
A few examples include:
Geolocation stickers
Questions
Music
Polls and quizzes
Links
Fundraisers
GIFs
Find ways to make your video content stand out, either by using your own Instagram video maker (a few of which we'll review in a bit) or taking advantage of Instagram's native tools.
7. Create high-value video content
Your video content shouldn't be all about you and your business or else it'll never perform. Instead, go back to that customer persona and think about the types of content your audience wants to see from you.
You should always aim to create high-quality, valuable, educational, and engaging content; otherwise, your marketing strategy simply won't achieve the results you need it to.
Mix up your video formats and types. Go live with an expert or influencer in your industry to answer popular questions. Create tutorial videos for your Instagram Reels. Engage your audience with polls in your Instagram Story. The options are endless with Instagram video—but you should always create content with your customer in mind.
Here's a great example of a video that's incredibly high-value for the target audience: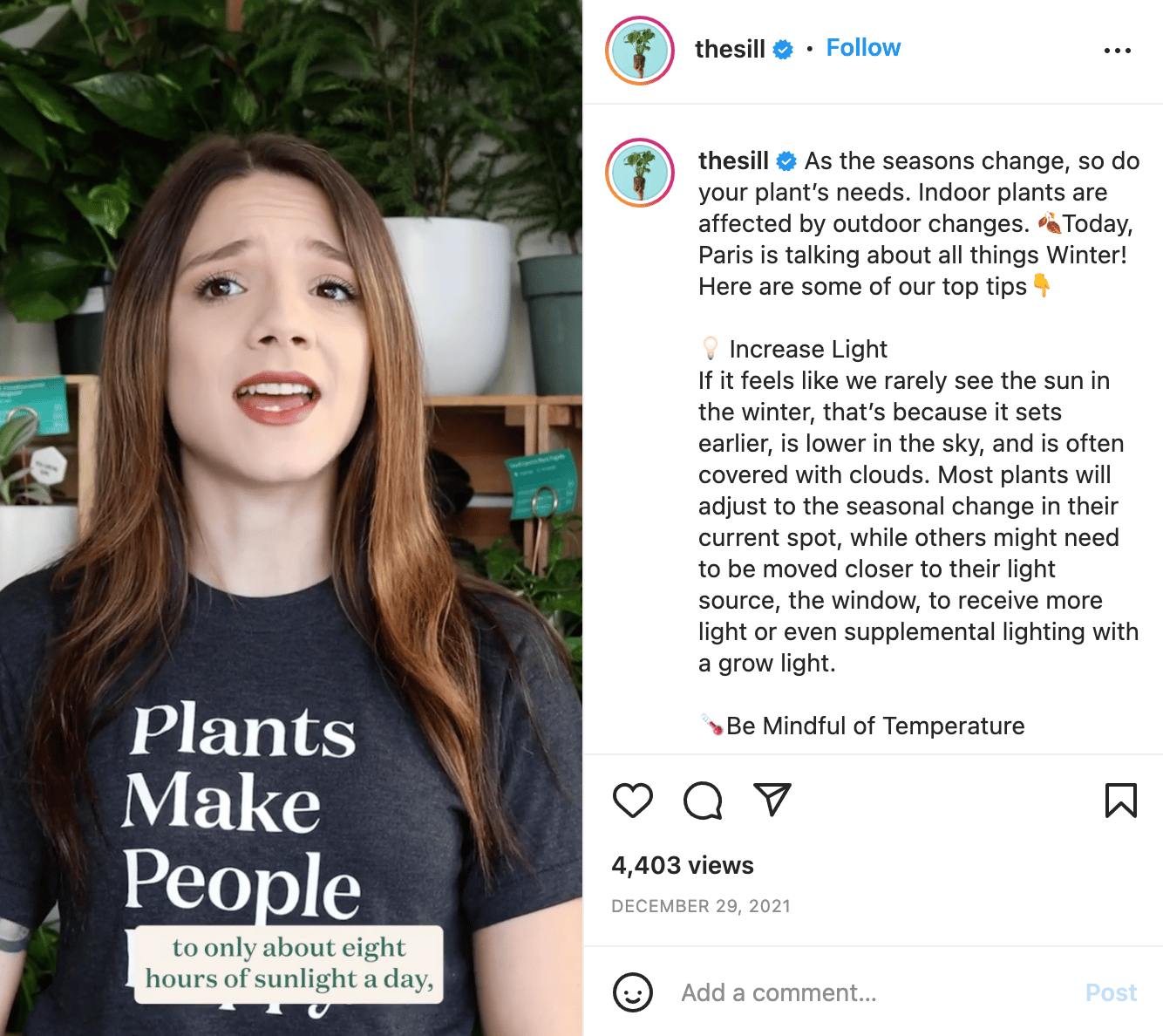 Instagram video tools
You can use a video editing tool that helps you create professional videos on a budget—and in less time—to really ramp up your Instagram marketing.
We'll walk you through our top five Instagram video editors so you can start creating your own videos.
Biteable
Biteable is an easy-to-use social media video maker that comes with a number of starter templates that can set your video production on the right track.
You'll get easy access to animated text options, photos, video clips, audio, and more. Upload your own footage or use stock videos that are relevant to your business and the piece of video content you're creating.
With its basic drag-and-drop user interface, Biteable is the perfect tool for beginners that still delivers a professional output.
Pricing: Biteable has a completely free plan. Premium plans start at $49/month, paid annually.
Promo
Promo helps you create new videos for your Instagram account starting from a template or from scratch.
It offers thousands of video templates to help users get started, pre-made text animation options, video clips, and more. Users can easily adjust the size of their video, whether it's for a Story or their Instagram feed.
Pricing: Plans start at $29/month, paid annually.
Animoto
Animoto is another easy-to-use Instagram video tool. With templates, video trimming capabilities, a stock video library, and an iOS phone app, this tool is great for creating videos on the go.
With Animoto, users can also share videos to Instagram seamlessly. Once the video is complete, users can click the "Share" option, connect their Instagram account, and post their video automatically, bypassing the need to download and upload manually.
Pricing: Animoto has a completely free plan. Paid plans start at $8/month, paid annually.
InVideo
Like the other programs, InVideo also features several templates that make Instagram video creation a breeze. Users get access to over 3 million stock videos and photos, animated text, special effects, video trimming, and more.
The tool also offers goodies like slide transitions from one scene to another and smart frames to help you create a unique video.
Pricing: InVideo has a completely free plan. Paid plans start at $15/month, paid annually.
Vimeo
Vimeo is a video-sharing site just like YouTube, but it also has its own video creator, making it easy for users to create and share video content in an instant. However, you can still download your video content to quickly upload to Instagram.
With templates, stock videos, transitions, text effects, and more, users can instantly create engaging Instagram videos with the same suite of tools they use to create promotional videos for their website.
Pricing: Plans start at $7/month, billed annually.
Start creating your own Instagram videos
Creating your own Instagram videos doesn't have to be difficult. With these tips and tools, you and your marketing team should be well on your way to building out a robust Instagram video marketing calendar with many different video types.
Nurture relationships with followers with Instagram Automation by ManyChat.
The contents of this blog were independently prepared and are for informational purposes only. The opinions expressed are those of the author and do not necessarily reflect the views of ManyChat or any other party. Individual results may vary.