How to Get On The Instagram Explore Page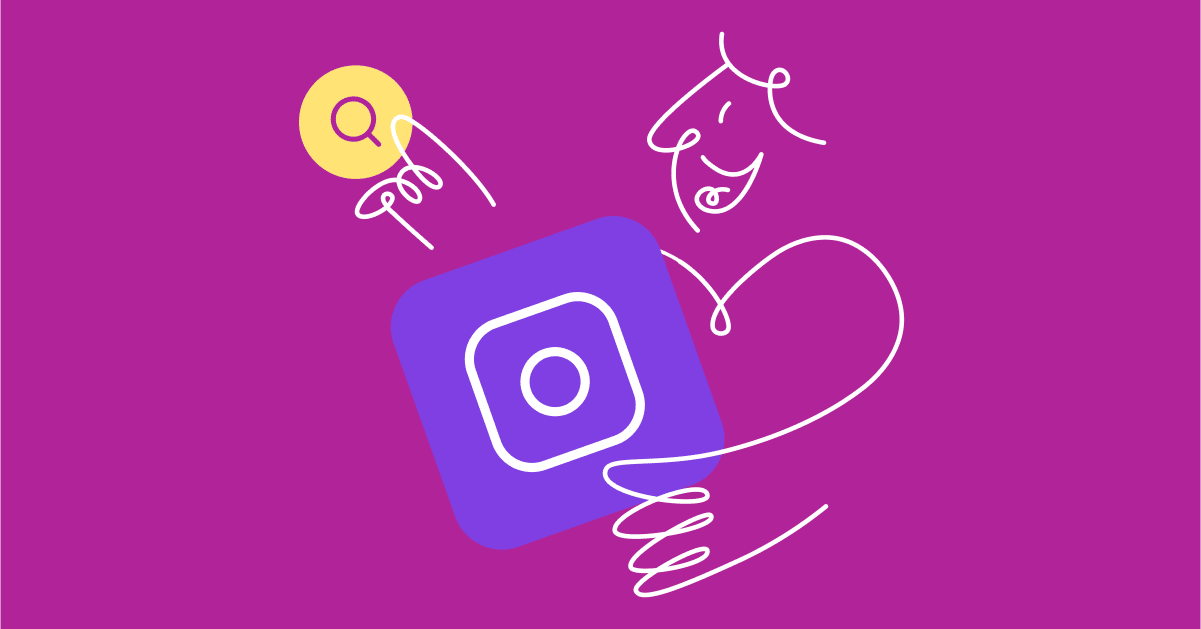 If you've tried growing your brand on the social media platform, Instagram, you've probably encountered a harsh truth with social media marketing. Getting your content in front of the right eyeballs on social media is quite hard without forking over some ad spend for Instagram growth.
However, it's not as bad as it seems! There is still one place where your audience has a significant chance of discovering your brand organically and becoming Instagram followers: the Instagram Explore page. Over 200 million Instagram users visit the Explore page every day, and your post could be in front of them.
This guide will help you understand what the Explore page is, how it all works, and tips for snagging a top spot for your brand on your audience's Instagram feeds to gain followers. 
How the Instagram Explore page works
First, before we discuss how to get your post on the Instagram Explore page, let's talk about what the Explore feed actually is.
Inside the Instagram app, the over one billion monthly active users can search for content they want to see by hitting the magnifying glass icon at the bottom of the screen. When they do that using the Instagram app, they will also see the Explore page.
This area of the Explore feed is where the Instagram algorithm curates posts based on the user's previous behavior in the app: what they've liked, commented on, saved, viewed, and searched for. Instagram uses this information to display the type of content it believes each user will enjoy.
How does the Instagram Explore page algorithm actually work?
As users interact with Instagram content, the algorithm learns what appeals to them and what they skip. It aims to ensure the Explore page contains more of what the user would be likely to interact with, such as content from Instagram influencers and celebrities, from accounts they don't already follow.
However, another important "requirement" for getting your content on the Explore page in addition to the Instagram algorithm is high engagement. A lot of the time, it's not enough that your brand's content is similar to what users want to see; it also has to be engaging to earn Instagram growth.
When people interact with your posts, those posts have a better chance of showing up on their followers' Explore page. Such engagement also boosts the possibility of your post showing up on your target audience's feed (who are active in your niche).
As a business owner or marketer, exposure on Instagram users' Explore tab is critical for reaching new potential customers and followers organically and developing brand awareness with new audiences. So, how do you get there?
Top 7 tips to get on the Instagram Explore page
Though you now have an idea of what goes on behind the scenes for a post to show up on the Explore page, you might still be struggling with a strategy to land your posts on there. Here we'll show you seven tips that will give you a much higher chance of success with Instagram's Explore page.
Research your target audience
Sounds like an obvious Instagram explore page tip, but to create Instagram posts users will find interesting, you'll first need to know what they are interested in when figuring out how to get your post on the Instagram Explore page. 
To start, research what your competitors are already doing on the platform and evaluate their engagement levels. Any posts that elicit high engagement signify that your target audience is open to interacting with that type of content.
Then put yourself in your audience's shoes. If you follow and interact with content in your niche already, you also have the option to check out your own Explore page to find trending content you can compare to your own.
Additionally, you'll want to look at your Instagram engagement metrics to see how your own content has performed with each Instagram user.
Instagram's analytics tool, "Insights," is the best place to determine which content is performing the best with every Instagram user and where the engagement came from. You can get there by clicking on the Insights button underneath your posts.
By cross-referencing your results and the top-performing content already on the platform, you'll have a better idea of what works well, such as which Instagram post connected beyond just one Instagram account, and what doesn't.
Use hashtags and geotags
You might have noticed a minor conundrum: you need engagement for your posts to appear on the Explore page, but how do you generate engagement without being on the Explore page? The easiest way to go about this using your Instagram account (beyond creating great content) is to use Instagram hashtags and geotags on your posts.
Hashtags are Instagram's way of categorizing and organizing content. When people use them, it allows other users interested in similar content to find it in search results and on their home feed if they follow the hashtag.
In simple terms, hashtags are another way for users who aren't already following you to discover your posts. When you publish with hashtags, you'll generate some initial engagement from your existing followers and people active in those tags.
Geotags (otherwise known as Location tags) are a way for you to offer even better context for your post, instead of just a relevant hashtag. Better context equals an increased likelihood that your target audience will discover your content.
You can add a geotag in your regular posts by using the Add Location option beneath the caption editor.
You can also geotag Instagram Stories—which often appear on the Explore page—by using the Location sticker as you edit your Story.
Post using different formats
The folks behind Instagram itself have said:
"Posting across multiple surfaces increases your likelihood of being discovered by new audiences."
By "surfaces," they mean creating posts that will appear on different parts of the app, i.e., posting on IGTV, Instagram Reels, Stories, Instagram Shop, as well as regular feed posts.
It's also no secret that Instagram is moving away from its original emphasis on "photo-sharing" and is now pushing video content, shopping, and messaging. So if you want the best chances of getting onto the Explore page, you'll need to become familiar with video—at least comfortable enough to post a video every so often.
As a bonus, the Explore page always features video content more prominently and autoplay means it easily catches users' attention. So if your video ends up on the Explore page, your chances of quality engagement are very high.
Try experimenting with different post formats to see which ones elicit the most engagement. Even if you post still images, try posting a carousel of images your Instagram followers can scroll through (the algorithm counts all behaviors as "engagement").
Interact with your audience
One sure-fire way to increase your overall engagement levels for Instagram marketing, besides focusing on each individual Instagram post, is to respond to users; after all, the purpose of social media is to be social. Part of cultivating a presence on Instagram (or any other platform for that matter) is having conversations. 
When people comment, like, or share your posts, respond to those interactions. You can reply to comments, return likes, or comment on the shared posts, all of which tell the algorithm, "Hey, this piece of content is creating conversation."
Instagram wants to feature content that generates conversations on the Explore page. One of the ways you can engage your audience with social media marketing without any extra effort on your part is by using the Comments Growth Tool, which is part of Instagram Automation by ManyChat.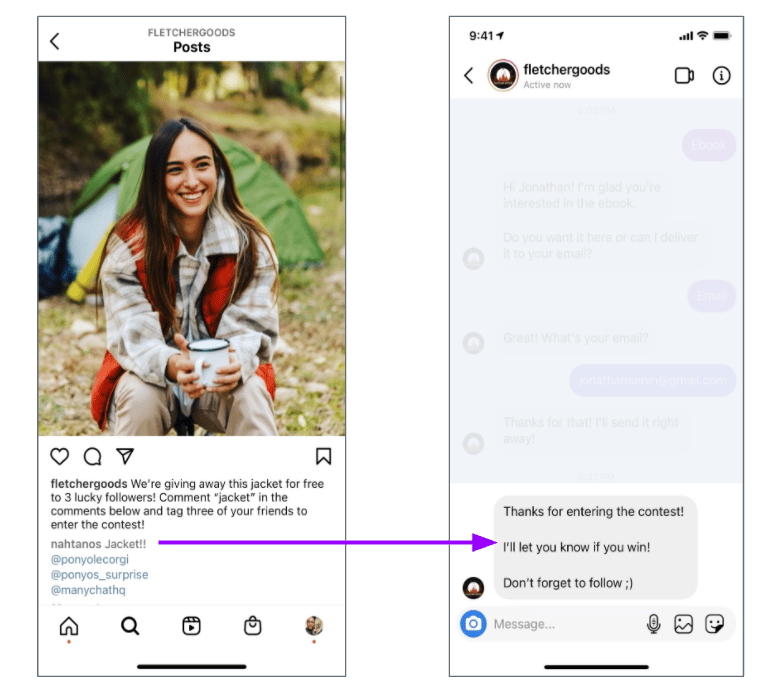 The tool works by picking up keywords (that you set up beforehand) in your comments section and automating interactions with those comments. For example, you can set up automatic comment replies, likes, and even DM's based on your trigger words.
Let's say you were running a giveaway. You set up a call to action in your post prompting people to comment on it with the word "eBook" (or other relevant keywords).
When people publish a comment using this word, the growth tool can automatically like the comment, reply with a phrase like, "Thanks! Check your DM's for your stuff!" and send them into a message sequence designed to encourage even more engagement. This strategy worked well for Roma by Richi; check out the results in the case study linked below:
Read: How Roma by Rochi Saw a 741% Lift in Engagement Using Instagram Automation
Post when your audience is active
It might seem like an obvious tip to only post when your audience is actively engaged on the platform; however, it's not always as simple as it seems.
The vast majority of Instagram users are outside of the U.S.; even within the U.S., there are different time zones to contend with. With such a global audience, it suddenly becomes a lot trickier to determine the best times for your business to post on Instagram.
A few methods will help you figure out when your audience is active, such as analyzing your top-performing posts or running experiments. However, the easiest way to find out is by going back to your Instagram Insights.
In the Insights, you'll see a section dedicated to "Audience":
In there, you'll find the basic demographics of your audience, but more importantly, it also reveals the times and days your audience is most active. Post during these times for the best chance of enjoying that initial engagement boost.
Try working with influencers or other brands
Working with influencers or other brands in your niche can also help to drive engagement and further reach. This tip works in the same way as general engagement, but now your content has the added benefit of being in front of a tried-and-tested audience.
In your influencer or partner brand campaign, you'll be looking to cross-promote by posting the same or similar content on both your business account and their accounts. The extra support and engagement you acquire from these other Instagram influencer accounts will give you a great chance of appearing on the Explore page.
However, if your business isn't ready for this type of campaign (perhaps you need to build up your following more for influencers or brands to partner with you), you can try another simple technique: Tag them in your posts anyway.
Of course, don't be spammy. Make sure the content is relevant and warrants you tagging them, but doing so can help build relationships and can generate conversation.
Keep a consistent aesthetic
The last tip on this list is to make sure your feed adheres to a general theme or aesthetic. If Instagram (and Instagram users) value anything other than engagement, it's consistency.
On this topic, TechCrunch reported, "Stories with content more similar to and representative of a creator's typical feed posts are more likely to show up on Explore."
However, we can also assume this guideline applies to other post types, especially since maintaining a consistent aesthetic helps you in two additional ways:
Similar visuals support a stronger brand image
Your audience knows what kind of content to expect from you
Let's take a look at a quick example from Fab Giovanetti, an award-winning marketing consultant:
Fab does a great job of using a warm-brown tone throughout her posts, even though the content in each is different.
The color palette and soft textures in many of her posts help bolster her warm and empathetic personal brand style. People who enjoy that aesthetic are more likely to follow and engage with her future content.
As you begin to plan your content strategy for Instagram, look past individual posts and pay attention to how all your posts cumulatively communicate your brand's visual style.
Grow your brand with Instagram
Building your brand on Instagram doesn't have to be that tough, even if you're just starting out or don't have much budget for paid advertising. Following the tips in this guide will help you finagle your way into the Instagram Explore page, where you can significantly increase your engagement and brand awareness.
Of course, you don't have to do everything manually either by just trying each Instagram explore page tip. With the help of ManyChat's Instagram Automation, you'll have plenty of extra time to strategize and create high-quality content that will no doubt find its way to the Explore page!
Grow your Instagram following and make sales with Instagram Automation by ManyChat.
The contents of this blog were independently prepared and are for informational purposes only. The opinions expressed are those of the author and do not necessarily reflect the views of ManyChat or any other party. Individual results may vary.