8 Smart Instagram Bio Hacks You Probably Didn't Know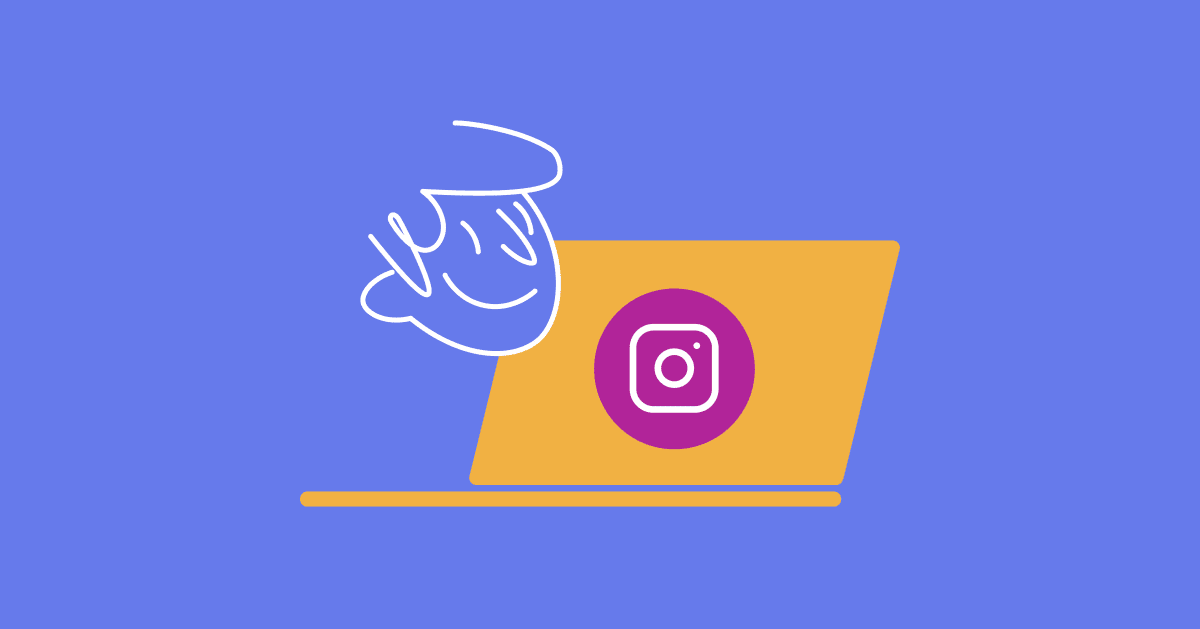 Often, the key to succeeding on social media is to build a large following on social media accounts. The same is true for Instagram, a platform where businesses can create their own profile, post content, and direct people to their website.
The only problem with the social media platform is that many business owners forget that their Instagram bio helps first-time visitors form their very first impression of your business. If your profile on social media accounts doesn't explain what you do or why someone should follow you, you're going to have a hard time attracting new followers — even if your content strategy for an Instagram account is excellent. 
Ready to revamp your Instagram bio? This guide will help you build out the perfect Instagram bio to attract Instagram followers. 
How to edit your Instagram bio
Before we dive into the hacks and Instagram bio ideas, you might want to know how to access your bio. To change or add a new bio:
Open the Instagram app on your smartphone.
Select your profile photo icon at the bottom of the screen.
Press "Edit Profile."
Change your bio under the Bio section.
Tap "Done" to publish the changes.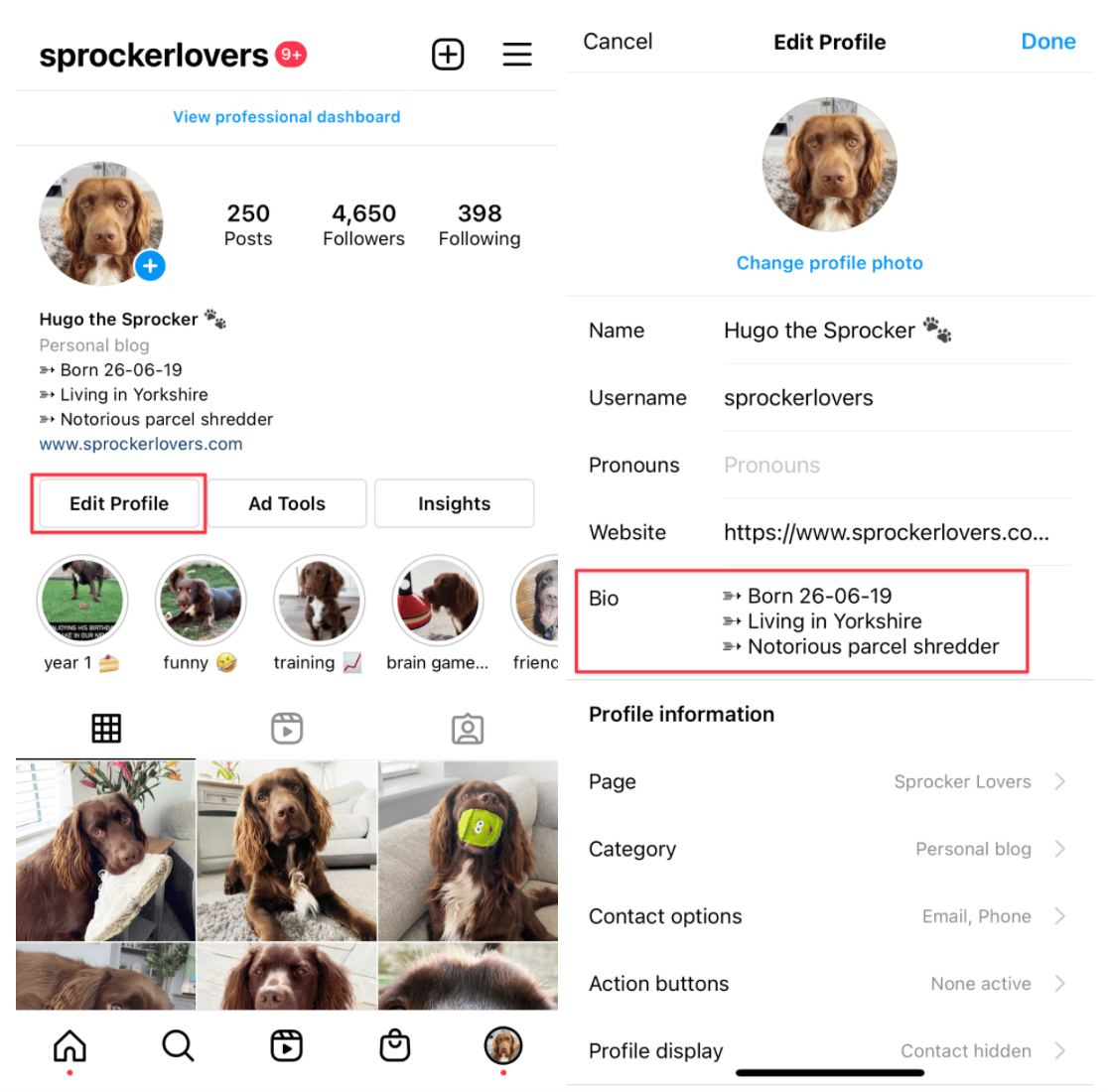 (While you're here, it's worth checking that your account has already been converted into a business profile. Having a business profile gives you access to more features that help grow your following, including Instagram Insights and link Story stickers.)
8 Instagram bio hacks to try
Whether you're hoping to boost your follower count or drive people towards your call-to-action button, here are eight hacks for Instagram bios you probably didn't know.
1. Optimize your bio with keywords
At its core, Instagram is a search engine. It has similar goals to Google in that it wants to show its users the best quality content it thinks they'll find interesting — be that through the Explore page, recommended accounts to follow, or a non-branded search like "photography tips" or "inspirational quotes."
One way to reach those people is by optimizing your Instagram bio for those terms. Your account name and bio are what the algorithm pulls when providing users with suggested accounts, so sprinkle in the keywords your target audience is searching for.
Freelance Bold, for example, ditches the brand name as their account name in favor of "Tips for freelance writers" — a series of keywords their audience is likely looking for.
Ecommerce brand Angelle Collection, on the other hand, optimizes its Instagram profile by sprinkling keywords like "British loungewear" into its bio.
2. Add line breaks
Line breaks are a superb way to make your Instagram bio stand out to Instagram users. It also helps brands communicate their unique selling proposition (USP) when everything has its own line. See this in action in Sculpt Activewear's Instagram bio. Each sentence starts after a line break, making it easier to understand the bio and the brand's USPs.
There are several methods you can use to add line breaks to your Instagram bio. The first is the simplest: Hit "Edit Profile", scroll down to your bio, and hit the return button on your keyboard to add a line break.
The bad news is that this doesn't always work. Some Instagram users work around this by adding periods between the line spaces. While that does make each sentence start on a new line, it can look ugly and off-putting.
Instead, the easiest way to add line breaks to an Instagram bio is:
Write your new bio in your Notes app or in a Microsoft Word document.
Copy the bio over to Instagram.
Press "Done."
Double-check the bio has the correct line spaces.
3. Change Instagram bio fonts
As a whole, the Instagram platform has one default Instagram font for Instagram users. That doesn't mean you can't use different fonts in your bio. You just have to put in a little extra work. To change your Instagram bio font:
Choose the special font you want to write your bio in.
Install it in Microsoft Word (or find an online font generator like LingoJam).
Type your new bio text in that font.
Open your Instagram bio settings.
Copy and paste the new font into your bio.
You'll end up with something that looks like The Blackboard Artist's bio.
4. Add special characters
Instagram allows users to upload emojis into their bio directly from the emoji keyboard. Just make sure you have the emoji keyboard enabled on your Android or iOS device. You can also use the online emoji keyboard if you're changing your Instagram bio using a computer.
What about if you want to add special characters outside of those that exist on the emoji keyboard? Whether it's bullet points, arrows, or other text-based special characters, copy and paste them from Cool Symbol to get them in your Instagram bio.
Girl Going Global, for example, uses special characters at the start of each line in her bio.
(Sometimes you'll need to add the special characters to a Note or Word document before pasting them over into your bio. This prevents the characters from playing around with your line spacing or formatting.)
5. Include branded hashtags
Chances are, hashtags form a key part of your Instagram marketing strategy. Not only do they help people find you (this applies to other social media platforms, such as Twitter, as well), but if you're creating branded hashtags, you're encouraging existing customers to share your products or services with a friend using the hashtag.
It doesn't matter whether you're asking influencers or customers to share your branded hashtag or not, so long as it's easy for them to find. This makes your Instagram bio the perfect place for any branded hashtags you want people to see. That way, anyone visiting your profile knows which word or phrase to use, especially if you add hashtags.
Homesense, for example, uses the branded hashtag #TreasureSeeker in its creative Instagram bio to encourage followers to tag the brand's product in their own posts. When you add hashtags like this, it creates a ton of easy-to-find user-generated content (UGC) for the retailer to repost to its own account.
6. Write a call to action
The best way to make money through Instagram — be that selling products or services — is to direct people off the platform and towards your site. While Instagram only allows you to direct followers to one place (more on that later), use your Instagram bio to encourage people to click the link with a call to action (CTA) like:
"Shop more below."
"Read our blog."
Learn more about our services."
Need inspiration? Look at this example from Hush, which uses the last line of its Instagram bio to direct people towards the website. "Shop the new collection" tells people exactly what to expect when they click the bio link.
Pro tip: Additionally, use Instagram DM Automation as another CTA. Use your Instagram bio to direct followers to direct message (DM) you. Take the ManyChat Instagram bio, for example. The call to action is to DM the profile with a keyword ("DEMO"). To see how its Instagram DM Automation tools work, followers can DM the keyword or click the Campsite link for more information.
You can also configure a similar automation to automatically respond to people who DM your account. Give real-time answers to FAQs, collect email addresses, and direct people towards specific landing pages — all without human intervention.
7. Add multiple links
Speaking of links, you're only able to add one clickable link from your Instagram bio. An Instagram hack for a good Instagram bio is to use a bio tool like Later or Campsite. These third-party apps allow you to create a mini navigation landing page that provides Instagram followers multiple links to click, each one taking them to a different page.
Want to take this a step further? If you're using Instagram as a way to promote products from your eCommerce shop, use a tool like Shopthisfeed to create a custom link that replicates your Instagram feed. Followers can tap the photo they saw an item in and be taken to the product page to purchase.
Here's what that looks like for Not On The High Street:
8. Add a custom image to your Story highlight
One thing many people forget about when optimizing their bio is Instagram Story highlights. You can save Stories — which usually expire after 24 hours — to your profile page, and anyone landing on your profile can see the saved Stories.
While you're already making tweaks to your profiles on social media platforms, it's worth taking some time to optimize your Story covers. It makes a big difference to the overall appearance of your Instagram profile as demonstrated by Natania Creates:
To edit highlight covers and names, follow these steps:
Create the cover image using a tool like Canva, Photoshop, or the Instagram Story editor.
Publish it to your Instagram Stories.
Hit the "Highlight" button.
Choose the highlight you want to add the cover to.
Go back to your profile page and open the highlight.
Press "More."
Choose "Edit highlight."
Select "Edit Cover."
Choose the recently-added Story to use as your highlight cover.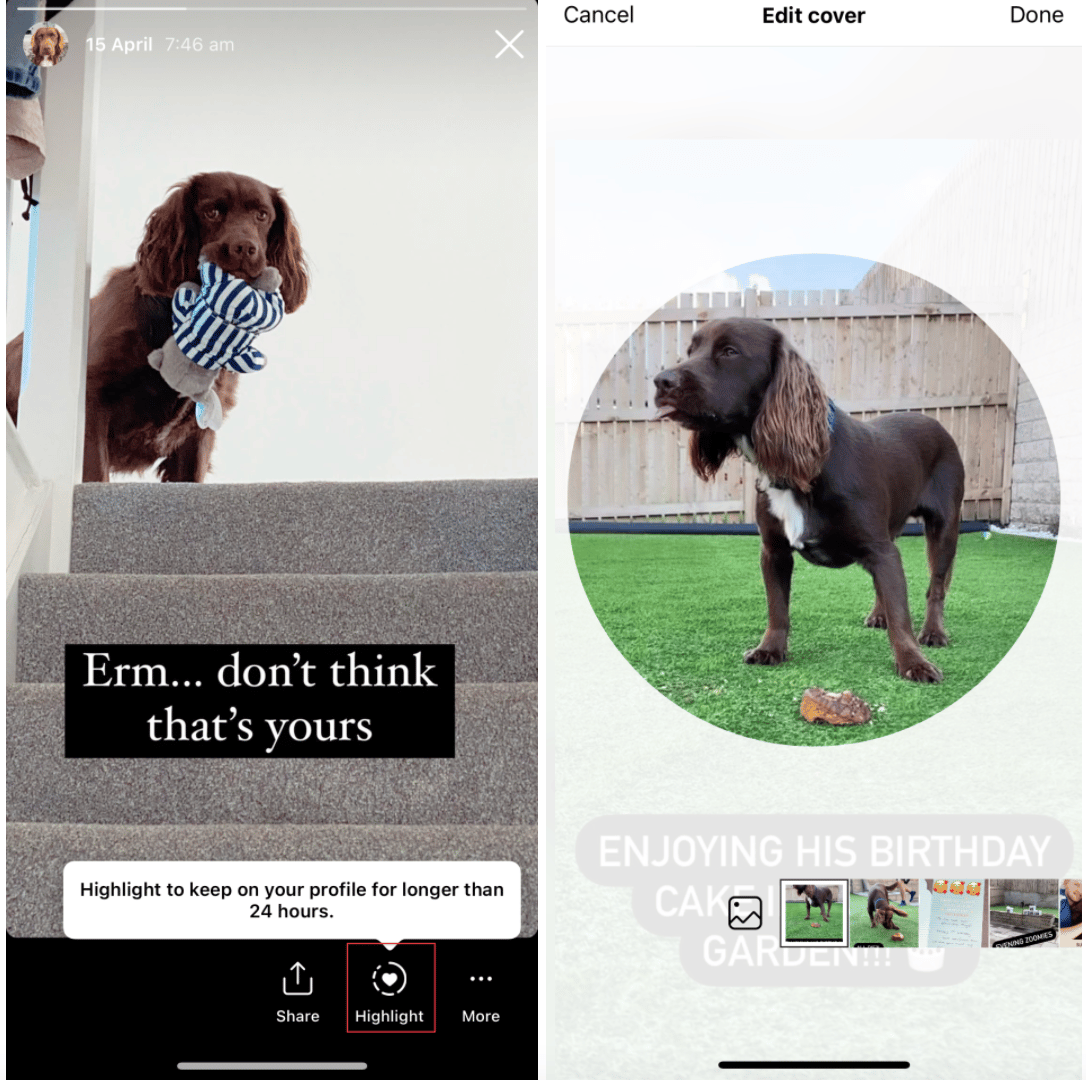 Try these Instagram bio hacks today
Are you surprised by any of these Instagram bio ideas? It goes to show that just because the Instagram app doesn't allow you to add line spaces, special characters, or multiple links, there are workarounds to build a creative Instagram bio and target the right followers.
While we may be biased, our favorite Insta bio hack is using a CTA that encourages followers to send a DM. Make sure you've set up Instagram Automation by ManyChat to give quick replies to anyone who does. Not only will you improve engagement as you are mastering how to edit your Instagram bio, but you'll also have the opportunity to ease any obstacles your target customer has before purchasing.
Need an extra pair of "hands" to manage your Instagram account? Start using Instagram Automation by ManyChat today.
The contents of this blog were independently prepared and are for informational purposes only. The opinions expressed are those of the author and do not necessarily reflect the views of ManyChat or any other party. Individual results may vary.