Here's Why Instagram Carousels Drive Engagement (And How to Use Them Effectively)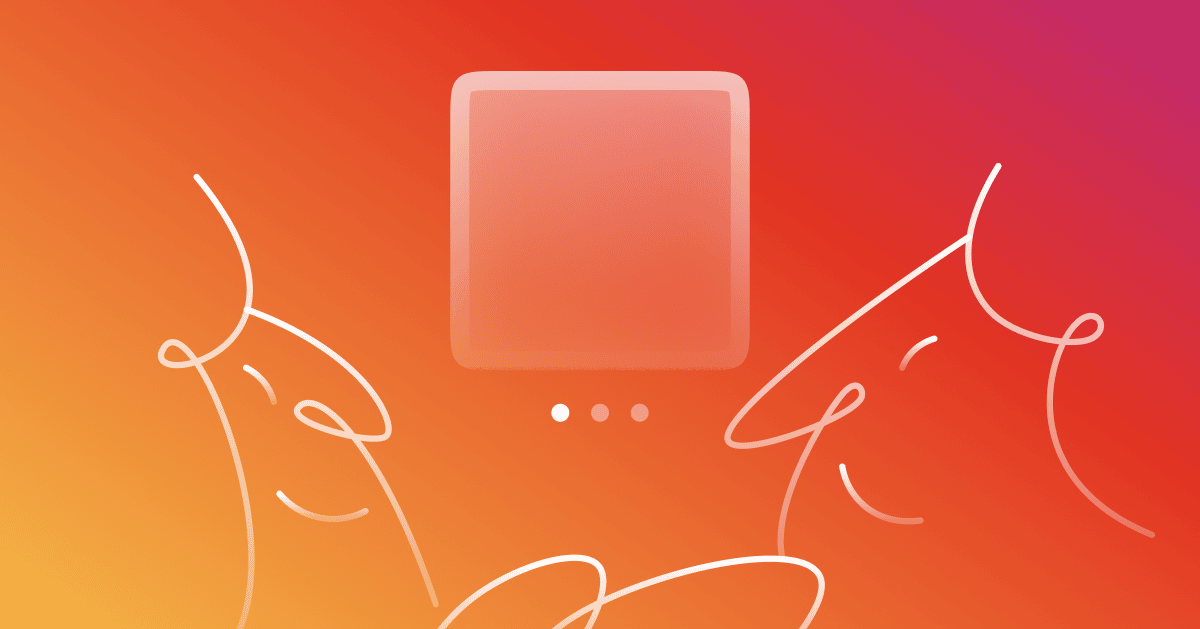 Social media algorithms have changed dramatically over the past decade. Just a few years ago, you could post content to your Instagram profile and reach the vast majority of followers, because of your Instagram feed, and get high Instagram engagement. Now, you're lucky if you reach a third of them with a standard Instagram feed post,particularly when you don't include multiple images.
When deciding which position to place a business's content in, Instagram's algorithm takes engagement-related metrics, such as comments, likes, and bookmarks, into consideration. By making those metrics a priority for Instagram users, you'll increase your Instagram reach — and, therefore, greater return on investment (ROI). 
So, what type of Instagram content gets the highest engagement rates? There are several to choose from — static images, Instagram Stories, Reels, IGTV … the list goes on.
This guide shares how to drive engagement with one of the most underused content formats for Instagram and social media marketing: Instagram carousels.
What is an Instagram carousel?
An Instagram carousel is a newer feature where businesses can share up to 10 images or videos in a single post. The user swipes left to scroll through the content in the carousel, like this example from ManyChat's Instagram account:
How to create an Instagram carousel
To post a carousel, follow the usual steps you'd take when uploading a new post.
Tap the "multiple image" icon during the media upload stage and select the images or videos you want to feature in the carousel for Instagram users.
You can choose up to 10 images or videos in a carousel. Each selected image or video will be numbered to help you keep track of and organize slides in your Instagram carousel post. These numbers correspond to the order your media will appear in the carousel, so make sure you order them properly if it's important for your post.
Do Instagram carousels improve engagement?
The short answer is: Yes, Instagram carousels do increase engagement, mostly because of multiple images and video content. 
Research from Socialinsider shows that carousels achieve an average engagement rate of 1.92%, compared to 1.45% for standalone video posts and 1.74% for single images. What's even more interesting, though, is the spread of engagement across each post depending on how many images (slides) are in the carousel.
Carousels with 10 slides have the highest engagement rate, which may be surprising to some, especially considering users have more swipes to complete in order to see all the content. Yet despite their benefits, just 6% of carousels take advantage of all 10 slides.
Interestingly, while Instagram refers to carousels as "multiple image posts," they can also combine images and videos. Research found that carousels with a combination of both images and videos generate higher engagement rates (2.33%) than video-only (1.86%) or image-only carousels (1.80%).
10 Instagram carousels ideas to improve engagement
If you're not already using carousels, now's the time to start experimenting with them. Data shows that carousels account for 19% of all Instagram posts, compared to just 4% of posts in 2017. There's a big surge in the number of Instagram users posting this type of content — and for good reason.
So, how can you use carousels to drive engagement? Here are 10 clever and creative ways to use carousels.
1. Create an eye-catching first image
The first slide of your carousel is the most important. It's the first image a user sees in their feed, and could be the difference between them scrolling through your carousel and scrolling past it.
There is no "best practice" to create an eye-catching first image in a Carousel post that will stop a user's scroll. Follow the brand guidelines you've already created for your business's Instagram account (i.e., colors, fonts, or image filters). 
If you're running a themed Instagram account, it's worth noting that the first image of your carousel will be the one displayed on your profile. If you're posting carousel images that don't fit within that theme, a smart workaround is to hide the less aesthetically pleasing content behind the eye-catching first image — like this one by Three Ships Beauty:
2. Share before and after content
Instagrammers LOVE transformations. So much so, that the hashtag #beforeandafter has been used on more than 22 million Instagram posts.
Certain weekly trends revolve around this before-and-after concept. Take the hashtag #transformationtuesday, for example. Every Tuesday, Instagram users share their transformation posts – no matter the subject — using the same hashtag.
This type of post lends itself perfectly to carousels. To make it work, you need only two images in the carousel (though you can of course use more, if relevant). Simply share a photo of before your project, followed by the completed after pic for your Instagram carousel post. Here's an example from Nooshins Hairgoals: 
Before-and-after carousels can work for all types of businesses. Just use an example where your product or service has contributed to the change.
3. Showcase your products in detail
Don't have before and after photos to share with your Instagram followers? Another way to use carousel posts to drive engagement on Instagram is by putting your own products or services at the forefront.
Some 81% of shoppers use the Instagram app to research products or services before purchasing them. Help them through that journey with a carousel to:
Tease a new product launch.
Showcase a high-value product.
Profile a product relevant to a trending topic.
Not only does this raise awareness of your product on Instagram, but it could also have a positive impact on your Instagram conversion rate. Half of people have visited a website to make a purchase after seeing it on Instagram.
Here's how Sony does this with their Instagram carousel:
Pro Tip: Capture more of the people who buy through Instagram by creating your own Instagram Shop. That way, you can tag items from the store in your carousel, giving followers an easy way to purchase the product you're showcasing without having to search for it on your website.
4. Share a list with your followers
Listicles are one of the most popular types of content. In fact, 36% of readers prefer list-based headlines over how-tos, tutorials, and question-based headlines. Implement this knowledge in your Instagram marketing strategy to create list-based carousels, and showcase one item on your list on each slide.
Stuck for ideas? Here are some examples of lists you can create carousels for:
A checklist.
A repurposed list from a recent or high-performing blog post.
A shopping list.
A to-do list.
A top tips list related to your industry.
A list of facts or stats.
We can see this in action in a recent ManyChat Instagram post. The company repurposed an infographic into a carousel to expand its reach and share the data with people who hadn't already visited the blog post:
5. Share a recipe, tutorial, or step-by-step process
A carousel is a great way to share a step-by-step type of content, such as a tutorial or a recipe.
To make it easy to understand and follow, have each step of the process on its own individual slide of the carousel. This keeps things clear and encourages users to swipe through the entire carousel to view the entire sequence.
Although recipes might not be relevant to your business, there's almost certainly a process or tutorial you can share to engage your users. Here's a great carousel example from the graphic designer Logobrew which teaches people how to create isometric text in Adobe Illustrator:
6. Create a seamless photo
Not every carousel slide has to be its own unique image or video. In fact, seamless carousels are one image broken up into equal parts and shared in the carousel format. As the user swipes through the individual images, the carousel appears to be one large photograph.
This works especially well for:
Panoramic shots.
Wide-angle landscape images.
Large images where you want to show the full image, but not lose the detail.
Take a look at how Adam West does this with their two-slide Instagram carousel:
The great news is you don't need to be a design wizz to create a seamless carousel post. You just need some basic image editing software to divide your image into equal size squares. So, if your image is 4,000 pixels by 1,000 pixels, slice it into four 1,000px x 1000px squares.
Apps like Pic Splitter or PanoSlice split up your image for you. Or, you can turn any image into a seamless carousel for free using Canva.
7. Share a roundup
Do you have a collection of products, services, or app features you want to share on Instagram without taking up too much space on your page? Carousels are the perfect format for roundups. For example, you could create a carousel roundup of:
User-generated content, such as testimonials or five-star ratings.
Quotes from thought leaders in your industry.
Products for a particular task or purpose (like the best paintbrushes for wood).
Images of influencers wearing, using, or testing your products.
Products in your new collection.
Fashion brand In The Style does the latter with their Instagram carousels:
8. Include a "swipe left" instruction in your caption
Though primarily a visual platform, you can't underestimate the importance of a good caption to accompany your Instagram post. And when it comes to carousel posts, there's a cheat code to driving even more engagement on your post — explicitly asking your followers to "swipe left" through the carousel.
Research found that posts that include a "swipe left" message in the caption have an average engagement rate of 2%, compared to the 1.83% average for all posts.
Keep this little hack to yourself, though. Less than 5% of Instagram posts actually ask users to swipe through the carousel. Take advantage while others aren't.
9. Add a CTA on the final slide
If you're using Instagram as a social media marketing platform, you'll no doubt be looking to improve business metrics like sales or leads.
Earlier, we mentioned that the final carousel slide has the highest engagement rate of all. To drive your users into action from your carousel posts, include a call to action (CTA) on the final slide that instructs them to do something.
Let's put that into practice and say you want to capture an Instagram follower's email address off the back of your carousel. In that case, make the last slide a CTA like, "Send us a DM saying 'e-book' to read it."
Use Instagram DM Automation by ManyChat to configure a keyword trigger. Then, when someone DMs you with the keyword "e-book", you can ask for their email address, sync that data with your email marketing platform, and give leads immediate access.
10. Experiment with carousel ads
Unfortunately, most social media platforms are turning towards the pay-to-play model. It's why Instagram reach has been on a downward trend over the past few years since the platform has started incentivizing brands to pay to reach their own audience.
That's not all bad news though. If you have a carousel that's performing well organically and you want to give it an extra nudge, consider putting some advertising spend behind it.
Brands can use Instagram ads to share carousels. Not only will it expand your reach to non-followers, but you'll also be able to add a CTA on each slide of the carousel — like this example from Hobbycraft, which directs people to individual product pages on their eCommerce site: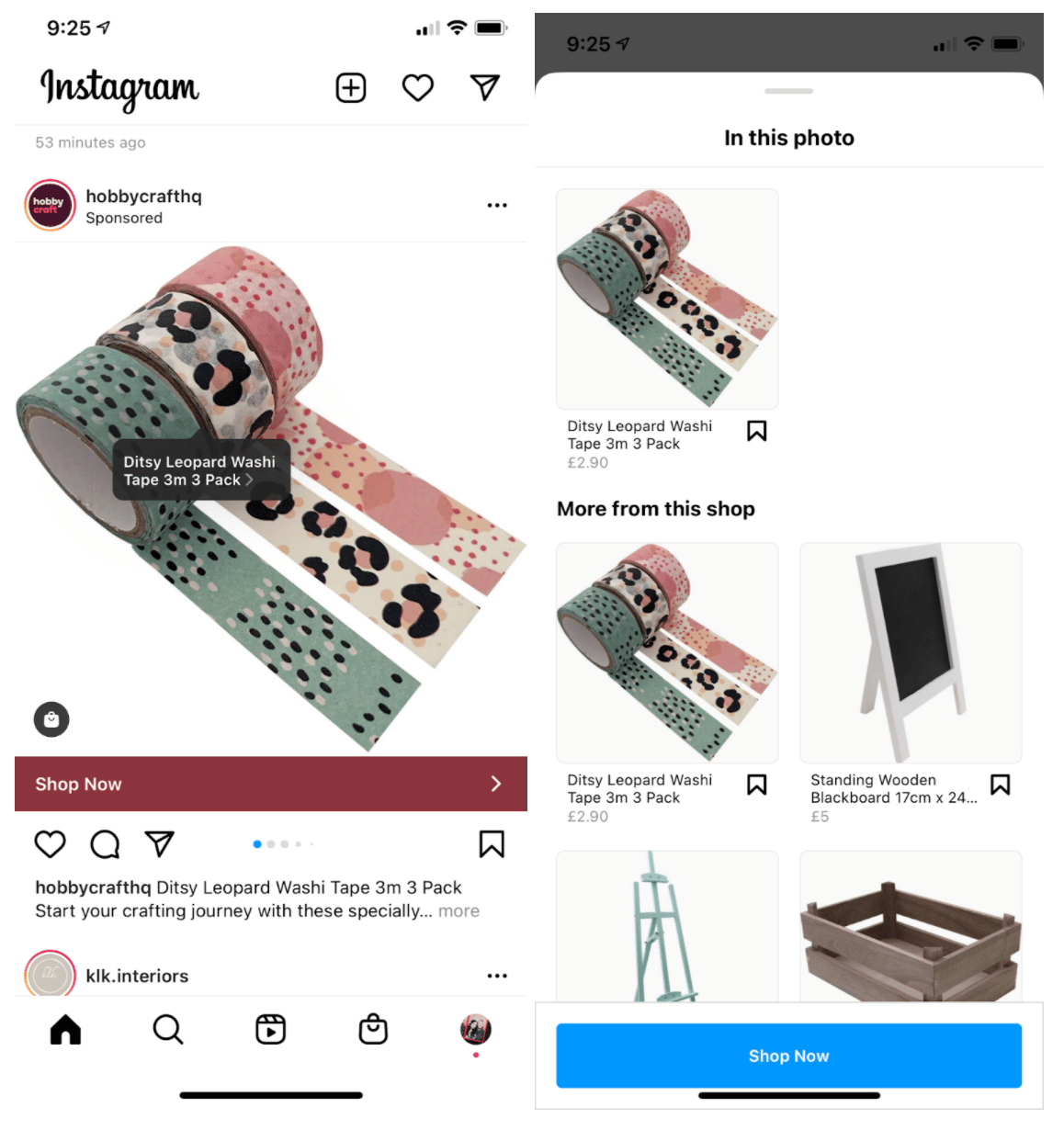 Increase your Instagram engagement rate with carousels
You can't argue with the facts: Instagram carousel posts are loved by users and creators alike. If you're not already using them regularly, it's time to start doing so.
Carousels will help you build deeper relationships with your Instagram followers through engaging content, which in turn can lead to more sales and revenue from the platform. Use them to share before and after photos, product collections, or tutorials for your followers to copy.
Start using Instagram DM Automation by ManyChat to grow your Instagram account today.
The contents of this blog were independently prepared and are for informational purposes only. The opinions expressed are those of the author and do not necessarily reflect the views of ManyChat or any other party. Individual results may vary.