Top 9 Marketing Influencers to Follow on Instagram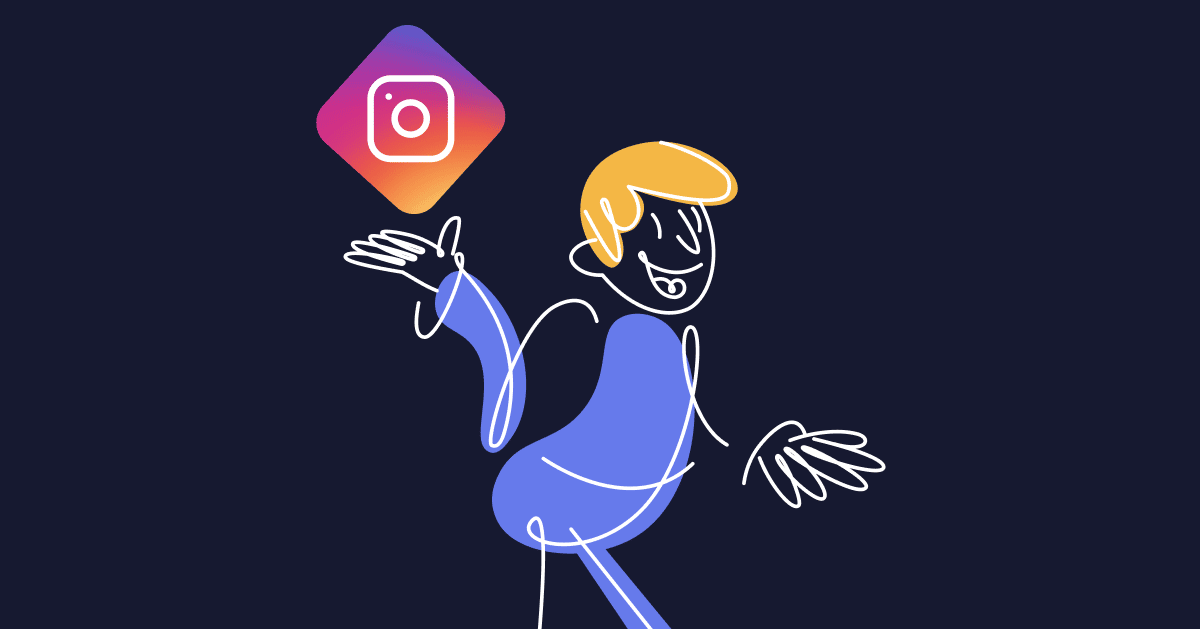 Instagram is one of the best social media platforms for inspiration, education, and entertainment. As with any social media app, it offers an enormous amount and variety of content you can expose yourself to and engage with.
Thus, for marketing professionals looking to get the most out of the Instagram experience, it makes sense to curate your feed by following accounts that will help you improve your business and digital marketing strategy.
When it comes to marketing influencers who are worth following on Instagram, there are plenty to choose from. We've rounded up some of the very best accounts in the marketing industry for you to learn from and be inspired by. Take a look at their content, the way they market themselves, and the advice they have to share.
The top 9 marketing experts to follow on Instagram
@marketingharry
The first social media influencer on our list is @marketingharry. One of the first things you notice about this marketing consultant's account is the bold branding.
Harry makes use of black, white, and red as a consistent color theme throughout his profile — not just in his posts but also in his profile picture, story highlights, and bio. He also ensures he gives first-time visitors a chance to learn more about him before following and scrolling through his feed.
Looking at Harry's account from a follower point of view, you get to learn from the advice he gives in each post, and he always provides links to resources you can utilize to learn more. From a business perspective, you can see all the different kinds of posts he creates, such as:
Giveaways
Polls
Carousel posts
Quick tips and hacks
Branded memes
He also leverages Instagram Automation by ManyChat features like automatic Story Replies and Conversation Starters, both of which leverage automation to initiate conversations with Instagram users.
Engaging your target audience and ensuring your content varies in format — much like Harry does — are two of the best ways to grow your Instagram account.
@thechrisdo
Second on our list is Chris Do. As far as mission statements go, "Teaching 1 billion people how to make a living doing what they love" is a pretty big one. Chris is an Emmy award-winning designer, director, and CEO, as well as the Chief Strategist of Blind and founder of The Futur (where he aims to complete his mission).
As a follower, you'll notice his content isn't as laser-focused on Instagram marketing strategies like @marketingharry's is. However, that's not to say his account is any less effective for marketers to follow.
On the contrary, the personal travel stories he shares, the interesting people he interviews, and the motivational content he posts help to make his profile relatable to people at all the different stages of their business journeys, including those who are only just starting out. His marketing advice is also applicable to many different types of businesses, which means it will likely help you in more than one venture.
@brock11johnson
Next up is podcaster and Instagram marketing guru Brock Johnson. Similar to @marketingharry, Brock makes use of memorable branding with a bold black, white, and yellow color scheme.
Brock posts a mix of guides, Instagram Reels, and IGTV videos about boosting organic growth for your business with Instagram. The unique dose of comedy he peppers throughout his feed helps Brock stand out among others on this list.
Beyond following the tips he gives in his content, also pay attention to how creative he is with the thumbnail previews and opening images of carousel posts he selects. He doesn't just pick a random frame from his videos; he creates specific images that entice users to click on them.
So next time you think about posting Reels or IGTV videos, think about how you can get the attention of your audience by creating an eye-catching thumbnail (which also happens to be a reusable asset!).
@thelucasokeefe
Social media consultant Lucas O'Keefe is next up on our list. His journey started with a viral TikTok video, which taught him the value of creating fun, shareable content for his audience. Lucas quickly took his learnings to Instagram and began offering consulting services.
Lucas's profile is a goldmine for Instagram marketers hungry for knowledge and insights. He regularly shares Stories and feed content that give useful insights into how to use Instagram and Chat Marketing. If you're ever feeling stuck on what to post, turn to Lucas's Instagram account for endless ideas. You can also try out modern marketing tools like ManyChat to continue growing your brand on Instagram.
@triciabiz
Tricia Olufemi-Olumide is one of Nigeria's leading business coaches and a top influencer on Instagram. She's also known as the business fixer. In 2017 she read a report on small businesses in Nigeria that opened her eyes to their struggles and motivated her to want to use her knowledge to make a difference. Harnessing her experience building multinational brands 10 years prior, she began Triciabiz.
The @triciabiz Instagram account is a treasure trove of information and inspiration for small businesses. You'll find short courses, marketing tips and tools, livestreams, and more from Tricia herself. She currently has an international audience of over 227,000 people, and she has trained even more through coaching, online courses, and one-to-one workshops.
@carlabiesinger
Carla Biesinger is an online marketing and Instagram coach who specializes in food, health, and fitness. She works with women who are new to running an online business and want to grow their brand on Instagram.
Carla has lived an interesting life full of diverse experiences, from growing up in Germany to owning a restaurant in Argentina. The content she posts to her @carlabiesinger account reflects her nomadic lifestyle while simultaneously providing insights to help grow your brand on Instagram. You'll find inspirational quotes, free downloads, and tips for increasing engagement and getting more followers on Instagram.
@jasminestar
Jasmine Star is a leading business strategist and founder of Social Curator, an education company that offers social media training and resources for entrepreneurs.
Jasmine, a former UCLA Law School student, tested the waters until realizing a traditional career path wasn't for her. Instead, she built her own photography business and social media consulting business, while sharing everything she learned along the way with her 457,000 followers on Instagram.
Jasmine's account is full of useful social media marketing insights. You'll find tips for building your business taking advantage of Instagram trends, improving your social media copywriting skills, and engaging with your audience at scale.
Jasmine regularly gives away free content through her Instagram, including her IG Reels Marketing Guide and other relevant guides. She even has a podcast hailed by Forbes as one of the best business podcasts to check out.
If you want to build a dedicated Instagram following and grow your business, @jasminestar is someone to follow.
@garyvee
Gary Vaynerchuk is a globally renowned marketer, video blogger, best-selling author, keynote speaker, and CEO and co-founder of Vayner Media, a global creative and media agency.
Gary Vee is literally everywhere on social media: Instagram, TikTok, Snapchat, YouTube, LinkedIn… the list goes on. If you've been in marketing for even one day, you've likely heard of Gary Vee.
His work has inspired tens of millions of people to become better business owners, and his Instagram account is arguably home to his best content.
Head to Gary's Instagram to find:
Behind-the-scenes glimpses into Gary Vee's life
Business motivation
Insights into the latest trends
Clips of Gary's talks and podcast interviews
Those are just the tip of the iceberg. As his 9.2 million+ followers can attest, you'll be in good hands when you click the follow button on Gary Vee's Instagram profile.
@candacejunee
Candace Junee is a faith-driven digital marketing coach for women entrepreneurs who want to break $10K monthly revenue in their business. A former corporate America marketer turned full-time entrepreneur, Candace shares her knowledge on Instagram with over 52K followers. You'll learn how to create multiple streams of income and consistently attract your dream clients.
Candace's Instagram is full of motivational quotes, interview clips, tutorials, Stories, and other engaging content. If you're a woman and want to run excellent marketing campaigns and scale your business, Candace is your go-to Instagram influencer.
The power of Instagram influencers
Whether you want to start an influencer marketing business or get actionable content marketing ideas daily, Instagram is the place to go. It's home to many digital marketing experts, like the accounts above, and it's where you can learn everything about business, from content creation to optimization, entrepreneurship and personal branding, and more.
Build your brand online with ManyChat + Instagram. Start free today.
The contents of this blog were independently prepared and are for informational purposes only. The opinions expressed are those of the author and do not necessarily reflect the views of ManyChat or any other party. Individual results may vary.