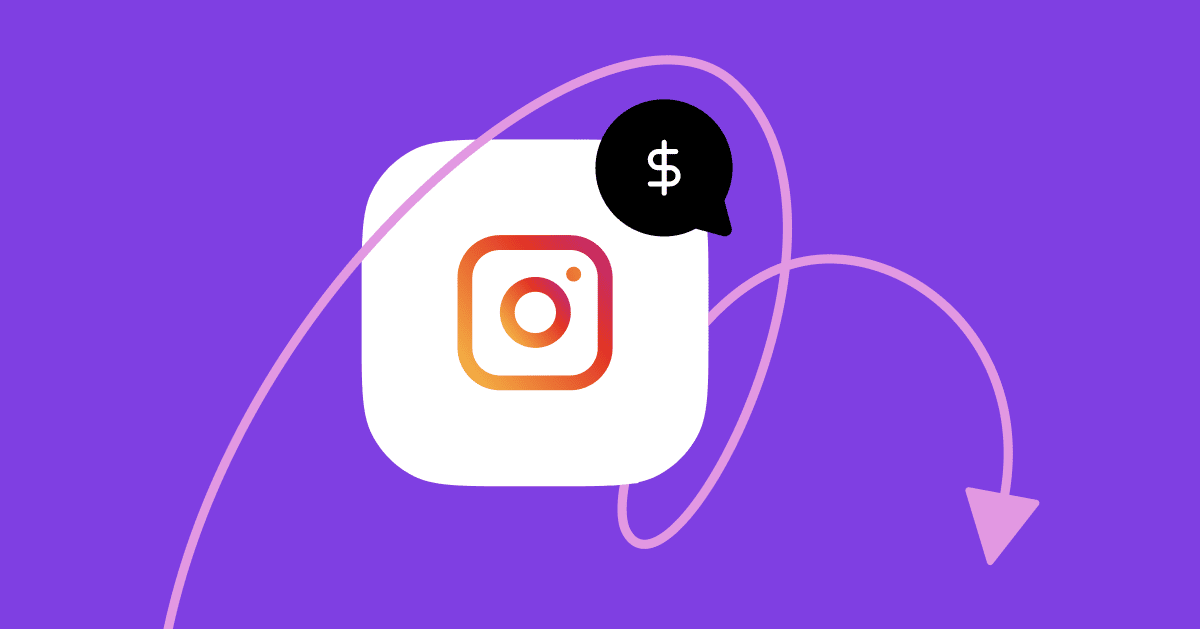 With over 1 billion active users, Instagram (IG) is one of the most used social network apps worldwide. Given IG's base and selling features, advertising on Instagram is an effective way to find new customers and generate sales for businesses big and small.
Unsurprisingly, according to new forecasts by Smartly.io, over a third (38%) of leaders surveyed from global retail organizations said they'll be increasing spend on Instagram in 2021.
But does Instagram's potential justify an increase in spending? We think so! If you've been on the fence about running Instagram ad campaigns, here are seven reasons why you should use them today.
They are cost-effective
A big concern for marketers is how cost-effective an advertising campaign will be. Total spend can vary greatly because advertising costs on social media platforms depend on several key factors:
The budget you set

The pricing model you choose, i.e., cost-per-click (CPC) or cost-per-mille (CPM)

Where you choose to display the ad

The goal type of your ad (e.g., impressions versus conversions)

The specificity of your audience (general, broad audiences versus niche audiences)
According to research from Socialbakers, the average CPC for an Instagram Story ad is around 45-50 cents; Instagram Feed posts will run you around 60 cents, compared to between 70 cents and $1 for Facebook ads.
CPM gets a little more expensive, settling at about $1-1.15 for Stories ads and around $1.70 for Instagram posts. Depending on your budget and goal, opting for the CPC pricing model is usually more cost-effective. However, take these averages with a pinch of salt—they are, after all, averages.
Let's take a quick look at a successful campaign from Bryan Anthonys, an online jewelry store that used Instagram and Facebook ads:
The company decided to go with Dynamic ads for its Black Friday marketing campaign and saw positive results across the board, including a 47% lower cost-per-purchase and a 57% increase in return on ad spend compared to traditional Instagram ads.
Read more: How Much Do Instagram Ads Cost (& How to Lower Your Spend)
Customer acquisition is easier
If you're trying to build brand awareness among a broader target audience, Instagram ads can help you. Thanks to its massive global base, Instagram enables you to connect with people from all over the world, no matter where your business is located. You can find potential customers from Japan to India (currently Instagram's largest audience) to Egypt, Mexico, and the U.S.
PepsiCo's premium bottled water brand LIFEWTR wanted to improve brand awareness and boost its association with art and creativity by using in-stream video ads and Feed post ads.
Using video ads showing an artist working on an outdoor mural and drinking from a LIFEWTR bottle, PepsiCo managed to engage its audience with the tagline "Life needs art like we need water."
The successful campaign resulted in a 2X lift in awareness and a 1.9X lift in ad recall.
Seeing as it's a household name in many countries, you might not think Lay's has a problem with brand awareness. (It doesn't.) However, in this instance, it was also trying to bring attention to Operation Smile.
In its video ad series, Lay's revealed the stories of people behind the smiles in its original 2018 "Lay's Smiles" campaign. The positive stories helped the company achieve amazing results for both brands, including a 16-point lift in ad recall, a 5.6-point lift in message association, and an overall reach of 40 million people.
You can automate follow-ups
When you think of social media marketing, automation marketing tools may not come to mind (except for maybe Facebook's automatic ad placements). However, ManyChat now has the tools to help you automate follow-ups for your ads on Instagram.
One key Instagram Automation feature, scalable Messenger ads, will help you ensure you get the most bang for your buck with your IG ads. Let's look at how you can use each of them in your next ad campaign.
Messenger ads
One of the many types of Instagram ads (which we'll talk more about later), Messenger ads can take your customer straight into a Chatbot flow that you can create using an easy-to-use workflow builder.
Once there, your customers will enter an automated conversation that unfolds based on their responses. It looks a little like this:
Pairing a Messenger ad with automated follow-ups through ManyChat can help you qualify leads, answer FAQs, and even send the customer to Live Chat if they're having trouble.
Read more: What is Instagram Automation by ManyChat?
You can reach targeted customer groups
While broadly improving reach is a reasonable goal, sometimes it isn't the best use of your ad spend. For example, if you cater to a niche Instagram audience, you'll want your ads to do the same.
Thankfully, through Ads Manager, you can focus your ads on Lookalike and Custom Audiences composed of specific demographics, like age range, location, recent engagement rate, interests, languages, and more.
One way to make use of these targeting options is to retarget customers who have either purchased from you before or previously visited your website. Check out My English School's ad:
The school created three separate campaigns that targeted different audiences:
Video ads: targeted to everyone within a 10km radius of My English School's branches in Italy

Lead ads: targeted to travelers, people interested in travel, and professionals

Ads with the "conversions" goal: aimed at teens aged 13–19, adults aged 55–65 with an interest in languages, and Lookalike Audiences based on recent website visitors
These Custom Audiences resulted in twice as many leads compared to the previous year, an 8.5% lead-to-registration conversion rate, and a 58% decrease in cost per lead.
Instagram ad formats
If you've never tried social media advertising, you might be surprised at how versatile the different ad sets can be.
Within Facebook ads manager, you can opt for various optimization options for budget, ad placement, and goals (such as video views, website traffic, link clicks, etc.). However, in this article, we'll review a few of the most commonly used ad format options (not including dynamic ads, branded content ads, lead ads, and others).
While 29% of marketers surveyed in 2019 consider good old-fashioned photo ads to be the most effective ad format, other formats may suit your business better. Let's take a look at a few of them below.
Carousel
Carousel ads contain multiple photos viewers can scroll through. You can use them to tell a story, creatively stretch a long, panoramic image across multiple panels, or showcase the product in use, like so:
Video
Like a standard photo ad, a video ad is a single panel and uses a video to show off your product or service. Video ads work particularly well in Stories and IGTV placements since users are already expecting to watch videos. Here is how they look on Instagram:
Collection
Collection ads are one of the best options for eCommerce businesses. If you set up an Instagram Shop, you can use your shop catalog to display product listings that link directly to your shop. This is what it can look like:
Read more: How to Use Instagram Ads Manager to Run Ads on Instagram
You can build an entire sales funnel around IG ads
Whether you operate your business solely online or you also run a brick-and-mortar store, you can use Instagram ads to help develop a comprehensive sales funnel. ManyChat automation enables you tocreate the funnel and will do the heavy lifting for you.
Top
The top of the sales funnel usually involves brand awareness strategies, such as content marketing, SEO, or using influencers to appeal to a new audience.
One tactic you may not have tried is using Story ads linked to keyword replies. Over 500 million people view Stories in the Instagram app every day, so it's well worth testing this ad type for your brand.
Middle
When a customer starts to become interested in your brand, product, or service, they're considered the "middle of the funnel."
Try setting up triggered responses to keywords (such as "eBook," "giveaway," or "webinar") to initiate a conversation that will lead your potential customer towards a sale or convert them into a warm lead by gathering contact information.
Bottom
Potential customers are ready to make a purchase when they're at the bottom of the funnel. When using ManyChat automation, you have two main options to nudge your customer from the consideration phase to purchase: Live Chat or linking to the product, website, or landing page.
Read more: How to Build an Instagram Sales Funnel in 2021
Instagram converts
Shopify estimates that using Instagram to promote your product or service to your audience achieves a moderately high conversion rate of 1.08%.
Compare that stat with the conversion rates of other mediums, like TV advertisements (0.77%) or even other social media platforms like Twitter and Pinterest (0.77% and 0.54%, respectively), and it's clear Instagram is worth your ad spend.
However, one significant factor plays into Instagram's high conversion rates: 70% of shoppers go to Instagram for product discovery. Naturally, people who are already primed to spend their money will convert into customers more easily.
According to Instagram, 130 million account holders tap on shopping posts to learn more about products every month—that's a lot of opportunities for conversion!
Automate your Instagram marketing today
There's no doubt Instagram ads can help you reach new customers, build brand awareness, and convert visitors into paying customers. Using ManyChat's Instagram Automation tools, you can manage your advertising campaigns and see better results from your Instagram marketing efforts.
Grow your Instagram following and make sales with Instagram Automation by ManyChat. See if your business is eligible by applying below.
The contents of this blog were independently prepared and are for informational purposes only. The opinions expressed are those of the author and do not necessarily reflect the views of ManyChat or any other party. Individual results may vary.