How to Set Up an Instagram Business Account: A Step-by-Step Guide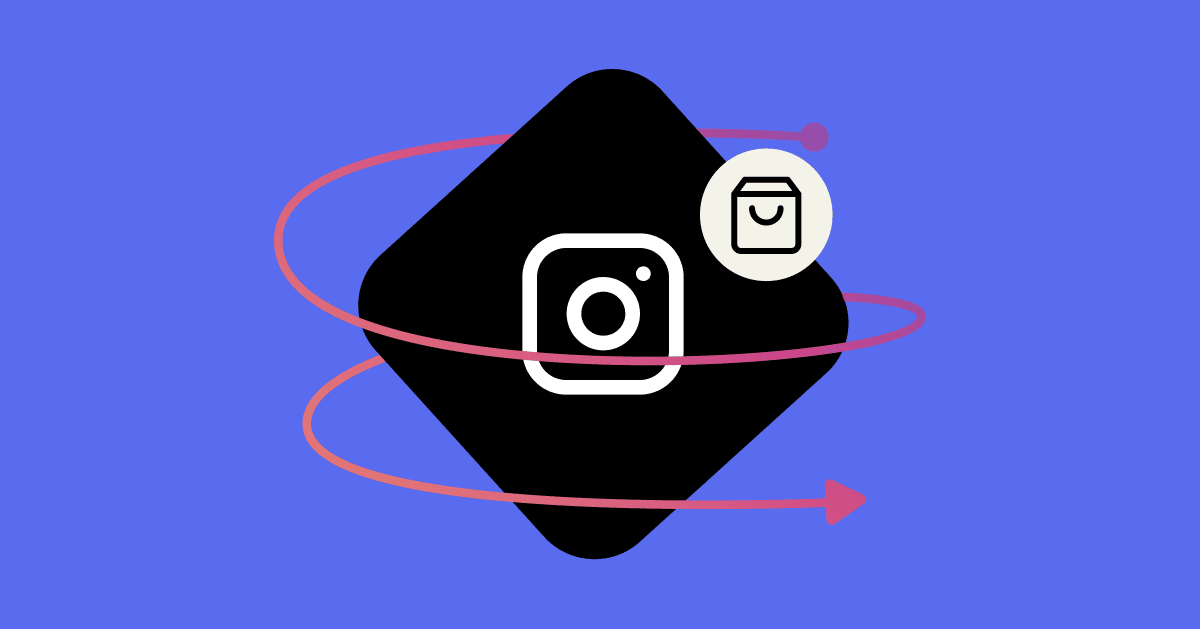 Setting up an Instagram business account can seem like a complex process.
After all, how do you know that having a business account will benefit your brand?
Consider this: Instagram is one of the biggest social media platforms in the world, with more than one billion monthly users. Born as a photo-sharing app in 2010, Instagram is no longer just about connecting with friends and family and sharing each Instagram story with others. The vast majority of Instagram users (90%) follow at least one business.
Instagram provides business owners with a bunch of growth opportunities. Whether you want to increase brand visibility or diversify your revenue streams, it's no secret that having a business account is an incredible marketing tool.
Here's how to set up your own Instagram business account.
Table of Contents:
What is an Instagram business account?
An Instagram business account is Instagram's equivalent of a Facebook Business Page. All types of businesses are eligible to open one—including service providers, brick and mortar small businesses, and eCommerce brands.
Using a business profile shows Instagram that you're using the platform for marketing. It also grants you access to several features and tools that personal profiles can't use.
These features include:
Calls to action (CTAs) on your Instagram profile encourage users to visit your site, book your service, or purchase your product.
Instagram ad campaigns manager using Facebook Ads Manager.
Access to Instagram Shopping, so you can tag products within your posts and create a product catalog.
The option to add "swipe up" links to your Instagram Stories (Note: You need to have at least 10,000 followers.)
Partner accounts as branded partners that can post on your business's behalf. Adding partner accounts is especially useful if your business collaborates with Instagram influencers to produce content.
Access to insights and analytics. Find out your account reach, follower demographics, and post impressions.
You may have heard rumors that Instagram treats business posts differently from those published by personal accounts. After all, Facebook's algorithm prioritizes content from friends on multiple Instagram accounts over that created by brands.
However, the good news for businesses is that Instagram doesn't differentiate between content created by professional and personal accounts. Users see the same content regardless of which account type posted it. This is a big advantage after you set up a new Instagram business account.
What about Instagram creator accounts?
Instagram creator accounts are another type of professional account. These accounts are for content producers, influencers, and artists. 
Since creators, including Instagram influencers, aren't usually selling a product (instead often collaborate with businesses and brands), Instagram slightly changes the available features.
For instance: Unlike Business accounts, Creator accounts don't have access to Instagram Shopping, contact buttons, and ad creation for an Instagram ad. Creators, like Instagram influencers, have access to Instagram insights, though, and can quickly partner with businesses on branded content and even receive payments on the platform.
Can Instagram business accounts see who views their profile?
Instagram doesn't allow any users of personal or business accounts to see a list of people who viewed their profile. They do show general statistics about an account, but they don't offer any user-specific profile information.
Instead, Instagram shows businesses generic data about their account, including:
How many followers you have
The number of people who visited your account in the last seven days
How many people saw your post
With a business account, you can see who viewed your Instagram Stories. Users who view Stories show up in a list for 24 hours after it went live.
If you tag other Instagram accounts in your Story post, you can also view a list of the number of users who clicked through on the tag for your Instagram story. This feature helps you gain insights into specific audience members who have viewed your story post for the duration of time your post is active on multiple Instagram accounts.
(A quick word of warning: Be aware of third-party apps that claim to enable you to access user-specific data on who has viewed your profile. Instagram doesn't make this information available to anyone, which would be a big problem if you set up a new Instagram business account. Any app claiming to do this is likely mining your account for data to sell.)
Are Instagram business accounts free?
Just like personal Instagram accounts, business accounts are entirely free. Anyone can convert their personal account into a business account.
The only thing to remember: if you decide to run paid promotions and Instagram advertising campaigns, you'll need to link a credit or debit card to your account so Instagram can take payment for them.
The advantages of using Instagram for business
An Instagram business account comes with many features and tools that personal accounts can't access. Here are some of the most significant benefits of switching to a business account:
Audience insights
Switching to a business profile gives you access to a suite of Instagram analytics tools.
Instead of making guesses about what works well for your account and audience, you'll have some guidance on what increases engagement on your Instagram business profile.
Although these audience insights and metrics aren't highly in-depth, they give you a general overview of how your account is performing.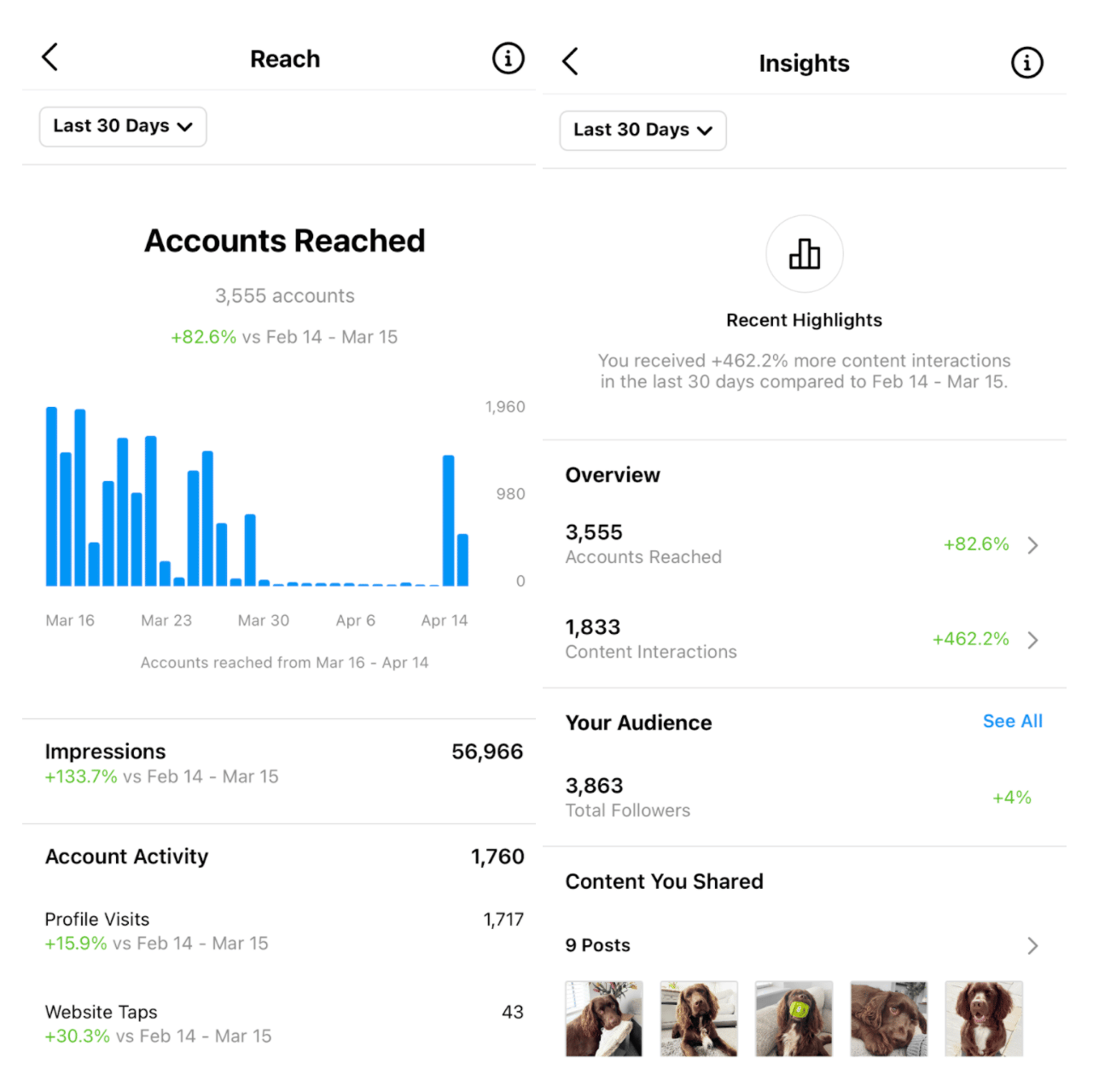 With a business account, you'll have access to data like:
Top-performing Instagram content in Posts, IGTV, and Stories
Follower growth, including follows and unfollows
Content interactions (comments, shares, saves, and likes)
Accounts reached, including breakdowns on where these Impressions came from like hashtags, Home, and Explore
Audience Demographics (age, gender, location, and most active times)
Activity on Stories
These Insights help you know how your current Instagram strategy is performing—and how you can shape your future one.
Advertising
Once you have a business account set up, you can use Instagram ads and promote posts to reach a more extensive (and more relevant) follower base.
Firstly, you'll need to have an Instagram business profile attached to your Facebook Page to build Instagram campaigns. Facebook owns Instagram, so advertising campaigns for both platforms run through Facebook Business Manager.
To promote an existing post, tap the "Promote" button on your Instagram profile and choose your end destination. That can be your Instagram profile, website, or direct message. Then, select your audience or create a Custom Audience, adjust your budget, and send your ad for approval.
Instagram Shopping
Did you know that 54% of people say they purchased something because they saw a product or service on Instagram?
With an Instagram business account, eCommerce brands can quickly turn their Instagram feed into an online shop or catalog—and take advantage of the millions of dollars being generated through Instagram every month.
Instagram Shops, a new feature that launched just last year, allows Business account admins to tag products from the shop in their Instagram posts, videos, or Stories.
Tagging products and creating a shoppable catalog is an excellent way to help followers quickly shop from your business. Considering that 130 million people tap on Instagram shopping posts every month, it's a powerful channel for encouraging users to shop with your business.
More convenient than opening up a browser on a desktop or mobile device, shoppable Instagram posts open up new opportunities for earning revenue. Users will be directed to the item in your shop, where they can make the purchase.
Plus, with the rollout of Instagram Checkout across the US (and soon globally), it's becoming easier for businesses to sell their products directly within Instagram.
Add an action button
Instagram allows business users to add an action button. This blue button, shown on a business' profile, entices followers and browsers to take immediate action after browsing your feed.
Depending on your business, you could choose to add an action button from these options:
Book Appointment
Place Order
View Shop
Call
Email
Message
For example, a beauty salon may add a "Book Appointment" CTA to push customers to book their treatments online quickly. Alternatively, a restaurant may add a "Place Order" action button so followers can easily order from their takeaway or delivery menu using the Instagram link.
eCommerce businesses that use Instagram Shopping should take advantage of a "View Shop" button. These CTA buttons are a great way of helping interested followers to take action directly after browsing your Instagram feed.
Create "swipe up" links
As you're probably aware, Instagram doesn't allow users to link to landing pages or products from their posts directly. For that reason, many people choose to use a "link in bio" tool to gather all relevant and recent links on one clickable landing page.
The good news is: Instagram lets business accounts embed links directly in their Instagram Stories. These "swipe up" links make it much easier for followers to click straight through to linked content, short-term deals, or other items you may want to promote to your audience.
(Keep in mind that your Instagram business account requires at least 10,000 followers before being given access to the "swipe up" feature.)
Split DM inbox
As you grow your business and Instagram following, you'll see an increase in the number of Direct Messages (DMs) in your Instagram Inbox.
DMs are a great sign that your audience is engaged with your business, and they're looking to generate a conversation with you. But to keep things organized, you'll want to order your inbox to some degree.
The Filter tool within your Instagram Inbox will help you organize your messages and reduce the time you spend replying to them.
Using the Filter button, split your messages by Unread or Flagged. Instagram will then only show you unread or flagged messages in your inbox, making it easier to respond to your DMs.
You could also divide your direct messages into primary and general channels. General messages aren't as important as those you want to read or reply to when you have the time.
Apply the primary message filter to conversations that are a priority. When you apply this filter, you'll only receive notifications from senders with conversations marked as primary.
This filter is handy when you're having a back-and-forth conversation with a follower about a specific product you're offering. By applying the right filters to your Instagram business inbox, you won't miss any crucial DMs that require prompt action.
How to create an Instagram business account
Setting up an Instagram business account from scratch
To create a business account on Instagram, you first need a personal account (which we'll later convert.) Here's how to do that:
1. Get the mobile app by downloading the Instagram app for Android, IOS, or Windows.
2. Open the app and tap sign-up. Enter your email address and password on the Instagram app.
3. If you're planning on granting access to multiple team members, or you want to connect your Instagram account to your Facebook Page, make sure to sign up with an admin email address. Alternatively, just sign up with your Facebook account details to streamline the process.
4. Tap "next" to finish setting up your new Instagram account.
How to convert a personal account into a business account
All business accounts are made by converting a personal Instagram account into a professional one. So, sign in to your personal account and follow these steps to convert it:
1. Tap the three lines in the top right corner of your Instagram account.
2. Open Settings and select "Account."
3. Click "switch to Professional account."
(Note: If you didn't initially connect your Instagram account to your Facebook account, you'll be given the option to do so here. Linking your Instagram and Facebook accounts will provide you with more options for building personalized ad campaigns, along with other customization tools.)
4. Select your business category and include your business contact information.
5. Hit "done" to create your Instagram business account.
Make the most out of your new Instagram business account
As you can see, setting up an Instagram business account is simple.
Create yours today and see first-hand how you can build on your current social media marketing strategy. Use Instagram's analytics, build ad campaigns, and start selling your products through the platform. You'll soon begin to see what's working (and what isn't.)
Grow your Instagram following and make sales with Instagram Automation by ManyChat. See if your business is eligible by applying below.
The contents of this blog were independently prepared and are for informational purposes only. The opinions expressed are those of the author and do not necessarily reflect the views of ManyChat or any other party. Individual results may vary.