How to Gain Followers for Your Business on Instagram: 17 Techniques to Try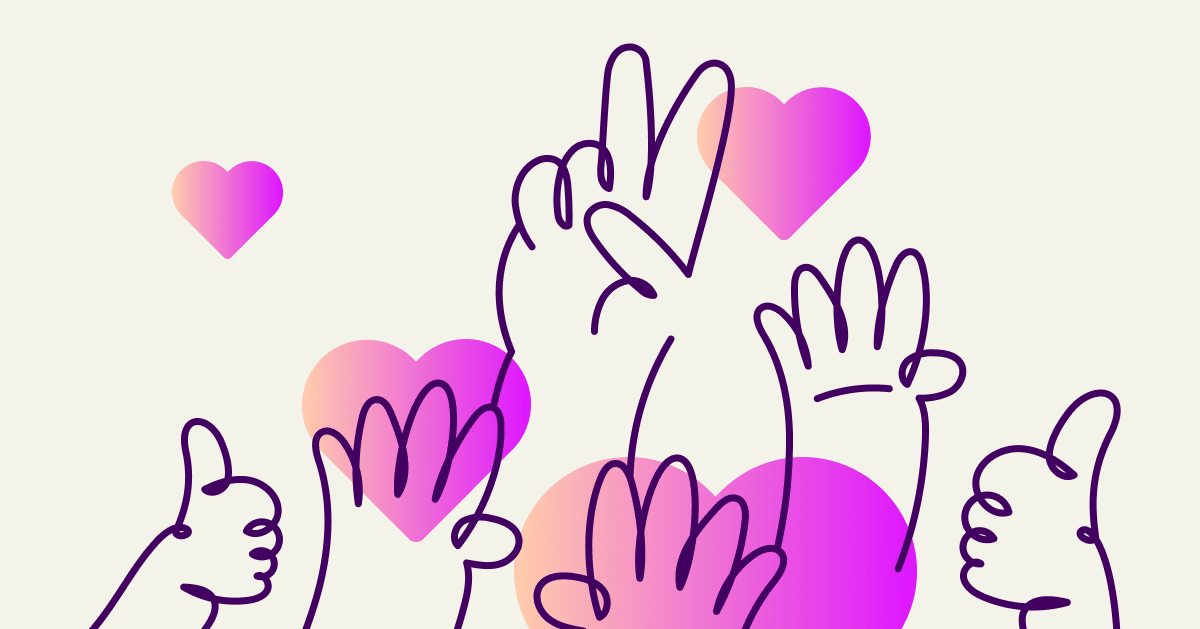 One of the biggest social media marketing challenges businesses face is growing their audience. Many brands see Instagram as a promised land of potential customers eagerly waiting to buy their products or services. Yet the average Instagram business account increases its following by just 1.69% each month.
Great Instagram content is important, but it's wasted if you don't have any followers to appreciate it (and learn about your products). Therefore, you need to gain new followers to reach the right people. When you do that, you can expect:
Increased engagement
Better brand awareness
More sales
Increased revenue
Some 90% of Instagram users follow at least one brand on the platform, with 200 million users visiting at least one business profile every day. That's a huge opportunity.
In this guide, we'll help you beat the average by showing you how to (sustainably) gain legitimate new followers for your business Instagram account, using tested and successful techniques.
A word of warning on buying followers
Before we go any further, there's one warning: don't buy followers on Instagram. Paying for followers is a pretty pointless exercise, because the quality of those followers will be poor. They may be bots or spam accounts, which means you won't benefit from engagement metrics, such as likes and comments.
If you have a large following but poor engagement, the algorithm will penalize you, and it won't show your content on the Explore page. Plus, fake followers risk your ability to appear in the Instagram feeds of your genuine followers — which won't help when trying to use the platform as a way to drive customers for your business.
17 ways to get more Instagram followers for your business's account
Now that you know what not to do, here are some useful tips, tricks and tactics that could increase your Instagram following.
1. Use hashtags to reach users interested in your industry
Hashtags are searchable words or phrases that users employ to share content around a particular topic. The Instagram algorithm also uses them to categorize posts. When users click these hashtags, all content shared using that particular tag appears. Find them through:
Instagram search
Social media analytics tools like SparkToro
Competitor analysis
Not convinced? Hashtagged posts generate 12.6% more engagement than those without hashtags. That's likely because users can follow Instagram hashtags (as well as profiles), which means that people can discover your content even if they don't follow you. Of course, once they find you and check out your profile, they'll hopefully hit the follow button, too.
2. Optimize your Instagram bio for new visitors
Your bio is a valuable asset in your Instagram marketing strategy. It's the first thing users see when they land on your profile, and it needs to be inviting and enticing to make people hit that follow button.
Play close attention to the following aspects of your Instagram bio:
Your business name
A recognizable profile photo (e.g., your brand logo)
A brief description of your services and/or products
A link to your website
Calls to action, such as a shop button or email address
Also try adding hashtags to your bio — a time-tested follower growth tactic which can increase your reach. Choose a relevant hashtag and include it in your bio to make yourself more visible to your target audience.
3. Use a grid theme to make an instant impression
After your bio, the next thing visitors will check out when debating whether to follow your business's Instagram profile is your grid content.
To make an instant and lasting impression, try using a grid theme — a particular design style you follow when posting new content to your profile. That aesthetic helps to tie your content together to ensure continuity and memorability. Options include:
Black and white imagery for a monochrome effect
Borders on your images to help them stand out on your grid
A jigsaw approach to build individual posts into larger images
Defined color schemes across all your content to aid brand recall and association
Illustrations to help you stand out from your competitors, like we do on the ManyChat profile
4. Use geotags to capture to local customers
Do you serve local customers? When posting to Instagram, add a location to your posts for added context and exposure. It's a quick and simple addition to your post that results in the location of your content displayed alongside your Instagram caption and username.
There are several benefits to using Instagram geotags — most notably that they can help your content become more visible in Instagram's search. When a user searches for a geotag, such as a location or physical business address, they can view all public posts that use that tag. Make your content visible there, and you'll expose your Instagram content to potential new followers.
5. Use Story stickers to generate engagement
Instagram Stories present a way of posting temporary content to the platform (Stories disappear after 24 hours). They can also be very engaging, especially if you take advantage of the vast range of stickers available.
Use Instagram Story stickers like GIFs, text, emojis, and music. Run polls and ask questions of your audience to better understand them and their pain points. Use these insights to finetune your strategy when creating quality content for your Instagram page to reach new followers with the same interests as your existing followers.
To add a sticker, hit the sticker button when creating a new Instagram Story. You'll be presented with a list of sticker options to overlay on your content: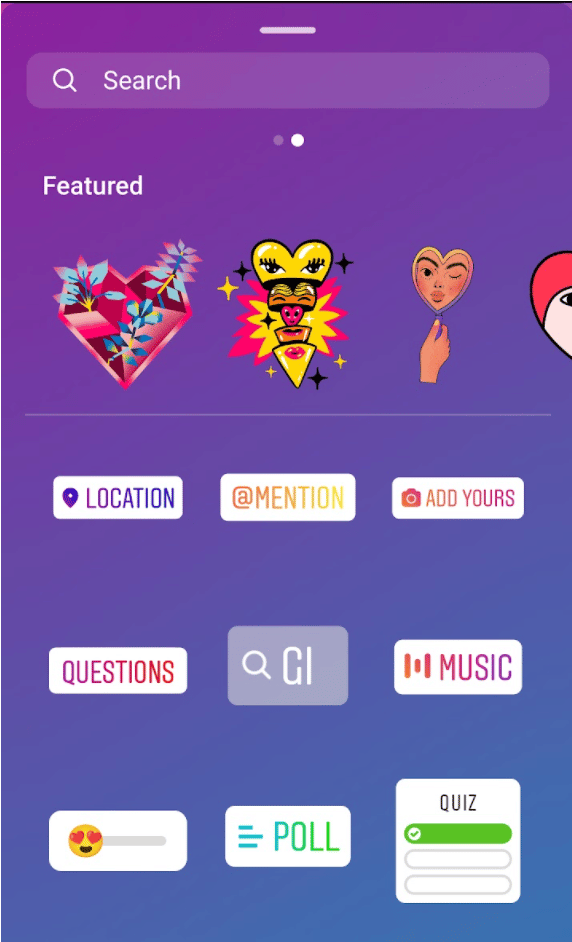 The best part? Users can share your Story to their own Stories, meaning that engaging content can quickly become viral and attract new audiences and followers to your profile. Test the engagement rates and reach of your Stories with different stickers to see which ones have the best impact on your follower count.
6. Engage with new followers to build relationships
Once you've convinced an Instagram user to follow you, it can be tempting to sit back and admire your work. But the truth is that the hard work is only just beginning; you now need to keep them sufficiently engaged and feeling appreciated enough to continue following you (and hopefully become a customer, if they aren't one already).
Use Instagram Automation by ManyChat to send out automated messages that welcome new followers. Treat it as an opportunity to understand more about them, their frustrations, and how you might be able to help them. The Comment Automation tool can also automatically respond to their comments on your posts.
Automation not only nurtures relationships, but also helps with your overall Instagram engagement, which can attract more followers. The algorithm favors popular content from popular brands.
7. Share video content to capitalize on demand
In 2021, Instagram's Head, Adam Mosseri, declared that the Instagram app was no longer just a "square photo sharing" platform and would be introducing new video sharing tools to compete with platforms like TikTok:
The result? A huge increase in video content on the app. Judging from the influx of in-feed videos, Reels, and Stories, there's a massive appetite for video on Instagram.
But that's not the reason you should be leveraging video content. This is: video is 1,200 times more shareable than photo and text content. And when people share your content, you're much more likely to get in front of new audiences that turn into new followers for your business.
8. Use influencers to spread your brand message
Influencer marketing is a brilliant way of driving new — and, more critically, relevant — followers to your account. Having Instagram influencers mention and talk about your brand online helps to build brand awareness; in fact, greater brand awareness is the goal of 40% of influencer marketing campaigns.
When you partner with an influencer, the relationship is disclosed as a "paid partnership." The influencer's followers will be able to see your Instagram handle and check out your business's profile. If they like what they see, they'll hit the follow button.
9. Host Instagram Lives to engage new and existing audiences
Instagram Live is a great opportunity to reach an active and engaged audience. It works in a similar way to the Stories feature, but the algorithm prioritizes live broadcasts over regular Stories.
Plus, if it gets a big enough audience, your Instagram Live may be featured on the Explore page. Actively promote your live broadcast in advance to encourage a large audience and (hopefully) attract new followers.
Another way to tap into new audiences through live videos is by co-hosting one with another brand, influencer, or even a customer. You'll engage your audience, and your co-host's audience will also be able to see the content, exposing you to a wider potential audience. Remember: more eyeballs on your Instagram content means more chances for growing your follower count.
10. Leverage user-generated content to build your community
User-generated content (UGC) is a great way to broaden your reach on Instagram and attract new followers.
"We advise brands to choose a niche, interact with their audiences, and make the most out of UGC. This way, they can save money on content creation and grow a community of highly engaged users that will call for other users. The more a brand interacts with them, the more they'll post about it, increasing the reach and exposure of the brand and, therefore, growing their audience."

Mireia Boronat, a Senior Content Marketing Executive at The Social Shepherd
Ask users to share images of themselves using your products (or of your products in situ). When they tag you in the content, share it with your audience to cultivate a relationship.
The furniture store Habitat attracts substantial user-generated content, thanks to interiors and lifestyle bloggers who frequently tag the brand in their shots — like this one from Home Crafted Style:
11. Host a (relevant) giveaway to reach the right audience
Instagram contests are a great way to quickly increase your following. Research suggests that contests can help boost your follower count up to 70% faster. However, there's a fine line between gaining relevant followers and acquiring a bunch of disengaged users looking for a freebie.
To ensure you attract followers who fit your target user or customer, choose a prize for your contest that's relevant to your industry. Whether that's one of your own products or a subscription for a related service, it has to be suitably aligned or you'll be left with followers who don't interact — or unfollow right after the contest ends.
12. Experiment with different content types
We've briefly touched on the idea that while Instagram started life as a photo sharing platform, the app now caters to several content types. Alongside images, you can share videos, Reels, Stories, and carousel posts. Mixing up your content helps increase your reach on Instagram by allowing you to appear in more places — therefore exposing you to more potential followers.
Take advantage of the different post types and monitor your Instagram analytics to see which format generates the best results. What's the most shareable type of content among your audience? Which formats generate the most engagement?
If you happen to go viral with a particular content type, you can massively increase your follower count in a short span of time.
13. Run ads for extra reach (if your budget allows)
When you post organically, the Instagram algorithm will serve your content to just a portion of your followers. To reach more users, you can leverage paid ads on the platform — either by boosting your posts or running more bespoke ad campaigns.
One of the options you have here is to target a "Lookalike audience," which means Instagram will serve your ad to users who fit the profile of your existing followers. Targeting people in this way ensures people with similar interests and behaviors to those already interested in your posts will see it. This makes them much more likely to become a follower themselves.
Read more:
14. Leverage takeovers to boost visibility and trust
Instagram takeovers are a tactic you can leverage to build trust with your audience — perhaps by showing behind-the-scenes content from your business and introducing members of your team to your followers. You can also invite industry influencers to take over your account, exposing your brand to their audience.
Let's say you sell beauty products. If you hand over your Instagram profile to a beauty influencer for the day, they're going to bring a host of their own followers — i.e., people likely to be interested in your products — directly to your Instagram profile. That's bound to result in some extra follows.
One great example of this tactic comes from skincare company VI Peel, which featured a takeover by a renowned dermatologist. The takeover added 1,000 followers to the brand's Instagram profile — not too shabby.
15. Promote your profile elsewhere
Promoting your profile on your other outlets is an easy way to get more people to visit and follow your Instagram profile. Some popular methods include:
Adding a link to your Instagram page on your website footer
Referencing your profile on your blog
Cross-promoting on other social media platforms
Including a link on email newsletters
It doesn't have to be a pushy message; something as simple as embedding an Instagram post into one of your blog posts to illustrate a point you're making can be sufficient.
The people who see these mentions of your Instagram profile are already engaging with your business in some way — either as existing or potential customers — so they're likely to want to follow you on Instagram.
16. Follow and interact with relevant accounts in your industry
When building your business's Instagram follower count, it's not all take, take, take. You have to give some love, too.
Attract new, high-quality followers to your page by following other accounts that are related to your industry, products, or services. Follow pages that share content you (and your audience) are interested in, such as:
Relevant influencers
Industry publications and blogs
High-profile or influential customers
Comment and like their content; as they begin to notice you and check out your profile, they'll follow back. One hack that can pay dividends is to look at the high-profile accounts following your competitors and follow them. Some will return the favor.
17. Post when your audience is most active
The best time to post on Instagram is a hotbed of constant discussion and debate. There are many studies on the subject, and they often contradict one another.
What is clear is that the best time to post depends on your industry and your followers. People with particular interests are likely to be more active in the morning, while others are night owls who like to browse Instagram in the evenings.
To find out when your audience is most active on the app:
Navigate to your profile and tap the Insights button.
Tap followers.
Then scroll to the bottom of the screen, where you'll see a chart that shows your audience's most active times by day or by hour.
Use this demographic insight to post when your audience is using the app. You'll likely see better reach, and hopefully generate some new followers, as your target audience behaves in a similar way to the users already following you.
Boost your Instagram follower count
With so many users following brands on Instagram, you can't afford to have a weak presence on this booming social network. Make sure your business profile is fully optimized to attract a steady stream of new followers that you can entertain, delight, and — hopefully — turn into customers.
Make the most out of your social media strategy with Instagram Automation by ManyChat
The contents of this blog were independently prepared and are for informational purposes only. The opinions expressed are those of the author and do not necessarily reflect the views of ManyChat or any other party. Individual results may vary.