Here's What Happens When You Buy Instagram Followers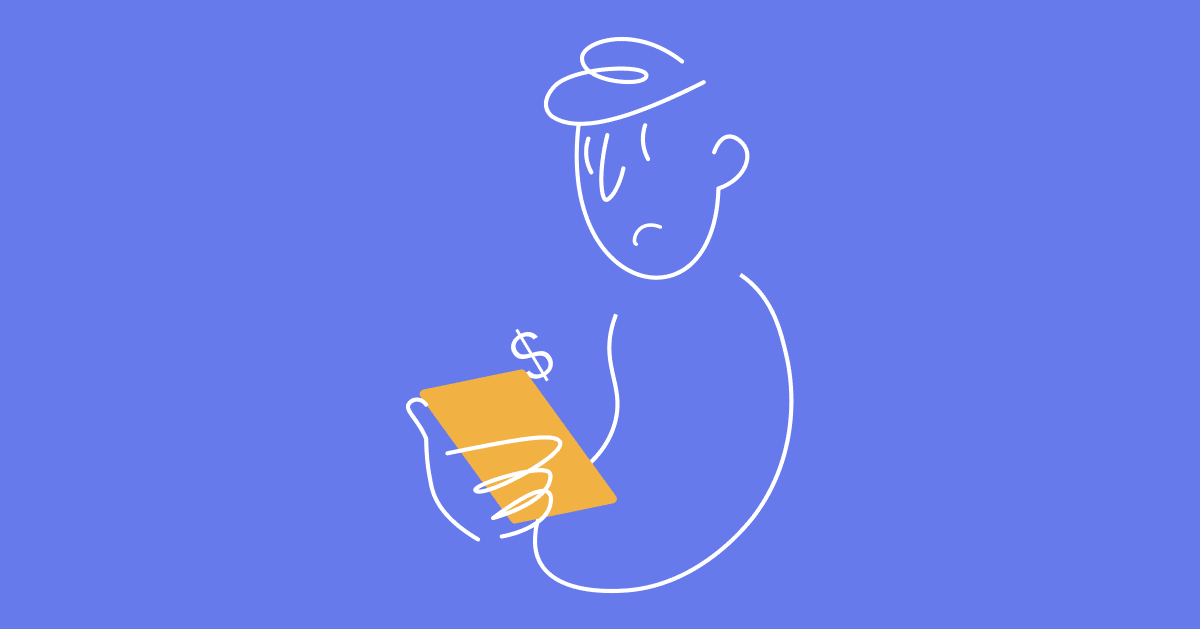 In February, HBO Max released Fake Famous, a documentary that exposed a darker side of Instagram, the social media platform. The documentary follows tech journalist Nick Bilton as he attempts to take three ordinary people and turn them into successful influencers with loads of Instagram followers and brand partnerships.
Each of the subjects started the social experiment with fewer than 3,000 Instagram followers; the goal was to get them 100,000+ followers. Bilton hired professional photographers to reach this goal, rented mansions to serve as photoshoot backdrops, and even created faux vacations using a set that looked like a private jet to create Instagram growth.
The other part of the social media marketing experiment involved purchasing bots—fake Instagram followers—to make it appear as if they were popular or even famous. In this article, we're looking at the possible consequences of buying Instagram followers. It's tempting, sure, but what are the risks involved? Not only is it a question of ethics, but there's the possibility of Instagram shadow-banning your account, which is even worse than having fewer followers. If you've ever considered buying Instagram followers, including fake Instagram followers, read on!
Why do people buy Instagram followers?
Every individual or brand has different reasons for wanting a large number of Instagram followers on an Instagram account. Some want to achieve a higher level of success within the app, such as becoming an influencer or getting more likes and interactions on their posts. Others are looking for legitimacy in a different industry, like publishing or acting. Showing you have a large social media following means people already like you and that you could be an asset to a project.
To build a following organically (not buying followers) takes time and effort because you have to win people over and gain their trust and achieve Instagram growth. That said, some people or brands likely feel they don't have the time or the resources to acquire loyal Instagram followers through social media marketing, without buying them.
Although Instagram has never officially stated that having more followers influences its algorithm, it does consider post engagement—including likes, comments, shares.
Furthermore, the more followers you have, the more people are likely to see it, right? Well, Instagram has also said it only shows your content to a select portion of your followers. So, the more followers you have, the bigger the viewing selection? Could be. But for a small price, individuals and brands likely see buying followers as an investment for Instagram engagement.
How much does it cost to buy Instagram followers?
You can purchase Instagram followers at prices varying from $3 for 100 followers to $1,800 for 20,000 followers. Several different sites sell followers, each with packages and promises as far as site security and the quality of the followers.
Some sites sell followers that are bots or from fake accounts as opposed to real Instagram followers. When you buy followers that are bots, while it does increase your follower count, you won't see more engagement on your posts, which becomes obvious at some point. For example, you could have 1 million followers but only 5,000 likes on a post, which customers, brands, and even Instagram will notice.
What happens when you buy Instagram likes?
Buying Instagram likes and other interactions (such as views and Instagram comments) is a process similar to purchasing followers. You can buy engagement for prices ranging from around $35 for 500 likes to $1,120 for 20,000 likes. Different sites have varied offerings for Instagram engagement, and you can often choose if you want your likes staggered across several posts or on a single photo.
The Instagram algorithm has been known to spot spam behavior (it's a violation of the Community Guidelines), such as a dump truck of likes on a random photo coming from a profile with a small batch of followers. Buying likes thus comes with some risk, which is why it's essential to do research and search for buying sites that have a good reputation.
What are the consequences of buying Instagram followers?
Buying Instagram followers and likes is always a risky move. Instagram and other social media platforms are constantly finding new ways to improve their algorithm in order to support users trying to win organically.
Purchased followers could drop off a profile at any point, and there's not much you can do to prevent it. If you have a large following but no engagement, Instagram won't show your content on its Explore Pages or your audience's home feed, which won't help any marketing goal.
Moreover, having an Instagram profile with hundreds of thousands of followers can attract brands, paid partnerships, and collaborative opportunities, but those deals won't be sustainable if they don't produce positive results. For example, if a brand approaches you for a product collaboration based on your Instagram follower count, but only a handful of products sell, the brand won't be pleased. Incidents such as these could hurt your credibility in the long run.
How do you gain more genuine followers on Instagram?
Of course, you don't have to buy followers or likes to gain a following on Instagram. Building up a large number of genuine followers is more likely to lead to a sustainable, authentic influencer status (as well as less ethically questionable) than having the same number of mostly fake followers. Here are some tips to spark organic growth:
Make sure your profile is complete
Your profile page is excellent real estate for placing company information, including how potential customers can contact you and a link to the website. Ensuring your profile is complete—along with adding any branding, such as the logo for the profile picture—will assure visitors they've come to the right place when looking for your business.
Follow relevant accounts
Following other businesses in your industry, along with influencers, brand ambassadors (like people in an IG ambassador program), and business partners, will help build your following. Not only will many of them follow you back, but you can keep an eye on what's happening in your industry. If you have dedicated customers, follow them—it's an easy way to show you appreciate their business. 
Publish unique content
It's essential to publish unique content that aligns with your brand and can earn real Instagram followers. Use what you know about your target audience to guide what you post and make sure you keep your branding consistent across all of the content you create for active Instagram followers. Doing so will help your profile look cohesive. You don't ever want someone to question if they've come to the right place when they see your social media profile.
Don't forget about captions
Keywords and hashtags will boost your posts' reach with active Instagram followers because they facilitate your content's appearance in searches and content clusters. But, even with hashtags, remember: everything in moderation. A social media post with too many hashtags looks spammy and desperate.
Interact within the app
You have to actively participate on a social media platform to get something out of it (it's "social" media for a reason). You can stay on top of social mentions and industry conversations by using a tool such as Brand Mentions or Sprout Social.
Using Instagram DM Automation by ManyChat can help with app engagement, which also leads to gaining more genuine followers. Network Marketer Frazer Brookes saw a 40% lift in Instagram Story engagement and an increase in leads for his upcoming Success Summit after using automation to create meaningful interactions with his followers.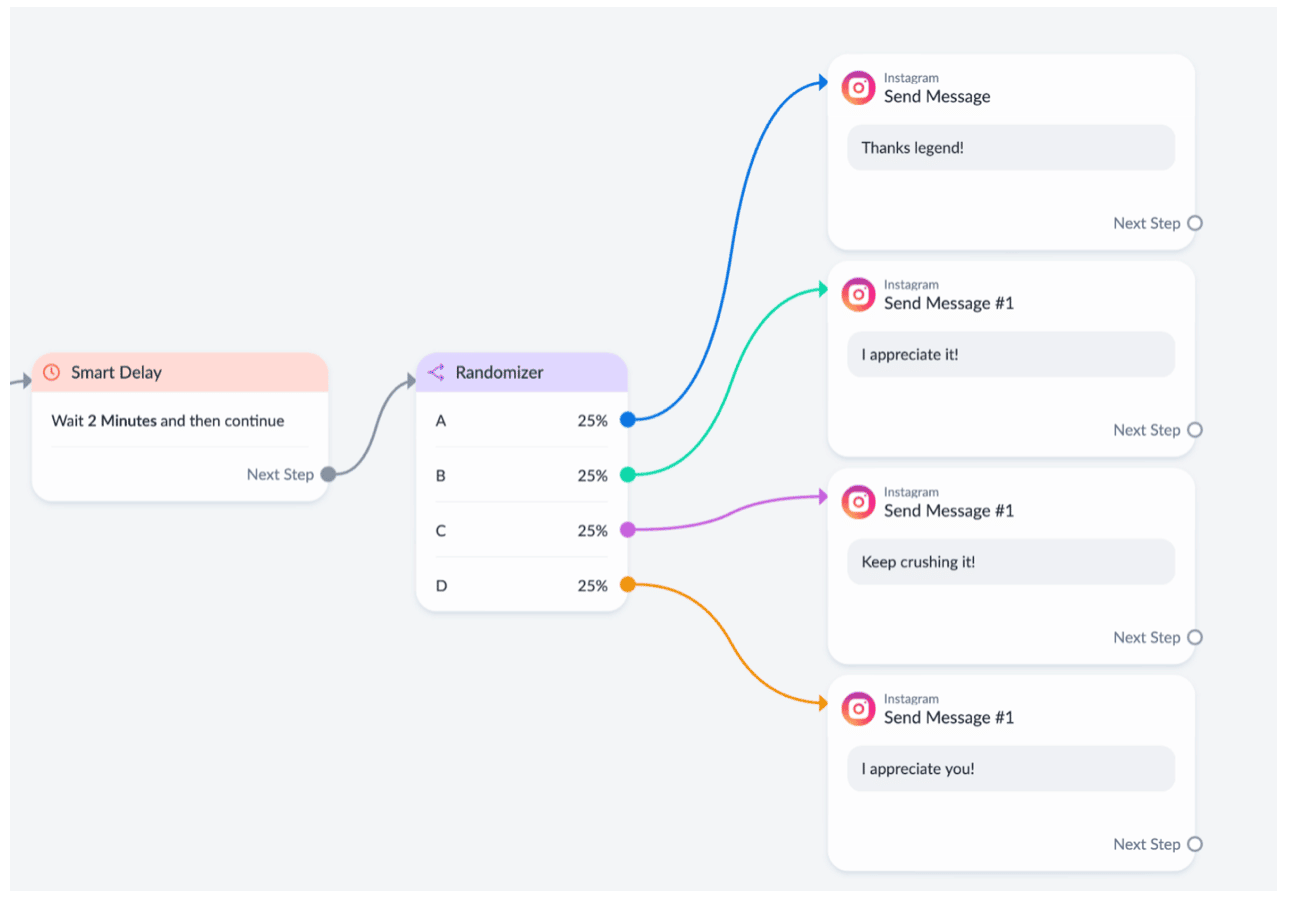 Promote your profile everywhere
Put links and icons to your social media profiles everywhere. Here are some ideas:
On your website
On the company blog
Crosslink from social media platforms
In your email newsletter
In promotional campaigns
In your email signature
On printed marketing assets
Promoting your social media profile in as many places as possible will help spread the word.
Host a contest
Hosting a contest or a giveaway can generate engagement for your social media accounts. Giveaways are a terrific way to boost engagement, gain legitimate new followers, and collect valuable personal information from social media users.
Roma by Rochi collaborated with ManyChat Marketing Partner ChatBlender to run a giveaway that used Instagram Automation to connect and engage with the brand's following, resulting in a 741% lift in engagement and 82% increase in reach in three days.
Roma by Rochi posted about the giveaway, encouraging followers to comment on the post with a specific keyword. Using automation, any commenter got a message from the brand that also put them into a flow. Followers were also offered a second giveaway entry if they mentioned the brand in their Stories—a great tactic for boosting engagement.
Overall, the campaign earned the brand a 741% lift in engagement, 4,000+ new Instagram followers, 29,000+ post comments, and 2,600+ email addresses captured.
Before running anything, make sure you understand the platform's policy on it. The last thing you want is for your account to get flagged for a policy violation.
Your Instagram account is yours, and you can decide if and how you want to grow your following, even though you learned what happens when you buy Instagram follower. Before making any decision, be sure to do your research and go about it securely. If you decide to purchase followers, consider implementing efforts to gain more organic followers, too. You never know when the algorithm will change, and the paid followers disappear.
Ready to use Instagram DM Automation by ManyChat to grow organic followers?
The contents of this blog were independently prepared and are for informational purposes only. The opinions expressed are those of the author and do not necessarily reflect the views of ManyChat or any other party. Individual results may vary.