The Social Media Marketer's Guide to Instagram Hashtags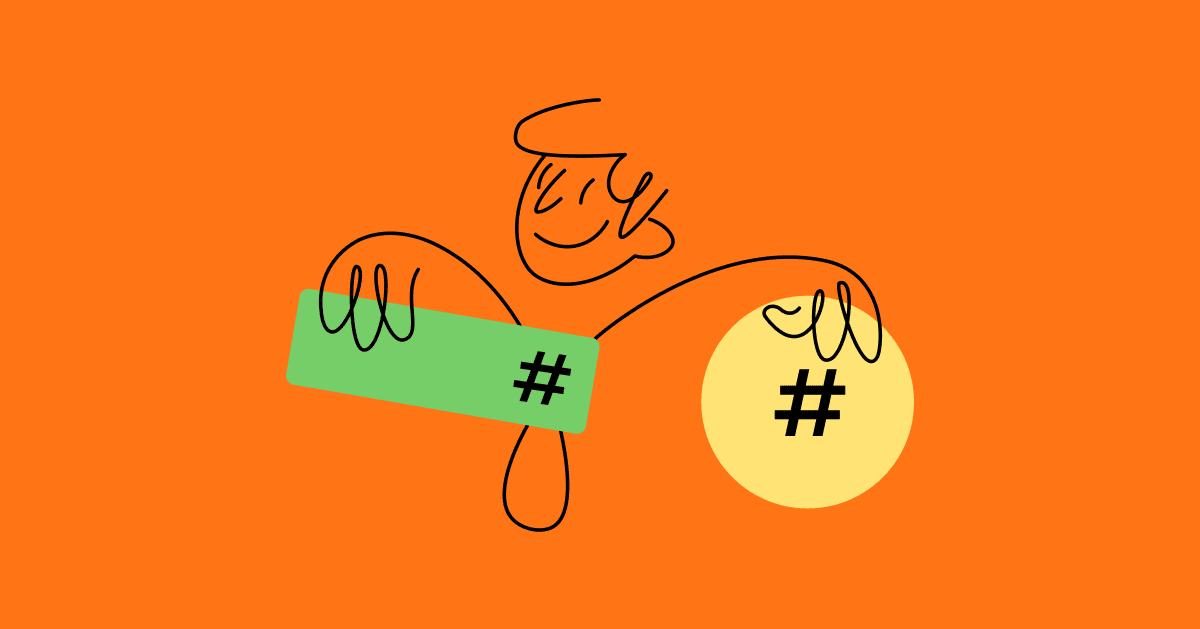 If you're a marketer just getting started with social media platforms like Instagram, you might be struggling to come up with an effective Instagram hashtag strategy. You might not even be using them yet!
If you're unsure of how to use hashtags for Instagram marketing, this guide is for you. We'll be going over some age-old (well, since 2010) questions: how many hashtags are appropriate for the best results? What are the most popular hashtags? Where should you put them? How do you analyze their performance?
Before we dig into all that, first, let's talk about why you should use hashtags in your Instagram posts.
Why you should use Instagram hashtags
There are several reasons why you should use hashtags if you want your Instagram account—and by extension, your business—to perform well and grow. Some of these reasons are a little more obvious than others, so let's look at a few of them:
Reach – Did you know that hashtags power the Instagram algorithm's main discovery engine? Instagram uses them to categorize content and show it to users who will find it relevant. Sure, you might be able to reach some non-followers by geotagging or tagging other accounts in your posts, but the results will not be nearly as consistent as what you'd see from using relevant hashtags. Plus, adding hashtags is just plain easier!

Engagement – According to research from the Influencer Marketing Hub, brands that used at least one hashtag in their post saw on average 12.6% more engagement than those that went without.

People can follow hashtags – Instagram users have been able to follow specific hashtags since 2017. That means if you employ these hashtags (or similar ones), users following those tags are more likely to discover you.

You can create hashtags for your brand or campaign – You might not be aware of this, but Instagram encourages creating branded hashtags. Let's say you're running a giveaway, and you want entrants to publish a post to enter. You can keep track of the entries by asking them to use a unique hashtag.
Now that you know what you have to gain from using hashtags let's get into the finer details of creating a hashtag strategy.
How many hashtags should I use?
First, let's address one of the most common questions people have about hashtags: How many should you use?
Instagram (IG) does have limits on how many you can use across different types of posts. For regular feed posts, Instagram Reels, and IGTV, the maximum is 30 hashtags; for Instagram Stories, the limit goes down to 10 (including the sticker).
However, just because you can use that many, should you? Well, there's a lot of conflicting advice out there. Some say two to three is the magic number; others recommend exactly 11. There's even a contingent of people who advocate using all 30!
To help answer this question, TrackMaven (PDF) analyzed over 65,000 posts across Twitter, Facebook, and Instagram and found that using nine hashtags resulted in the best engagement for IG:
However, as you can see, the "best" number ranges from nine to 12 (which aligns with the suggestion of 11). Here's some food for thought: Since the information available is so conflicting, a better way for you to find out what's best for you is to —experiment for yourself.
For a more specific "recipe" of hashtags, Jenn Herman from Social Media Examiner recommends choosing your hashtag set based on their level of popularity:
Three to five very popular hashtags (used in 300,000 to 1 million posts)
Three to five moderately popular hashtags (used in 80,000 to 300,000 posts)
Three to five niche hashtags (industry dependent)
One to two branded hashtags
Later, we'll review how to analyze your hashtags' performance. As long as you're doing some analysis, it wouldn't hurt to add the extra variable of "number of hashtags"—and don't be afraid to play around with the ratios in that recipe.
The most popular Instagram hashtags
Whether you're simply curious or just want to see where you can potentially maximize your "very popular" hashtag recipe, you may be wondering what the most popular hashtags on Instagram are. According to research from Influencer Marketing Hub, the top 100 list of hashtags (in July 2021) are:
#love
#instagood
#photooftheday
#fashion
#beautiful
#happy
#cute
#tbt
#like4like
#followme
#picoftheday
#follow
#me
#selfie
#summer
#art
#instadaily
#friends
#repost
#nature
#girl
#fun
#style
#smile
#food
#instalike
#likeforlike
#family
#travel
#fitness
#euro2020
#tagsforlikes
#follow4follow
#nofilter
#life
#beauty
#amazing
#instamood
#igers
#instagram
#photo
#music
#photography
#makeup
#dog
#beach
#sunset
#model
#foodporn
#motivation
#followforfollow
#sky
#lifestyle
#design
#gym
#f4f
#toofunny
#cat
#handmade
#hair
#vscocam
#bestoftheday
#vsco
#funny
#dogsofinstagram
#drawing
#artist
#f4fl
#flowers
#baby
#wedding
#girls
#instapic
#pretty
#photographer
#instafood
#party
#inspiration
#lol
#cool
#workout
#likeforfollow
#swag
#fit
#healthy
#yummy
#blackandwhite
#foodie
#moda
#home
#christmas
#black
#memes
#winter
#pink
#sea
#landscape
#blue
#london
#holiday
Other niche-specific popular hashtags include #businessowner, #ootd (outfit of the day), and #foodblogger.
Be aware, though, that dropping these hashtags in your posts doesn't guarantee engagement. In fact, since they are extremely popular, your post will fall into the tag archive very quickly. Also, don't forget about relevancy. The last thing you want is for your brand to be marked as spammy because you've used irrelevant content in a bid for popularity.
The Influencer Marketing Hub also has a helpful free tool that can help you see what the top hashtags are for each country on a daily basis—with additional lists of industry-specific popular hashtags.
How to find the best performing hashtags
Hashtags definitely work, but not all hashtags are created equal. Some perform better than others for various reasons. For example, if they have good volume and are relevant to your business, they have a much better chance of working well.
So how do you find the best Instagram hashtags for your business?
Since it's best to avoid using popular tags just for the sake of it, you can follow a few methods to uncover more effective ones. Let's start with one of the easiest methods (below).
Influencers and competitors
What better way to find out the right hashtags to use than by looking at what the most prominent voices in your industry and your competitors are already employing? All you need to do is look them up on Instagram and search their posts.
Let's look at an example for the on-the-rise houseplant niche.
Suppose you were a store selling houseplants (such as Green Plant Shops, which currently has nearly 7K followers). In that case, you could look at a competitor that is performing better, such as Grow Urban (20K followers), or even influencers such as Fancy Plants Chic (45k followers).
By researching their Instagram profiles, you can spot the hashtags they're using (and you aren't) or even identify trends influencers have created that your competitors haven't taken advantage of yet.
Use the hashtag search bar
If you're not familiar with your competitors and influencers on Instagram, the next best method is simply searching for a hashtag you're pretty sure is relevant for you and assessing the results.
In keeping with our example above, if you search for "house plants" and head to the "tags" tab, you'll get a massive list of related hashtags:
You can put this method to use for each related hashtag you find to generate a huge bank of new hashtags you weren't aware of before.
After experimenting with your hashtags and learning which ones perform best for you, you can search for those specific hashtags and surface new ones that relate to your best-performing hashtags. Then you can try the new ones to see how they fare in comparison to your previous efforts.
Look at top posts on the Explore page
When you search for a hashtag you're sure is relevant to your business, try looking at the top posts that include that tag. As you read through them, see if you can find some other common tags among them you could borrow.
When you follow this method, you're also likely to find out who the influencers are in your niche; make a note of these accounts (or follow them) and periodically check on them for hashtag inspiration.
Where to use hashtags
People often wonder where you should put hashtags. Some IG users think placing a set of hashtags at the bottom of captions looks spammy and prefer to use the first comment. Others choose to reserve their comments section for other users.
In our house plant examples above, you may have noticed some brands used hashtags in their Instagram captions, and others used them in their post comments. Fancy Plants Chic did both at the same time!
Jenn from Social Media Examiner points out that functionally speaking, it doesn't matter where you put them. However, some studies (such as the one by Social Insider) suggest that the placement you choose affects engagement rates—but it depends on the size of your account.
All in all, it would be safe to say that you can use the research from Social Insider as a guide, but you should determine the best method for you through consistent experimentation and analysis.
Side note: If you create a brand hashtag, your Instagram bio is a great place to put it to get the word out and encourage your target audience to use it!
How to analyze hashtag performance
The last, but certainly not least, part of the process we'll go over is how you can analyze your hashtags' performance. After all, you want to be able to determine what's working and what isn't so you can improve.
The best way to do this is by using the Instagram Insights analytics tool. When you publish a post, you'll be able to see a little bar underneath offering the options Insights and Promote. Of course, you'll only see these options if you have a creator or business account.
When you review the insights for a specific post, you'll have access to lots of information about its performance. What we care about here is in the Discovery section, where you'll see Impressions (more specifically, impressions that came from your hashtags).
The good news is that these insights are available to you on both the Instagram app and on desktop.
From there, you'll want to use a paid tool like Later to track the performance of your hashtags automatically (and individually), or you can create your own spreadsheet to track them manually. Here's an example of how you could set up a Google Sheet:
Using the data from Instagram Insights, you can document your post hashtag impressions to see which posts perform best with particular hashtags. Of course, other variables, such as the content itself, can have an impact on your post's performance, so it's best to only test one changeable element at a time. For example, you could try using a content-specific hashtag for videos, blog posts, and photos, or you could try using particular hashtags at different times of day.
To minimize the variables, it's best to record the impressions data at the same time intervals for each post, e.g., after one hour, after seven days, etc., to give each post the same opportunity to accumulate usable data.
Once you've gathered some data, simply mark the posts with the best performances and make a note of the hashtags you used on those posts. Then you can tweak them and continue following the same process we've outlined.
Make the most of your improved performance
Now that you understand how hashtags work and what you can do to help grow your account, what's next?
In business, organic content can only take you so far. When you feel like you want to take the next step to grow your company, try using Instagram Automation by ManyChat to help you build a winning advertising campaign.
This way, you can work to turn your newly improved reach and engagement into an Instagram sales funnel for your business.
Grow your Instagram following and make sales with Instagram Automation by ManyChat. See if your business is eligible by applying below.
The contents of this blog were independently prepared and are for informational purposes only. The opinions expressed are those of the author and do not necessarily reflect the views of ManyChat or any other party. Individual results may vary.