Are you struggling to reach your Instagram followers when posting content to the app? You're not alone. While 90% of users follow at least one business on the platform, Instagram's algorithm pushes brands to pay to boost their post in order to reach the audience they've built. The average Instagram post reaches just 20% of users following an account.
Luckily, boosting posts helps solve this issue, and strengthens your Instagram marketing strategy. Granted, you need a small budget to increase your reach — but when done well, boosted Instagram posts have the power to generate leads, sales, and revenue for your business. This guide shares how to do it.
What is a boosted post on Instagram?
A boosted Instagram post is a type of social media advert that helps brands reach a wider audience with a piece of content you've already published on your Instagram profile.
At a glance, boosted posts look very much like normal Instagram posts — they are just amplified versions of your standard posts. The only difference is they'll be labelled as "sponsored" and may include a call to action (CTA), like this example from Manly Bands:
While you won't want to do it for every post on your business's Instagram account, there are times when you want your content or message to go a little bit further, especially for posts touting a new product launch or an influencer-endorsed video. In these instances, it's worth putting a bit of money behind boosting your post to guarantee that the time and effort you've put into creating the organic post is worth it.
Boosted posts vs. sponsored Instagram ads: What's the difference?
Although they may appear similar to Instagram users, boosted posts and sponsored Instagram ads are actually two different things.
While you can only boost an Instagram post that you've already published, a sponsored post doesn't necessarily have to be a post you've already posted to your business's profile. Brands can create brand new assets — including videos, ad copy, and carousels — that appear as a sponsored post that isn't discoverable from your main grid.
There are also limitations on the type of content you can boost. Instagram only allows brands to boost image-based content (such as images or carousel posts). Sponsored posts, however, can feature video content.
Plus, there's a more complex setup process for sponsored posts. You can be more granular with your targeting and content.
To summarize: Boosting a post is the better option if you're trying to increase reach and engagement on a single Instagram post. Sponsoring a post, however, is the better way to reach new people with a wider range of content.
The benefits of boosting an Instagram post
There are several advantages to boosting posts from your Instagram business account, including:
Build brand awareness. By reaching new and untapped audiences via boosted posts, brands can get more eyeballs on their Instagram content. This results in an increase in brand visibility and awareness — a key goal for many social media marketers.
Improve post engagement metrics. Provided your content is engaging and appealing, you can expect an increase in post likes, comments, shares, follows, and profile visits when more users are exposed to your content.
Drive clicks (and customers!) to your site. With the CTA button being a key part of any boosted post, putting some cash into promoting a grid post will make it easier to meet your goals, like diverting Instagram followers to your website.
Better post analytics. When you've boosted a post, Instagram Insights and apps like Buffer give detailed statistics and data that differ from a standard organic post. Go to your profile and tap Ad Tools > Past Ads to see how many people your boosted post reached, the engagement it had, and the number of clicks it drove.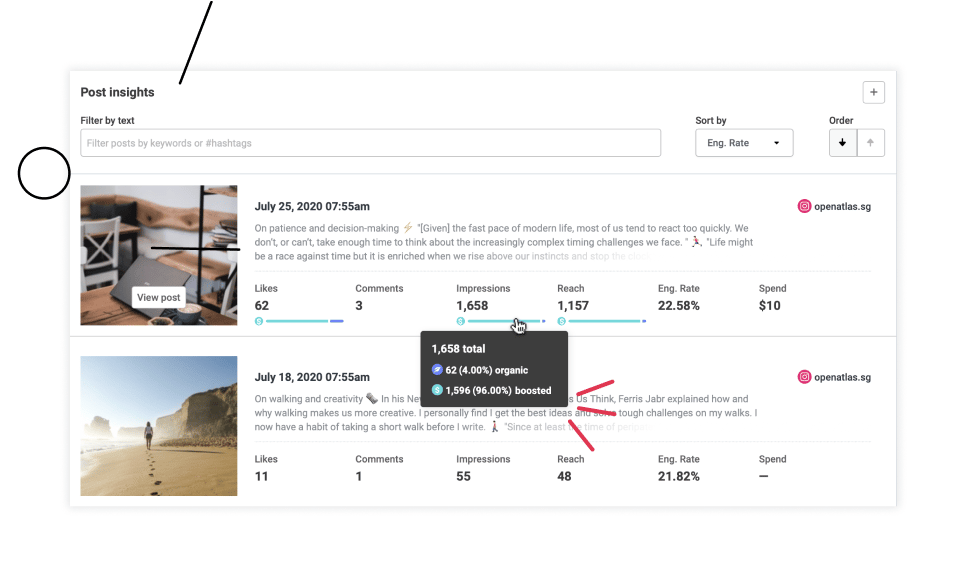 How to boost an Instagram post
Ready to boost your Instagram post? Follow these seven steps to share your content with a wider audience, right from the Instagram app.
1. Choose an Instagram post to boost
First, you need to decide which existing post you'd like to boost. It might be one that's already seeing a high organic engagement rate, or an image that's performing well from a sales perspective, and boosting it would have a domino effect on revenue.
Head over to your Instagram profile and choose the post you'd like to promote. Hit the "boost post" button beneath it:
2. Choose your goal
The next step is to choose a goal for your new campaign. You'll have three options to select from. The best choice for your campaign depends on the desired outcome for boosting a post:
More profile visits: best for building brand awareness and Instagram engagement.
More website visits: best for driving targeted website traffic that you want to convert into sales and leads.
More messages: best for building relationships with new and existing followers by encouraging them to interact via direct message (DM).
3. Select your target audience
Next, choose the type of Instagram user you want your boosted post to appear in front of. Instagram's advertising algorithm needs to know if you fit its criteria for a special ad category.
But for anything else, you can choose between automatic or manual targeting. Automatic targeting, as you can imagine, is essentially done for you by Instagram's algorithm. The platform will choose which users to target based on those who appear or behave in a similar way to your existing followers.
If you want to target people based on your own insight and criteria, choose "Create your own." Build an audience that reflects your target customer using criteria such as:
Location.
Age.
Gender.
Interests.
Keep an eye on Instagram's target audience size. While going broad might sound like the best choice, showing your advert to people that don't fit your customer persona is a waste of money. Choose targeting criteria that best-reflects Instagram users most likely to buy from you. Here's what that might look like for a pet food brand with a retail store in San Francisco:
4. Set your budget
The next stage is when you'll choose your budget, or the amount of money you want to spend on the boosted post. Enter the amount you'd like to spend per day and how many days you want to run the campaign for.
As you use the sliders to adjust the daily budget and campaign length, you'll see the estimated reach change. This gives you a good indicator as to how many people your boosted post will reach once it's live.
Read more: How to Manage Instagram Advertising Budgeting and Bidding Strategies Around Key Dates
5. Review your ad
Once you've selected your budget, review the criteria you've entered for your boosted post. Pay especially close attention to the targeting criteria and estimated reach. Remember, the goal with boosting any Instagram post is to improve the number of people who see your content that fit your buyer persona.
You can also preview the post before launching the campaign. You'll see what the boosted post will look like when it appears in your target audience's Instagram feed, Instagram Stories, or Explore page.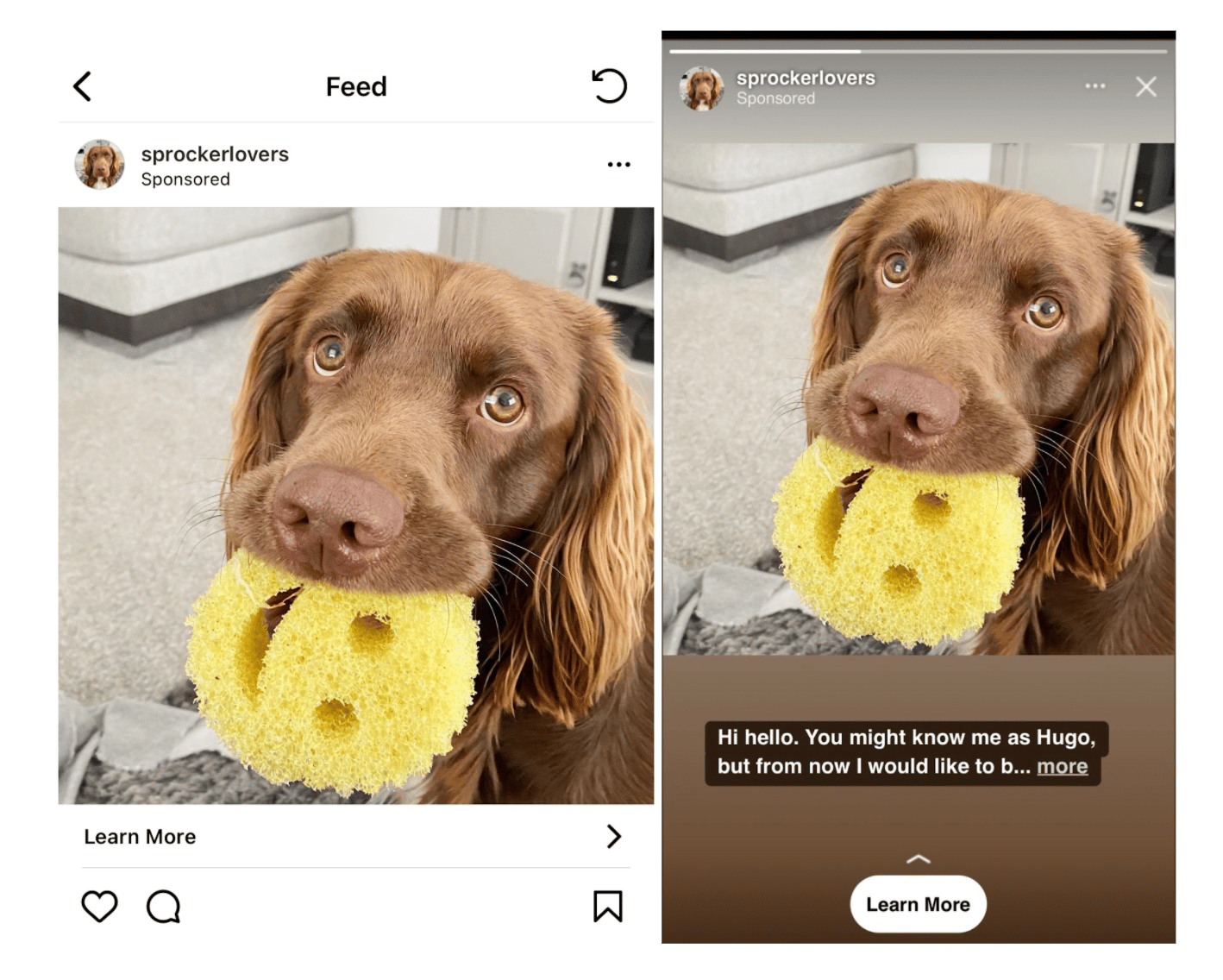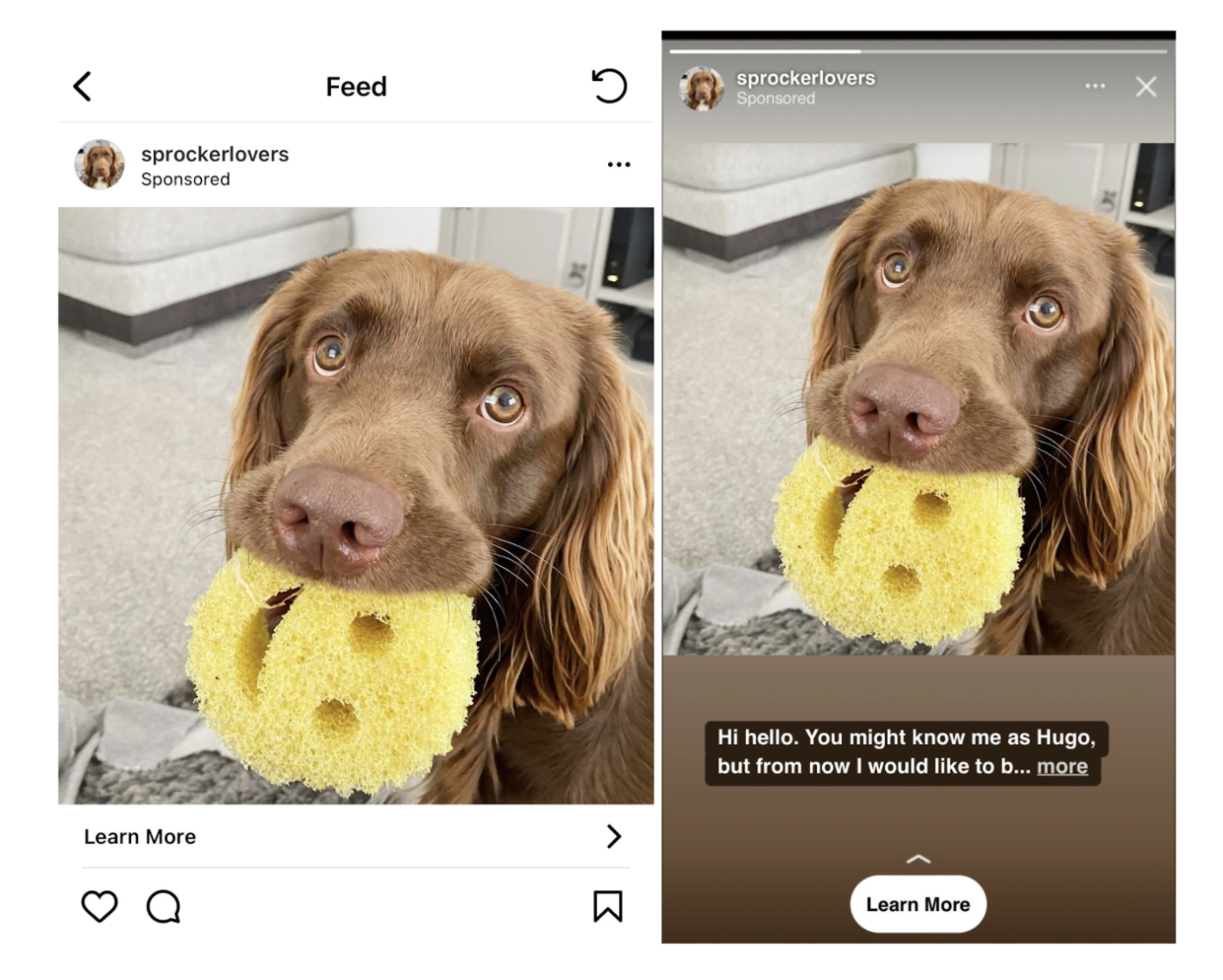 6. Enter your payment details
The final thing to do before your Instagram post is boosted is to enter your payment details. You can use an existing Facebook Ads account linked with your Instagram business profile, or enter your card details directly in the Instagram platform to fund your ad campaign.
7. Wait for the boosted post to be approved
Once you're all done, hit the "Boost Post" button, and then sit back while Instagram works its magic.
Note that it can take 24 hours for your boosted post to be reviewed by Instagram, so if it's time sensitive (like a product launch), it's better to be prepared and submit your post for review as early as possible. You can always pause the ad until you're ready to start spending your budget.
How much does it cost to boost an Instagram post?
Boosting an Instagram post is a cost-effective way to reach a wider audience, increase engagement, and drive qualified traffic to your site.
The amount you pay to do that depends on your campaign objective. Research shows the average cost-per-click (CPC) for an Instagram post falls around the $0.60 mark. The cost-per-mille (CPM) — the amount you'll pay for 1,000 impressions — is more expensive at $1.70. However, the actual cost of an Instagram ad varies based on a range of factors, including:
The campaign duration.
The reach and potential audience size.
The CTA type or goal of the boosted post. It will cost more to boost a post if your goal is to gain website clicks rather than if your goal is to build profile visits.
The great thing about a boosted post is that it's really up to you to decide how much it costs. You can boost a post with a budget as small as $1 per day. Just bear in mind that the smaller the budget, the fewer people you'll reach. It can pay dividends to stretch your advertising budget where possible, especially if your targeting options are niche.
Turbocharge your Instagram strategy with boosted posts
Instagram is a great social media platform to build brand awareness and reach your target customer, as well as drive conversions, leads, and customers for your business. And, with a helping hand from boosted posts, you can push organic content that much further to squeeze even more value out of your strategy.
Take a look back at some of your top performing Instagram content. Pick ones with a high organic engagement rate, and follow this process to boost it. You'll soon start to see an influx of followers, engagement, and activity on your business's Instagram account.
Need a helping hand with your Instagram account's hive of activity? Instagram Automation by ManyChat exists to make your life easier. Automatically provide thoughtful responses to people who engage with your account with the goal to turn Instagram followers into paying customers.
Nurture relationships with followers with Instagram Automation by ManyChat.
The contents of this blog were independently prepared and are for informational purposes only. The opinions expressed are those of the author and do not necessarily reflect the views of ManyChat or any other party. Individual results may vary.