10 Ways to Re-Engage Customers With ManyChat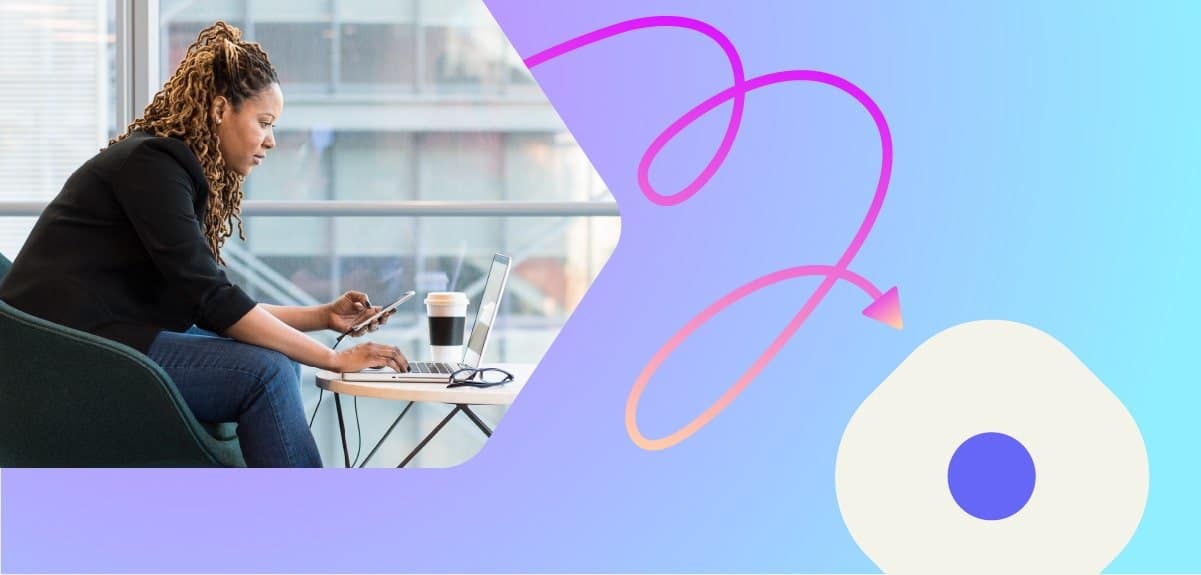 Activity on Facebook's messaging apps has increased more than 50% in the hardest-hit countries during the coronavirus spread.

As more people go into self-isolation, it's clear they'll be spending more time online and away from each other. It's likely people who you engage with through your marketing will be hungry for human interaction — you can deliver this type of communication through Messenger, SMS, and email using ManyChat.

Before diving into the tactics, there are two fundamentals to consider:
1. Add a bot personality and keep the conversation light, empathetic, and thoughtful. This will help facilitate better conversations with customers and build closer ties with them during this challenging time.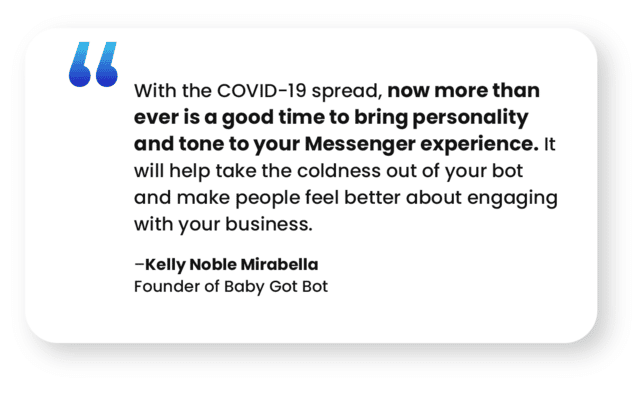 2. Create flows that help your customer throughout their shopping journey. It's okay to get a little goofy with people. For example, you can run an ad for a pizza place saying, "What's the best pizza place featured in a TV show – vote here to learn what people think." You can make it fun and engaging to gather more bot subscribers and close customers later on.
Now that you've got the two fundamentals down, read on to learn how you can use ManyChat to re-engage subscribers.
1. Set up The Recurring Notification
The Recurring Notification allows your business to re-engage your customers after 24 hours of last interaction, with prior permission, on a daily, weekly, or monthly basis.
If you are familiar with the Broadcasting tool with ManyChat, the Recurring Notification expands on this tool by creating an experience that your customers are in control over.
First, to send Recurring Notifications, you must receive prior permission from the customer to send them a Notification by having them opt-in. Also, they have the opportunity to opt out at any time.
This feature will also include One-Time Notifications, which allows you to send one message to your customers after 24 hours.
With the Recurring Notification you can:
Send time-sensitive marketing campaigns
Create drip campaigns
Follow-up with your customers after the conversation has ended
The Recurring Notification is broken down into 3 communication windows:
Daily over 6 month period after opt-in (one message per calendar day)
Weekly over 9 month period after opt-in (once every calendar week)
Monthly over 12 month period after opt-in (once every calendar month)
Also, the day before the Notification window closes, all customers who opted-in will automatically receive a message to re-opt-in to the Notification to continue receiving messages.
Learn more about The Recurring Notification and how to set it up.
2. Live Chat
One of the things a potential customer won't have during social distancing is the in-store experience. When someone has a question in-store, they can ask an assistant — whether it's to help them find a size or ask about a specific color dress.

If you haven't added Live Chat to your online store, now's the time. In fact, about 95% of people are spending time on in-home media consumption and between 30 and 55% are using eCommerce more frequently around the world—People are clicking, reading, buying, and chatting online, and to make their experience better, you'll want to be there and be accessible.

Live Chat helps bridge the gap between the in-store experience and online shoppers. You can offer help, strike up a conversation, and get to know the person behind the screen, building a relationship that could result in a sale.

Setting up a Live Chat flow for your website is easy. Two objectives to keep in mind are: one, offer the visitor help from a real human; and two, notify administrators when they ask a question so a live human can respond.
One way to use LiveChat is by combining Click-to-Messenger ads into Live Chat. For example, The Pearl Source, an online jewelry retailers, included an "Ask Expert" button in their holiday campaign flow to help answer last minute questions and encourage a sale.
When you use the Human Agent Message Tag, you have seven days to respond to subscribers versus 24 hours in Messenger. You also can combine Live Chat with texting to continually re-engage customers on both channels.
You could also download ManyChat's mobile app on iPhone or Android for quicker and more efficient Live Chat communication. With the ManyChat Mobile App, businesses can focus on messages on your Page that matter, rather than all the clutter Messenger may send your way automatically.
For more tips on how to use ManyChat Live Chat, we recommend checking out. How to Sell Using ManyChat SMS Live Chat and [Video] How to Use ManyChat Live Chat.
If you want to set up this tool, refer to How to Add Customer Growth Chat Tool.
3. Message tags
You ran click-to–Messenger ads, collected subscribers, got them to opt-in to your Messenger, email, or SMS lists, and now they bought something. Don't let the relationship end there.

Using Facebook Message Tags, you can set up a post-purchase sequence that keeps customers engaged and comfortable with their purchase during uncertain times.
Tag: Post-purchase update
Order Confirmation
Order-confirmation messages reassure customers that their order was received and processed by your business. It also lets you open up a 24-hour window to engage with your new customers using a fun and inviting message. Remember, your message doesn't have to be boring.

To create this flow, choose the "Placed Order" Shopify trigger in Flow Builder. Attach a Messenger message with a confirmation note, for example: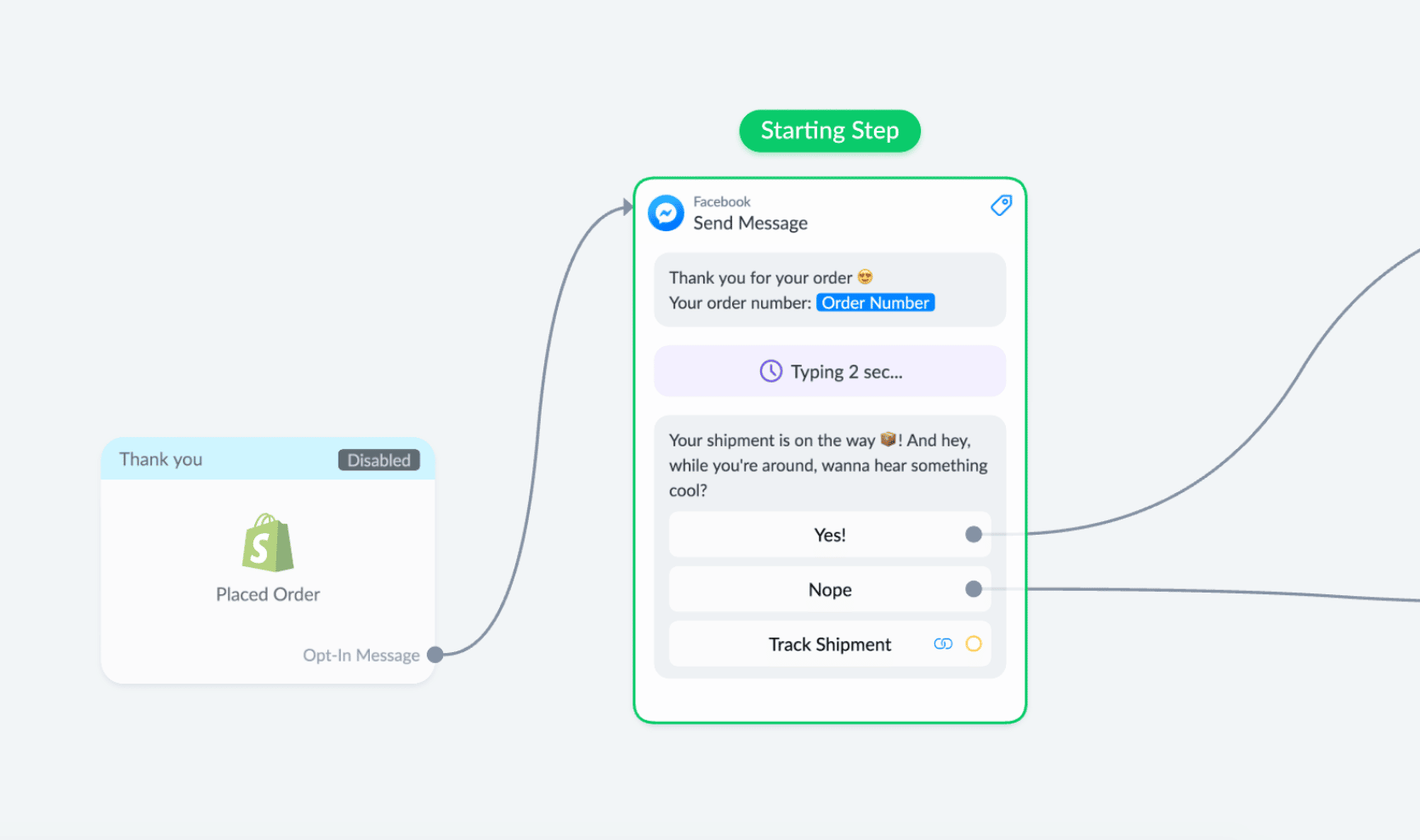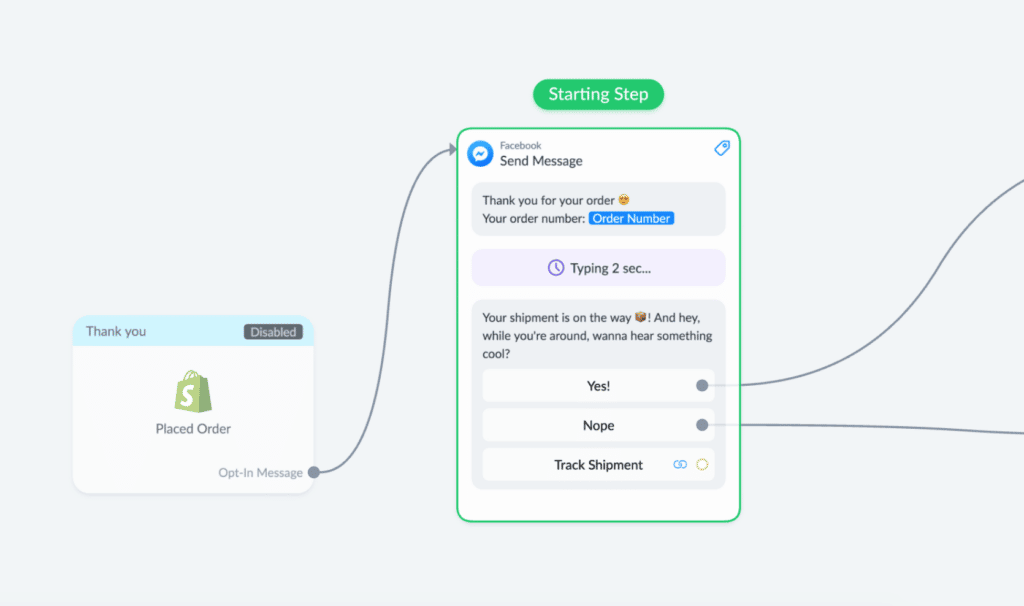 Offer customers the option to track their shipment, visit your store, or entice them to click through to another message. If you have a customer loyalty program, you could encourage them to sign-up, or see if they want to join your SMS list. The goal is to get a customer to click through so that you can reopen the 24-hour window and continue the conversation.

Message examples you can steal:

Your [Company Name] order has been shipped! How excited are you? Use this number to track your package. Let us know if you have any questions!
We've received your order! Once your package ships, we'll share your tracking number via Messenger.
Order received! Thank you for your purchase [name]. We'll let you know once it's on the way. Your order number is: XXXXXX.
Shipping Confirmation

Fulfillment messages such as shipping confirmation keeps a customer informed about their order. It makes them feel like they're in good hands, plus it lowers buyers remorse and maximizes satisfaction after the buying decision.

To create this flow, select the Fulfilled Order Shopify trigger and create a Messenger message like below:
Because this message is related to the customer's order, you can use the Post-Purchase Update tag even if it's outside the 24-hour window.

Message examples you can steal:
Your order is on its way! Get excited — your order should be at your door in X business days.
We're happy to tell you that your order has shipped!
For more information on Message Tags, we recommend reading A Short and Sweet Guide to Message Tags and Examples of Applying Message Tags.
4. One-time notifications
Coronavirus may impact some business supply chains. This could mean products may go out of stock for an unknown amount of time. One way you can capture interest in a product even when it's out of stock is with a One-time Notification.

Facebook understands that Message Tags don't apply to every situation where a Messenger conversation is useful for subscribers, which is why they introduced the One-time Notification (OTN). OTN which lets you send messages to subscribers beyond 24 hours as long as they give you explicit permission.

First, you need to apply for One-Time Notifications.
Once you are approved, a new message block will appear in Messenger
When building the OTN Request block, you can customize the main text, but Facebook Messenger restricts us from updating the button text. It will always say "Notify Me", and it will be rendered in the subscriber's preferred language in the Messenger thread.

Naming the topic of OTN Request to refer to it when using the actual OTN message. Once you have your topic set, add your new OTN Request to your flow wherever it's appropriate. Some scenarios where an OTN can be useful include:

When a subscriber requests an item that is out of stock
When a subscriber wants an update about an upcoming event (when tickets go on sale for example)
When a subscriber indicates they're interested in a future sale, promotion, or sweepstakes
When a subscriber wants to receive a specific piece of content that isn't publicly available yet
This will bring up a list of your existing OTN topics. Select the one that corresponds to the message that you want to send and make sure it's related to the content.

Once applied, the OTN works like any other Message Tag: It allows you to send the message outside of the 24-hour window (to subscribers who have opted in). Consider one important caveat, though: you may only send a single message block when using an OTN. To send any additional messages, a user must interact with your first message.

So make sure that your OTN message:
Delivers the content that a subscriber requested in the first message
Offers a compelling reason to interact with your brand to open up the 24-hour window
Here's how it looks on the front end:
To take advantage of this re-engagement and increase average order value, you can add a product gallery to your OTN message to encourage shoppers to look at more products.

For example, you could send a message saying "Your Super Cool T-Shirt is back in stock! Plus, swipe left to see other popular items we got back on the shelves. Shoppers can buy now, see the whole product range in Messenger, or head over to your online store to check out more.
5. Sponsored messages
Facebook sponsored messages are messages you pay to send to anyone who has messaged your bot or Live Chat. You can use these paid messages to re-engage subscribers outside the 24-hours when your message doesn't fit into a Message tag.

It used to be that you had to create a custom audience prior to sending out sponsored messages in order to avoid upsetting people who unsubscribed. With ManyChat's latest update, you can create custom audiences and lookalike audiences on the fly in Paid Messages inside the Broadcast tab.
Here's how to set up a Sponsored Message, step-by-step:

For example, if you want to get rid of dead stock or send a pre-order sale to your list, you can use a Sponsored Message. In the flow you attach to your message, you can include the pre-order sale plus create a carousel of products to encourage people to shop. This is also a great opportunity to get additional contact information, such as SMS and email, so you can message people cost-effectively outside the 24-hour window.

Since you have to pay to send sponsored messages, you want to make sure you get the most value from them. Here are a few tips:

Use high-definition images that appeal to your audience, such as bestsellers or multiple products.
Personalize messages to make them more relevant and get people's attention.
Use a clear call to action.
Send an irresistible offer.
Segment your lists so you send relevant offers to the right people.
Keep messages short and concise.
Direct people to different flows in your bot.
6. SMS to Messenger
If you've built an SMS subscriber list over the past couple of months, now's the time to put it to use.

Whether you're having a sale, have an announcement about your business, or simply want to send subscribers something fun to do in their downtime, you can send an SMS broadcast. Users can then click from the text into your Messenger bot to reopen the 24-hour window and receive further communications.

Taking it one step further, you can even take orders inside Messenger, whether you're a restaurant, brick-and-mortar, or online retailer. Let's take a look at how one Mexican restaurant used SMS to Messenger to promote a tamales sale.

Start by building an SMS broadcast describing what you offer and how the receiver can claim the offer.
The restaurant set a condition to ensure receivers opted-in to receive text messages.
When someone clicks through, a conversation will open up inside Messenger. The restaurant used an image of the offer and tagged users based on their actions so you can collect information for future marketing.
The next step is asking a series of qualifying questions related to your offer. In this case, the restaurant asked the following questions in the Messenger flow:
How many dozen tamales do you want?
Do you want pork or vegetarian?
Do you want the tamales hot or cold?
What is the name of the person picking up the order, and what is their phone number?
What is a good pick-up date and time, before December 25th, to come in and pay for the order?
And lastly, take all the information a customer gave you and put it into a final "Confirm My Order" message.
You can collect payment at pick-up, or add a buy button inside the flow to take purchases through PayPal or Stripe. Including a buy button lets you track revenue from the flow using ManyChat's latest conversion tracking and analytics update.

After an order is confirmed, you can send all the information to a Google Sheet, using ManyChat's native integration. Plus, you can send a text to the owner notifying them of the new order.
For more resources on using SMS in ManyChat, see the following:
7. Email to Messenger
Product feedback follow-ups are a nice personal touch to re-engage customers after they make a purchase. It shows customers that you value their time and money, plus, it builds trust with your business.
Since this type of message doesn't apply to Facebook's Message Tags, you can send a follow-up email that when clicked, sends the customers into a bot flow where you can continue the conversation. This also re-opens the 24 hour window since clicking on the URL in a ManyChat-sent email works like a growth tool.

To create this flow, choose the Fulfilled Order Shopify trigger. Then add a smart delay to trigger an email asking for a product review.
You can set a smart delay for the length of time it normally takes for a customer to receive a product. In the above example, a 14-day delay was used, but you can choose any timeframe you want.

The email lets you bypass the Messenger 24-hour rule.
Once in Messenger, you can ask for a review. Prompting reviews in Messenger lets you filter out bad ones and proactively fix a customer issue in a Live Chat.

You can also give customers a choice to reach out by phone, as shown in the example below.
If a review is positive, you can send customers to a review site or say thanks and keep the conversation going.

Customers who've had a great experience with a brand spend 140% more than those who felt they had a bad one. Cross-selling messages can help you jump on the opportunity of post-purchase excitement.

For this flow, you can offer customers a coupon after they leave a good review.
An easy way to deliver coupons in ManyChat is by setting one general coupon code for everyone who goes through the flow. They can then use it when they purchase products in your store.

From here, you could take two different approaches:
Encourage customers to use the discount now by adding a product carousel with a Buy button, and give the option to visit your store for more.
Ask if they'd like to sign up for your customer loyalty program to receive future promos, discounts, and points for their purchase. And get their phone number to keep the content flowing!
8. Click-to-Messenger ads
Click-to-Messenger ads can help you reach new customers through different custom audiences you create. Some examples of high-value audiences you can send ads to are:
A Custom Audience of people who've viewed products, but didn't add anything to cart.
A Custom Audience based on people who added products to cart, then abandoned the purchase.
Messenger ads are an engaging way to send discounts for dead stock and let customers choose the journey on their own. You don't even need to build out the flow on your own: we created a click-to-Messenger ad template you can install and start making sales with today. It's based off of The Pearl Source case study where the online retailer achieved a 47% conversion rate and sold over $64,000 in additional revenue over six weeks.

Check out the flow via this link. Then download it as a template for your own click-to-Messenger ads!
9. Organic
Whether you're running a Facebook Live or publishing a post on Facebook, you can set up a Comments Growth tool to capture commenters and turn them into subscribers, automatically.
To set up a Comments Growth Tool, you can take two approaches:

Scheduled post: where you can attach a bot flow to a future Facebook post.
Live post: where you can attach a flow to a post that's already published.
You can use a Facebook Comments Growth Tool to deliver a lead magnet on organic posts.

For more tips on using this Growth Tool, check out 8 Actionable Things You Can Do With ManyChat's Comment Growth Tool. For helping setting it up, refer to How to Set Up Facebook Comments Tool.
10. 2-Way SMS Live Chat
Did you know 75% of consumers under the age of 44 want the ability to contact a business via text? SMS Live Chat is an effective and easy way to build customer engagement and drive sales. You can use it in ManyChat to assist your automated flows and nurture the relationship via text.

SMS Live Chat lives right in the Live Chat tab in your dashboard.

Businesses that use SMS Live Chat can jump into a conversation initiated by text and respond to questions fast. You can also manage subscribers data manually by adding tags, subscribing to sequences, adding customer field values, and more. So you can save time and make re-engaging with customers convenient and easy for everyone.

Making the most of your ManyChat bot
As marketers and business owners adapt to the changing COVID-19 landscape, keeping the conversation alive with your customers is more important than ever before. With these 9 re-engagement tactics above, you can continue to drive revenue through your Chat Marketing efforts and keep your business thriving during these uncertain times.
Do you have different Chat Marketing tactics you're using to connect with customers? Head over to the ManyChat community to share your insights and ideas.

The contents of this blog were independently prepared and are for informational purposes only. The opinions expressed are those of the author and do not necessarily reflect the views of ManyChat or any other party. Individual results may vary.