How to Get Customer Feedback: 7 Effective Tips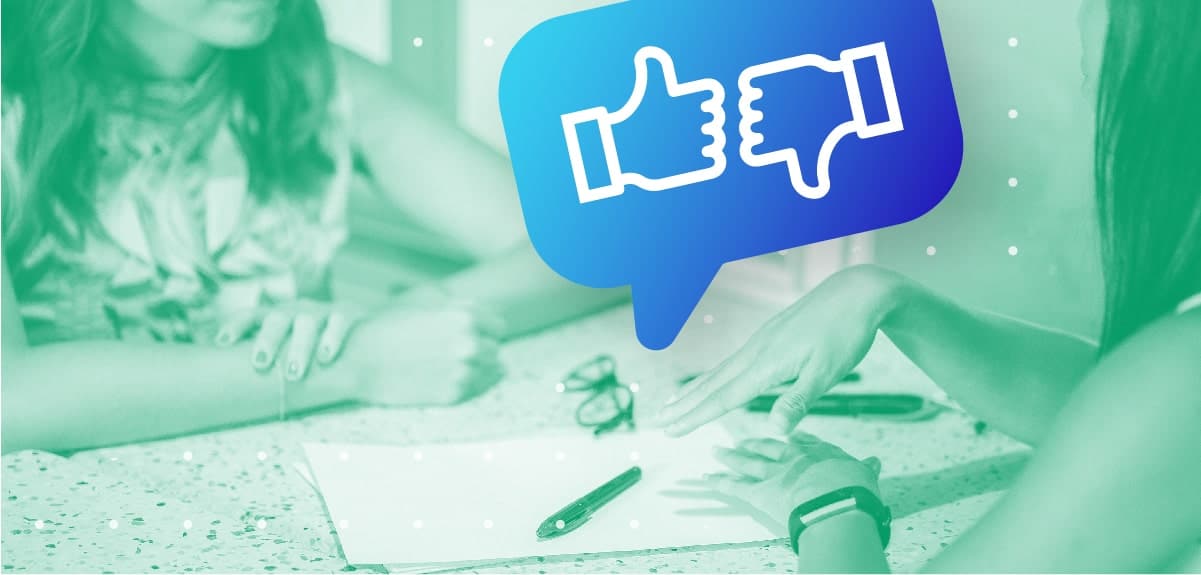 In 2019 Brian Halligan, the CEO of HubSpot, was voted a Top CEO in America. From the marketing platform's humble beginnings in 2006, to a now publicly-traded company valued at $6.5 billion, he explains the secret of success in one phrase:
"Feedback is the breakfast of champions."
All too often, customer feedback is treated as an afterthought — at most, a quick "are you satisfied with our service?" survey you email someone after they buy something. Many businesses do not take the extra time to go more in-depth with finding out how to get customer feedback.
But in reality, customer feedback is the ultimate truth. If you don't know what's wrong, you can't fix it. If you don't know what's right, you can't do more of it. If you don't do more of what's right, you can't get valuable insight to keep your customers satisfied.
Satisfied customers are loyal customers — and brand loyalty is the foundation for business growth. It starts with customer feedback. Here are seven tips for gathering customer feedback for actionable insights that you can use in your business today.
Top 7 Tips to Ask For Customer Feedback
With ManyChat, you can collect customer feedback using a mix of Messenger, SMS, and email channels. Let's take a look at how you can achieve this, to help improve the customer experience.
1. Figure out why you're asking for feedback
However you choose to go about it, the first thing your customer feedback strategy needs to accomplish is to explain why you're asking for feedback.

When customers come into your survey, you need to quickly give them the reasons you need their help to keep them interested. Most customers have short attention spans and you won't have their attention for long, so be forward and concise to get your point across, quickly.

Some common reasons for honest feedback are:
You're looking to uncover product or service issues to improve your offering
You want to learn about what features people want to see
You want to know whether or not customers are happy with your company support over time
You want to know how customers buy your product
Many brands explicitly ask questions to get valuable feedback. Take Casper (example below). They ask how well someone slept using their mattress. It's one simple question with a clear call to action.

If you don't ask the right questions that can help you make better product decisions for customer satisfaction, you're wasting everyone's time. Make sure your survey stands out with clear and concise questions — and that it gives a good and relevant reason for people to take the survey.
2. Start a conversation on active channels
Featuring a customer feedback survey in your monthly email newsletter can be a valuable way to collect information, and gain actionable insights. However, if you want to significantly increase the likelihood that people take action on your survey, you'll want to open up to a few different approaches.

There are a number of different ways you can deliver a survey or form, however, so consider what channel would be most accessible and received by your respondents, in particular.

Here are some approaches you can take with your customer feedback:
Messenger: You can turn surveys with high open and response rates into conversations, which can lead to increased customer satisfaction
SMS: You can send a simple text asking for feedback and include a link to Messenger or landing page
Email: You can send automated follow-ups post-purchase with a link or call-to-action button to survey
Live Chat: Your live agents can ask for feedback in real-time with record responses
Social media: Use a platform such as Twitter, Instagram, or Facebook to poll customers, making it easier to get responses and honest feedback
You can also send a multi-channel broadcast at different times of the day to spread your request across different channels. The more channels that serve your survey up, the more people will see it, and the more responses you'll receive from potential customers. Plus, you can learn the cross-channel habits of your customers and see what channels they prefer and on which they're most active.
3. Offer an incentive
The way you send a customer feedback survey isn't the only important measure to account for.

If you're able to offer an incentive, include it in your message to encourage clicks and take interested customers to your survey. It can be something small like a gift card or discount off their next purchase or monthly service.

Twitch, for example, uses a $10 Visa e-Gift card for every customer who completes their survey:
The incentive motivates customers to engage with the message, share their thoughtful opinion about your product or service, and boost the value of your survey.
4. Send post-purchase follow-ups
With an omnichannel approach to customer feedback, there are plenty of options to send post-purchase follow-ups. This is a valuable opportunity to send recent customers to a survey you'd like them to fill out — whether it's a Messenger chat or a Typeform landing page.

Many brands capture a phone number and email address, then send a simple "thanks for being a customer" message with a link back to their form. It doesn't require customers to give up personal data or make a big effort, which reduces friction for them and can lead to more feedback.

You can send a simple message to inspire valuable feedback via SMS saying:

"Thanks for shopping with us [First Name]. To help us out in the future, could you answer a few questions about your experience here: [link to Messenger]. Thanks! [Your Company Name]."

Or you could send an email to the effect of:

"Hi [First Name]. Thanks for buying from us. We're working to build better products for our customers, and we'd love your opinion here: [link to Messenger]. Thanks!"

Whatever you choose, keep the honest feedback goal in mind to send people back into Messenger. You can set up a review chatbot, which we'll cover later in this article, and continue the conversation there. It's one of the best ways to build relationships and create authentic experiences with your customers.
Want to add SMS to your marketing efforts? Get a free ManyChat account today.
5. Ask for feedback in Live Chat
Live Chat is an essential part of collecting customer feedback, and Messenger and SMS Live Chat gives you a better opportunity to talk outside your website. After helping a prospect or customer, you can ask for feedback on their experience with your business. It allows you to capture information, including valuable insight, right after helping someone, on a channel they're most comfortable on, which boosts response and completion rates.

These questions for potential customers are typically unstructured. As in, they may not come from a question and answer the survey. They instead come from the conversation you have with a customer, and then turn it into feedback for your business.

If you want to use a structured survey to inspire customer loyalty, you can always close the conversation with a CTA to visit a separate landing page to leave feedback or build a review chatbot to help you gather all the details.
6. Build a feedback chatbot
Customers commonly leave feedback on Facebook Messenger after interacting with companies; sometimes they'll send a message on their own and sometimes you'll have to ask for it. It's important to direct customers to your bot and set it up so that it can easily receive feedback from customers.

Creating a feedback chatbot can be simple and easy. The video below will teach you how to build a "5-star review chatbot" which can transfer over to a feedback bot for your business.
The best part about creating a feedback bot is that you can handle negative feedback right away. If someone leaves negative feedback, such as a 1 or 2 star review, you can notify an administrator and they can either respond in Live Chat or via email or text, and address the problem.
It's a win-win for customer service, marketing, product — and all the other teams that rely on customer feedback to make decisions.
7. Find out why customers churn
One great way to get customer feedback is to learn the reasons behind customer churns in your business. After a customer cancels a subscription or stops using your product, you can send them a message to see what's going on.

Seeso, a former streaming service, created this fun, conversational yet actionable email to ask for feedback from its customer base:
Building a sustainable system for analyzing churn is important for business growth, and improving customer loyalty. If you don't know why people stop doing business with you, it's impossible to improve your offering.
Start collecting customer feedback today
As you go about collecting feedback from your customers, you'll be able to start making smarter decisions and drive more loyal customers to your business. It's also a great way to let your customers feel heard, empowered and important.
Want to start collecting feedback faster and easier than ever before? Sign up for a ManyChat account today.
The contents of this blog were independently prepared and are for informational purposes only. The opinions expressed are those of the author and do not necessarily reflect the views of ManyChat or any other party. Individual results may vary.