The Brief Guide to Facebook Sponsored Messages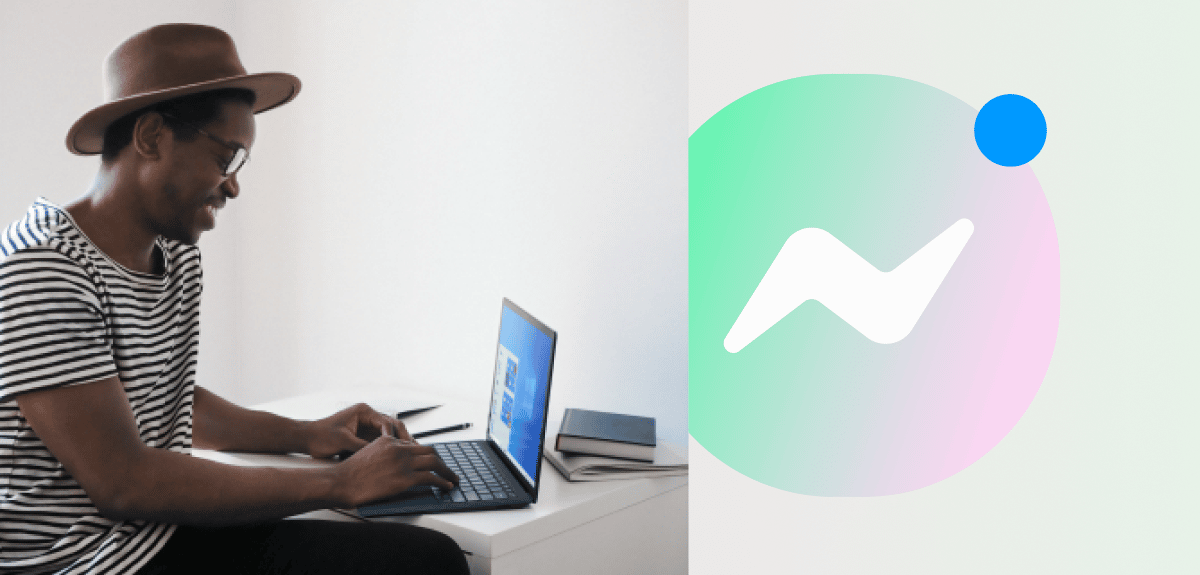 Now that Facebook has updated the subscription messaging broadcast API and is enforcing the "no promotions outside the 24-hour window" rule, many marketers are left wondering what's next for their social media marketing.
The answer is: Facebook sponsored messages. These important and powerful tools can help you connect with customers, while following the new protocols for Facebook Messenger messages.
Here's everything you need to know about sending this type of Facebook ad:
What are Facebook sponsored messages?
Facebook sponsored messages are messages that you pay for and send out to everyone who has ever messaged your page through your bot or live chat. This includes people who have unsubscribed, but doesn't include people who have blocked your page. Generally speaking, sponsored messages are an affordable paid social media tactic, costing about 10 cents per opened message.

These Facebook messages are an easy and effective way to reconnect with past Messenger users on phone or desktop. You can use them to:
Re-engage subscribers and open up the 24-hour window.
Nurture relationships by providing relevant content, updates, and promotions.
Send users into specific flows or destinations in your bot.
One benefit sponsored messages have over other types of Messenger ads is that they don't get labeled as sponsored. The ad shows up only when someone opens the paid message in their account, and they usually don't get tagged as spam because people have already interacted with the sender.
When to use Facebook sponsored messages
Simply put, you want to use sponsored messages when your message is outside the 24-hour engagement window and does not fit the new four Message Tags.

Facebook recently announced many changes to theMessenger platform, which took place on March 4th, 2020. One change is that businesses will only be allowed to message subscribers within 24 hours of their last interaction with that business Page — Facebook calls this the "24-hour messaging window."

If you want to learn more about the new policy, we recommend reading "The Complete Guide to Messenger Policy Changes: How To Do Messenger Marketing After March 4, 2020".

Some subscribers may give you other contact information like a phone number or email address. Some may not. But you still want to connect with those who fall outside the 24-hour messaging window, and you'll want to use sponsored messages on Facebook to do so.
Not sure if sponsored messages are for you? Here are two factors to take into consideration when deciding:
Sponsored messages don't deliver like a typical broadcast — they are an ad. This means they are impacted by bidding competition with other businesses. There is also a limit as to how many sponsored messages a subscriber can receive per day. Your ad might not reach a subscriber's phone, so they may not be best for time-sensitive or emergency messages.
You can only send sponsored messages to subscribers on your Messenger contact list who've interacted with your page within the past year.
How to send Facebook sponsored messages using ManyChat
It used to be that you had to create a custom audience prior to sending out sponsored messages in order to avoid upsetting people who have unsubscribed. With the latest update on ManyChat, you can create custom audiences on the fly in our Ads dashboard.

Watch our video to learn how to send sponsored messages step by step.
Tips for sending effective sponsored messages
Since you have to pay to send sponsored messages, you want to make sure you get the most value from them. Here are a few tips:
Use images that appeal to your audience, such as bestsellers or multiple products. 
Create personalized ads to make them more relevant and get people's attention.
Use a clear call to action.
Send an irresistible offer.
Segment your lists so you don't send messages to people who have unsubscribed or exist in the 24-hour window.
Keep messages short and concise for easy reading on a mobile device.
Direct people to different sequences in your bot.
Once a subscriber clicks on your message, you have 23 hours and 59 minutes to communicate with them. Create a sequence that provides value for subscribers and entices them to take action. If you want to message them past 24 hours, try to get additional contact information, then add SMS and email interactions to your flow to get people back into Messenger conversations and open up the engagement window for free.
Say you're having an upcoming sale, you can send a sponsored message to announce the deals. Then, continue the conversation by having them check out your top sale items. You can link to flow with a gallery of your products and even get their phone number, prompting them to be the first to know when the sale starts. It doesn't cost you anything to have a second step.
Facebook paid messages success stories
1. Blenders Eyewear
The team at Blenders Eyewear wanted to sell sunglasses more cost-efficiently by reaching an engaged audience using sponsored messages.
The team sent promotional messages to people who looked on the site but had abandoned their cart. They used "Learn More" and "Shop Now" call-to-action buttons and an image of cool sunglasses with the company brand. The ads delivered in Messenger ran for 48 hours and produced the following results:
7.5X lower cost per action.
7.5X increase in return on ad spend.
10.6X higher click-through rate.
40% increase in sales.
2. Culture Kings
This streetwear retailer used Facebook sponsored messages to promote its Black Friday sales, resulting in higher click-through rates and boosted sales.
Culture Kings ran two separate Messenger ad campaigns over a four-week span. Customers were sent one Sponsored message to the Messenger inbox personalized with their name, emphasizing the current promotion. The "Shop Now" call-to-action button linked to Culture Kings' website, where people could browse and buy.

Results included:
3X higher click-through rates.
50X return on ad spend.
3. Miller's Roast Beef
In partnership with ManyChat Agency Partner Misfit Media, this family-owned sandwich shop delivered a buy-one-get-one-free coupon as a sponsored message to customers.

They sent the offer to people who had interacted with Miller's on Messenger, with a two-week deadline to redeem. Since their audience had previously expressed interest in the product, they were able to boost sales while keeping ad spend low. The Facebook ad campaign results showed:
91% open rate.
417 offers redeemed.
Over $7,000 in additional revenue from repeat customers.
48% click-through rates.
Using sponsored messages to improve campaigns
Sponsored messages on Facebook are a great way to reach an already engaged audience when using Messenger for business.
As you plan your next marketing campaign, see how you can use this paid format to maximize sales while keeping costs low. If you want to continue growing your presence on social media, be sure to check out these Facebook Messenger tips as well.
Send more effective sponsored messages with ManyChat. Sign up today, it's free to get started.
The contents of this blog were independently prepared and are for informational purposes only. The opinions expressed are those of the author and do not necessarily reflect the views of ManyChat or any other party. Individual results may vary.