Top Tips for Using The Facebook Comments 2.0 Growth Tool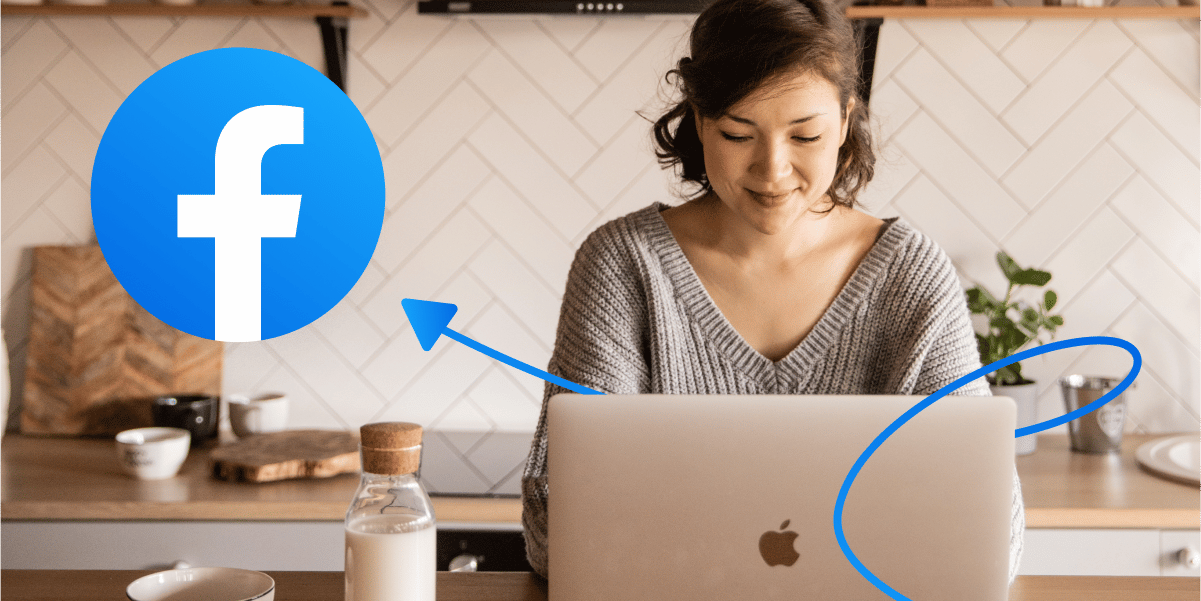 There are endless ways to use ManyChat's Facebook Comments 2.0 Growth Tool to acquire more contacts. So many, in fact, that we don't even know all of them. It's awesome to see ManyChat bot builders coming up with new and innovative ways to use the tool!
For many, however, the greatest challenge is knowing where to start. If you're new to ManyChat, it can be overwhelming to figure out how to take the first step. That's why we put together this guide.
The Facebook Comments 2.0 Growth Tool is a great way to start conversations and grow your subscriber lists—let's get started on some ways you can use it today.
Tips for turning Facebook Comments into sales
Everyone wants to take their Facebook marketing strategy to the next level. Lucky for you, these nine Facebook Comments 2.0 Growth Tool tips can help you get there.
1. Segment messages using conditions
With the Facebook Comments 2.0 Growth Tool, you can send different messages to subscribers when they first interact with your bot. When building replies in Flow Builder, use conditions to personalize messages for existing subscribers and those talking with you for the first time. Just tag these as "Comment Reply" in Flow Builder after the Starting Step.
To help make this segmentation easier, you can use a condition filter called Existing Contact to separate new versus existing subscribers.
When you know who's a new subscriber, you can continue the conversation with them by asking them to sign up for your SMS list, inquiring about their preferences and interests, sending special offers, and more.
If you want to take it one step further, you can build a conditional ladder to separate high-value customers from regular contacts.
A conditional ladder gives you the chance to make customers feel special and valued, something they may not expect after dropping a comment on a Facebook post.
2. Automatically comment and like posts
One of the newer additions to the Facebook Comments 2.0 Growth Tool is its ability to auto-respond and like people's comments on your post. Businesses can use this feature to generate more engagement in the comment thread and set expectations for a customer follow-up in Messenger.
You can set this up in the Facebook Comments 2.0 Growth Tool's settings. Start by clicking Auto-Response in your flow.
The Reply in Comments message is what you'll "reply" to people after they've used the keyword trigger in their comment (more on this later). They'll receive your message after they post.
For example, you could say, "Hey! I just sent you a message. Go check your inbox." Or you could write something more relevant and personal to create a more positive interaction with commenters.
If you want to "like" the person's comment in addition to posting a response, toggle on the Like the user comment setting.
Now you can respond to people and "like" their comment right on the post, and even send them an automatic follow-up in Messenger.
In addition, you can also add up to 20 random comment replies from the Facebook Comments 2.0 Growth Tool. So when multiple people comment on your post, they'll all receive different replies from your bot.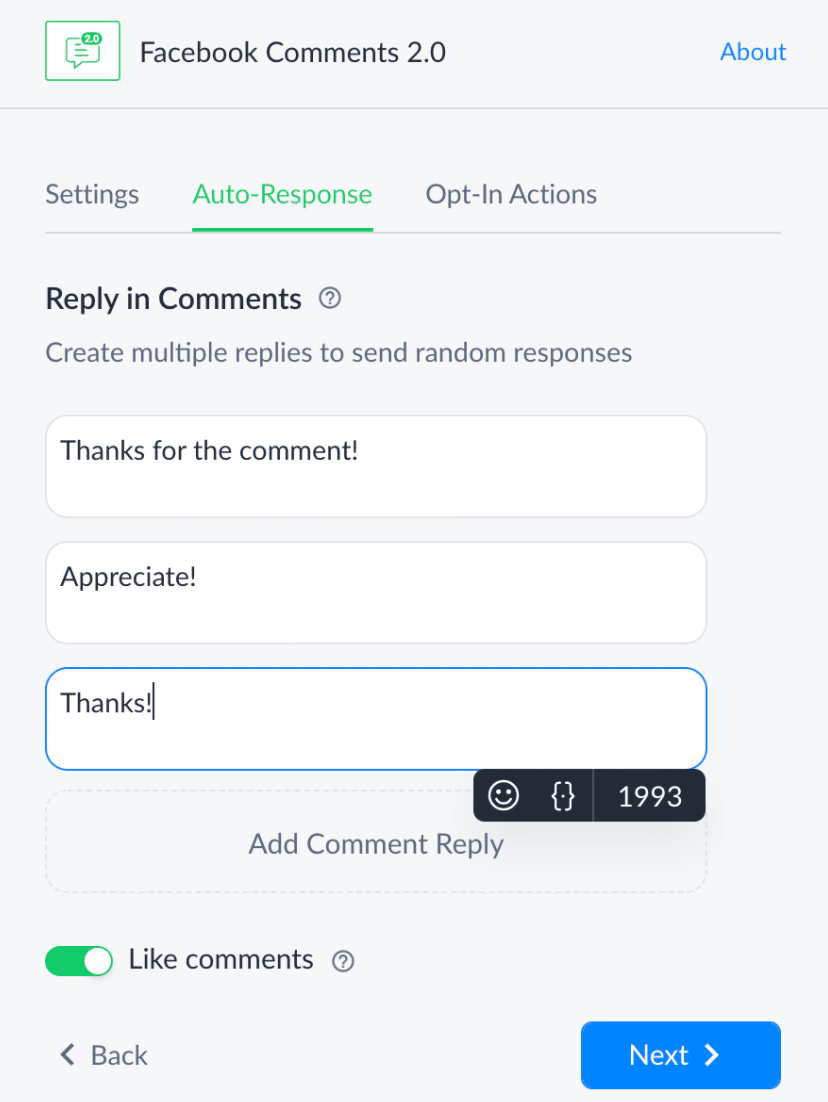 3. Use keywords strategically
You have two options when choosing what posts your Growth Tool will respond to: A specific post or All posts. If you select All posts, you'll want to use a keyword to trigger messages so you don't spam every commenter. You also only want to send them messages they are expecting and that make sense, given the context of their comment.
Whether you opt for A specific post or All posts, you can choose or exclude specific keywords to trigger a message.
4. Run ads attached to the Facebook Comments 2.0 Growth Tool
Facebook ads can be a great way to build brand awareness, announce new products or services, sell more inventory, and encourage more conversations with potential customers. Attach the Facebook Comments 2.0 Growth Tool to your ads to increase engagement and grow your contact list. When someone comments on an ad, ManyChat will automatically respond to them in Messenger.
When selecting a Facebook post in your settings, click Promotable Posts.
Here you'll see all your active ads, dark posts, and any current or past boosted posts. Choose the post you want to attach the Growth Tool to, then build out your flow.
5. Ask questions in your posts to trigger responses
This is a classic engagement tactic to encourage people to comment on your post. Whether you're asking for their opinion or advice, questions are a natural way to get people to respond. According to Psychology Today, people love to tell others what they think. It makes us feel valued, and by talking with others, we feel connected.
Two things happen when you ask the right questions. One, people share ideas and feel understood by your company or brand. Two, you acquire a new subscriber and learn more about them. Use the Facebook Comments 2.0 Growth Tool to start meaningful conversations that send prospects into your bot so they can chat with your business.
6. Get contacts from Facebook Live
A standard approach would be to live stream your session and manually respond to comments afterward. But this tired tactic can result in people losing interest in your offer. Molly Mahoney, Founder of the Prepared Performer, gives us a better strategy for using the Facebook Comments 2.0 Growth Tool and Messenger Ref URL to maximize lead gen from Facebook Live:
"Let's say you're offering a free gift connected to the Facebook Comments Growth Tool, but you also want to give people a chance to book a call with you. You can have them drop the word CALL, then set up an automated reply with your Message Ref URL, or simply add the URL to the description of your video."
The best live stream events promote an incentive for people to comment. Whether it's a free gift, a question, or a coupon, you need to give someone a reason to respond for the most fulfilling results. Furthermore, your offer should be viewer-focused and be something that will help them alleviate a problem.
7. Encourage lead magnet downloads
Marketers are always looking for better ways to collect and manage leads. Lead magnets are a great way to snag potential customers' contact information (such as email or phone number) in exchange for something valuable.
Emma Hammond, also known as the Queen of Automation, weighs in on her experience using the Facebook Comments 2.0 Growth Tool to distribute lead magnets:
"The strategy that is working the best for me at the moment is using the Facebook Comments Growth Tool to offer something of value for free to my ideal clients, such as an e-book or free training video, which then funnels them to either book a call about my services via the Messenger bot, or sells them one of my digital products."
Whether you're offering an e-book, free PDF checklist, white paper, or video with exclusive content, you can use the Facebook Comments 2.0 Growth Tool to pick up leads and encourage downloads.
8. Engage people with a mini-quiz
Mini-quizzes are a fun way to get people into your bot, and they work for both live stream events and regular Facebook posts. ManyChat Educator Kelly Mirabella recommends mini-quizzes to enter people into a purchase flow:
"Say you sell a course on chatbots. In a live stream or post, mention, 'If you want to get on the waitlist for my new course, answer this quiz question and I'll send you the deets.' No matter what they answer, it can trigger a response. If they answer correctly, you can say, 'Yea, you got it! You'll learn even more in my course.' If they respond with the wrong answer, you can still engage with them by saying something like 'You're wrong, but don't sweat it. You'll learn this in my course coming up next month.'"
9. Create another channel for customer service
Using chatbots for customer service is a rapidly expanding practice across many industries, including eCommerce, professional services, and local businesses. Bots can respond to queries in seconds, reduce the amount of human labor required in service departments, and easily redirect the conversation to a live agent when needed.
With the Facebook Comments 2.0 Growth Tool, you can set keywords representing a problem customers commonly ask about. When someone comments on your post with the keyword, your ManyChat bot can respond with, "Hey, I noticed you needed help with [insert problem here]. We'll set you up with a live agent to sort this out." Ideally, you want to anticipate problems and respond accordingly to reduce response time and improve customer loyalty.
Over to you
The Facebook Comments 2.0 Growth Tool is an excellent addition to your ManyChat toolkit. It's powerful, easy to set up, and can help you drive more leads for your business on autopilot. Now it's your turn to unleash it on your audience and impress us with your creativity!
Want to maximize your ManyChat bot and grow your business?
The contents of this blog were independently prepared and are for informational purposes only. The opinions expressed are those of the author and do not necessarily reflect the views of ManyChat or any other party. Individual results may vary.