Lead Generation: A Beginner's Guide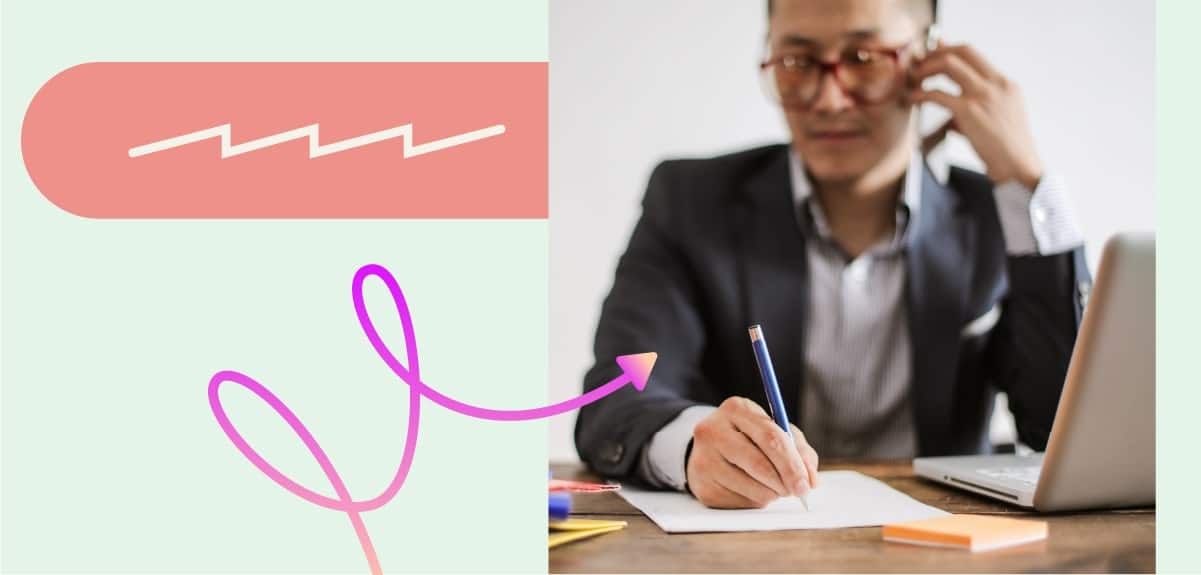 About 61% of marketers say generating leads and traffic is their top challenge.
As more marketing channels pop up, it only gets harder to reach new customers and run successful lead generation campaigns. Winning new leads might sound tough, but an effective lead generation strategy can help attract the right customers and grow your company.
The hard part is figuring out what strategies and tactics work best for you. In this beginner's guide to lead generation, we'll cover the basics of lead generation, different strategies you can test, including Messenger marketing, plus tips on how to maximize your lead generation efforts.
What is a lead?
A lead is a person who's shown interest in your products or services. They provide personal identifying information that your marketing or sales teams can use to follow up with them.
When people mention leads, they're either talking about prospects or qualified leads – but prospects and qualified leads are different.
Prospects are further along in the sales process and are more likely to make a purchase.
A lead can be someone who shows interest or joins your subscriber list but may not have the intention of buying from you.
Identifying different types of leads can help you make better connections with people — regardless of where they are in your sales funnel. Here are a few examples of common lead stages:
Marketing Qualified Lead (MQL)
A marketing qualified lead is someone who is interested enough in your offering to have taken some action and shows common buying characteristics. For example, someone who signs up for a newsletter isn't a qualified lead yet. If that person signs up for a demo, then they're qualified. An MQL may have subscribed to an email list in exchange for a lead magnet like a webinar or ebook.
Sales Qualified Lead (SQL)
A sales-qualified lead is a person who shows interest in becoming a paying customer. SQLs may have reached out through Live Chat with a question about your product or service, or fill out a contact form on your website.
Conversation Qualified Lead (CQL)
A conversation qualified lead is someone who expresses intent to buy during a one-to-one conversation through a bot or employee at your company.
Product Qualified Lead (PQL)
Product qualified leads are people who use your products and indicate interest in buying them. These leads are more for software as a service (SaaS) businesses like ManyChat. For example, a PQL could be a customer who uses a free version of your product or service who later asks about paid features.
What is lead generation?
Lead generation is a process that attracts prospects and converts their interest in your business's products or services into a potential sale. A good lead generation strategy provides your entire marketing team with a repeatable and measurable way to get more customers and build personal, long-term relationships. Examples of successful lead generation tactics include blog posts, chatbots, coupons, webinars, and live events.
Lead generation uses digital channels like social media and content marketing to turn people into qualified leads. Marketers tailor each campaign to their ideal customers, their products or services, and more. If you're a B2C or B2B marketer, you can select from different lead generation tools to help you create successful digital marketing campaigns.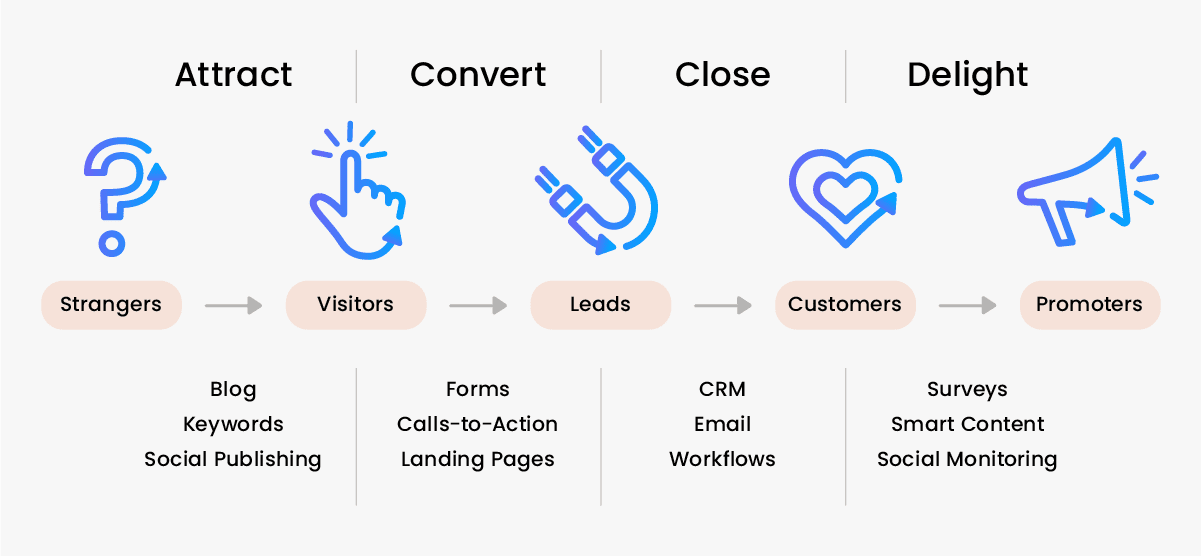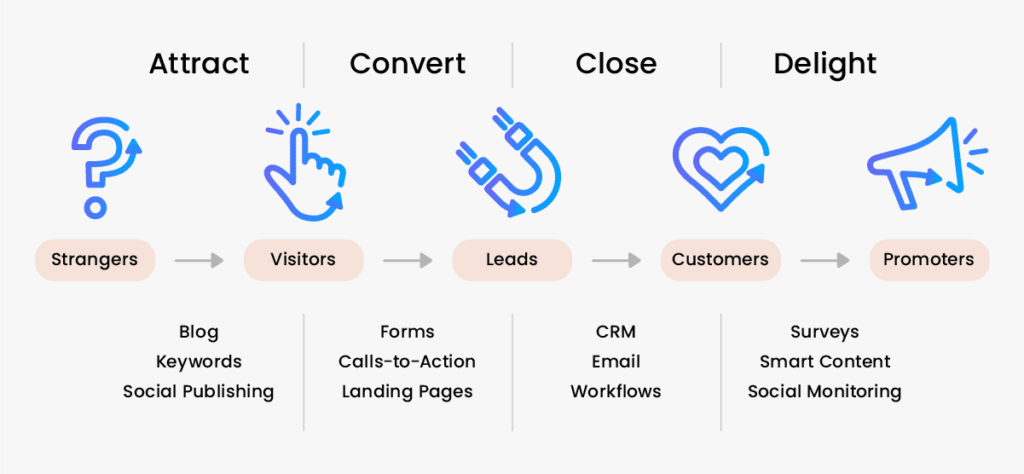 Lead generation process
Now that you have a better understanding of how lead generation and Chat Marketing work, let's go through a five-step lead generation process. First, you'll want to learn how to build a Messenger bot.
Step 1: A visitor finds your business through your website, social media profile, blog post, Facebook Live, or giveaway campaign. They click a call-to-action (CTA) that encourages website visitors to sign up for your Messenger, SMS, or email list — usually in exchange for an offer.
Step 2: Your bot determines if the visitor is a qualified lead by asking a series of questions.
Step 3: Qualified leads enter your nurture campaign to become paying customers. Here's where you can provide offers and valuable content upgrades to keep them around.
Step 4: You can then track high-quality leads based on their interactions with your company, through lead scoring.
Step 5: Once they surpass a certain lead score, you can send personalized offers or recommendations, or hand them off to a sales team to close the deal.
In short: A visitor signs up for your Messenger bot, you get their email address and/or phone number. They become a lead. Then you nurture them until they are sales-ready, or closer to buying.
The basics of lead gen marketing
Lead gen marketing isn't only about a great process: it's about driving traffic to different channels to collect leads. Your source for leads is up to you. Determine what channels your ideal customers use, then set up your accounts on those platforms to start communications.
The following chart shows the flow that Chat Marketers use to generate leads for their business.


When it comes to finding your target audiences, you have a lot of channels to choose from:
Live streams
Live streaming platforms like Facebook Live are a great place to generate leads. Typically, you schedule a live event where you help visitors with a problem they're having. For example, you can educate them on a product, offer a tutorial, or even open up the floor for questions. The key here is to offer something free, such as a coupon or a free trial or content upgrade, to encourage sign-ups and start generating leads.
SMS
SMS makes it easy to communicate with people on their phones, and since leads need to give you permission to text, they're more likely to engage with the messages you send. Text messages are short and snappy, so make sure your CTAs are compelling and that you send people over to another channel like Messenger or to your website.
Email
The best part about email marketing is that you can send customers longer, recurring content like newsletters or important updates. It's also a great place to include creative, high-quality images. Email helps round out your omnichannel marketing strategy, is great for retargeting previous customers, and can boost your lead generation efforts when done right.
Paid traffic
Paid ads can help you reach potential customers, fast. You can run ads for your business through platforms like Google Ads, Facebook Ads, Instagram, and even Pinterest if that's where your target audience likes to consume content. To boost your conversion rates, make sure you send them to your bot using a Messenger Ref URL to create opportunities for conversions.
You can also run click-to-Messenger ads through a Chat Marketing platform like ManyChat to encourage people to take action. If you're wondering, what the conversion rate is for your business, it's the percentage of users that complete the desired action on your site. For lead gen businesses, this would include getting a user to enter their contact information so your sales team can reach out.
Social media platforms
Social media channels can be an effective lead generator for your business— and they're affordable. You can build closer ties with your target audience quickly by posting videos or images and starting conversations. You can also use the swipe-up feature on Instagram to drive people to your bot and Facebook Messenger to have one-to-one conversations with people — the possibilities are endless. Learn more about the different types of social media you can use to generate leads.
Content marketing
Content marketing is a great way to boost your inbound marketing efforts and convert website leads. You can create helpful, relevant, and free information on your company's website that people can read at their leisure. You can include call-to-actions anywhere on the blog, from a floating bar to a page takeover or a slide-in. If people like your content, they'll likely click your CTAs and enter your Messenger bot.
Word of mouth
Word-of-mouth referrals are a lead-generation tactic that can easily help you spread the word about your business. You can offer recent customers or clients an incentive, like a refer-a-friend discount or free products through social media giveaway campaigns, to promote for you.
How to qualify leads
Let's say you want to buy a new pair of shoes online. If the salesperson aggressively and loudly speaks to you the second you walk into the store, chances are, you're going to get out of there pretty darn quickly.
Now imagine that same salesperson gives you a moment to settle in, takes time to get to know you and your shoe preferences, and what you're really looking for. They could ask your favorite color, what style of shoes you like, why you need them and then make a recommendation based on all your interactions together.
The most effective lead generation tactics don't force a hard-sales approach onto customers. Instead, a smart strategy is to collect information by building trust through helpful tips and advice, when appropriate. At this point, you'll be better poised to turn the visitors into a sales lead, or someone who's ready to buy.
In ManyChat, you can set up lead scoring to track potential customers' interactions with your business. Every event recorded in your ManyChat bot is given a score. If someone takes a positive action, their score will go up a certain amount of points: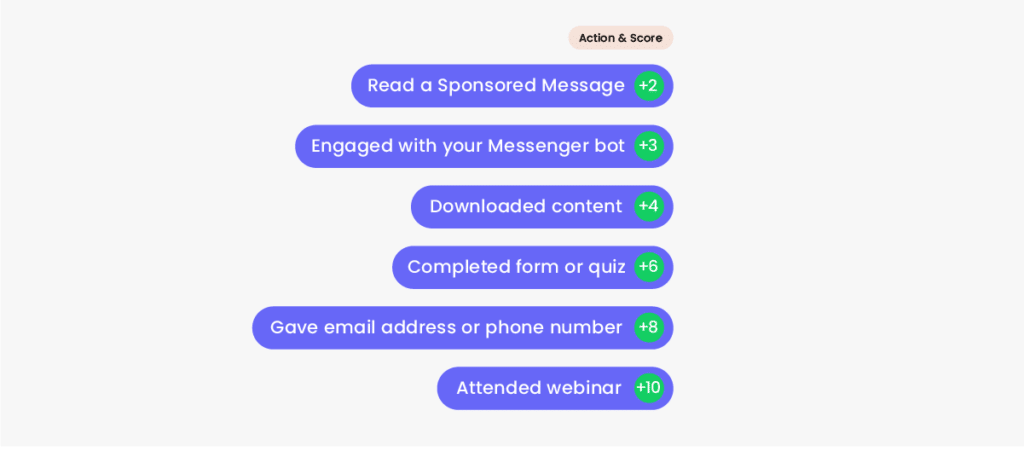 If negative, the score will reduce by the number of points you set:

Once a lead hits a specific score, you can send them special offers to encourage a sale or send them to your sales team to close the deal. In order for scoring to be the most effective, it's critical to have a good general sense of your customer's buyer journey.
Lead generation strategies
Lead generation tactics aren't a one-size-fits-all approach. What drives leads for one ecommerce retailer may not work for an agency or local business owner. The goal is the same — to go where your potential customers are — but there are many roads you can follow to get there.
Here are some lead generation strategies you can try today.
Facebook lead generation
With more than 2.5 billion monthly active users, Facebook is a fantastic channel for lead generation. From growing subscriber lists to registrations to pre-orders, email subscriptions, and more, Facebook offers a ton of different options to reach and connect with target audiences with Facebook Lead Ads and Click-to-Messenger Ads. You can also start conversations with Business Page visitors through a CTA that brings people into a Messenger chat organically.
Instagram lead generation
Nearly 80% of accounts on Instagram — with more than 500 million monthly active users worldwide — follow a business on the platform. Basically, if you're not using Instagram to generate leads, you could be missing out. With Instagram, you can showcase stories, post high-quality images, sell products on your posts, and even direct traffic back to your website or Messenger bot in your bio. You can also send interested people to a landing page right from your story (once your account has 10,000 followers) with Instagram's "swipe-up" feature.
Organic search engine lead generation (SEO)
Search engine optimization (SEO) is an effective inbound lead generation strategy for finding potential customers. People can find your page in Google when searching for a specific query, enter your website and take action — whether it be to buy products or download a useful resource.
PPC lead generation
Pay-per-clik (PPC) ads can support your lead generation and inbound marketing objectives. This can include paid ads on platforms such as Google Ads, Facebook, Instagram, or LinkedIn. It relies on smart audience targeting, a budget, and following advertising best practices to help get clicks from this type of lead generation campaign.
Business-to-business (B2B) Lead generation
Business-to-business (B2B) lead generation often requires a different approach than business-to-customer (B2C) lead generation. Marketers typically collect more information from a potential customer, including name, email, company name, job title, and organization size — anything that could help make a sale. Leads are usually nurtured using marketing automation before becoming qualified for sales. The goal of B2B lead gen is to create a consistent flow of high-quality leads for your business.
Tips for lead generation
Learning how to build a sales funnel and fill it with qualified leads is no easy task. Depending on how long it takes for someone to convert, customers may stick around for months before buying anything or taking any real action. Here are four tips you can employ to help speed up lead capture in your next campaign:
Research your target audience
Knowing your audience is critical to creating a good lead generation program. Find out where your target audience is hanging out, what types of content they read, and what channels of communication they prefer. This knowledge will help you craft effective lead generation ideas and drive better results for your campaigns.
Test new channels
Start by focusing on one or two channels you feel will be effective based on your research, be it Facebook, SMS, email, Instagram, SEO. And don't be afraid to try new channels like Messenger or live streaming. Regardless, test which channels deliver high-quality leads and focus on them.
Use lead generation software
Most channels will have numerous lead generation tools you can use to attract, nurture, and qualify leads. A good tool will make it easy to communicate with your audience across multiple channels, such as SMS, Messenger, and email. For example, you can set up a chatbot to funnel potential leads from your website and Messenger. There are some great chatbot examples from a variety of industries that demonstrate the power of improving conversion rates through messenger marketing. Then create automated campaigns that reach customers through text and other channels to build a relationship.
Create lead magnets for every stage of the customer journey
Lead magnets are how marketers collect information from potential customers or clients, improve lead capture, and get people into the sales pipeline. But you can't just offer any old piece of content for free. Aim to create a piece of valuable, high-quality content, like a white paper or ebook, that helps your target audience with their biggest issues. It's critical to collect information such as phone numbers, email addresses, and personal preferences through a lead-capture form in order to create relevant and personalized digital marketing campaigns.
Resources:
Focus on nurturing leads over the hard sales pitch
Highly-converting lead gen campaigns build relationships with customers or clients over time. The goal is to build long-term customers. One key way to achieve this is by answering questions and having real-time conversations with them through marketing automation tools or live chat.
Two effective ways to nurture potential leads is through content marketing and Chat Marketing. With content marketing, you can provide educational and informational blog posts and articles for leads that help them win. This helps build trust over time with website visitors. If they like your content, they can sign up for your subscriber lists. Here you can use Chat Marketing to build a connection with them until they become sales leads.
Use social media for generating leads
One of the most effective lead generation ideas is using social media to connect with your target audience. Every inbound marketing strategy will include some social media channel, such as Facebook, Instagram, or Twitter. Your goal is to find the best channels fit for your audience and start talking with them there.
Lead Generation FAQs
What is the lead generation process?
Lead generation is the process of attracting leads into a CRM or marketing software and nurturing them throughout the buying process. The goal is to win them over with your products or services and convert them into paying customer.
Is lead generation sales or marketing?
Lead generation is part of both sales and marketing. Marketing lead generation is the process of attracting leads and turning them into marketing qualified leads (MQLs) using automation. Sales lead generation refers to turning MQLs into sales qualified leads (SQLs).
Do lead generation services work?
Lead generation services work if they select the right program for your business. For lead generation to work well, you need to have the right strategy and tools in place to get a good return on investment. You also want to make sure the service or program doesn't buy leads.
Why is lead generation important?
If you're trying to figure out how to get traffic to your website, lead generation will do so, which can also lead to more conversions and more sales. If you have an effective lead generation process in place, it can help find the right customers for your business, faster.
Grow your business with smart lead generation
Now that you've got a handle on generating leads for your business, we recommend you test out ManyChat. You can quickly get set up with a lead generation process and can add a Messenger bot to your website and Facebook page to start converting more visitors into leads.
Armed with this guide, you're ready to continue learning and testing different tactics for your business. Be sure to check out some more articles on lead generation here on the ManyChat blog to learn more strategies and tips.
The contents of this blog were independently prepared and are for informational purposes only. The opinions expressed are those of the author and do not necessarily reflect the views of ManyChat or any other party. Individual results may vary.