Should I Delete Low-Performing Instagram Posts?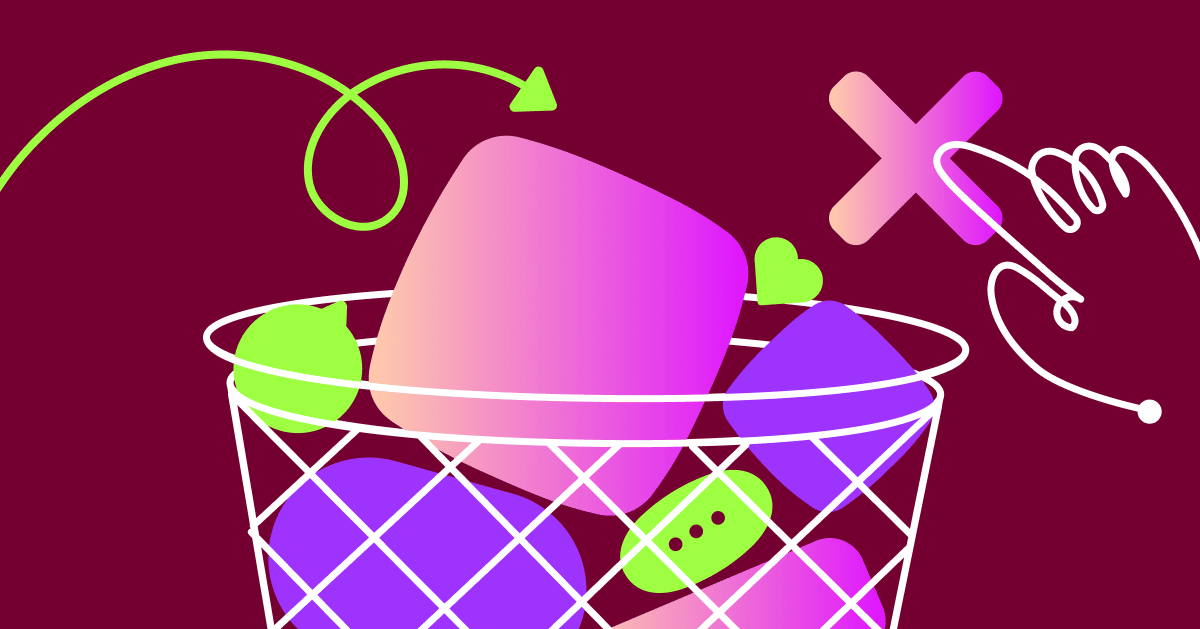 According to eMarketer, almost half of social media users in the U.S. bought something through a social media platform in 2020. When your business's Instagram account isn't performing as well as you'd hoped, it can feel like you're missing out on those sales.
Poor results may lead you to consider scrapping your social media marketing strategy and starting from scratch, or at least try to "fix" what's wrong. Whichever approach you take, you'll have to think about what to do with your low-performing posts. Should you delete them, archive them, or leave them?
This guide will help you to figure out why posts fail in the first place, what to do with those not-so-great posts, and how to improve engagement with future content.
Why do Instagram posts fail?
There are plenty of reasons why a post might miss the mark, from your overall Instagram profile to the post itself. You can resolve most of these mistakes with very simple fixes that can also help boost your overall performance on Instagram. Here are some of the top missteps that may hinder your posts' performance:
Not using a profile picture: People want to know who you are. If you don't include a profile picture on your business account, people will think you're a bot and move on. (You can also wave goodbye to any chance of getting your account verified without a profile photo.)
Keeping your account private: If you have your profile set up as private, it's no wonder people aren't discovering your content. Make your account public and you'll see a dramatic change in your engagement rates.
Not including a link in your bio: Most businesses want to use their Instagram account to drive social media traffic to their website/store. Help your Instagram followers find you by using the link in your bio. As an added bonus, adding the link also helps to show that your profile is authentic.
Inconsistent post style/aesthetic. While your individual posts may look great, they cumulatively add up to your overall profile appearance. If your posts lack a cohesive theme, your profile becomes a messy scrapbook that doesn't make a good impression on potential followers.
You've got the above potential mistakes covered. Now what? Instagram users crave high-quality content and they need a way to discover it. So when you're crafting your posts, make sure you're not making these basic mistakes:
Not using relevant hashtags: Having an Instagram hashtag strategy in place is key for building brand awareness on the platform. When you use hashtags, you help the Instagram algorithm push your content to users' feeds.
Posting when your audience isn't active: While some research about the best times to post on Instagram exists, it's largely inconclusive. Learning when your audience is most active is the best way to maximize potential engagement with existing followers.
Sharing poor-quality images: Visuals are everything on Instagram. If you're posting grainy, low-quality content, your target audience isn't likely to engage with it.  
Not including a call to action in your Instagram caption. Not every post needs to be promotional, but simple CTAs on each post — such as asking questions or directing people to your Instagram Stories — can make a big difference.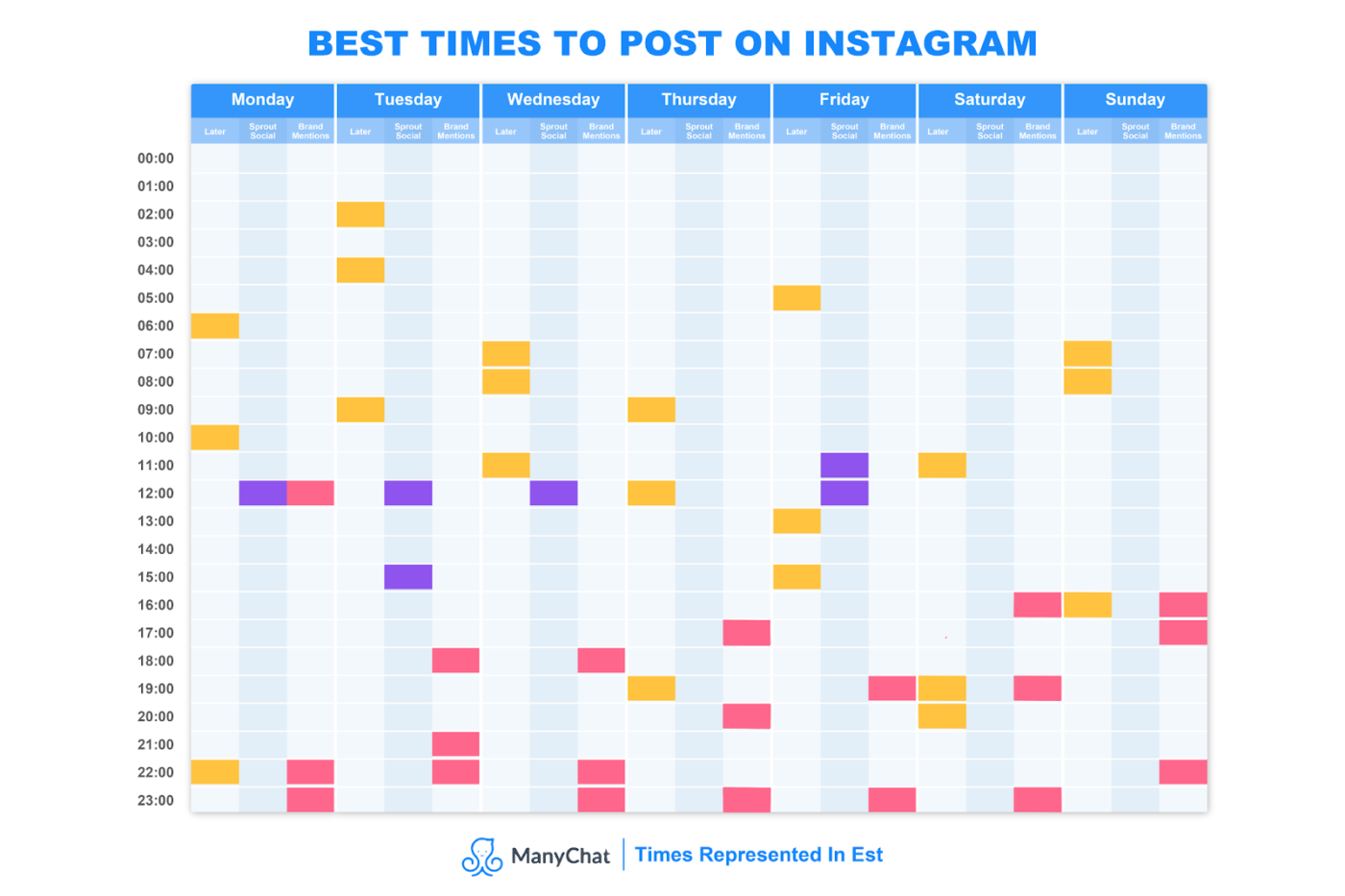 Should you delete low-performing posts?
The short answer? No. It's best not to delete low-performing content.
The Instagram algorithm works by recommending content that a user is likely to interact with based on past interactions (and several other factors). Even if you feel like your posts aren't performing well, deleting them ensures they'll never have the option to grow or tell your story.
Fab Giovanetti, the founder and CEO of Alt Marketing School, says: "Based on what we know from the algorithm, my answer would be 'no,' you shouldn't. The algorithm is based on a series of rules and criteria, and far too often we obsess over one element (in this case low-performing content).
"However, what is worse than something like low-performing posts is a burst in something IG calls 'unusual activity.' If the algorithm notices some unusual activity — e.g., too much activity in a short time, deleting content, etc. — that may actually [affect] the overall 'health' of your account."
According to Erin Neumann, CEO of Be Aligned Web Design, there are also consequences for your other marketing channels: "Deleting your old or low engagement IG post will do nothing for your analytics or engagement.

"In fact, if you have any links from your post to your website and vice versa, then when people visit your website and blog, those links will no longer work. You definitely don't want broken links on your website, so think long and hard if you want to delete content just because it didn't perform well."
Listen to the experts: deleting low-performing Instagram posts isn't a great idea.
What you should do instead of deleting posts
Not every post goes viral. It's okay to have some content that doesn't skyrocket your metrics. As Erin mentioned, if you have links from other channels to your Instagram feed, the better option is to just leave low-performing posts there and learn from the experience.
But what if the posts have to disappear? What if you've undergone a rebrand, ended a relationship with an influencer or other brand partnership, or your products/services have changed?
Matt Marshall of Coffee Witness believes the better option is to archive your posts: "When increasing engagement stats in Instagram, deleting low-performing [posts] does affect your brand engagement, but not in a good way. It might be best to archive the photos instead when you want to fix the feed, but best not to delete it."
Archiving instead of deleting also allows you to report on your whole Instagram marketing or engagement strategy instead of cherry-picking, since you'll still be able to see the stats of low-performing posts.
7 tips to prevent low-performing content
Now that you know what to do about existing low-performing posts, it's time to think about how you can prevent low engagement for your new content.
Here are seven smart tips for using Instagram to maximize your brand engagement.
1. Mix up your post formats
Perhaps you still feel like you need to do something to reverse the disheartening results you're seeing. When talking about alternatives to deleting content, Fab also suggests "Engaging more with people and tapping into trending formats (e.g., Reels) to pick yourself back up instead of going on a purge." Instagram itself also encourages publishing content in multiple formats to increase reach (and therefore, potential engagement).
Instagram Reels, Stories, and Instagram Video feed posts (formerly IGTV) are different types of content you can create to boost engagement. Video content, in particular, is where Instagram is headed. Test whether they perform better than other formats available in the app.
2. Use Automation to instantly respond to engagement
Another strategy Instagram recommends to grow your account is to respond to comments and other interactions from Instagram users. Furthermore, according to Sprout Social's 2020 Index, 40% of consumers expect brands to respond within the first hour of reaching out on social media. Some 79% of consumers expect one within 24 hours.
The following features included with Instagram Automation by ManyChat help with this:
Comments Automation: Add a CTA to your Instagram posts and improve engagement with instant responses that trigger when a follower DMs your account with a specific keyword.
Story Mention Reply: Show your appreciation to followers who've reposted your content to their own profile and tagged your account. Consider giving them a coupon code to redeem on their next order to say thank you and improve your Instagram ROI.
Instagram DM Automation: Did you know that Stories are the catalyst for 50% of user-to-business messaging on Instagram? Build relationships with your followers who message you with automatic responses to Instagram DMs.
Either way, by responding to your audience when they make the first move, you're encouraging them to interact with new posts in the future. This can prevent poorly-performing posts from littering your Instagram feed.
3. Use trending features
The Instagram Explore page is a crucial area that can increase engagement and exposure in the app. Improve your chances of appearing there by using trending features, such as trending songs or filters on your Reels.
More eyes on your new Instagram posts mean more chances of engagement — especially from new potential fans.
4. Try using interactive Story stickers
Another fun way of boosting engagement with your content is to make it interactive. Instagram Stories have a lot of great sticker options to get your audience involved, including:
Question sticker. Want to offer private feedback? Post a question sticker that your audience can respond to without sharing the answer publicly.
Poll stickers. Sharing a poll is an awesome way to get audience insights and opinions on products, offerings, or even just entertain your followers.
Quiz stickers. Similar to polls, ask your audience to play a quiz — either product/industry-related or purely for fun.
Scale rating sticker. Gauge opinions on a product without a comparison using the scale rating sticker to see how people feel about it.
Story mentions. Tagging other accounts is a fun way to encourage interaction. A popular strategy is to repost user-generated content and tag those accounts in your Stories. (Remember to set up an Automation that shows your appreciation for those who do!)
Stickers offer your business a chance to get quick feedback and create a conversation with your audience.
5. Post consistently
Posting regularly is usually easier said than done. You don't need to create a new feed post every day, but making the effort to at least share posts consistently shows followers that you're invested both in your content and in building relationships with them.
Moreover, the more recent posts that appear on your followers' feeds, the more likely your followers will be to interact with your content, boosting your overall Instagram engagement.
Thankfully, there is an easy way to help build up consistent content: schedule Instagram posts. Some of the best Instagram post scheduling tools include Hootsuite, Later, Buffer, and Oberlo. Try each one out and see which works best for you.
6. Try out a giveaway
Reach a large volume of Instagram users — and reduce the chance of posting low-performing content — by hosting a giveaway. According to research from Tailwind, accounts that hold contests grow 70% faster than those that don't.
The crucial part of running a giveaway is ensuring users are going to share the contest with other users. That's how you'll see your follower count grow. Take Roma by Rochi, for example. When the brand ran an Instagram a giveaway, it saw a 741% lift in engagement and gained more than 6,000 new followers.
7. Work with influencers
The last kind of content with the potential to improve engagement rates is influencer collaborations. Social networks like Instagram thrive because of influencers. In fact, the influencer marketing industry is set to grow to a predicted $16.4 billion in 2022.
Working with influencers can help you reach more primed and engaged audiences because their followers already trust them. That trust can then extend to your brand.
Contacting influencers is pretty easy, but the hard work is finding the right influencer for your brand. Do your research on each person before reaching out to them for collaboration. Make sure their previous content matches your business's values.
Build your brand and generate leads using Instagram
No one wants to see their Instagram posts perform badly. It doesn't look good for your social media management or marketing metrics, and too many tanking posts can affect the overall impression of your brand.
Deleting those posts permanently isn't a good idea if you want to improve engagement or grow your brand. Instead, leave them alone to show how your social media presence has progressed and reveal a more authentic journey. (Not to mention leaving them alone avoids undesirable broken links). But if they must go, archiving them is the best option.
Remember: prevention is better than a cure. Using the above tips to create more engaging posts can help ensure you never need to think about deleting your posts again.
Create your most engaging posts yet with Instagram Automation by ManyChat
The contents of this blog were independently prepared and are for informational purposes only. The opinions expressed are those of the author and do not necessarily reflect the views of ManyChat or any other party. Individual results may vary.