How to Create an Instagram Poll (+ Examples)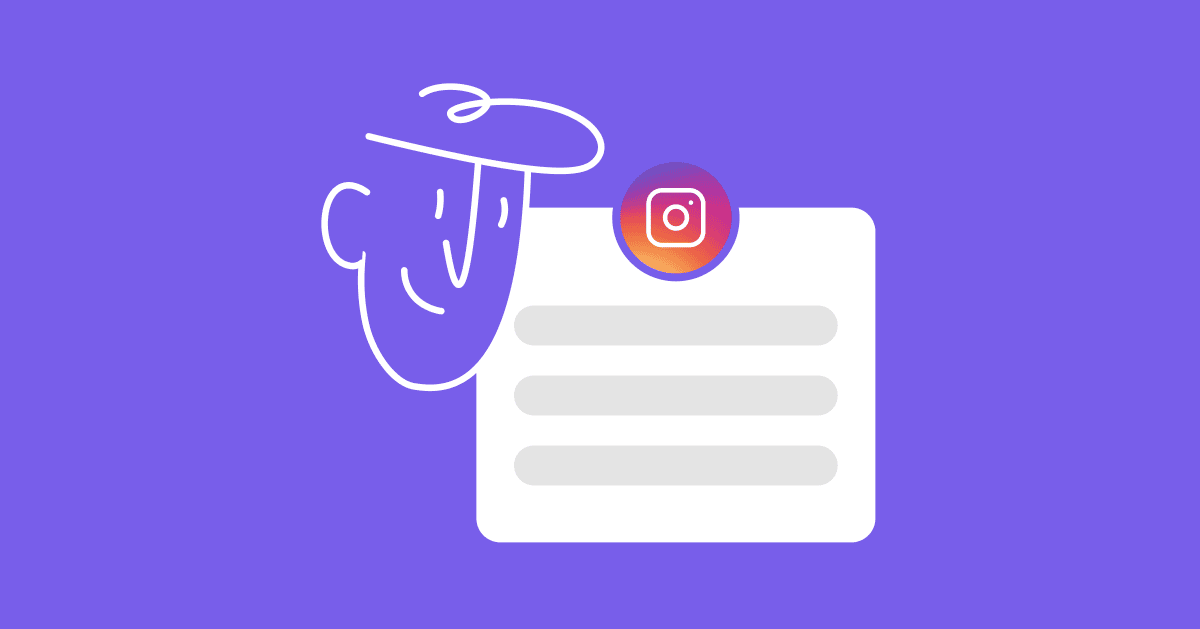 As one of the most used social media channels, Instagram is a great platform for brands to interact with their audiences. It has several features—such as in-app shopping and one-to-one messaging—that make it very attractive to businesses and shoppers for connections with followers. Outside of these capabilities, one feature has remained popular with brands and influencers alike since its 2017 release: Instagram Story polls. 
Instagram polls are stickers you can add to your Story posts which viewers on social media can interact with by voting for one of two options. The options can be whatever you want them to be, from simple yes and no answers on Instagram poll questions, to comparing one outfit to another to voting on what content you should create next.
If you have not used polls before, you should consider it—500 million Instagram accounts use Stories every day. Furthermore, 50% of users surveyed said they visited a website to buy a product after seeing it in Stories. These stats prove that polls can drive traffic and aren't just fun sticker icons.
This guide will take you through the requirements for creating an Instagram poll for followers, a tutorial on how to make one, and ways to share its results. You'll also find ideas with examples of polls in action.
Requirements to make an Instagram poll
Other than having a smartphone with the Instagram app installed, there aren't many other requirements for Instagram story polls—unless you're creating Story ads.  which require that you do the following :
Set up Story ads in Ads Manager.

Choose a supported objective for your ad, i.e., Brand Awareness, Reach, Traffic, App Installs, Video Views, Lead Generation, Conversions, or Store Traffic.

Use a single image or video with a 9:16 aspect ratio.

Keep the poll sticker within the center 860 x 1320 pixels of media.

Have at least 110 pixels on either side of the poll sticker and 300 pixels above and below it, keeping the width of the sticker between 250 pixels and 860 pixels.

Limit poll question characters to 80 or fewer (you can also not have a question), while the two options can be up to 24 characters each.
Since these are the parameters set by Facebook (which owns Instagram), it's worth keeping them in mind for when you're posting Stories with polls in them anyway.
How to make a poll on Instagram
Now you know the basic requirements, let's get to the practical part: creating an Instagram poll. Luckily, creating a poll is pretty straightforward. Here's the step-by-step guide:
Open Instagram on your phone. Then, at the top of the screen, either click on Your Story on the left side to create a new Story or the new post icon on the right. Then select Story.
Once you're in the New Story screen, you can either take a photo or upload one by choosing from your media in the lower-left corner. Remember to choose an image or video with a 9:16 aspect ratio.
After taking a photo or choosing your image, you can access the poll feature by going to the sticker icon at the top and selecting the poll sticker.
Once you've clicked on the poll sticker, it will prompt you to write a question first, then change the yes and no options to whatever you want (character limits apply).



When you've finished writing out your poll questions and options, you can move the sticker around to wherever you want to put it in your Story, as well as add any other sticker options you want, like small GIFs or emojis.

Now all that's left to do is publish! Just hit either Send to and then Your Story or click Your story (where your profile picture is). Naturally, for a branded poll, you'll want to make the Story public, but you can also make use of the "close friends" feature if you have a paid-for or "early access" community.
That's it! Pretty easy, right? Instagram polls are a great (free) way to gather quick market research insights from Instagram users. The use cases are extensive, from getting feedback on new products to see what your audience wants to comparing competitors' products. (They are also great for just having some fun.)
But it doesn't end there. After posting your poll, Instagram will send you notifications when people vote on it. The poll itself only lasts 24 hours (including the stats), so if you're interested in sharing the results of your poll, read on further.
Sharing your Instagram poll results
As mentioned above, the statistics for your poll live only as long as your Story does. If you want to publish them, you'll have to catch them before the Story disappears.
Fortunately, sharing Instagram poll results is also super straightforward! Here are the steps:
First, for polls for Instagram, head over to your Story—it'll have a pink/orange ring around it if you haven't viewed it yet.

Once you can see your Story, all you'll need to do from there is swipe up. From there, you can check the post insights (the bar chart icon) and the poll results (the eye icon).





Click on the eye icon to find the blue Share Results button above for information on who voted for which option. Fun fact: you can check these results in real time!





When you tap the button, it'll prompt you to create a new Story post with the results (which will no longer be clickable). At this point, you can also add text and more stickers, like an emoji slider.





Once you've finished creating your new Story post with the results, simply follow the same publishing procedure as before. Either click Your story at the bottom or Send to to share with specific people/groups.
It's important to note that you can only create the poll and share the results via the iOS and Android app versions of Instagram. You can't do it on the desktop version unless you're creating an ad.
Sharing the results can be a fun way for your brand to use Instagram polls to drive voters into direct messages and Conversation Starters. For example, when sharing the final results of the plant post discussed in the tutorial above, you could ask voters to DM for more information about the availability of the plant options they chose. When they send a message, it will lead them into a chatbot flow.
Instagram poll ideas
Now we'll take a look at some ideas with a few examples of brands that are using Instagram polls. The examples we're looking at here are each using polls in a slightly different way, so you can get some ideas on how you might be able to use them.
Compare between similar products
First up for polls for Instagram is NewRetro.Net, a synth-wave streetwear brand founded in 2011. Its products appeal to an audience that is interested in retro 80's-style Miami clothing and aesthetics. NewRetro.Net uses polls extensively in its Instagram marketing with great success.
Check out this example, and be inspired to come up with Instagram poll ideas:
NewRetro.Net often creates this kind of poll comparing between similar products it sells. What takes these polls to the next level is that the Story is shoppable—as you can see from the "4 products" link below the poll.
Content like this shows that having clever ways to engage a very clear target audience and encouraging them to shop doesn't need to be complicated.
Quiz your audience
Next up in our examples for Instagram poll ideas, is The Protein Works, an award-winning fitness supplement brand founded in 2012. Its target audience is fitness enthusiasts looking to add an extra kick to their nutritional game. In this example, The Protein Works used polls a little differently:
This is the first post in a Story where it created a quiz aimed at its "tribe" that tested viewers' knowledge about the protein content in its products. At the end of the quiz, The Protein Works promoted a special sale.
This is also a prime example of the kind of brand behavior investigated in a 2020 study looking at how consumer brand engagement in virtual communities builds brand loyalty.
However, you could make the special sale promotion work even harder for you. Instead of adding a link to your sales page, you can encourage viewers and Instagram followers to DM you for a discount code.  Then a chatbot running Keyword Triggers, a tool from Instagram Automation by ManyChat, will automatically respond and enter the viewer into a chatbot flow which can act as your Instagram sales funnel.
Check for product-customer fit
Our final example of a brand using Instagram polls is SweetPeeps Jewelry, an LA-based contemporary jewelry company consisting of a team of women striving to "make all women feel confident, beautiful, and unique." Check out how they've used Instagram polls:
For this poll, they've chosen the market research route to determine demand for a specific product they've released (a necklace in this example). Notice how they've used creative wording "hmm not sure" versus a strong "adding to cart" call to action.
Just like NewRetro.Net, this particular poll is also shoppable. Viewers can click on the "Hamsa Hand Ring" sticker that leads directly to an opportunity to buy it.
In this case, adding the poll is a win-win: the viewer gets acknowledged regarding product opinions, and SweetPeeps receives quick, free market research to see if they're creating the right products for their audience.
Take your Instagram polls to the next level
With their low barrier to entry, Instagram polls are a simple yet effective way to boost engagement and generate leads for your business.
Beyond the insights you can acquire from the poll results, you can use them to incentivize potential customers to DM your business—providing you opportunities to follow up and retarget them in future campaigns.
Build your brand online with ManyChat + Instagram. Start free today.
The contents of this blog were independently prepared and are for informational purposes only. The opinions expressed are those of the author and do not necessarily reflect the views of ManyChat or any other party. Individual results may vary.