What Are Trending Songs on Instagram Reels and How to Find Them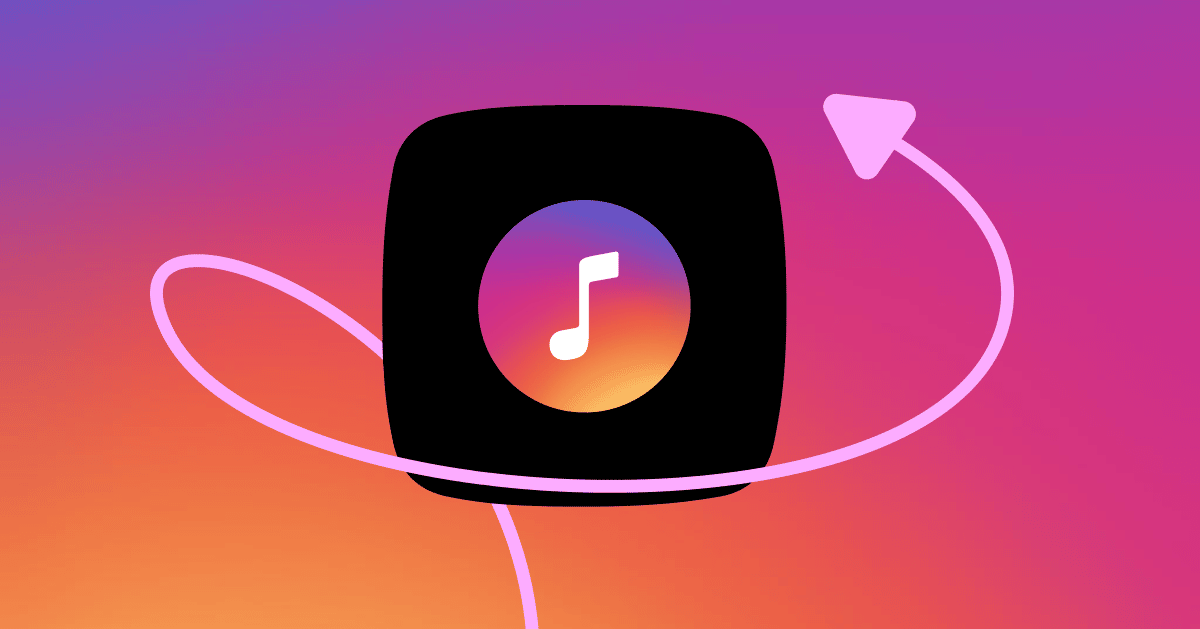 Due to Instagram Reels' visual nature, you might make the mistake of thinking they're all about the optics. As it turns out, audio is also critical; digital audio accounted for 11% of total media time per day for US adults in 2020. Furthermore, more than 70% of US adults listened to digital audio content at least once a month last year, 91.7% of which occurred on mobile. 
When Instagram determines which Reels to show people (as they scroll), it considers how likely the user is to:
Watch the Reel all the way through

Like it

Say it was entertaining or funny

Go to the audio page to make their own Reel
Including trending songs in your Reels can capture people's attention and improve engagement. Additionally, using audio in your Reels matters because the Instagram algorithm will prioritize Reels that encourage other content creators to use audio in their Reels.
In this guide, you'll learn what trending songs on Reels are, how to find them, and examples of brands using them successfully.
What are trending songs on Reels?
Trending songs (or audio/sound) on Reels refers to audio gaining popularity in Reels inclusion. However, just because a certain song or sound has been heavily used doesn't mean it's trending. You can find audio that has been featured in hundreds of thousands of Reels but isn't trending. 
The key is momentum. For example, are people suddenly using specific audio more? Are people creating more Reels from tapping the audio? Are people saving the audio to use for later?
When yes is the answer to those questions, then that audio is trending.
Why pay attention to trending songs
Since there wasn't hard data available on the benefits of using trending music or audio in Reels, social researcher and writer Alex Boswell pulled together some research of his own.
After scrolling through the Reels explore page, he documented the following data points: Reel views, whether the audio was trending or not, and how many Reels included the audio.
Trending audio featured in 36.7% of the Reels, and the view count of those Reels was just over 13 million. On the flip side, the Reels without trending audio (63.3%) only garnered a bit over 9 million views —a difference of 4 million views.
This information proves how using trending audio can make a significant difference in your Reels strategy (and results). However, other benefits are generally easy to observe. They include:
Increased chance of virality: Sounds that are starting to trend (i.e., those with a low Reel count but a trending symbol) have a good chance of increasing your Reel's virality prospects.

Better branding: If you create a piece of original audio to accompany your Reel, you'll make your brand even more memorable by engaging people's ears as well as their eyes.

Improved engagement: You now know that Instagram prioritizes Reels that use songs or sounds people like to include in (or remix into) their own Reels. When they do so, those users are engaging with your brand and sharing your audio.
Now that you're aware of how using trending audio can help your brand grow on Instagram, let's cover how to find these songs.
How to find trending songs for Instagram Reels
Finding trending sounds for Instagram Reels is fairly straightforward, despite the fact there isn't an explicit "Trending" list (which Instagram will hopefully implement at some point). Until then, there are three popular methods you can try:
Manual search
Whenever you hear the word "manual," it sounds tedious, but this method can be quite fun! Bear in mind that Instagram often changes its UI when it introduces new features, so be aware that this method might change in the future.
First, you'll need to open your Instagram app and head to the Reels Explore page (center icon).
From there, you can scroll through Reels that Instagram recommends for you. Identifying trending audio is easy: Look at the audio section and see if you can spot the "trending" arrow.
When you find one with the "trending" symbol, click on it to go to the audio page.
On the dedicated page, you'll find out whether the audio is original, how many Reels feature it, and a scrollable page of those Reels. You'll also be able to save the audio and play it.
You'll also notice the dedicated Use Audio button with the camera icon. Clicking this will take you to the Reel creation, where it will automatically apply the trending audio to your Reel.
Check out the Trend Report
If you don't feel like scrolling through Reels yourself (or you're afraid of accidentally procrastinating!), you can check out the Reels Trend Report.
Instagram's @Creators account releases Trend Reports every Friday; they usually look like this:
Each Report includes a roundup of the past week's trending content—such as filters, sounds, music, hashtags, and challenges—and sometimes highlights a creator's account. Of course, using Trend Reports puts you at a disadvantage because you're a step behind everyone else.
However, there's a way you can get a step ahead of other brands on Instagram.
Find trending TikTok sounds first
That's right. Your next best chance of initiating a trend—beyond creating original audio for Instagram and hoping it goes viral—is finding out what's trending on TikTok first.
Typically, trending sounds on TikTok make their way over to Instagram Reels after a few days or weeks. Knowing this, you can head over to TikTok's "Discover" page and find up-and-coming sounds there.
Make a note of the song/artist and search for the audio on Instagram to see if it has featured in many Reels. For example, at the time of writing, the song "Seventeen Going Under" by Sam Fender was trending on TikTok.
This is what happened after searching for it on Instagram:
With only 590 Reels featuring it, the song is just starting to trend, making it a golden opportunity to create a Reel using it and feature on the Reels Explore page.
List of trending songs or sounds (November 2021)
As you now know, trending songs change over time. Nevertheless, at the time of writing, these songs (taken from most recent Reels Trends Reports by @creators) reportedly trended in the last month :
High Enough – K.Flay
First Order of Business – Baby Keem
Insane – Summer Walker
Boys Will Be Bugs – Cavetown
Face Off – Tech N9ne, Joey Cool, King ISO, Dwayne Johnson
Nuestra Canción – Monsieur Períne (ft. Vicente García)
Sad Girlz Luv Money (Remix) – Amaarae, Moliy, Kali Uchis
No Love – Summer Walker, SZA
Mood – Wizkid, Buju
Up and Down – Doja Cat
Overpass Graffiti – Ed Sheeran
Big Energy – Latto
Litte Dark Age – MGMT
Isii Nafta (Love You More Than My Life) – Nimco Happy
Original Audio – @lv_iw
Baby I – Ariana Grande
Bane – Destroy Lonely
Easy On Me – Adele
Bubbly – Young Thug (With Drake and Travis Scott)
Future – Benjamin's Burn
My Girlfriend Is A Witch – October Country
Original audio – @1annaonly
WFM – Realestk
Life Goes On – Oliver Tree
Peru – Fireboy DML
Lucky – Britney Spears
In My Mind – Lyn Lapid
Panda – Desiinger
Linda – Tokischa & Rosalía
París – Ingratax
Almas Gemelas – Myke Towers
A La Antigüita – Calibre 50
Of course, there are several artists whose music typically end up trending—especially when it comes to new releases—such as:
Billie Eilish
Harry Styles
Lil Nas X
Sam Smith
Jason Derulo
Justin Bieber
Taylor Swift
Ava Max
Imagine Dragons
Kina Grannis
These artists are worth keeping in mind for your Reels, depending on the style you're looking to create (i.e., if they match up with your brand).
Bonus tip:You can also keep up with trending songs by checking out Reels music playlists on Spotify (like this one). 
Examples of brands doing it right
Before you start taking over social media with your awesome Reels ideas, let's look at brands that are already doing a stellar job of using trending songs or sounds.
@thirdplacecnx
If you're one of the many people who drink coffee to help start or get through the day, you'll like Third Place Coffee's Instagram account. They post a mix of Instagram Stories, posts, videos, and Reels all about coffee.
One of their recent Reels shows the process of making a cold brew milk coffee:
In it, they use trending original audio from @rzr_corridos, making sure to time the Reel scenes with the song's beat. (Timing your video well alongside the music usually helps to make the Reel even more entertaining.)
@shopsaggybaggy
Our next brand, Shop Baggy Saggy, is a small business in the UK that sells handmade jewelry. It uses trending audio similar to how Third Place Coffee does: The vast majority of Reels it posts promote its products and what goes on behind the scenes to make them.
This recent Reel includes a little of both:
The first part of the Reel shows the "before" (a part of the crafting process), and then as the beat of the trending audio (YABØII's "Take Me To Church") kicks in, you see the final product. This is a smart way to show the effort that goes into making its products, as it helps to convey their value.
@bigskycaroline
This example is slightly different in that it comes from an influencer, Caroline Nelson. Caroline uses her account to show off what life is like on her ranch in Montana, US. At the same time, she's able to promote her meat and ranch goods business,  Little Creek Montana.
One of her recent Reels uses the trending audio "Conkarah" by Banana (ft. Shaggy) DJ Fle – Minisiren Remix:
The Reel shows a series of photos of her standing in front of product boxes waiting to be shipped. It has the text "no one will ever want meat shipped right from the ranch" superimposed over the image, which demonstrates that she has become successful despite what other people told her initially (which is great for her branding).
@sweetloungeuk
U.K-based small business Sweet Lounge is our final example. Like Shop Baggy Saggy, this vegan confectionery brand promotes its products on nearly all of its posts. However, Sweet Lounge's posts normally have a humorous twist to them.
Here's a recent Reel it posted:
In this Reel, the brand used a combination of trending audio and video. Aestheticvybe originally posted the audio clip (which is the song "In The Bible" by Drake ft. Lil Durk & GIVĒON). The video features Sweet Lounge products, then transitions into a second video that originally accompanied the trending audio.
This is a classic example of how a brand can make trending audio (and video) relevant to its audience.
Level up your Reels with ManyChat
Creating and posting Instagram Reels is a fun and effective way to engage with your audience. But as we've established in this guide, the sounds you use in your Reels matter as much as the video—and it's always better to use trending audio.
Once you combine your Reels with trending audio together and start to grow your follower count, it's time to turn your fans into customers: With the help of Instagram Automation by ManyChat, you can automatically respond when followers comment on your posts, send you DM's, or mention you in their Stories.
Want to give it a try?
Turn your Instagram followers into customers with ManyChat.
The contents of this blog were independently prepared and are for informational purposes only. The opinions expressed are those of the author and do not necessarily reflect the views of ManyChat or any other party. Individual results may vary.