Instagram Hashtag Strategy: How to Find and Use Hashtags That Will Grow Your Audience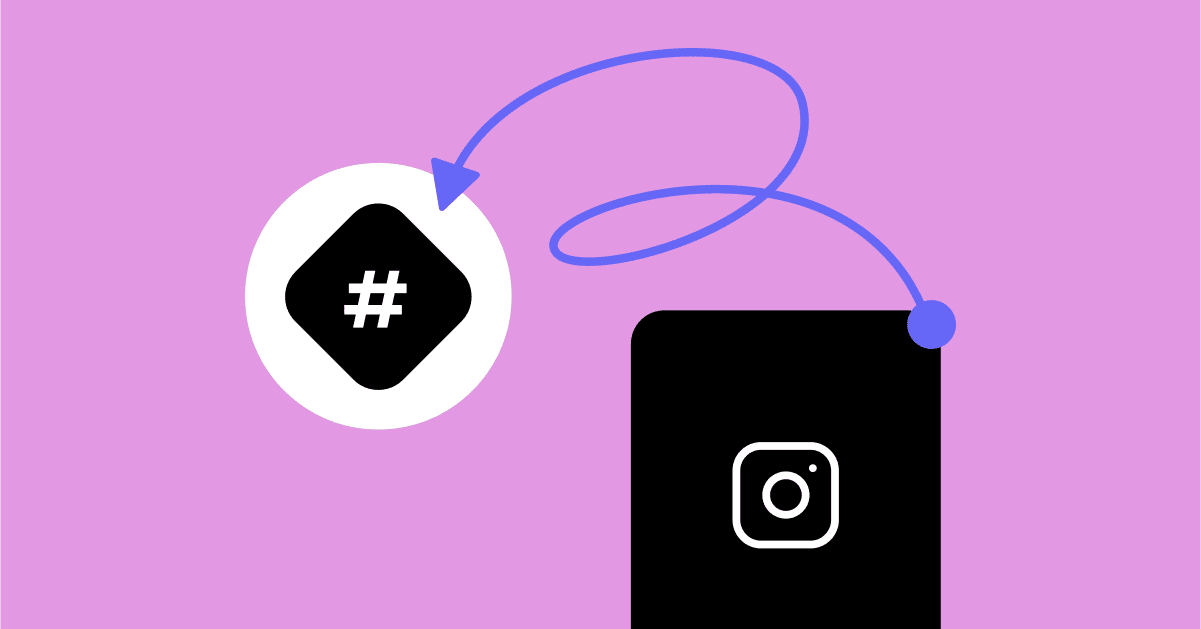 If you've been in the social media marketing world for a while, you'll know that hashtags play a huge role in discovering new content. The same concept applies to Instagram — the social app allows users to view content posted under a hashtag even if they don't follow the account that posted it.
By 2022, it's estimated that 1.13 billion users will be using the Instagram app to post photos, find products, and connect with brands. And an Instagram hashtag strategy can help you reach a bigger chunk of that audience.
Wondering how to get started? In this guide, we'll share how to create an Instagram hashtag strategy so you can reach a new audience, improve your engagement rate, and promote your products and services through Instagram.
What is an Instagram hashtag?
An Instagram hashtag is a searchable phrase using the hashtag character — like #MerryChristmas or #Love (the most popular of all). Each hashtagged word or phrase is clickable and sends you to a curated page of posts that also use that word/phrase.
There are several kinds of hashtags you can use on Instagram, including:
Acronym hashtags that stand for a longer phrase, such as #OOTD (outfit of the day).
Branded hashtags, such as #ManyChatsuperfan.
Location-based hashtags, such as #NYCnails.
Event hashtags, such as #LondonMarathon.
Weekly hashtags that relate to a specific day of the week, such as #ThrowbackThursday.
Why you need an Instagram hashtag strategy
Research shows that most Instagram posts have one to three hashtags. But why are they so popular?
The most obvious reason is engagement. The number of likes, comments, and shares on a post show Instagram's algorithm that the post is interesting and worth nudging to the top of a follower's feed.
Interestingly, data shows that Instagram posts containing hashtags get 12.6% more engagement than those without. This could be because users can follow hashtags. If you're using hashtags in your branded content, you have the potential to reach thousands — if not millions — of people who follow the hashtag but not your business's profile.
Alongside reaching people who follow the hashtag, Instagram's algorithm uses hashtag data to decide which users a post should reach. Use them correctly and you may even be featured on the Explore page.
Half of Instagram users use this tab to look for new content and accounts every month. Should you land there, you can get tons more eyeballs on your organic content, all without spending a penny on Instagram ads.
How do you find hashtags to use on Instagram?
Are you convinced to start using hashtags in your Instagram content? The first step is to find the ones your target audience is using or following.
Here are five smart places to start your hashtag research.
Search the Instagram app
What better way to find hashtags than going straight to the source? Open the Instagram app and head to the search bar. Select "Tags", then type the overarching theme your content is about. The algorithm will then show popular hashtags alongside the number of posts already using it:
Found one you want to use? Click the hashtag and scan through posts using it in their caption. Chances are, the account has already done most of the legwork in finding and using relevant hashtags. Here's an example of @thespoiledcoach using #marketingtips alongside a handful of other similar tags:
It's also worth doing a quick glance over on the Explore page. This is Instagram's curated collection of posts they think you'd be interested in. Scroll through the recommended posts and make a note of the hashtags being used. Since each of these posts have been recommended, they should also be relevant to the subject matter of your content too.
Look at competitor and influencer posts
Another great way to find Instagram hashtags is to look at your competition. While still in the Instagram app, open up a competitors' profile pages and scan through their recent content. Which hashtags are they using to expand their reach?
Similarly, influencers and bloggers have a vested interest in using hashtags. The goal for their account is to expand their reach and follower count, and make money through Instagram — hence why most of them use hashtags in their Instagram content. Use audience data to spot the influencers your target audience follows. Make a list of the hashtags they're using in their content. 
(Bear in mind that other accounts may still be using hashtags even if you don't see them in the caption. Brands and influencers often hide their hashtags by pasting them in the comments section. But more on that later.)
Look at Google suggested terms
The search bar inside Instagram's app works similarly to a search engine. So why not head to the biggest search engine of all? Not only does Google have tons more data for you to find potential hashtag opportunities, but most of the terms you see on Instagram can be tweaked into taggable terms.
Let's take a look at the Google search results for "bone broth":
The related searches show other variations of that core term. From there, add the following Instagram hashtags to your list:
#bonebrothrecipe
#organicbonebroth
#chickenbonebroth
#bonebrothsoup
Use audience insight tools
Don't have time for manual research? Or, want to make sure you didn't miss any glaringly obvious Instagram hashtag opportunities? Audience intelligence tools like SparkToro combine data across various social media platforms. They exist to make your life as a marketer easier.
Simply type your core term (like "flowers") and you'll see a list of hashtags people interested in that topic are already using. If a quarter of people interested in flowers are using #florist, that's a strong signal you should too.
Ask your existing customers
It's smart to have your spy goggles on in your hashtag research process. But sometimes, your own research won't throw up each term your potential customer is following, especially if it's a niche hashtag or one growing in popularity.
Uncover those hidden opportunities by asking your existing customers. "Which hashtags do you follow on Instagram?" is a simple question, but one that gives your brand a competitive advantage in your Instagram marketing strategy. Jump on them before your competitors do, or the hashtag becomes super popular and hard to reach people following it.
What makes a good hashtag?
By this point, you'll have a long list of potential hashtags to use in your Instagram content. Before you add them beneath each post on your social media calendar, whittle down the list. It's the best way to make sure the hashtags you're using will expand your reach the right way.
A good Instagram hashtag meets the following criteria:
It suits your type of content. Certain hashtags lend themselves better to specific types of content. #BeforeandAfter, for example, is great for carousel posts. It likely won't be the best choice for Instagram posts where you're sharing flat lay product shots.
Your target audience follows it. What good is using a hashtag if your target audience isn't following it? As we mentioned earlier, Instagram users can follow hashtags inside the app. Cut down your shortlist so every hashtag that makes the cut is one your audience follows.
It's not banned by Instagram. Specific hashtags have a negative connotation. Adult-related hashtags, and those know to be used by spammy accounts — such as #likeforlike or #followforfollow — are banned by Instagram. Any content using the hashtag won't be shown in a follower's feed. And, in the worst case scenario, using too many banned hashtags may result in your account being shadowbanned (hiding or restricting content without notifying the user).
It's on an upward trend. Tools like Hashtagify show the popularity of a hashtag over time. Ideally, you should choose trending hashtags in your content. Those going down in popularity mean people are unfollowing it or not using it anymore.
It's fewer than 25 characters long. Research shows less than 25 characters is the sweet spot for hashtag character length; anything longer and post engagement drops dramatically.
How to create an Instagram hashtag strategy
Once you've finished your hashtag search, you'll have a shortlist of potential phrases to expand the reach and engagement of your Instagram content. But what happens if you end up with a hashtag list as long as your arm?
Here's how to put together an Instagram hashtag strategy to make sure you're using the right ones — with data to back it up.
1. Create a branded hashtag
Earlier, we ran through the different types of hashtags you could use for your Instagram content. A branded hashtag is one you should add to your list. It's a hashtag that only your company and customers use.
Granted, this type of hashtag doesn't get the reach that popular terms do. Chances are, there will be fewer people following a branded term than a popular one like #DogsofInstagram. But that's not to say creating your own Instagram hashtag doesn't have its benefits.
Brands often create their own hashtags as a way to curate content around a specific event, product, or marketing campaign. Take NovaMen, for example. It encourages its customers to use the #NovaMen hashtag in its own content.
The brand looks through the hashtag results pages and reposts user-generated content to its own page:
2. Run a giveaway to get people using your hashtag
Created your own hashtag? A giveaway is the perfect way to add fuel to the fire and encourage people to use the branded term in their own content.
Take a look at Starbucks' infamous Instagram holiday marketing campaign for inspiration. The coffee brand runs a competition to find the best coffee art that customers have doodled on their Starbucks cup. Thousands of people use the #RedCupArt campaign hashtag to showcase their designs every year:
3. Use hashtags in other content formats
So far in this guide, we've talked about how you can use hashtags in your Instagram feed posts. But after you've made your shortlist of hashtags your Instagram audience follows, don't limit yourself to grid posts.
There are other content formats where you can use hashtags to boost reach, including:
Instagram Reels: Reach people enjoying the TikTok-style of short-form content by tagging your Reels with popular hashtags. (Even better if you tag products in the Reel and use hashtags to spread awareness of your product or service.)
Instagram Stories: You're allowed to add up to 10 hashtags per Story. While they don't show in the feed of people following the hashtag, you can appear on the results page for it. (Don't want these hashtags to be visible in the story itself? Hide them with a sticker over the top.)
Shoppable grid posts: 70% of shoppers use Instagram to discover new products; and more than 130 million users click on shopping posts every month. Get your shoppable content in front of your target audience by hashtagging phrases they follow or use.
Pro Tip: It's estimated that half of user-to-business messaging starts from Instagram Stories. Handle those inquiries on autopilot with Instagram DM Automation by ManyChat, which provides real-time answers to FAQs.
4. Group relevant hashtags together
Once you've found your shortlist of hashtags that meet the criteria above, you might be left wondering: How many hashtags should I use on Instagram?
Research from TrackMaven suggests that there is no concrete answer, especially when it comes to engagement rates. Nine hashtags is the sweet spot; though anywhere between seven and 13 hashtags show the highest engagement, on average.
Put this data to use by grouping together relevant hashtags. It's a smart idea to create groups based on hashtags with varying levels of popularity. That way, you reach people following niche terms without missing out on the thousands of people who follow bigger hashtags.
Three Birds Renovations, for example, uses 10 hashtags in its Instagram post, ranging from branded terms (#ThreeBirdsDreamHome) to more popular Instagram hashtags (#alfresco and #outdoordining):

5. Store them in a hashtag manager
Long gone are the days of creating hashtag lists in the note section of your phone. Most social media scheduling tools, including Buffer, have built features to help you store your Instagram hashtag lists. Simply upload your groups, give them a name, and choose which list you want to use in your new post.
This is a great feature to look for if you're shortlisting tools to help you manage your Instagram account. Not only does it help you categorize lists and save time when hashtagging new content, but the entire social media department can access them. It's much more efficient than storing them as a note.
6. Test hashtags in the caption
In the past, marketers would test hashtags in either the captions or the comments beneath the post. However, for a post to be found in search, Adam Mosseri, Head of Instagram, recommends putting keywords and hashtags in the caption, not the comments. So, after your research, test relevant hashtags in your caption and see which performs best.
7. Split-test the most-effective hashtags
Speaking of testing, an Instagram hashtag strategy is just like any other marketing campaign. You need to constantly test and analyze your results and fine-tune them from there. It's the best way to hone in on which best practices work for your brand, audience, and Instagram profile.
Instagram Insights shows high-level data on your hashtag performance. Head to Post Insights and then Impressions from Hashtag. Here you'll see how many people discovered your content organically through the hashtag:
The only problem with this approach is that you won't see individual hashtag performance, especially if you've used a group of them.
Work around this by using third-party analytics tools like Later and Sprout Social. It will show how many likes, comments, impressions, and saves your content got off the back of each hashtag, so you can whittle down your list and find the best hashtags for your profile.
Create your own Instagram hashtag strategy today
There's no doubt that Instagram hashtags help grow your reach, engagement, and follower count.
Whether you're a small business owner or social media influencer, use this strategy to find different hashtags your target audience is following. Look for the terms your own Instagram followers are using, find popular tags on the Explore page, and double-check that hashtags on your shortlist haven't been banned by Instagram.
Looking for an easier way to communicate with your new Instagram followers? Start using Instagram Automation by ManyChat today.
The contents of this blog were independently prepared and are for informational purposes only. The opinions expressed are those of the author and do not necessarily reflect the views of ManyChat or any other party. Individual results may vary.