How to Use Instagram Reels to Drive Leads: 10 Content Ideas for Businesses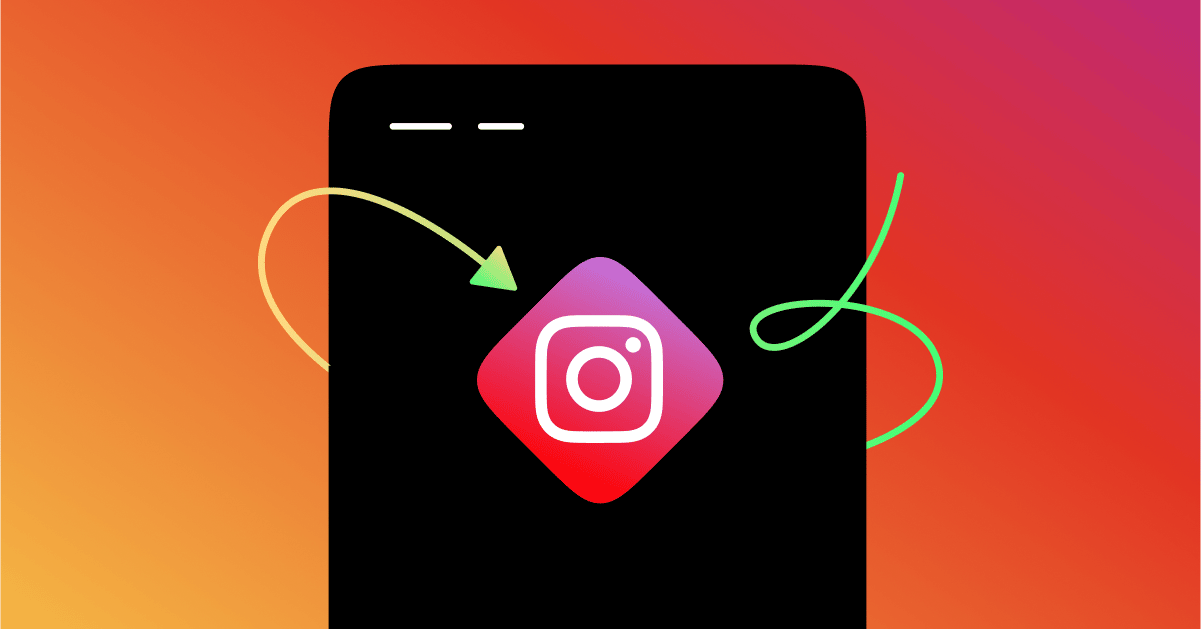 Since Instagram is arguably one of the most popular social media platforms in the world, it should come as no surprise that the platform has a host of features that help businesses build an audience, generate leads, and drive traffic to their website.
One of those features is Reels: an alternative content format that allows brands to share 30-second video snippets with their audience.
If you're an eCommerce brand or service business, you should be creating Reels as part of your Instagram marketing strategy. Not only are they entertaining to watch, but Reels can also expand your reach, educate your audience, and turn followers into leads.
Want to get in on the action? In this guide, we'll share 10 different ways you can use Instagram Reels for your business in order to attract your target customers and drive leads for your products or services.
What are Instagram Reels?
Instagram Reels is a new feature that allows business owners to share short video content on their profile. The creation of Reels drew inspiration from the viral social media platform TikTok, where 689 million users watch short, snappy content from influencers and brands.
The new Instagram feature launched in India in July 2020. In just 30 days, app downloads increased by 11.4%. The average time spent in the app also increased by 3.5%.
Reels is just one type of video content you can create on Instagram, and sits alongside IGTV, Instagram Stories, and Live videos as yet another way for brands to connect with followers.
Reels also has its own Explore page, which helps improve reach and engagement. Instagram's algorithm shows your Reels to accounts most likely to show interest in what you have to say — even if they don't follow your business account. That means you can use Instagram Reels to drive leads with a small following.
How to post Reels on Instagram
If you want to start using Reels to drive leads for your business, make sure you have an Instagram business account, then follow this short tutorial:
Sign into your Instagram account.
Swipe right to access the Camera (like you're creating a Story).
Press "Reels."
Start recording your Reel.
Play around with the background music, cropping, and editing tools.
Preview your new Reel. If it looks good, press "Share to."
Write a caption for the Reel and choose where to promote it.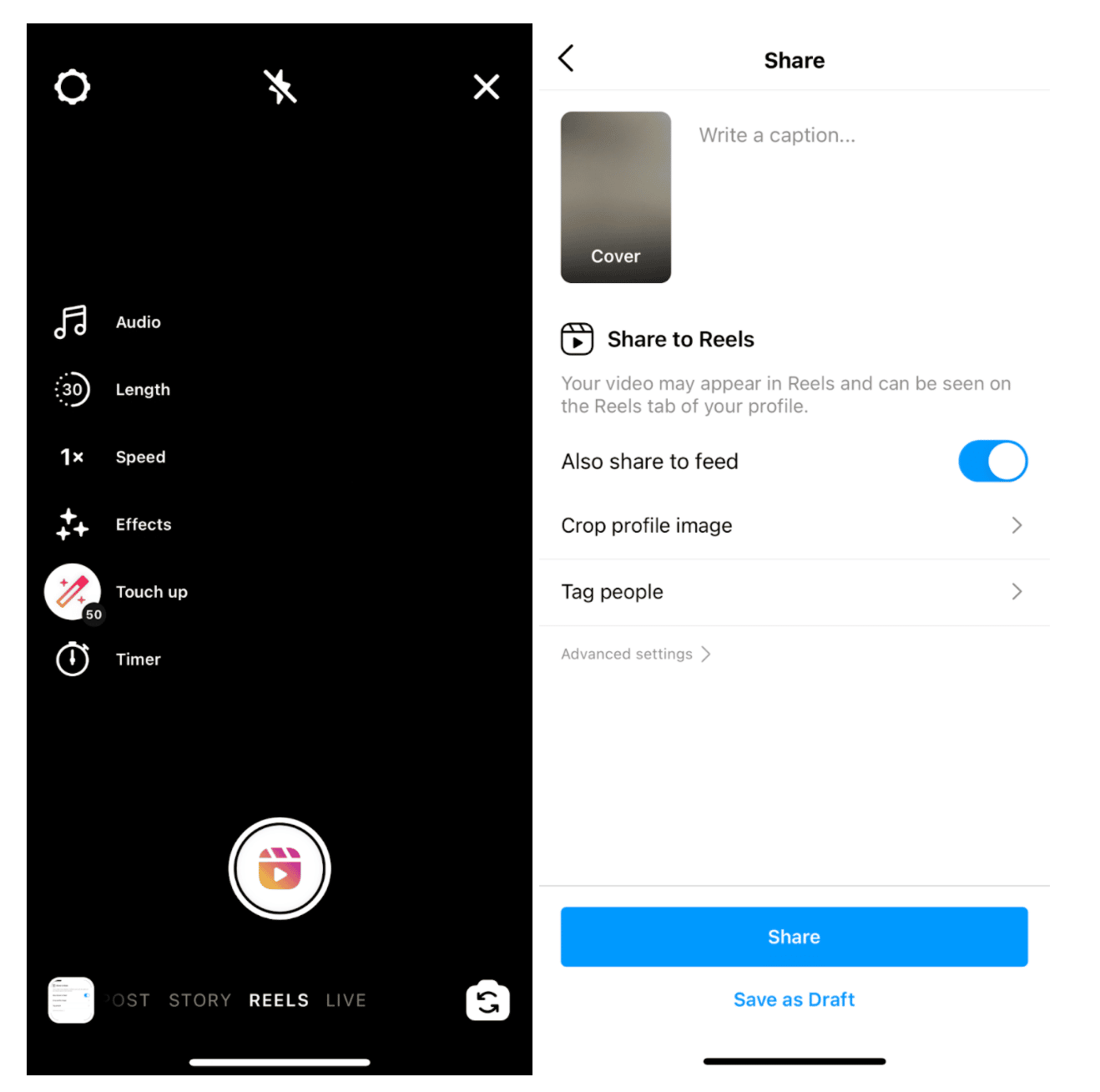 How to use Instagram Reels to drive leads
Now that you know how to create an Instagram Reel and the power it has to drive leads for your business, you might be left with one question: What should I actually use them for?
Here are 10 content ideas to experiment with for your first Reel:
1. Post educational content
Regardless of your digital marketing strategy, it's important to remember that not everyone who sees your content the first time will immediately turn into a lead. The same is true for Instagram: You need to build relationships with your followers and earn their trust. So when the time comes for them to purchase something, your brand will be top of mind.
One great way to do this is by creating Reels for educational content. Think about a few topics your audience is most interested in, and showcase your expertise by explaining the subject matter in your Reel.
Sabrina Philipp is an online business coach who uses educational Reels as part of her marketing strategy. To generate leads for her consulting business, she educates her target audience on what they need to start a business. The Reel ends with a call to action (CTA) to capture leads: Join her free email challenge.
Pro tip: Sprinkle relevant hashtags into the caption of your Reel. Since educational content appeals to a wide audience, it's a great way to increase your reach and land on your target customers' Explore page.
2. Tie Reels into your product launch strategy
Are you launching a new product or service? An Instagram Reel is a superb marketing tool to get people excited about it, especially if you tease new information in countdown Reels in the days (or weeks) leading up to the launch.
As digital product launch strategist Steph Taylor explained:
"I​​ tied it into the broader content strategy for my launch — that is, I didn't share Reels of my cute puppy (even though this might have had a greater chance of going viral), but instead I asked myself: 'What does someone need to know before they'll be ready to buy my online course?' I used the answer to guide my content strategy.
"At the end of each Reel, I gave a call to action, directing viewers to listen to my podcast, download my free e-book, register for my free masterclass, or learn more about my online course."
3. Show tutorials of your product
Not all Instagram users are prepared to stop their scroll and visit your website. While that might sound disheartening for the content you've uploaded to your site, use this insight as an opportunity. Treat your Reels as mini teasers that educate leads about the product you're selling. It's an immediate way to capture people's attention without the friction of driving them to your website.
Here's how P.Louise Makeup Academy does this through Instagram Reels. They showcase their cosmetic products in short video clips, teaching potential customers how to use the products they can buy from the brand:
4. Tag products from your Instagram Shop
Instagram is great at a lot of things. But if your follower count falls below 10,000 people, the only way to divert people to your website is through the link in your bio. Even then, you can only have one link in your bio, most often to a homepage or landing page.
Work around this hiccup by creating an Instagram Shop. An Instagram Shop allows retailers to sell products to customers without leaving the Instagram app.
Then, use Instagram Reels as a vehicle for driving followers to your Shop. If you're showcasing a product in a tutorial, for example, tag the items you're using. That way, customers can click through and learn about the product.
5. Create Reels on trending topics
The pressure to have a steady stream of social media content can be overwhelming; however, leaning into trending topics is a superb way to diversify your content stream, fill holes in your content calendar for Instagram, and increase engagement.
Copywriter Jasmine Williams explains how she uses this approach to drive leads through Reels:
"My approach to Reels is pretty organic: I keep an ear out for trending sounds and think about how I can make a Reel that's relevant for my audience of new/aspiring freelancers. I really aim to make my content relatable and entertaining so people are enticed to share it with their audiences, which helps build brand awareness.
"Ultimately, I use Reels as a TOFU play. I try to reel people in (pun intended) with a funny joke, and then use the caption to drive them further into my funnel by directing them to sign up for my newsletter, lead magnet, or free webinar."
6. Give away freebies
An Instagram follower becomes a lead when they've opted in to hear more about your brand, products, or services. Giving away something for free is a superb way to convert leads. You'll get people on your email list for future retargeting, which you can do through a combination of Reels and Instagram Automation.
Create a Reel that promotes a free item, such as an e-book, webinar, or free checklist. Ask your followers to reply to the story with a word, such as "e-book." Then use Instagram Automation by ManyChat to create a conversation flow that automatically sends the e-book download link via Direct Message (DM).
You could also host a competition or giveaway through your Reel, and have the entry requirements to visit your website and opt in to your email list.
7. Answer FAQs from potential customers
Speaking of content ideas, not all of the topics for your Reels have to come from your social media marketers. Lean on other departments, like sales and customer service, to uncover the questions your leads ask most often, and create Reels around those topics.
This is a great lead generation strategy because you build trust with your leads, and they get answers to their questions without you having to manually type out a DM or response.
This also frees up your sales and customer support teams to focus on different tasks other than answering repetitive inquiries. Sounds like a win-win to us.
8. Talk about customer pain points
Speaking of understanding your ideal customer, use your buyer persona information to determine which pain points your leads are likely struggling with. Address the pain point as the topic of your Instagram Reel to highlight that you understand how they feel and want to help solve the issue.
We can see this strategy in action in HubSpot's Reel. Their target customer is likely a software business encountering an issue with customer turnover, so HubSpot posted a short-form video to educate their target audience about the topic.
Still not convinced? Copywriter Chloe Barnes also used this tactic to drive leads using Instagram Reels. She ended up creating three viral videos that generated 2.4 million views and 138,000+ content interactions.
"I've been creating funny Reels to highlight common small business problems. I'm big on personality and wit in my copywriting, so by letting my personality and wry sense of humor shine through in my brand content, I've been trying to attract clients who resonate — and it's working! I have more inquiries from potential clients than I can currently answer."
9. Repurpose top-performing content on Reels
You can't always predict the type of content that will perform best on Instagram, and it's often a perfect storm of posting the right content to the right audience at the right time.
Take a look at some of your previously-posted content on your Instagram account — be that IGTV videos, Stories, or feed posts. If you find any content that beats your average engagement rate, consider repurposing it into a Reel. Digital product launch strategist Steph Taylor said:
"Rather than reinventing the wheel and creating endless amounts of new content, I looked to see how I could tweak my podcast content into Reels. For example, a podcast episode I recorded with '5 ways to leverage your audience in a small launch' became a Reel sharing the five ways."
Pro tip: Use Instagram Automation by ManyChat to turn people who comment on your Reels into leads. Encourage people to leave a comment on your Reel (such as "e-book"), and automatically deliver a message (like a link to the e-book download page) via DM.
10. Partner with influencers to create Reels
We've shared a handful of Reels ideas that your business can use to generate leads, but you don't need to create these videos yourself, especially if you partner with an influencer and make a Reel part of the content collaboration.
Not only does this take the pressure off you in creating a Reel, but you get to leverage the influencer's audience, too. The influencer marketing industry is predicted to be worth $13.8 billion, and the vast majority of brands (89%) say Instagram is the most important channel for their influencer marketing campaigns.
Find influencers in your space and ask them to work on a sponsored Reel. They could show your product in action, record a short review, or talk about their experience with your service.
Take inspiration from Wilderness Reserve's sponsored Reel with influencer Zoe Sugg:
Start creating Instagram Reels content to drive leads
There's no doubt that Instagram Reels is a content format with the power to generate leads for your business.
Start by creating 15- to 30-second videos that show how customers can use your product, answer FAQs, and repurpose top-performing content to attract new followers. You'll quickly see why Instagram is pushing Reels as one of the app's best features.
Ready to grow your Instagram account on autopilot? Start using Instagram Automation by ManyChat.
The contents of this blog were independently prepared and are for informational purposes only. The opinions expressed are those of the author and do not necessarily reflect the views of ManyChat or any other party. Individual results may vary.