How to Create a Social Media Marketing Plan for 2021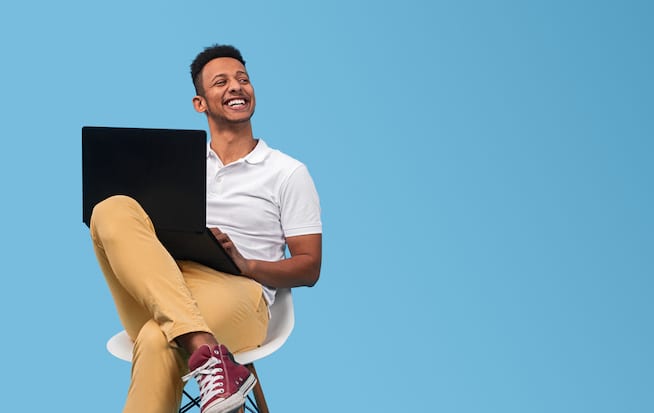 Are you running your business' social media accounts, not having a clue how your activity will actually contribute to your goals?
Failing to have a social media strategy in place could wreak havoc not just on your social media budget, but your entire brand. It means you're wasting energy on social media without any long-term plans on how that will net revenue.
Chances are, you're avoiding creating a strategy because it feels like hard work. Who really has time to sit down and plan an entire year's worth of content? Certainly not us.
The good news is: creating a social media marketing strategy doesn't need to be that time-intensive. In fact, spending a few hours creating this document could land the recognition you deserve from your boss and turn social media content into a money-making machine for your business.
Sound like something you want? In this guide, we'll share everything you need to know about creating a social media marketing strategy in 2021 and beyond, including:
What is a social media marketing plan?
Before we dive in, let's be clear on what a social media marketing plan is.
Simply put: it's a strategy document that covers how you'll use social media for your brand or business. It covers your goals, audience and competitor research, budget, activity, and how you'll measure success.
…Basically, one document that outlines your entire strategy.
What is a social media marketing plan used for?
A social media marketing plan is most often used by the marketing team to guide them when creating and posting content. With one, they'll know what types of content to post; content that catches the attention of your target customers.
Social media plans are also used to reflect back on and measure success, ROI, and goal achievement from social media activity that year. That's what makes it a useful document to argue the case for a dedicated social media budget, or to increase your ad spend. You've got data to back that argument up.
The bottom line? Think of a social media marketing plan as your playbook to how your brand uses social media. From reading it, you can understand your brand's voice, the platforms you use, and the types of content you share.
Why you need a social media marketing plan for 2021
Now we know what a social media marketing plan is, let's take a look at how your business can create one that's 2021-proof.
Focus your social media activity
Without a plan, your social media content is all guesswork and intuition. Even for the most talented marketer, this won't hit as hard as a strategic campaign.
A social media marketing plan gives your team direction, and focus, and empowers them to create content that reaches your goals.
More than half (59%) of marketers say social media is very important to their overall strategy. A document that plans out your entire strategy makes it count.
Increase brand awareness
It's no secret why social media is such a huge part of any marketing strategy.
Nearly 50% of the world's population is on social media—hence why 70% of marketers say brand awareness is their main goal. Plus, research by Adobe shows that social is the channel for future customers, with it driving 3x more non-customer traffic than customer traffic.
Having a social media marketing plan gives you an easier roadmap to make that happen, compared to posting ad-hoc.
Maximize your ROI
There's not much point investing in social media if it doesn't get business results, right?
Sprout Social reports that 59% of marketers use social to support sales and lead generation.
Being able to plan, test, and analyze your social activity as part of your strategy means you can adapt, optimize, and improve to see better ROI. All of this data is included in your social media strategy document for you to clearly see the actions you need to take to meet your goals.
Demonstrate the need for resources
Speaking of actions, you might have grand plans for your business' social media accounts.
Those things cost money—something you might not have free reign with (and will need to pitch the use case for.)
The good news is that having a documented social media plan gives you the evidence you need to ask for resources—whether that's more budget, equipment, or people. It's cold, hard, evidence that you need X to achieve Y.
4 common social media marketing pitfalls to avoid
Social media marketing plans should be the backbone of any effective social media team.
Yet unfortunately, there are some issues most marketers face when creating or managing them. Let's take a look at some of the most common.
Lack of time to create the strategy
Marketers are often so busy in their day-to-day roles. They have content to curate, publish, and monitor. It's difficult to find the time and energy to work on strategy, right?
This often means social media marketing plans don't get finished, or they're left too long without a revisit. That means the strategy itself is a waste of time—not just time spent creating the strategy, but pushing forward with an off-the-cuff plan that doesn't actually impact your business goals.
Competing needs and goals
Speaking of goals, did you know that 47% of marketers say developing a strategy to meet their overall business goal is their biggest challenge?
Marketers are balancing the needs and desires of multiple teams. Sales teams likely want product-focused content; the advertising department is pushing for a higher number of followers they can boost their ads to.
These competing needs make defining your social media marketing strategy challenging.
Missing buy-in from across teams
Marketing is everyone's responsibility, but getting buy-in is difficult. As many as 39% of marketers struggle to demonstrate the value of social media marketing to the rest of the company.
You need senior buy-in to get the right budget and decision making ability, plus buy-in from teams to send you relevant information and content.
This is often missing, which weakens the effectiveness of your social media plan.
Fast-moving nature of social media
Something's always changing in the world of social media marketing.
Whether it's a rising platform or a new content trend, marketers need to be on top of it. This means your plan can feel outdated within months and need constant revising to make sure it's still relevant.
(After all, running with an out-of-date social media strategy is almost as bad as not having one at all.)
How to create a social media marketing plan for 2021
There's no doubt that having a documented social media marketing strategy helps your team stay on the same page, meet shared goals, and maximize ROI.
Here are 11 steps to create yours without falling into those common pitfalls:
1. Set your goals
The first place to start is to determine your overall goal for your social media activity.
In other words: what do you want to achieve with your social media plan? What business goals do you want to tick off?
We've touched on the fact that these goals can be conflicting across several departments. However, some may cross over to different channels. Your content marketing goals, for example, might be to convince readers to stick around once they land on the site. Your goals for social media then can help drive website traffic.
The best way to navigate this is to ask each department what their main priority is. Think about how each relates to wider company goals, and how you can create smaller milestones along the way to reach them.
The final social media goals you're left with will inform your decisions about platforms, budget, content, and frequency.
2. Understand your target audience
Next, look through your existing audience data and build a picture of who they are.
The key is to understand what makes them tick by using tools like Audiense, Buzzsumo, and SparkToro to find:
Their demographics (age, gender, location)
Cohorts (baby boomer, millennials, Gen Z)
The social media platforms they use
Content they engage with (such as polls, memes, infographics, or videos)
Which influencers they follow
But while understanding your current audience can help inform your social media strategy, understanding your customers—including the buying habits that lead them to your website and their pain points—can help to figure out the role social media can play in their customer journey. Your buyer personas are the perfect tool for this.
Remember: we want to use these networks to meet business goals, not just amass thousands of social media followers. Spend time understanding your ideal customer alongside your existing audience.
3. Do a competitive analysis
Your business isn't an island. Regardless of how unique your features are, there will always be competition.
That's not a bad thing!
In fact, looking at your competition can help uncover hidden opportunities to beat them through social media. For example: 62% of businesses haven't yet invested in Instagram Stories ads. That's a potential space to dominate.
So, identify a handful of relevant competitors to analyze. Look at how they use it—including what they do and don't do across each social account. That might include things like:
Whether they're using hashtags
Whether most of their content is video, text, or audio format
How often they post on each social media network
Which type of content gets the most engagement
The bottom line: analyze your competitors' audiences and see how they compare to your own. Write any opportunities into your social media marketing plan.
4. Audit your existing efforts
Once we know which goals we want to achieve and competitors we're trying to beat, take a deeper dive into how you currently use social media.
What works and what doesn't?
Conduct a mini social media audit by choosing a handful of important social media metrics to judge performance, such as:
Engagement rate (including comments, likes, retweets, and shares)
Click-through rate
Organic reach
You can use those metrics to also judge how effective your current posting schedule, content types, and ROI on ad spend is.
For example: throughout your audit, you looked in Google Analytics to see which social networks drive the most referrals. You find it's Twitter. That's a golden insight to mention in your social marketing plan; one that backs up why Twitter should be a priority for your business.
Again, compare what you do to your competitors, and what your audience is looking for. This gives you a useful starting point to improve from and compare against.
5. Set a budget
If you're in the eCommerce space, you'll be no stranger to social advertising.
A social media marketing plan is the perfect place to set budgets for the upcoming year. It'll make sure you stick to that budget, rather than wasting cash on ad-hoc Facebook ads campaigns that don't meet your long-term goals.
In your strategy, include a breakdown of what the budget will be spent on. Remember that isn't just the advertising cost itself. Do you need to buy video equipment, professional photography, or videography?
Similarly, think about other social media activities that need budget—such as influencer marketing. Dig through historic data (or collect new data) to see how much you need to allocate towards influencer marketing this year.
For each budget, give a suggested ROI for your spend. This can help argue the case for more funds.
Marketers have recently seen a 5% increase in budgets, so now's the time to secure the budget you need to make your social media goals a reality.
6. Refine your brand voice
With social media most often being used for brand awareness, you need a plan of action on how you'll present yourself to your audience.
After all, research shows that 33% of consumers notice a distinct personality, and 32% remember compelling storytelling. That could be the secret to making social media a money-making machine for your business.
Take some time to answer these questions:
Is your voice playful, or more formal?
What are your competitors like?
What kind of content do you create now, and what do you want to create in the future?
What does your business stand for?
Including all of this brand-related information inside your social media marketing plan helps your entire team stay on-brand. It doesn't matter whether the advertising teams and organic teams work independently; you're still enforcing brand consistency across every channel you're using.
7. Choose your top social media channels
By this point, your social media audit should have uncovered the most valuable social media platforms for your business.
The next step is using that data to find the social media platforms you'll use—and the ones you'll avoid.
Go back to your audit data and set a priority platform. It's the one network that gets the most results for you, and also where your target audience is most likely to engage with you—such as Twitter, LinkedIn, Snapchat, or your Facebook Page. Write in your plan to focus most of your attention there.
Whilst those well-known and trusted networks can be advantageous, look for potential trends as new apps gain popularity. (One example over the past year was TikTok: a network that saw a 58% increase in app downloads over the first quarter of 2020.)
You might not know what these channels are yet. But at least have a plan for any that come on your radar: should you be an early adopter? Or go where you know your customers are?
8. Optimize your social media profiles
So far, your social media marketing plan covers the plans you have to get people engaging with your content. But once people land on your profile, you'll need to make sure that it's optimized to make them complete your goals.
Let's use the "increase brand awareness" goal that most social media marketers have. By making sure your social media profiles use the same profile picture, cover image, and bio for each platform, you'll push the same message regardless of where someone finds you.
If your goal is to drive website traffic, use your profile links to direct your audience to a relevant landing page, like this example from Ahrefs:
If it's to engage with potential customers, create a Messenger bot so all the new people you've got coming to your Facebook Page can contact you with the click of a button.
9. Create a social media content calendar
You can have all the data and inspiration in the world, but until you put them into practice, your social media marketing plan hasn't finished.
So, use your research to build a social media calendar. Include:
The post types you'll use (text, video, graphics, animated etc.)
How frequently you'll post
What topics or themes you'll cover
Influencers in the space you'll engage with
When it comes to social media posts, remember that the content you're sharing doesn't have to be made from scratch. Sure, you can share your own original content, but formats like user-generated content (UGC), influencer content, and re-shared content from others can also play a role—while cutting down the time you spend creating content.
The key is to share high-quality content your audience wants to engage with, regardless of how it came to life.
Your social media calendar might sit outside your overall strategy as a standalone document that you update every month.
Tools like Hootsuite and Buffer can help implement it too, while also helping you find the best content you've created already (so you can replicate it):
10. Assign responsibilities
Now you have a plan in place, assign tasks and deadlines to each person on your team.
Remember that these responsibilities probably won't fall within your social media management team's remit. You might need:
Designers to produce images
Videographers to create videos
The content marketing department to give you content to share
Just like any other marketing channel, social media isn't done in silo. You'll need to lean on other departments and team members. Make sure this is effective by clarifying who is responsible for every action.
Your social media marketing plan should also set responsibilities for your team to keep everyone busy, engaged, and accountable.
(Try mapping these tasks, responsibilities, and goals over to your project management system to make sure they're not forgotten about.)
11. Analyze and refine your social media strategy
Congratulations! You now have a social media strategy to start working on.
Before you rush off to implement yours, we have one word of warning: don't change your strategy every few weeks, but regularly use analytics to refine it.
A social media marketing plan isn't a one-and-done thing. It's crucial to revisit your strategy quarterly and make tweaks to it. That way, you easily spot things with a high return so you can double-down on it sooner. (Similarly, you can spot things not going to plan to prevent wasting even more time, budget, or energy on it.)
Invest more in influencer marketing if it's giving you a great ROI. Scale back your posting schedule on Facebook if engagement is low.
It doesn't matter what you find through your social media analytics tools. But by using that data to tweak your strategy, it means your document is always relevant—and more importantly, that you're getting the most value from your efforts.
Where to find free social media marketing plan templates
Ready to create your own social media strategy, but need a template to act as a helping hand?
We've scoured the web to find some of the best social media marketing plan templates. Each is fully customizable and free to download. All you'll need to do is enter your information and get to work:
Conclusion
There's no doubt that having a social media presence isn't just a nice to have.
As we head into 2021, businesses need social media to help meet their business goals—be that to raise awareness, drive traffic, or support sales.
Start working on your social media marketing plan today to make sure you don't continue posting ad-hoc. It'll make sure your marketing efforts are put to good use.
The contents of this blog were independently prepared and are for informational purposes only. The opinions expressed are those of the author and do not necessarily reflect the views of ManyChat or any other party. Individual results may vary.