From Instagram Automation to Story Ads, Here's How to Sell on Instagram in 2021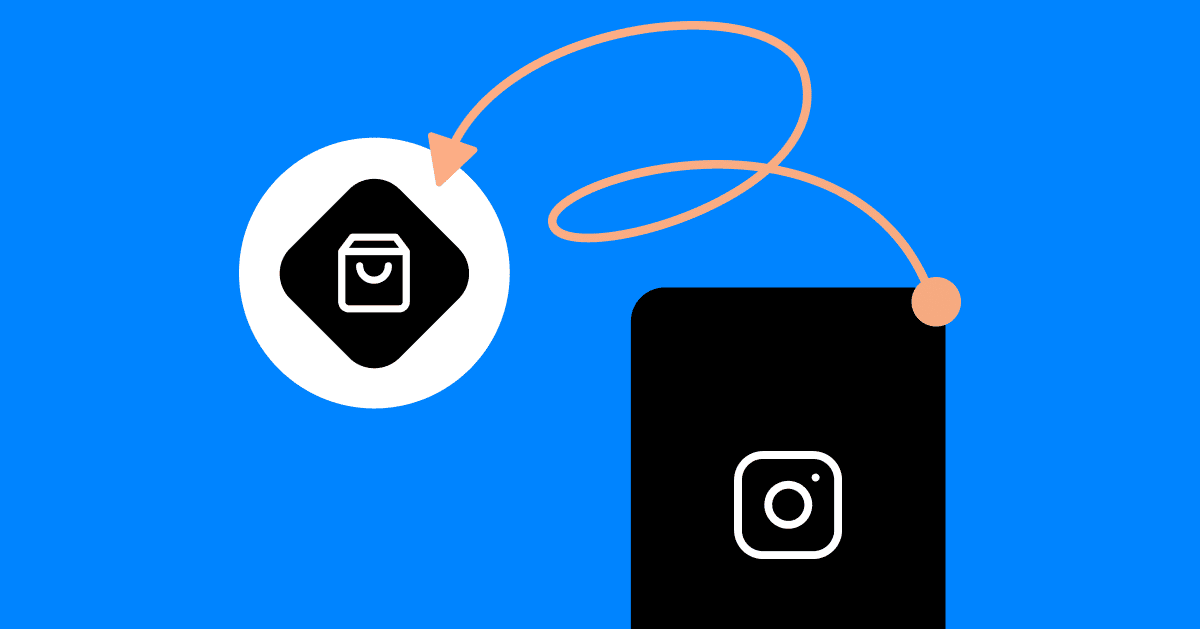 A recent survey from Facebook revealed that Instagram (IG) helps 81% of respondents research new products and services.
As more and more businesses move online, Instagram is becoming a major channel for generating product sales. And with more than 1 billion worldwide users, Instagram's potential reach for eCommerce businesses is huge.
But just how do you ensure your products stand out from crowded news feeds to Instagram followers? It comes down to a combination of a strong brand identity, original product niche, and solid strategy. 
This article will walk you through the basics of selling on Instagram and offer tips you can use to start today.
Can you sell directly on Instagram to your target audience?
Yes, you can sell to a potential customer directly through Instagram—with a business account. Instagram Shopping lets people buy from your photos or videos anywhere in the app on your Instagram account. Some ways to sell through Instagram Shopping include: 
A customizable Instagram Shop on your business page for Instagram followers
Using product tags to highlight products in your feed and Stories
Leveraging the Instagram Shop feed, where people can discover new brands
Ads with product tags
Live Shopping events on your Instagram feed
Checkout on Instagram, where people pay in-app
The best part about learning how to increase sales on Instagram? Selling on Instagram to Instagram followers is free! You can set up an Instagram Shop and take advantage of the above features without paying a dime for any Instagram post. However, if you decide to run Instagram ads, you'll have to pay to promote your posts or Stories in the app.
How to sell your products on Instagram
Selling on Instagram is a smart way to get products in front of potential customers. If you play your cards right, you can turn Instagram into a profitable sales channel for your business. Here are some ways to sell products on Instagram:
First, switch your Instagram profile to a business account
An Instagram business profile will help you better market your products and encourage customers to connect with your business outside your website.
Business accounts also provide you free marketing insights and account engagement analytics. An Instagram business account includes access to the following features:
Contact details: Add your website, phone number, address, and other social media accounts to help users find your business outside of Instagram.
Post promotions: Easily set up ad campaigns and promotions on your Instagram, so more users see your content. 
Instagram Insights: Analyze metrics on your target audience, their behavior, and your top-performing posts.
It's easy to switch to a professional account within your Instagram account's settings:
Next, IG will request for you to select a category that best describes what you do:
Instagram will also ask you to add your contact information (which you can later hide or display on your profile).
If you already have a Facebook Page connected to your business, link it to your Instagram business account. We recommend connecting them so you can manage your ad strategy and access all of Facebook's features later on down the line.
Choose a trending niche or product
Instagram is a powerful social media platform for promoting objects or concepts that are visually compelling, and it'll be easier for you to sell products that have a strong visual aesthetic. But even if your products fit this criteria, you still need to consider whether there's a market for the product or service you'd like to start selling.
Before you dedicate time to setting up your Instagram shop and marketing your product, spend a few hours identifying trending products and niches. A free tool like Google Trends can show you what people are searching for and how search trends have changed over the past days, weeks, months, or years.
You can use filters to identify spikes in searches along with seasonal trends to help guide your product research. For example, if you enter "dog gifts" into the search bar, you'll encounter this graph:
Upon a closer inspection, you'll notice that the topic has steadily increased in searches over the past five years and experiences yearly spikes around the November-December holiday season.
You could interpret this graph to mean that there's sustainable (and growing) interest in dog gifts, with a significant potential opportunity for sales each year during the festive months. Based on these results, you may decide that dog gifts could be a profitable idea for your Instagram Shop.
Don't be afraid to "niche down." It's much easier to build a dedicated audience for a smaller niche than to appeal to everyone.
Take BarkBox, a monthly subscription service that sends pet owners a curated selection of treats, toys, and chews. With 1.7 million followers, it's clear BarkBox's products, funny content, and service appeal to a specific group of dedicated pet owners:
Create compelling content
Nearly 24% of Instagram users check the social media platform multiple times a day. But how do you get them to stop scrolling and notice your business? By consistently publishing engaging, high-quality content!
You can create compelling content using the following tactics:
Stick to one theme. Instagram users and potential customers like to see originality and consistency across an account. Think about how you can exhibit a consistent brand voice, typography, image filters, and general aesthetic that will make your business's account recognizable.
Gamify your content. Encourage your followers and target audience to interact more with your account by incorporating product tutorials, quizzes, and polls into your Instagram posts.
Post a variety of content types. Introduce different formats like carousels, videos, and slideshow in place of static images. Don't rely only on in-feed posts either––mix up your output with Stories, video posts, reels, and IGTV.
Combining engaging content with the right hashtags will help you reach larger, more relevant audiences. Use Instagram's explore feature to conduct organic hashtag research and always include three to five of them in each of your posts.
Take a look at how small business Organic Bath Co. uses different content formats to create a diverse and engaging Instagram feed:
Use Instagram Automation
Instagram is a place where people can engage directly with brands. They can comment, follow, like, message, and now even buy—all inside the app. It's important to create great content, but it's also crucial for brands to stay on top of direct messages and comments.
Instagram Automation by ManyChat helps you manage customer conversations on IG. It doesn't matter if you're an influencer, ecommerce business, or local retailer. ManyChat helps you get more leads and sales from your Instagram marketing.
Some examples include:
Answering product questions, like "Do you have this in a large?" and sending shoppers to checkout.
Automating responses to common questions like, "How much is shipping?"
Generating and qualifying leads with quizzes, coupons, and lead magnets.
Automatically responding to comments on Post and Story Mentions.
Running Instagram ads that start conversations with hundreds of customers at once, without any human interaction.
Gold's Gym Costa Rica, for example, uses ManyChat's keyword triggers to sign members up for classes. Users message the brand in Instagram DM. Then type one of the provided keywords to start the booking process.
Another way brands are using Instagram Automation by ManyChat is with Conversation Starters. They are like icebreakers for Instagram Messenger. People can enter a chat with your business and tap one of the pre-filled buttons to start the conversation. These help people get answers and solutions to their questions right away.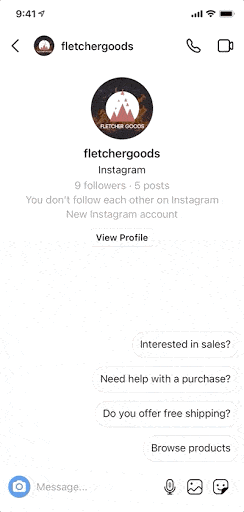 Using ManyChat, you can provide quick and delightful experiences for customers through Instagram Messenger. Whether you want it for lead generation or closing sales (or any other purpose you can dream up), you can use Instagram Automation to get the job done.
Get more leads and sales on Instagram with ManyChat. Join the ManyChat for Instagram waitlist now.
Use Instagram shopping
If you're selling physical goods, make the most of Instagram's interactive shopping features and create a digital storefront. Put together a comprehensive product catalog that showcases your offerings.
Take a look at how art eCommerce store The Poster Club displays its product range with a visual catalog:
With Instagram Shopping, you can tag products directly in your posts; when users tap the tag, details about pricing and the product pop up. Create shoppable posts by tagging your products and easily show new customers all the relevant information for your product.
You could also choose to run Instagram Shopping posts as ads, which allows you to combine Facebook's high-level audience targeting capabilities with a search intent capacity similar to that of Google Shopping.
Live chat in Instagram Messenger
With 81% of people using Instagram to find new products, it's guaranteed that businesses will have to field questions from them. Many companies consider customer support a cost center, something that eats away at margins and doesn't need to be taken too seriously.
Because Instagram Messenger sits underneath the umbrella of manual support channels, brands never saw it as a way to boost profits—until now.
With ManyChat, you can manage Instagram Messages easily. Your business's messages show up in the same place as your Facebook Messenger messages and texts, enabling support teams to quickly respond to Instagram shoppers' questions and encourage sales.
Run Instagram ads
If you're just starting to sell your products on Instagram, you might think that a small budget will limit your ability to run profitable ads. Marketers sometimes dismiss Instagram ads, thinking they're just too competitive and expensive.
However, business owners usually find greater success running low-budget Instagram ad campaigns than exclusively focusing on organic campaigns, despite the added cost. If you take the time to craft a well-thought-out Instagram ad strategy, you should enjoy a tremendous ROI on your Instagram ads.
It's best to set up your ads in Facebook Ads Manager, where you can hone on which audience demographics you want to target. Use Reach and Brand Awareness campaigns to get your Instagram posts in front of vast numbers of people in your target audience, then set up conversion campaigns to help you convert prospects later on.
Accessories eCommerce store Meller uses Story ads and user-generated content (UGC) to run promotions and offer discounts:
You can set up keyword triggers for Story ads using ManyChat. When a viewer opens a chat and enters the designated keyword, they'll start a conversation with your business.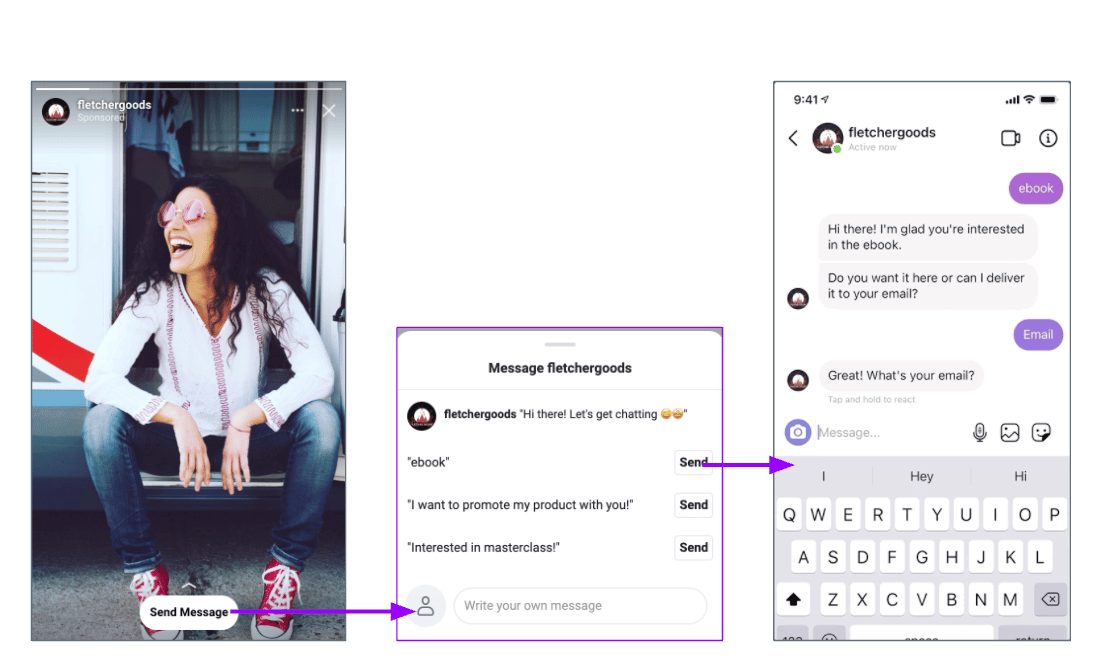 From there, you can direct them down an automated lead funnel or FAQ sequence, or pop into a Live Chat with the customer to offer human assistance.
Use Stories and IGTV
Stories' short lifespan and interactive elements make them ideal for engaging followers while they're on the go. With over 500 million worldwide daily active Instagram Story users, this growing sales channel is a must for your social media marketing strategy.
Here are some ways you can take advantage of Stories with each Instagram user: 
Start conversations with viewers. You can have viewers DM you a keyword and send coupons, free demos, and other lead magnets, automatically in an Instagram story. 
Show your products in use. Potential customers may want to see tutorials when viewing an Instagram story, or product use cases to compel them to buy.
Advertise special offers. "Limited" promotions (time or quantity) are a great way to convert long-time followers.
Show off your brand's personality. Upload behind-the-scenes footage, interviews, and answers to FAQs to demonstrate your brand's human side. 
Save Stories as highlights. Convert your Stories into evergreen content by saving key stories (like your product range) on your profile.
Add Swipe Up links. Make it easy for interested followers to jump straight to your site or product catalog.
Make them interactive. Use stickers, polls, and product countdowns to imbue your Stories with a sense of fun and user participation. 
IGTV videos can be up to 60 minutes long, making them a great channel for more in-depth evergreen content compared to a typical Instagram post. Fashion eCommerce brand Silk Fred uses IGTV for product tutorials and style guides: 
Collaborate with Instagram influencers
Build brand credibility and social proof by working with known Instagram influencers in your business's niche.
Don't choose influencers based only on follower count. You could end up with an Instagram influencer who might not fit your brand. Instead, opt for those with the highest levels of engagement. Micro-influencers can be a terrific option for businesses with a lower budget and niche audience. This kind of Instagram influencer might be more open to frequent communication and collaboration.
Try collaborating with a range of people—including entrepreneurs, creators, and those known in your business's space—to provide as much reach as possible with influencer marketing.
Mattress brand Casper uses influencer marketing to promote their product:
Integrate Instagram selling tools
If you're not ready to use Instagram Shopping or it's not available in your country, you could integrate a third-party tool to make your account more shoppable. The key is to make your account as enticing as possible to encourage followers and every potential customer, to be proactive and take the next steps to find out more.
Here's a list of selling tools to get you started:
Improve your product reach, sell more on IG
If you can stand out from the competition, Instagram can lead to a massive ROI for your business. The key to this ROI is picking a solid niche, planning a well-thought-out strategy, and consistently producing high-quality content.
Following these steps will help you master how to increase sales on Instagram, and convert more followers into customers and build an authoritative, credible, and recognizable brand. 
Grow your Instagram following and make sales with Instagram Automation by ManyChat. See if your business is eligible by applying below.
The contents of this blog were independently prepared and are for informational purposes only. The opinions expressed are those of the author and do not necessarily reflect the views of ManyChat or any other party. Individual results may vary.