How to Find Local Customers on Instagram: 11 Techniques to Try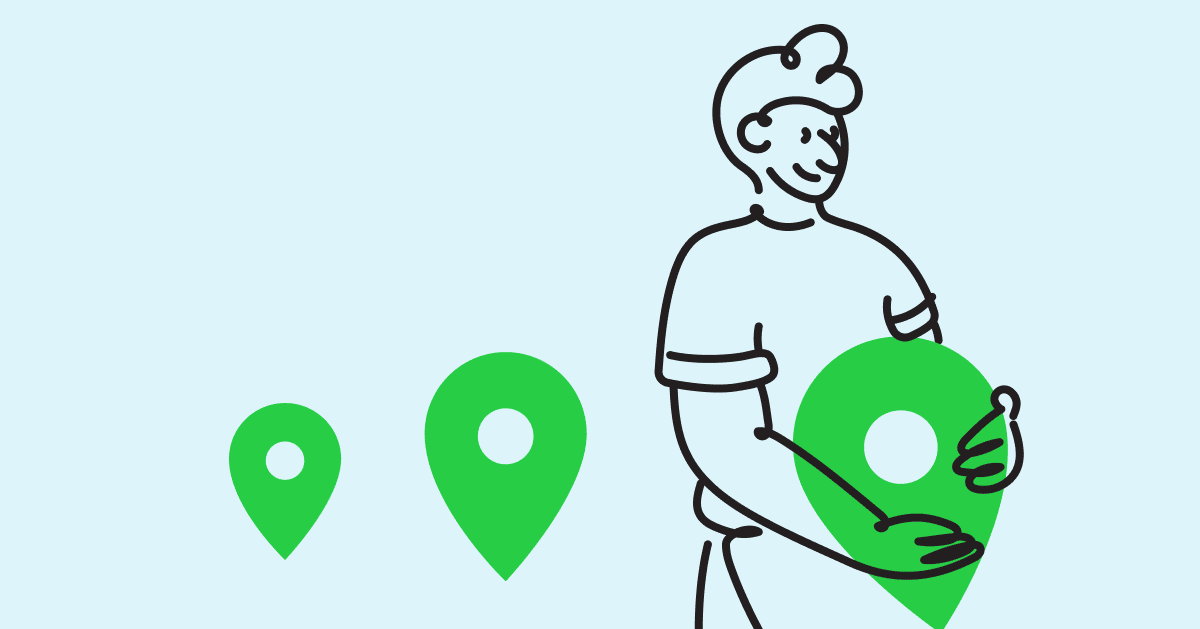 You're all clued into Instagram marketing methods in general, but how do you reach local communities? For retail store owners and franchise owners, it's all about being able to discover local audiences and turn them into paying customers.
There are several ways to acquire clients from Instagram, but they don't all work for a hyper-local audience. Furthermore, you often need to tailor the tactics that do work so you target only the customers who can actually use your service or visit your store.
This guide will take a deep dive into how to find local customers on Instagram. We'll share some of our top tactics for building your presence with those audiences closest to you, so you can convert those followers into customers.
11 ways to find local customers on Instagram
To save you the hard work, we've put together a list of the best ways to find local customers on Instagram. Here's how to do it:
1. Optimize your Instagram bio
Your Instagram bio is one of the best places to share who you are, what you stand for, and what you sell. Consider it your virtual store window on the platform—a place that most people will look if they're curious about you. It should explain what you sell, who you are, and position you perfectly for your local audience.
Make your Instagram business profile more attractive to a local audience by:
Including your location within your bio description
Adding your address to your Instagram profile—people can then click this to open up a map
Adding your local phone number to your Instagram bio
Mentioning where people can pick up their order
For inspiration, take a look at Tiny Paper Co's Instagram bio. It displays the store address, phone number, and pick-up options—catering to the 30% of people who've used some form of buy online, pick up in-store fulfillment option over the past two years.
Optimizing your bio isn't only useful for social media platform users; it's also a great Instagram SEO hack. With these location hints in your profile, it's easier for the algorithm to figure out that you're relevant to a local audience—and therefore, show your content to people nearby (saving you from having to invest in ads).
2. Create tailored Instagram highlights
When someone lands on your Instagram profile, there are a few things they'll notice straight away: your bio, your feed images, and your Story Highlights—the latter of which is an often overlooked feature that takes up a prime spot in your profile.
Think of your highlights section as a lookbook for your potential local customers to browse through. They can see examples of what you offer, customer testimonials, and lifestyle imagery that relates to the place you call home.
Not sure what to create highlights about? Consider your content strategy and what your audience comes to your page to see. Then think of a handful of categories you could turn into Instagram Stories Highlights, such as:
What's in store this week
Local festivals and events
Location guides for your local area
As you share Stories, add any that are relevant to your highlights. You'll soon have an always-visible collection of your best content. Chicago Explore, for example, breaks down its Instagram Story Highlights into activities its followers would enjoy grouped together by areas of the city.
3. Tag your location
Your Instagram bio isn't the only place to share your store's location. Instagram's geotag feature is one of the best ways to discover and engage with a local audience. It allows you to find people based on their location, and makes it easier for people to find you, too.
"For every post you put out there on Instagram, use a geotag. This is the specific physical location of your business derived from your mobile phone," says Ravi Davda, CEO of Rockstar Marketing. "If you want to build a local audience on Instagram, geotags are the way forward."
Here's how to use Instagram geotags to your advantage:
Find posts to comment on and engage with
Discover local content creators and influencers
Encourage people to share user-generated content by tagging your location
Add a geotag in your audience's location—this is great if you want to target people in key cities before they visit for a vacation
Add these tactics to your local marketing strategy to acquire more Instagram followers in your local area. Combine them with other methods—like increased engagement with followers and giveaways—to drive customer growth.
4. Engage with people who have tagged your location
Find new local customers through the ones you already have. Make it a priority to seek out people who have tagged your location and engage with their content. If you make them feel special, they're more likely to recommend you to others.
Be intentional with your engagement and try to avoid coming across as spammy. Your goal is to appreciate the Instagram user's content in a natural way so they feel appreciated and valued. Avoid anything that might come off weird, like following all their friends or commenting on everything they post. Instead:
Like their post
Interact with their Instagram Story, if they've posted one
Comment on their post with something relevant and upbeat
Introduce them to your brand ambassador program, if you have one
Repost their Instagram Stories to your own profile with a thank you note
These simple steps only take a few minutes, but can help you build long-term relationships with local customers. Dedicate some time in your week to seeking these people out and engaging with them to grow your community naturally.
Pro Tip: Want a more efficient way to engage with Instagram followers? The Story Mentions Trigger feature inside Instagram Automation by ManyChat automatically thanks people for tagging your account in their own Story.
5. Work with local influencers
The social media influencer industry is now worth a whopping $16.4 billion. It presents a growing opportunity for businesses that want to leverage influencers' clout.
Working with local influencers is a powerful way to reinforce your presence in the community and reach a relevant audience. Noelle Downing, for example, got a free stay at The Plaza Hotel through a paid partnership with Amazon Prime Video. Noelle shared a photo to her Instagram account and geotagged the location it was taken at to bring attention to the two brands involved:
Not sure how to engage with local influencers? Take a look at these fun ideas for collaborative Instagram content:
Host an influencer and press event to launch a new product, experience, service, or menu
Shoot a lifestyle campaign together to cross-promote on your Instagram pages
Ask the influencer to co-host an event with you, such as a masterclass at your store
Partner on a sponsored contest in which you give away products created by local brands
Ask the influencer to style and showcase your product at key local landmarks
Partner on a mini city guide
There's a real art to doing influencer marketing right. Come up with a strategy that suits your business, then find and approach local influencers about a collaboration. Work together to come up with a concept that works for you both, then engage throughout to see the best results.
6. Partner with other local businesses
Influencers aren't the only people you should be collaborating with when attracting local customers on Instagram. Explore partnerships with other nearby businesses to create amazing opportunities for you both to grow.
Sweetride Bake Shop, for example, tagged three other local businesses in its recent Instagram post. There's a good chance that these brands will repost the content to their own profiles, increasing brand awareness for each company in the group.
Partnering with local businesses is a winning opportunity for everyone. Each party gets exposure to a slightly different audience and the opportunity to pick up some new customers. Your audiences also get to learn about another small business to spend money with. This creates a positive ripple effect through your community.
7. Run a collection-only giveaway
Giveaways are a powerful way to grow your audience on Instagram. They help you grow your following, increase engagement, and raise brand awareness with the right people.
Tailor this Instagram hack for a local audience by making your giveaway collection-only—like Colone Saab, which hosted a contest to give a free Mother's Day meal to one of its nearby Instagram followers.
Want to help your giveaway reach a more specific audience? Here's how to produce an Instagram contest that reaches the right people:
Specify that the prize must be collected in person
Offer a prize that's only available locally—like tickets to a festival, concert, or show
Ask a local influencer with a relevant audience to promote the giveaway
Run Instagram ads promoting your giveaway to a local geographic audience
Ask people to head to your store to earn a bonus entry
There's no way to stop people outside your target area from entering your giveaway, but these tips should help you reach a more relevant audience. Once you've run one successful giveaway, you can repeat the process again in the future. Change the prize and wording to keep it fresh.
8. Engage with local hashtags
We all know that using Instagram hashtags is a great way to expand your reach and expose your content to others. However, they're also a valuable source of content that you can engage with for a bonus way to raise awareness of your brand.
Try these tactics to engage with local content in relevant hashtags:
Like someone's post within the hashtag community
Ask if you can re-share someone's post in a hashtag round-up
Leave a comment with a question to start a conversation
Visit someone's profile and like their latest post
The key with hashtag engagement is to find the right ones. Take a look at influencers and businesses around you, see which specific hashtags they use, and make a master list. This can be your go-to place to look for relevant content and accounts to build relationships with.
9. Support other local creators and businesses
Your Instagram account doesn't exist on an island. You're surrounded by multiple amazing creators and businesses that also have a presence on the platform. Embrace that community spirit and support the businesses around you by:
Liking and commenting on their Instagram posts
Re-sharing local followers' content to your own Stories
Tagging the business when responding to someone looking for a recommendation
Working with local influencers and paying them a fair rate
If you're generous about sharing other people's content and recommending local businesses, people will soon start to return the favor. Not only will you get introduced to new audiences, you'll be known for your warm attitude toward business and community.
10. Partner with or sponsor a local event
Most communities have annual events that attract a crowd and create a genuine feel-good atmosphere. A great way to build your presence in the local area is to get involved with one of these popular or trending events and promote it on Instagram, like this post from LCB Festival:
Try these ideas to support local events:
Buy a sponsorship or exhibition package
Host a VIP, demo, or networking area at the event
Provide your products at a discount to feature in goody bags
Recommend your favorite suppliers and vendors
Offer to share your knowledge or expertise—e.g., email marketing or digital marketing
Host a giveaway for event tickets
Run a special promotional offer to celebrate the event
Not all these ideas translate directly to your Instagram content, but being active in your local events scene helps show that you care.
Research shows that 58% of brands think their customers are more loyal because of the branded community they're a part of. While building a community presence might not result in immediate sales, people who share similar values to your brand will have your products top-of-mind next time they need something.
11. Host an Instagram takeover
We've talked about how partnering with businesses and influencers can help attract local customers. Take this a step further and create a real buzz of activity by hosting an Instagram takeover.
An Instagram takeover is when someone "takes over" your account for the day—either live or by providing the content in advance. They call the shots (within reason!) when it comes to content, sharing Instagram Stories and engaging with your business's audience through comments and live video. Here's an example from The Vinyl:
Successful Instagram takeovers benefit everyone involved. Results can include a boost in followers, engagement, and other key metrics, depending on your goals and collaboration.
Expose your business to a local audience on Instagram
The best Instagram local marketing strategy is the one that works for your business. Explore the tactics above, experiment with a few, and use them as a guide to help you build a powerful playbook you can use on repeat.
When you're ready to jump in with your new Instagram local marketing strategy, add ManyChat to help you get even better results. Combine your personal comments with ManyChat's Instagram DM features to deliver engagement at scale.
The contents of this blog were independently prepared and are for informational purposes only. The opinions expressed are those of the author and do not necessarily reflect the views of ManyChat or any other party. Individual results may vary.