How to Get Clients from Instagram Marketing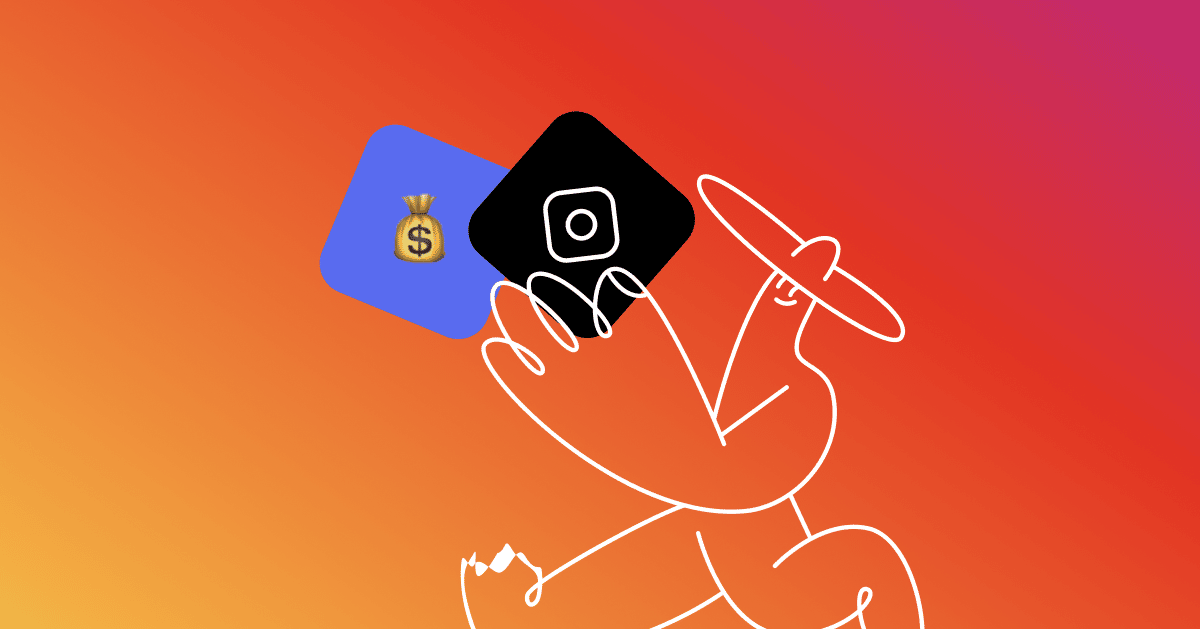 Are you using social media to promote your business?
Instagram, one of the biggest social media platforms available today, has more than a billion monthly active users — a figure that's set to grow to 1.18 billion by 2023.
While Instagram has traditionally been the go-to platform for eCommerce businesses looking to showcase their goods through high-quality product shots, the platform is also a powerful tool for service business owners to grow their audience, generate leads, and, more importantly, find clients. And considering the average Instagram user spends roughly 30 minutes in the app every day, this is one marketing tool you won't want to pass up.
If you're an agency owner, a freelancer, or a service provider looking to increase your client roster, here's how to use Instagram to get more clients.
Can you really get clients from Instagram?
Put simply: Yes. Any type of service provider, from a social media agency to a personal trainer, can find ideal clients through the Instagram app.
Data shows that after seeing a product or service on Instagram, 79% of global users will search for more information about it. And 67% of Americans will visit the brand's website or app, with roughly 46% of them making a purchase (either through online or offline channels).
It's why professional service companies are the second top advertising industry on Instagram.
Regardless of which service you're offering, you need a well thought out Instagram marketing strategy to reach your ideal clientele, turn them into leads, and eventually paying customers.
What are the best ways to get clients from Instagram?
The key to finding clients through Instagram is sharing great content and building an engaged community. Granted, it takes time and effort (social media marketing isn't an easy job), but if you get it right, you'll reap the rewards.
Here are some of our favorite Instagram (IG) tips to get more clients:
1. Create an Instagram business account
If you already have an Instagram account for your service business, double-check that it has been converted into a business account. IG business accounts have extra features that personal accounts don't have access to, including:
Instagram Insights: Discover how many people engage with your Instagram content, your overall impressions, and your follower demographics.
Instagram advertising campaigns: Have a post that's performing well organically? There's the option to put some cash behind it and reach more people with boosted posts.
"Swipe up" links: Once you reach 10,000 followers, having an IG business account allows you to add links to your Instagram Stories to direct followers to specific pages.
While you're setting up your Instagram business profile, it's worth taking the time to make sure your profile is optimized. Upload a profile picture (either of you or your company logo) and write a bio that explains what you do. The goal is to make your small business look reputable. Accounts without a profile photo look spammy, hurting your chances of getting clients through Instagram.
Finally, add a link to your Instagram bio that diverts leads towards a site most likely to turn them into clients. Since IG only allows one link in the bio, use tools like Later or Campsite to organize and highlight your most important links, such as your service landing page, homepage, or podcast download page. This gives people a way to explore your content elsewhere and connect with you outside of Instagram.
2. Add a Book Now button to your Instagram bio
Once you've made your business account, IG allows businesses to add certain calls to action (CTA) to their pages. One of these is the "Book Now" button, which makes it easier for potential clients to schedule an appointment or set up a call with you.
The Book Now button integrates with a range of apps (such as Appointments by Square, Appointy, MyTime, and Schedulista), and can be added to your profile in a few simple clicks.
Head to your IG profile and press "Edit Profile."
Go to "Action Buttons."
Choose the "Book Now" button.
Choose your booking app and press "Confirm."
Here's how the button looks on @iamcoachjanine's account once it's set up:
3. Drive Instagram followers to your email list
When you're trying to acquire clients for your service business, it's important to remember that not everyone who sees your content will be ready to buy. People buy from brands they know, like, and trust. Email marketing is a channel praised for helping marketers build trust because it delivers value over longer periods of time in a sacred place: their inbox.
(Not convinced? Consider the fact that 59% of business-to-business (B2B) marketers think email is their most effective revenue-driving channel. It also has an insane return on investment (ROI) compared to other channels, generating around $55 in revenue for each $1 spent.)
Instagram can help you drive leads into your email marketing funnel. Once people have opted in to hear from you, you'll be able to move leads through your nurturing sequences where they'll (hopefully) turn into clients.
There are a few methods for using Instagram to grow your email list, such as:
Add a link to your email sign-up page from your Instagram bio and ask followers and users to go to the sign-up page when you post new content.
Use Instagram to promote email-only discounts. Some 40% of people follow brands on social media to learn about promotions or discounts — a superb incentive to push them towards your email list.
Engage with users via Direct Messaging (DM), and ask for their email address to send them further information.
The best part? You can use Instagram Automation by ManyChat to promote email opt-ins, especially from Stories. IG only allows businesses with more than 10,000 followers to share "swipe up" links. With our IG Automation features, you can capture user information through DMs and feed it through to your email marketing platform. Followers join your email list with minimal friction without ever leaving the Instagram app.
4. Use hashtags to reach your target clients
There's a hashtag for pretty much every topic under the sun, from #marketing to #poolcleaning.
Hashtags aren't just a marketing fad, though. Instagram allows users to follow hashtags, and view posts that use the term in the caption — even if they don't follow the brand. That means service businesses can expand their reach by including relevant hashtags in their Instagram content.
Let's put that into practice and say you're trying to find clients for your social media marketing agency. Tools like SparkToro pull together the most used or most talked-about hashtags on a specific subject. Use this collected information and insert these popular hashtags into your Instagram caption or as your first comment.
When you're searching for hashtags, Instagram provides recommendations inside the text editor. Keep an eye on these, too. There can be some lesser-used hashtags that can improve your reach, instead of relying solely on more frequently used (and therefore competitive) hashtags.
5. Be helpful and approachable with your content
The purpose of your activity on Instagram is to drive leads and attract new clients. In order to do so, you need to build a sense of authority and expertise around your specialty.
Create a content calendar to share posts that are genuinely useful to your audience. Aim to solve their problems and pain points, and give them a reason to continue engaging with your service business before they recognize it's easier to hire you.
Marketing agency Digital B posts useful content by sharing a simple carousel with an eye-catching first slide. Each image in the carousel solves a problem for its ideal client:
The bonus of sharing useful content is that it often sparks organic conversations. When this happens, make sure it's a two-way relationship. Respond to questions and "like" any praise. Building a relationship can massively improve the chances of followers becoming clients, especially if they need further support.
6. Give away freebies to drive leads
Humans are wired to love free things. Use this psychology in your Instagram marketing strategy to give away freebies — whether that's an e-book or live training — to hook potential clients and drive them into your sales funnel.
Not only does free content build trust with your Instagram followers, but it's a great way to get them on your email list. Valuable content is one of the biggest incentives for people to join mailing lists, closely followed by staying in the loop with company announcements. Use that in your strategy to offer one of the following freebies to your Instagram audience:
A free guide or whitepaper.
E-books or articles.
Video series.
Checklists.
Email sequences or courses.
The great thing about IG giveaways is that once your freebie is created, you can give it away automatically using automation. With ManyChat's Instagram Automation, you can trigger automated responses when a user sends a message with a particular trigger word.
For example, you could set up an automation to respond when a user includes the word "e-book" in their message. The automation then responds with a link to the e-book on your website, or asks for the user's email address in return for the free content.
7. Use geotagging to boost your local presence
Do you only service clients in a specific location? In this case, being visible in your desired location is extremely important.
Instagram's geotagging function makes it easy to showcase where you are and the locations you service. It can also improve the likelihood of being discovered by people local to you. Plus, geotags boost the chances of being featured in Instagram's Explore section, a feature used by 200 million people per day.
Here's how tattoo artist Nora Ink uses Instagram's geotagging feature to attract clients. She shares images of previous work and tags the area the parlor is based (Downtown Los Angeles). Anyone browsing images tagged in that location will be able to see their work.
Even if you don't service clients in a specific location, you can still use geotagging. Rise at Seven, for example, uses its Instagram account to showcase a marketing campaign for a previous client. They geotagged the location of the campaign itself (Cornwall), and hashtagged Cornwall-related terms, to expand the post's reach.
8. Share client case studies and testimonials
Speaking of previous campaigns, if you're delivering great work for other clients, let people know about it. Your Instagram profile exists as a tool to market your service business. There's no better way of doing that than by sharing examples of your great work and how you've helped your previous clients.
Research shows that 72% of people think positive reviews and testimonials make them trust a business more. Whether it's a positive client story or news about getting an award, shout about it on Instagram. Show potential clients that you deliver work that keeps your current client roster happy.
Going Social, for example, shares a customer testimonial on their Instagram page. It builds trust with their audience so when a follower needs Going Social's services, they already trust that the agency will do a good job.
9. Show the human side of your service business
It doesn't matter what type of client you're trying to attract through your Instagram profile. At the end of the day, people buy from people.
"All things being equal, people do business with and refer business to those people they know, like, and trust," said Bob Burg, entrepreneurial author and speaker.
Work "being human" into your Instagram marketing strategy by going behind the scenes of your business. Show how you work to deliver success for your clients. Feature a different colleague each week. Let your staff take over the company's Instagram account for a day in the life of their role.
Research has found that Instagram posts including human faces attract more likes and comments. By sharing this type of content to your IG page, you'll build a stronger and more meaningful relationship with your followers, leading them to become paying clients.
10. Respond to prospective clients immediately
Once you refine your Instagram strategy, you'll start to generate a steady stream of leads.
You've already made it easy for potential clients to get in touch with you (through your link in bio and Book Now button), now make sure you respond to any inquiries as soon as possible.
Studies show that 46% of people expect a response to their customer service inquiries within four hours. But if you don't have the time to handle those questions manually, take the pressure off the need to constantly check your inbox with Instagram Automation.
ManyChat's Conversation Starter feature allows you to configure responses to your FAQs. If potential clients want to read a case study before hiring you, for example, create a flow that directs them to the link on your website when they select the "Want to read a case study?" button.
Ready to find your next client on Instagram?
Finding clients on Instagram is a longer process than selling a product. Make sure potential clients know how to contact your business (either through DMs or email), and use geotags and hashtags in your posts to expand your reach.
The key is to build trust with your audience, share genuinely useful content, and highlight testimonials from other happy clients before people are ready to take the next step.
Ready to nurture Instagram leads on autopilot? Get started with Instagram Automation by ManyChat.
The contents of this blog were independently prepared and are for informational purposes only. The opinions expressed are those of the author and do not necessarily reflect the views of ManyChat or any other party. Individual results may vary.