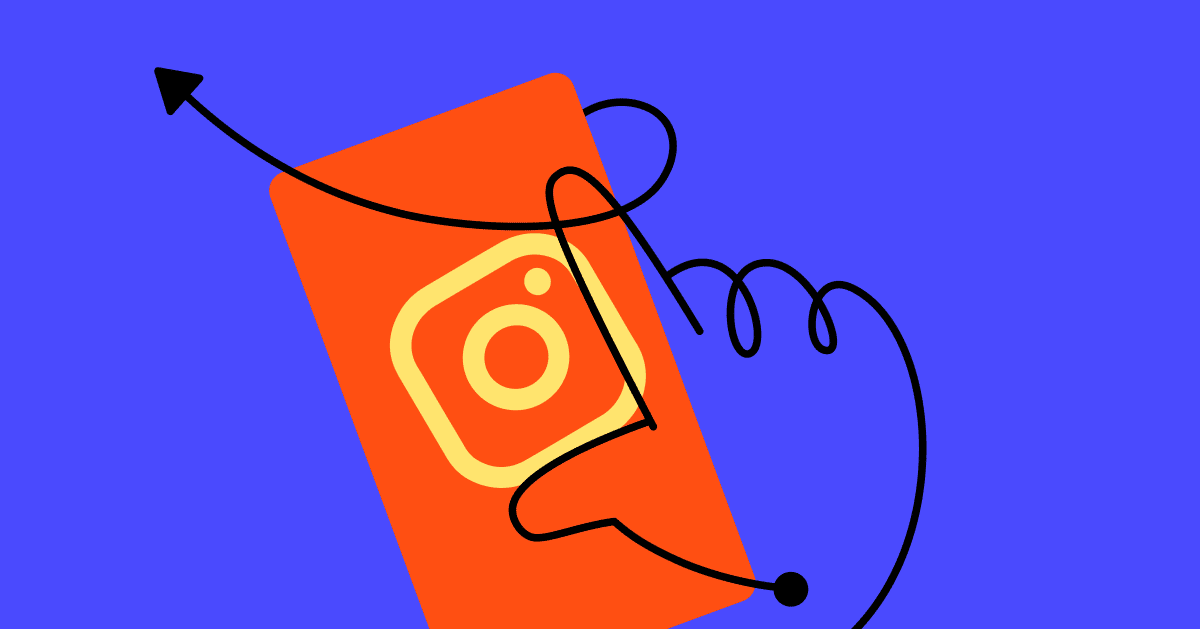 People often overlook the practice of tagging businesses on Instagram as an engagement strategy. Small businesses or influencers are especially hesitant to embrace it for fear of coming across as spammy.
But fear not! This guide will walk you through the basics of tagging businesses on Instagram in a non-spammy way. Whether you're a small business owner looking to boost engagement with Instagram users or an influencer promoting your business partnerships, you'll be sure to benefit from this practice. After all, 90% of people on Instagram follow brands for a reason — they like hearing from and about them! 
Quick note: this guide is about tagging within posts and mentions tags in Stories. If you want more information about location tags or hashtags, check out our articles on Instagram Geotags and creating an Instagram hashtag strategy.
Benefits of tagging businesses on Instagram
So, what exactly are the benefits of tagging businesses on Instagram? It depends on your perspective. Let's look at the benefits from the influencer's side first:
Better brand relationships. If you have a paid partnership with a brand, it's a given that you'll tag them in your Instagram posts. However, even if you don't have a formal partnership with a brand, you can still tag them in your posts and build a relationship based on recognition with them (which could lead to future opportunities).

Transparency for your followers. By tagging businesses you're working with, your followers will know exactly which companies you're talking about. This allowing followers to avoid the hassle of searching (and potentially coming across the wrong business profile).

Greater credibility. Just as you want to ensure your followers know which brands you're working with, you'll want other businesses interested in partnering with you for their influencer marketing strategy to be able to see which brands you already work with or promote.
Business owners want users to tag them for several reasons. Some of the top ones include:
Boosts brand awareness. When customers tag your business in their posts or mention you in Instagram Stories, they are engaging in "electronic word-of-mouth" (eWOM). Studies show that eWOM, while difficult to control, is one of the most effective ways to increase brand awareness and purchase intentions.

Increases engagement. Interactions become two-way conversations when you encourage your audience to tag you in their content. Instagram loves content that creates conversations — and two-thirds of people surveyed by Instagram said tagging enables them to have these interactions.

Generates leads. When properly optimized, the content your audience creates can help generate more qualified leads. In fact, your business Instagram account can become an entire sales funnel. 
With these benefits in mind, let's look at how to tag businesses on Instagram to maximize those advantages.
Influencers: How to tag businesses on IG
Influencers can tag business accounts in two main ways. The first is the same way any user would tag people in their posts. The second way is using the Paid Partnership tagging feature. Let's go over the basic method:
Start from your profile page or the Instagram home page, then click the create button (the plus sign) on the top right corner to create a new post.

Once you're on the post creation screen, set up the post and write the caption. Before you publish, head to the Tag people settings.

In the Tag people settings, you'll be able to search for the brand you're looking to tag in your post. If you want the tag to appear in a specific place on the photo, just tap the image where you want to place it, and the search bar will automatically appear.

Once you find the brand account and have added them, hit Done. From there, you'll be able to make any last-minute settings changes, and then press Share to publish and share it with the world.
You might notice an additional tagging option, "Invite Collaborator," in the tag settings. This setting allows the brand to display the same post on its Instagram feed. The brand also appears as an author on the post if they accept the collaboration.
There's no evidence indicating the post won't be published if the brand doesn't accept the invitation, but for the sake of caution, it's best to make sure the brand (or its account manager) knows about it ahead of time.
The second method isn't technically tagging in the same way, but the brand still appears alongside the post or Story with the label "Paid Partnership with [brand name]." For a more in-depth look into Paid Partnerships, read "How to Do Paid Partnerships on Instagram."
Here are the basics. 
You'll need to have a creator account or business account with Branded Content enabled in your settings.

After that, create a new post as you would normally. But before you publish, head over to the Advanced Settings at the bottom of the page.

From there, head to the bottom and you'll see the Add paid partnership label option. Enable the toggle, and you'll notice Add brand partners appears.

Search for the brand you're working with and hit Add. Once you've added the partnership, finish setting up the post for publication.

If you aren't already an approved partner for the brand, publishing the post will send a request to them for approval. When they accept, the label will update to include the brand.

That's it! Using Paid Partnership labels will have the same result as using a tag: clicking on the label takes the user to the brand's Instagram profile. However, this specific method is a must if you publish branded content in exchange for value (monetary or otherwise).
Businesses: How to get customers to tag you
This section is going to be a little different. Businesses can use the above techniques to tag other brands or influencers they're working with, but here we're going to focus on getting your customers to tag you.
First, let's clarify the difference between tagging and mentioning.
Tagging accounts in posts: A link to their profile will show up within the feed post image.
Mentioning accounts: Linking an Instagram username with the @ symbol in the caption, comments, or in Stories.
Getting tags and mentions
Sometimes customers will tag your brand in their post in the hopes you'll acknowledge them. This is more common if your product category is visual and/or expressive.
Beyond these organic interactions, the most effective way to get customers to tag you in their posts is to offer them an incentive to do so. (The examples further down this post will demonstrate how this works in practice.) The idea is that your brand offers value in return for the effort of tagging you.
Here are some ways to provide that value:
Run a contest: Contests are a fun way for your audience to engage with your brand, and you can require that entrants tag you in a post or Story as part of their submission. The key to a successful contest is offering a skilled challenge. You can use in-house judges or put the entrants up to a public vote. All fun and games!

Host a giveaway: Instagram giveaways are similar to competitions, except there is no skill involved; winners are chosen through a random drawing. You can also require that people create a post or Story and tag/mention you in it to enter the giveaway.

Offer shoutouts: A simple social mechanic that's been around for quite some time is the Instagram shoutout: creating an Instagram photo or Story that puts a spotlight on someone else's account.

Ask your followers to tag your brand in posts to improve the chances of that post appearing in front of your audience.
You might be thinking to yourself, "What if I don't like what someone has tagged me in their post or the post is inappropriate?" Thankfully, Instagram makes it super easy to remove your tag from an existing post.
Head to the image or video you want to remove yourself from and tap on the post.

Tap on your username when you see it pop up

Tap Remove me from post
And that's it; you'll no longer be tagged in that post.
How to make the most of tags and mentions
It's all well and good having your audience tag and mention your brand, but how can you ensure those actions help support your business goals? With Instagram Automation by ManyChat, you can run automated chatbot conversations that trigger after someone mentions your brand in their Story. From there, you can add them to a nurturing flow to help them move down the sales funnel.
For example, say your business naturally gets a lot of Story mentions, or you're trying out one of the above ideas to encourage people to tag and mention you, but you struggle to reply to them all. ManyChat's Story Mention Reply trigger allows you to respond to all of them automatically.
Setting up a chatbot in ManyChat's Flow Builder is easy. All you'll need to do is choose the Story Mention trigger in Growth Tools and customize your reply, like so:
You can create a simple "Thanks for the mention!" response, or you can build a more complicated lead generation flow like the example in the above image.
Thanks to Instagram Automation, your audience will feel heard, and you also have a chance to build your customer relationship further. All without expending any extra manual effort on your part!
Good examples of Instagram tagging
Now that you have a better understanding of how tagging and mentioning work on Instagram, let's look at a few examples of Instagram accounts doing it right!
Val Lin
First up is lifestyle influencer Val Lin. Val's style is all about the minimalist aesthetic; the post pictured below is a perfect example:
While this post is technically not an ad, it features seven different brands Val is personally using — all of which are tagged in the post and mentioned in hashtags. Even though Val does have Paid Partnerships with other brands, creating posts like this one shows what kind of other brands he'd be willing to work with.
Frazer Brookes
Frazer Brookes is an influential presence in the Instagram marketing community, and his experience highlights the effectiveness of the ManyChat Story Mentions trigger. As his account grew, replying to every mention, comment, and DM became a struggle, so he leaned into Instagram Automation.
Using this method alone, Frazer managed to increase engagement metrics by 40% for Stories. Even better, the response often motivated followers to interact with other parts of his Instagram content.
Biffs
Our final example comes from the Vegan "fast food" brand, Biff's. Biff's naturally gets tagged in user posts frequently because food is one of Instagram's most popular content types. However, to increase brand awareness, the brand decided to run a masterclass giveaway.
Biff's explained the entry requirements in the caption:
HOW TO ENTER:
🍗 Follow @biffs_uk and @theglassblower_
🍗 Tag a mate who you'd like to be your wingman
🍗 Share this on your Story and tag us for an extra entry
Biff's boosted brand awareness by having entrants tag other users who might not have been aware of the brand and encouraging them to share the giveaway in their Stories. Incentivizing entrants with extra entries into the giveaway is also a great strategy to convince them to make the extra effort.
Grow your business on Instagram
As you can see, tagging businesses on Instagram is a super simple way to boost your engagement on the platform. Whether you're an influencer or a small business owner, you shouldn't overlook Instagram's tagging and mention features for your social media marketing strategy.
With the help of Instagram Automation by ManyChat, you can make your mentions work even harder for you. Its robust feature set enables you to effortlessly respond to every mention, create conversations, and generate leads for your business.
Build your brand online with ManyChat + Instagram. Start free today.
The contents of this blog were independently prepared and are for informational purposes only. The opinions expressed are those of the author and do not necessarily reflect the views of ManyChat or any other party. Individual results may vary.