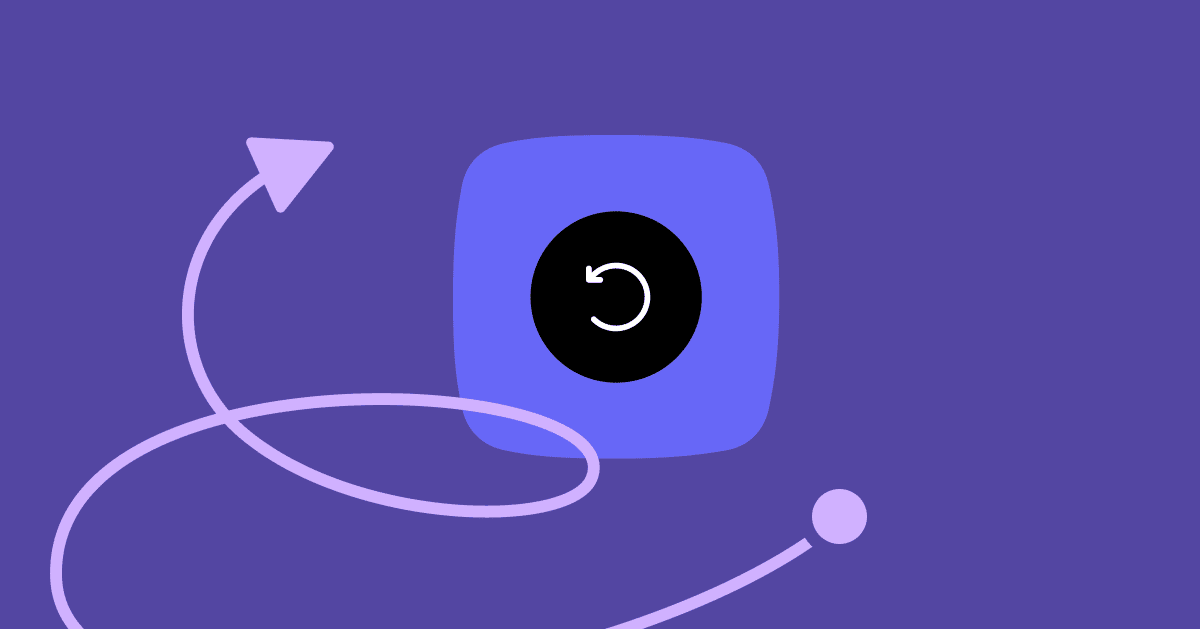 It's all well and good for a small business to work on growing its Instagram following. But where many business owners fail is in turning those followers into customers.
Think about it: what good is a massive following if your engagement is low and you're not converting them into potential customers? That's the fundamental goal of any social media marketing strategy.
Businesses aren't struggling with conversion because of lack of interest: 43.2% of worldwide internet users turn to social networks to research brands. But never fear—in this guide, we'll cover how to:
Turn Stories into conversations
You might think that Stories are just passive content people watch and don't otherwise interact with, but they have so much more potential. For example, you can turn your Story posts into private chatbot conversations.
To do this, you'll want to create a Story that will generate enough hype or curiosity that your followers send you a DM. Then, once they've messaged you, your chatbot can guide them through your current marketing campaign.
Let's take a look at a real-life example:
When Italian homeware eCommerce company OlimpiaHome teamed up with Simone Magazzù and Loop, they managed to generate 30% more leads and €50,000 in revenue within a week. How? By using ManyChat's Keyword Automation.
They created an intriguing Story to draw in their followers that included a request to DM the brand with the rose emoji (🌹) to learn more about upcoming product launches. In this case, they used the emoji as the "Keyword trigger" that initiated a specific chatbot flow.
When the follower contacted the brand in Messenger, they entered a scripted conversation flow that told them about the launches, encouraged them to add the products to a wishlist in their store, and requested their contact details to receive info on upcoming new product launches.
Connect through Story mentions
Encouraging users to send you a DM isn't the only way you can connect with them through Stories. Our Story Mentions feature leverages user-generated content (UGC) as a trigger:: when a user tags your account in their Story, you get a DM notification about it.
Individuals can usually respond to mentions as they happen, but businesses can receive hundreds (maybe thousands!) of tags in Stories every day. Responding to all of them can be a full-time job in itself—how can they cope?
Of course, you can always choose not to do anything or respond to a limited number of people. Neither is ideal. However, with Instagram Automation, you also automate responses to Story mentions so you can reply to everyone, ensuring your followers will feel acknowledged when they mention your brand in their content.
Take Frazer Brookes, for example.
Frazer is a network and Instagram marketing influencer who embraced automation when his account following grew too large to handle meaningful conversations on his own. He subsequently enjoyed a 40% lift in engagement and hundreds more leads and sales.
To achieve these results, Frazer and his team set up two triggers (Story Mentions and Keyword Automation) in the ManyChat Flow Builder. The Keyword trigger flow guided potential customers towards learning more about Frazer's "Success Summit." In contrast, the Story Mentions trigger allowed them to create a set of automatic responses to users who tagged his Instagram account in their Stories. (Note that the responses were randomized, so everyone did not receive the same blanket response.)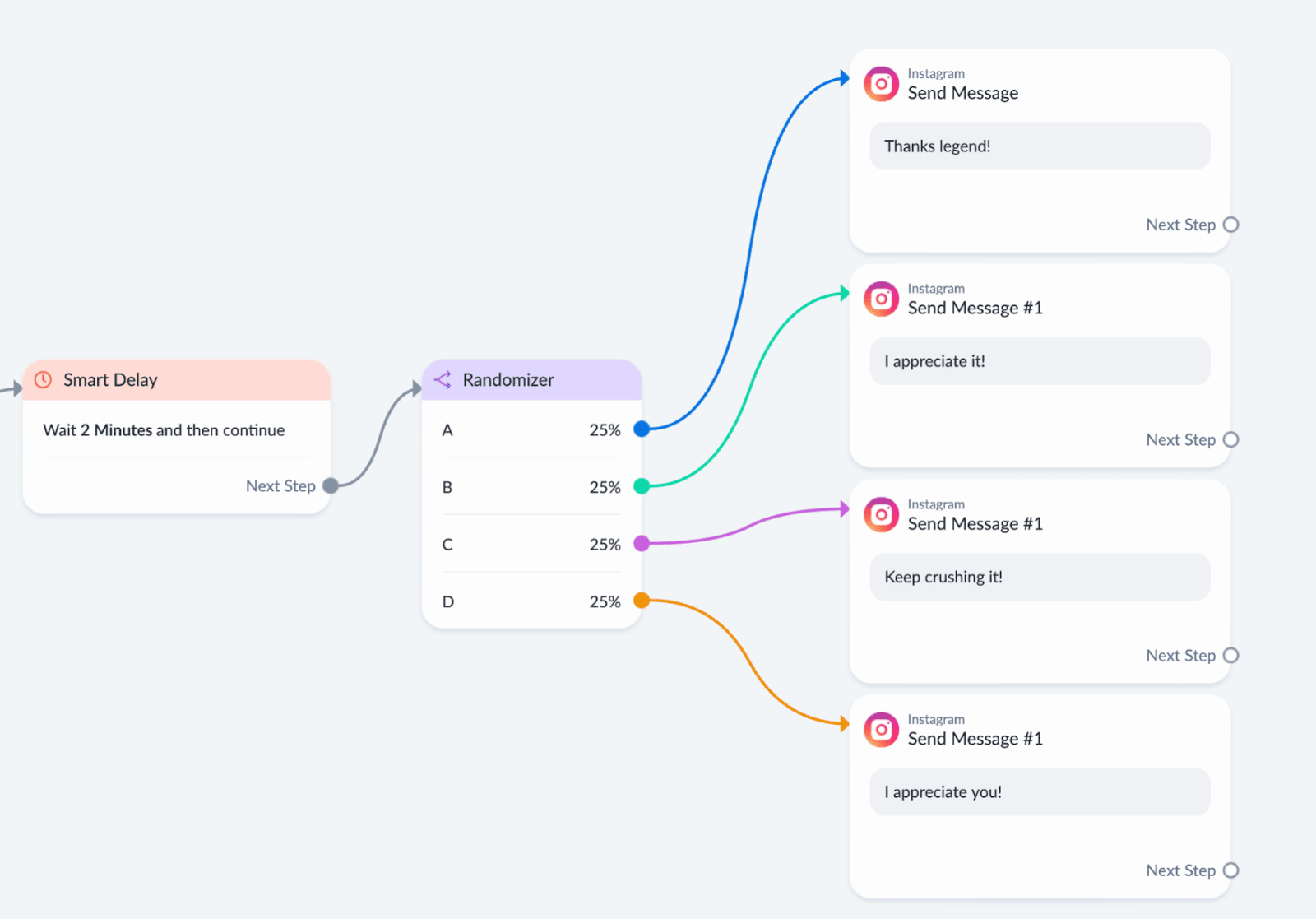 Making these connections is important if you want to build trust while optimizing engagement and brand awareness. So if you find you're struggling to keep up with Story mentions (or you want to keep things consistent), try automating your responses as Frazer did.
Promote lead magnets
When you use Instagram—or any other social media platform for that matter—to generate leads for your business, one thing is clear: Offering your target audience incentives is the best way to encourage them to take action. Think about it; have you ever gone out of your way to give a brand your personal information without receiving anything in return?
These "incentives" are the perfect lead magnets for your brand. While many businesses promote discount codes as a form of lead magnet, a popular alternative is to give away "freebies" that would likely interest your target market.
Ed-tech brand Mindvalley is a great example of an organization that has successfully utilized this method.
Mindvalley uses Instagram to promote its free Masterclasses lead magnets—for which the number of registrations serves as the primary success metric. Mindvalley wanted to increase lead acquisition for its Masterclasses and had previously relied on the Stories swipe-up feature to boost enrollments.
The brand teamed up with Natasha Takahashi of School of Bots to create a Messenger chatbot flow that used ManyChat's Keyword Automation feature.
They achieved stellar results from their two-month-long campaign:
522% increase in Masterclass sign-ups
99% decrease in response time on Instagram
7,296+ ManyChat contact list growth
As you can see, promoting lead magnets is an effective marketing tool. But when combined with the power of chatbot automation, it can take your marketing efforts to new heights.
Influencer marketing
If you're not afraid to try a more hands-on approach, Influencer marketing is also a powerful strategy for turning social media followers into buyers. Instagram, in particular, is the most popular platform; an estimated 67% of brands use it to work with influencers.
Given that 80% of marketers say influencer marketing is effective, there must be some serious benefits, right? Here are a few of the obvious ones:
More focused reach: If you work with an influencer in your industry, you'll be targeting a very specific demographic: the influencer's followers (who should overlap with your brand's target audience). Don't underestimate the power of recommendations from someone your audience already trusts.

Results are easy to track: When you partner with an influencer, you can see how the campaign performs by looking at engagement rates, click-through rates, and sales conversions (where the traffic came from Instagram).

Helps build social proof: Influencers help you achieve a more targeted reach while generating social proof at the same time— they are people, after all. And people like to know that others(especially those they trust) use and trust your brand.
You have two main options to choose from when it comes to identifying the right influencers to work with. You can find them yourself on Instagram by searching for hashtags in your niche, then looking at top Instagram posts and approaching the authors. Alternatively, you can use influencer marketing platforms like Upfluence or HypeAuditor.
Vivolife is an example of a brand using Influencer marketing to great effect.
It uses a network of dedicated influencers in its niche—plant-based health and fitness. Vivolife gives each one a unique coupon code to share with their followers, making it easy to track each influencer's effectiveness.
If you're interested in how you can combine the power of influencer marketing with automation, check out this post:
Read: How to Use Instagram Automation for Your Influencer Marketing Campaigns
Tutorials through Instagram Stories and Reels
Creating tutorials is another awesome strategy that works well for both general content marketing and social media. The best part about tutorials is that nearly every product or service can benefit from offering one.
Sharing tutorials—particularly on Stories and Reels—is a great way to diversify your Instagram content (instead of just creating in-feed posts). According to Instagram's data, 58% of people surveyed said they became more interested in a brand/product after seeing it in Stories.
At the time of this writing, you can access Reels via the all-important middle icon in the mobile app, so they're super easy for Instagram users to discover.
One brand that does an amazing job of creating tutorial-based content is Beardbrand:
Its tutorial content stands because the brand focuses on solving customer problems, not on selling/demoing its products. Sure, it uses Beardbrand products in the tutorials (most of the time), but the emphasis is clearly on the how-to aspect. As a result, Beardbrand receives a ton of meaningful engagement.
One way to take it up a notch is to use a combination of Keyword Automation in your tutorials and a giveaway to generate leads. You could set your Keyword trigger to anything, but we recommend using something relevant like a product name or "giveaway."
Next, create a chatbot flow designed to acknowledge (and sort) giveaway entries, as well as encourage extra entries. (You can incentivize people to spread the word about the contest with their network by offering extra entries if they share). While this is one example of how you can employ Automation, the opportunities are virtually limitless.
Retargeting ads to followers
No matter how hard we try, sometimes we don't quite hit the mark the first time with potential new customers. Maybe they browse your website—they might even put a product in the cart—but ultimately drop out of the buyer journey. That is, unless you do something about it (in this case, deploying retargeting ads).
To maximize this strategy's efficiency, you'll want to have the Facebook Pixel installed on your website. This will help you create Custom Audiences based on or composed of people who have already visited your site (hence, retargeting).
Once you have an audience established, you'll need to choose an ad format. Instagram Story ads are particularly effective because they are full-screen (meaning fewer opportunities for distractions), and they blend in well with content users are already engaging with.
The Story ad content itself can be as creative as you like, but remember your audience. They've already interacted with your brand; this time, you'll want to get them past the finish line.
Pro tip: use a Messenger Ref URL as your ad link to connect users directly with a live agent who can help close the sale.
Even if you don't have the bandwidth for full live support, you can use Keyword Automation to achieve the same effect, choosing only to connect live with those who have more complicated questions or requirements.
Respond to comments
Our final tip is a simple one: Respond to comments and replies on your content. The key to building an audience of loyal customers is to pay attention and engage with them. After all, that's what social media is all about—being social.
To that end, if you have a relatively low follower count, it's a lot easier to engage with them (it doesn't take up hours of your day). The trouble many budding entrepreneurs and influencers run into is not being able to keep up with comments at scale when their business grows.
What happens then? You'll often find that brands eventually stop engaging altogether or respond to a very select few comments, but then they miss out on building better relationships.
What you can do instead is use ManyChat's Comment Growth Tool to post instant replies to comments on your posts and/or like comments automatically. It's the perfect solution for effortlessly acquiring more comments and increasing engagement.
To ensure you don't spam every commenter, you can set your replies to only trigger when users include a particular Keyword. As a result, this tool works especially well on posts for specific marketing campaigns and giveaways.
Grow your business on Instagram
Building your follower base is nearly always a good starting point when it comes to running a business account on Instagram. However, being able to turn those followers into customers is a great strategy for your business's bottom line.
While the tips above can help you convert followers into customers, using Instagram Automation by ManyChat can supercharge your efforts and take on the burden of a lot of the manual work. From generating conversations in your comment section to automating DM's from Stories, Instagram Automation makes growing your business on Instagram easier than ever.
Turn your Instagram followers into buyers with Instagram Automation by ManyChat
The contents of this blog were independently prepared and are for informational purposes only. The opinions expressed are those of the author and do not necessarily reflect the views of ManyChat or any other party. Individual results may vary.