Instagram Creator vs Business Account: Which is Best for You?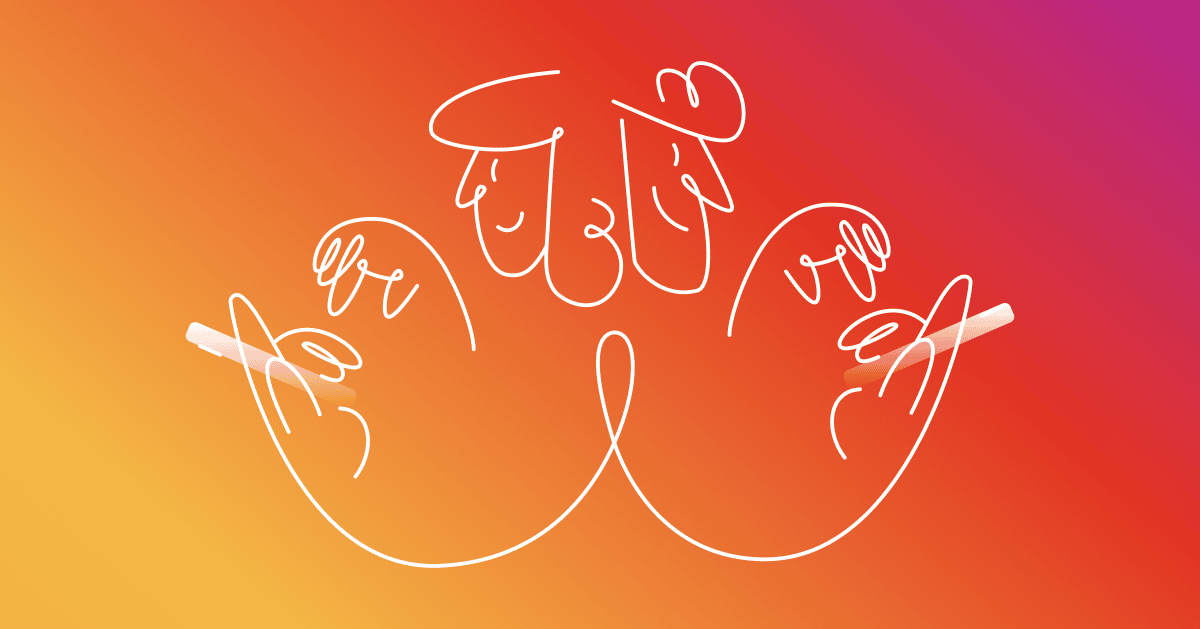 To start an Instagram Creator Account? Or switch to a business account? That is the question.
It may come as a surprise. But not all influencers and content creators on Instagram need a business profile. An Instagram Creator account offers features that make it easier for you to manage your online presence, promotions, and messages—without all the extra features of a business account.  
All it takes is a personal profile to get started.
If you're unsure which account to create, this guide will help you decide. We'll walk through how to decide on the best account for your brand, and how to start today.
Who is the Instagram Creator Account for?
Before you pick an Instagram business account or Creator Account, let's go over more about an Instagram Creator Account. Instagram introduced the Creator Accounts in 2019 for creators who don't yet have a business. It's used to bridge the gap between personal profiles and business accounts, and help creators with large Instagram followers.
People who use Creator Accounts are:
Public figures
Content products
Artists
Influencers
Bloggers
The best part? Anyone can switch to an Instagram Creator Account and start an Instagram Creator profile.
In the past, people were required to have at least 10,000 followers to switch to a business account. But Instagram removes this limit for creators. And good timing! According to the latest Instagram statistics and Instagram insights, influencer marketing is one the right, with creators and celebrities becoming the most popular accounts on Instagram in the U.S.
Instagram Creator Account features
Converting your personal profile into a Creator Account will give you access to specialized features that should make it easier for you to manage and grow your Instagram account.
Prior to the launch of the creator profile option, influencers and content creators had to switch to business accounts to view account insights, use CTA buttons, and manage their DM inbox.
Now, Instagram caters to the specific needs and experiences of creators, offering them a unique set of features to help them manage and grow their accounts. Here are some of the features on offer if you make the switch to a Creator Account.
Organized messaging
You'll likely receive more DM's as you grow your following ranging from a stranger to an Instagram influencer. Depending on your industry, these messages could range from "where did you buy those shoes?" to "are you interested in a brand collaboration?"
If you have hundreds of thousands of followers, it can be challenging to manage and reply to all of these messages. Switching to a Creator Account means you'll have access to DM filtering options including Primary, General, and Requests tabs.
Using the Primary Inbox, you can prioritize messages from friends and brands as well as organize them according to time or relevance so that you don't miss any important messages. You can also manually mark messages as unread or flagged so that you don't forget to reply to any important DMs.
Creators can also hide their contact information, removing their phone number and email from their profile. This is particularly helpful if you develop a large following and don't want hundreds of people contacting you.
Publishing tools
Access to the Instagram Creator Studio makes it easier for creators to manage their content across both Instagram and Facebook. Using these tools, you can publish your Instagram feed posts and IGTV directly from your desktop, making it easier to upload high-quality images and videos with the correct dimensions.
Profile categories
Both Instagram business and creator profiles let you add a category label in your bio. Creator account holders could include titles like blogger, writer, photographer, or chef.
An Instagram business profile on the other hand could include titles like restaurant, beauty salon, or consulting agency. Both account types allow you to hide this information if you prefer.
Insights
As an Instagram influencer or creator, one of your top priorities will likely be evaluating follower growth and trends across your profile. Instagram Creator Accounts are built with this in mind, so you can more easily track key data and analytics across your account.
Facebook's Creator Studio dashboard includes an "Insights" tab to help you analyze your audience and how Instagram users interact with your content.
Similar to a business account, within the insights tab, you can look at Activity Insights to see if people take action after viewing your posts. You can also track the reach and total number of impressions of your content over the past 7 days as well as analyze the hashtags you're using.
Use Audience Insights to gather more information on your followers' demographics. Within this tab, find out your audience's age range, gender, and location.
In the past creators had to rely on 3rd-party apps for insights into their follower growth, but now creators can easily see changes to their followings within the creator studio. Creators get access to daily follow and unfollow data making it easier to understand what content resonates with users.
CTA buttons
CTA buttons encourage users to take action and convert to customers. These call-to-action buttons are located in your profile under your bio and above your Story Highlights. Creator accounts can choose from "book now" or "reserve" CTA buttons.
But business accounts do have more choice of CTA buttons. They could include CTAs like order food, book now, or shop now. Both account types have the option of displaying or hiding these CTAs.
Shopping posts
Did you know that 55% of fashion shoppers have purchased an item after seeing a creator promote it? 87% of people say that influencers have inspired them to make a purchase too. Influencer marketing is booming and Shopping posts offer a huge opportunity when it comes to monetizing their Instagram content.
Just like business accounts with Instagram Shopping, creators can tag products in posts and Stories.
When a user taps on a Shopping post, they'll be directed to a product description page where they can checkout and complete their order. This is much easier and more user-friendly than tagging brands, including details in the caption, adding a link in the bio, and inevitably answering piles of DMs.
US creators with a Shop also have access to Instagram Checkout, a feature that enables them to sell products securely without leaving the platform. Instagram Checkout is still in a testing phase but is being rolled out globally. Remember that creators can only feature products from brands that have approved their collaboration.
Creator versus business account: which is best for you?
As you can see, business and creator Instagram accounts share many similar features.
Before you take steps to convert your personal account into either a creator or business account, take a closer look at how Creator Accounts differ from business profiles.
Here's a quick breakdown of what creator and business accounts include.
Instagram Creator profiles include:
Filters and 2 tabs for your Direct Message inbox
Shoppable posts with product tags from brands
Profile categories like blogger, writer, chef, or entrepreneur
Creator analytics like engagement metrics and follow/unfollow stats
Ability to hide contact details
Business accounts include:
Swipe-up links in Instagram Stories
More available CTA buttons
Profile categories like retail, advertising agency, or bakery
Instagram business analytics tools
Ability to use 3rd-party scheduling tools (the Instagram API doesn't currently support scheduling for creators)
You can also link your business account to ManyChat and take advantage of Instagram Automation features like:
Automated responses and conversations in Instagram Messenger
Automated replies and reactions to post comments
Live chat capabilities
Conversation starters to help followers get information fast and easy on your Instagram business account
Ability to collect phone numbers and emails to run omnichannel marketing campaigns for your Instagram business account
How to make an Instagram Creator Account
Ready to make the switch to an Instagram Creator Account? Follow these simple steps and easily convert your profile in-app.
Tap the three horizontal lines in the top right corner of your profile.
Select Settings.
Tap on Account.
Select Switch to Professional account.
Click Continue.
Choose the category that best describes what you do.
Next, choose whether you want to display your category on your profile and tap Done.
Now you'll all set to start posting on your new Creator Account and use your Instagram Creator profile!
Is an Instagram Creator Account right for you?
Marketers can find benefits to using either Instagram business or creator profile types on social media and an Instagram account. Choosing the right account for you will ultimately depend on what you aim to achieve with your Instagram marketing strategy and gain positive Instagram insights.
The difference between an Instagram business account and Creator Account is big. If you're a creator or an influencer who's aiming to monetize more content and increase their partnerships with other brands and influencers, a creator profile could help you achieve these goals.
But if you're a business that plans on selling more products and wants to schedule your posts via a 3rd-party app, a business account makes more sense when deciding between an Instagram business account or Creator Account for social media.
Grow your Instagram following and make sales with Instagram Automation by ManyChat. See if your business is eligible by applying below.
The contents of this blog were independently prepared and are for informational purposes only. The opinions expressed are those of the author and do not necessarily reflect the views of ManyChat or any other party. Individual results may vary.