Key Instagram Automation Features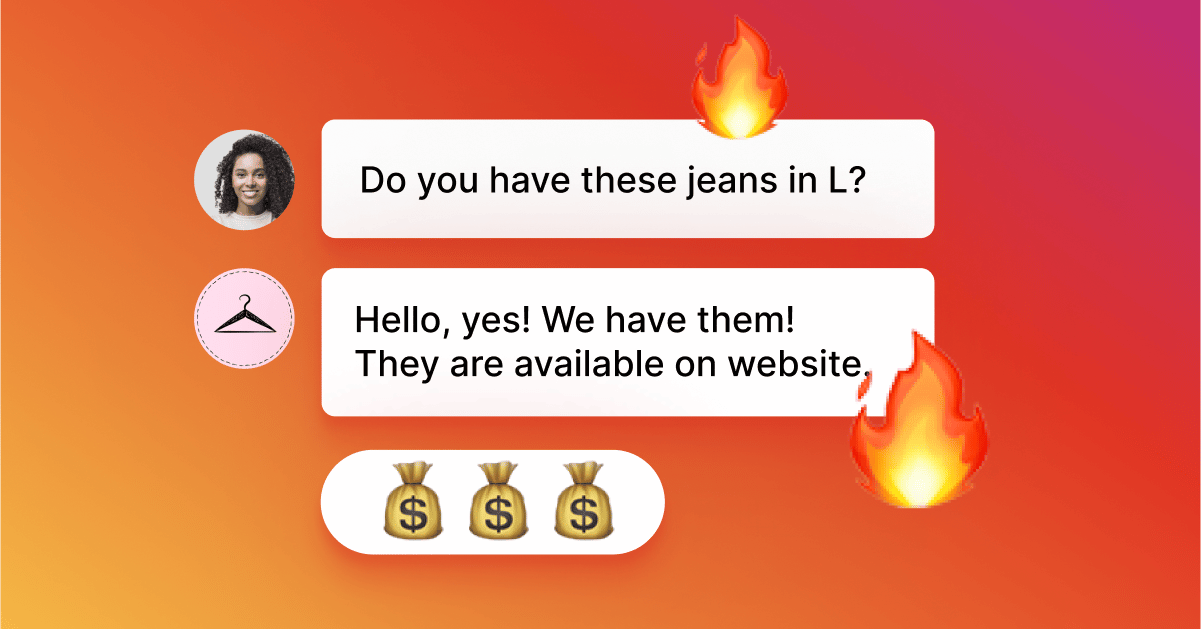 With a current base of 1 billion monthly active users (projected to grow to 1.18B by 2023), Instagram (IG) offers a massive opportunity for brands looking to acquire new customers.
Savvy businesses have already capitalized on this platform's ability to reach target customers, but thanks to IG's large user base, Instagram Messaging has also exploded in popularity and usage in the past five years. According to Facebook, Instagram users message businesses over 400 million times a DAY!
This is why we at ManyChat are so excited to be working on Instagram Automation! It will enable entrepreneurs, marketers, and influencers everywhere to automate and supercharge their Instagram Messaging and marketing campaigns.
We are working hard to develop Instagram Automation features and solutions, and we're proud to announce what we have so far (as of May 2021).
What's Instagram Automation by ManyChat?
Instagram Automation by ManyChat is the ideal solution for eCommerce and influencer brands looking to automate their Instagram marketing and engagement. It focuses on messaging automation, but because ManyChat powers it, you can also use Instagram Automation to create business automation, like event registrations or email collection.
Brands can now ramp up their existing Instagram marketing initiatives by using Instagram Automations instead of manually driving product sales, answering FAQs, qualifying leads, and boosting engagement. Instagram Automation will save businesses hundreds of hours while maximizing marketing results.
Alrighty, that's Instagram Automation at a high level! Let's get into the details and talk about its key features.
Flow Builder
With Flow Builder, you can build personalized conversations FAST inside a flowchart-based interface. Create different conversation "branches" based on a user's response to your automation, like when they click a button or give you their email.
Brands can customize text, media, and destinations (such as a website) and instantly launch chat experiences, all without writing any code. Use Flow Builder sequences to trigger business automation, like collecting emails, updating ManyChat's CRM, or using Zapier, all of which can be created through the same interface.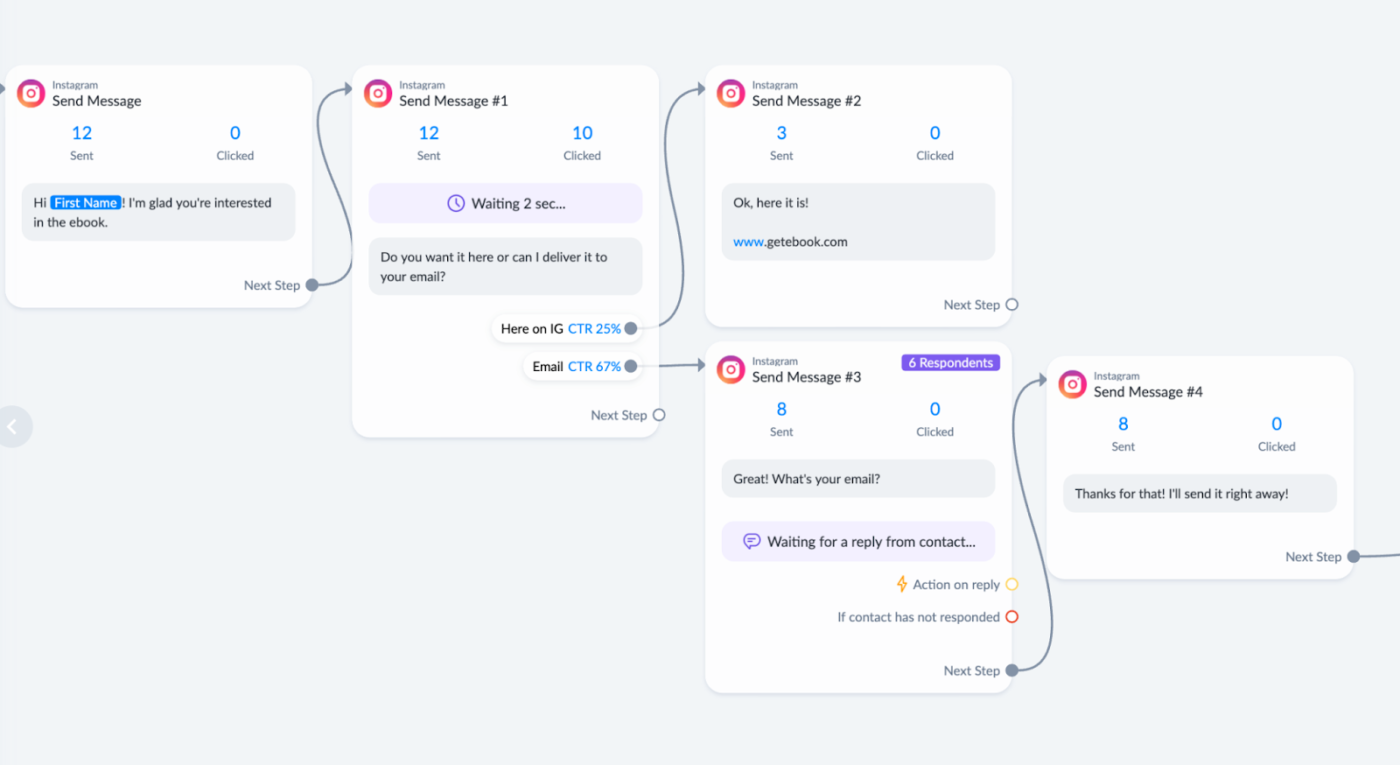 Keywords
Trigger messages, entire conversations, and business automations if an IG user messages you with a specific, pre-determined keyword or phrase. To set up the Keyword trigger function in ManyChat, you just have to tell ManyChat which words to look out for in your Instagram conversations, then set up the automated conversation in Flow Builder.
Keywords are helpful for starting conversations from IG Stories or providing users a way to navigate your automation (e.g., "type 'help!' if you want to speak to a team member right away").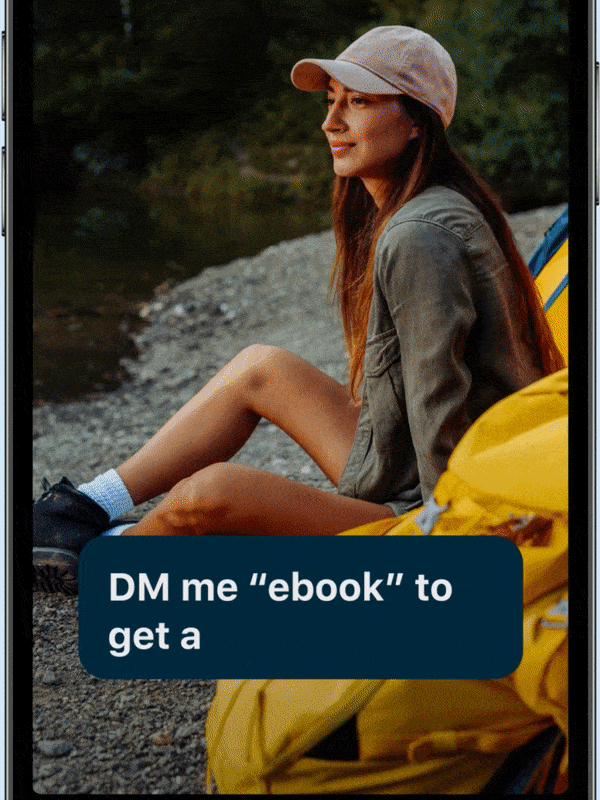 Story Mentions Trigger
Instantly reply to everyone who mentions your handle/account name in a Story (example @name). Note: Just the name without the '@' will not trigger the reply.
As always, you can use Flow Builder to set up the automated message or conversation that will be sent to users.
With a Story Mentions message, you can send a short thank you note, start an entire automated conversation, or even trigger a business automation. Story Mentions Triggers support customer engagement at scale and help businesses kick off conversations from a simple mention.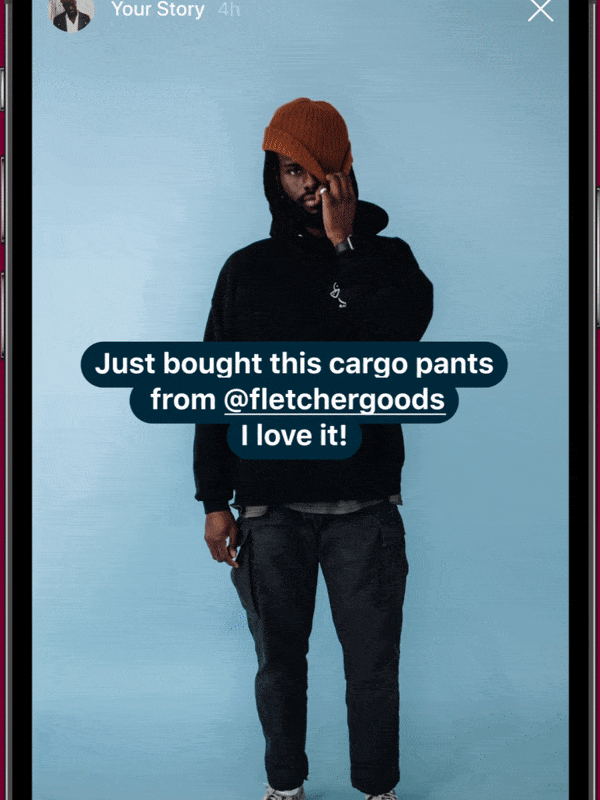 Conversation Starters
Help customers who have never messaged your account before to initiate a conversation on a specific topic by adding a Conversation Starter. These handy pre-filled buttons are presented to new customers when they message your account; when tapped, they'll kick-start a discussion about that topic.
Conversation Starters are great for providing answers for frequently asked questions, like the ever-popular "Do you offer free shipping?" Since they only appear to Instagram users who have never messaged your account, they're particularly helpful for quickly giving new customers a way to acquire answers or resolve an issue.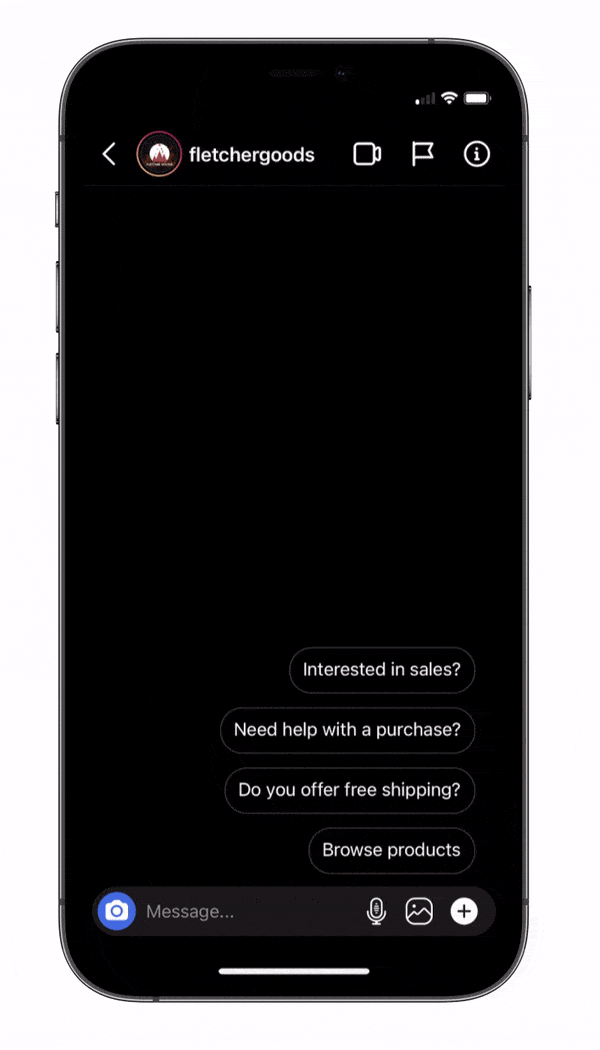 Capture User Information
Brands can capture critical user information, like emails or phone numbers, and store them in ManyChat's CRM using Flow Builder. You can automatically capture this user-provided information as a natural part of the conversation and use it to personalize your responses. Brands love to use ManyChat to run giveaways and promotions in exchange for customer emails, which they can instantly send to email platforms like Klaviyo or MailChimp for future customer communication campaigns.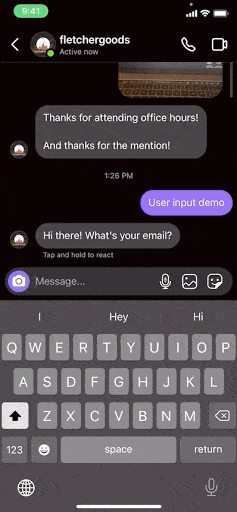 Live Chat
We love automation, but there's always a good reason to have a real-time conversation with customers. Set up your team members on Live Chat so they can engage in one-on-one discussions with Instagram users.
Live Chat is superior to Facebook's Inbox because team members can see all the collected information stored in ManyChat's CRM. This info allows you to personalize your customer approach. For example, you and your team can treat "new" customers differently from "returning" customers.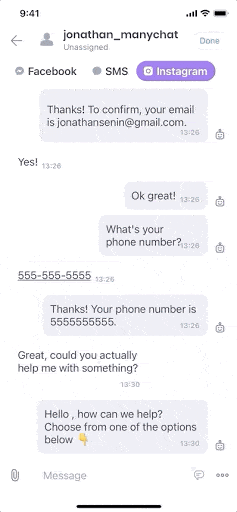 In this example, you can see that the "Live Agent" is able to pause any Automation. This "Live Agent" also takes advantage of Snippets, customizable shortcuts that make it easy for agents to save and send common messages to customers.
Automated Replies
With Instagram Automation, brands will never miss a customer message and can respond to each one using a function called the "Default Reply" in ManyChat. It automatically responds to each incoming customer message with a customized message you create.
Brands can control how often this Default Reply will send and typically treat the Default Reply as a menu of sorts that allows customers to use buttons or Keywords to navigate how they want to interact with the business.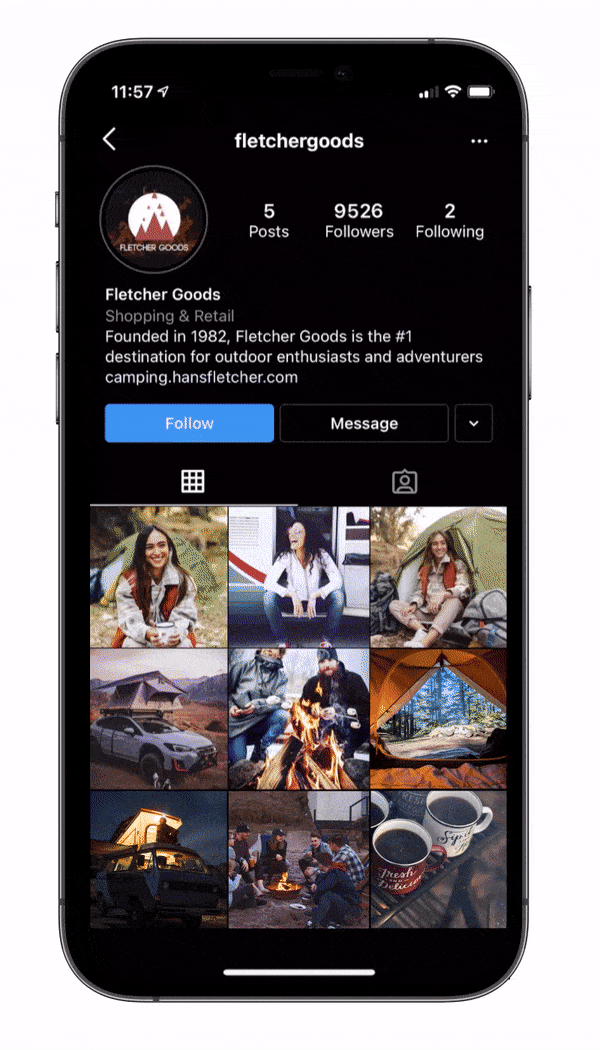 The Default Reply will trigger for all incoming messages, except those you've set up automation for using a Keyword or a Comments Automation. It's ideal for "catching" all incoming messages and ensuring your business never misses an opportunity to engage a customer.
Instagram Automation Takeaways
Instagram Automation by ManyChat allows eCommerce companies, influencers, and other businesses to reply quickly to users while still maintaining brand authenticity and personalization. It's an optimal solution for helping organizations to improve their Instagram marketing strategy by building strong connections with users.
Grow your Instagram following and make sales with Instagram Automation by ManyChat. See if your business is eligible by applying below.
The contents of this blog were independently prepared and are for informational purposes only. The opinions expressed are those of the author and do not necessarily reflect the views of ManyChat or any other party. Individual results may vary.