How Do Agencies Balance Multiple Instagram Accounts Simultaneously?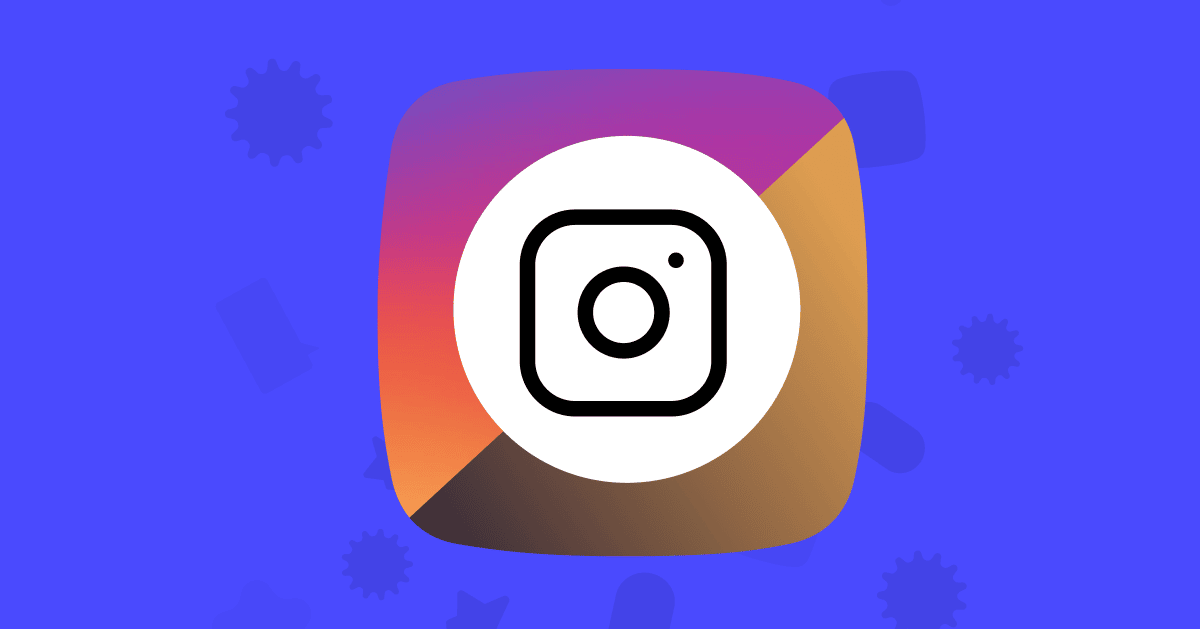 If you're an agency owner running multiple Instagram business accounts on behalf of your clients, then you're doing something right. Other business owners are trusting you to create, curate, and publish content about their brands — with the end goal of driving sales.
But with that responsibility can come some serious headaches. Just how can you juggle all those accounts effectively without dropping the ball on one (or more)?
This guide shares how to manage multiple Instagram accounts simultaneously, with bonus tips on making sure you're posting the right content to the right account at the right time.
The issue with managing several Instagram accounts
Millions of companies use Instagram for business to market their products and services, and it's easy to see why — 90% of Instagram users follow at least one business. It's an important social media platform for building brand awareness and moving potential customers through your sales funnel.
Often, those companies need expert help from social media specialists to create and post the right content that Instagram's algorithm will like and reward.
Having businesses trust you with their Instagram marketing strategy is great, but it does come with some hazards and dangers. Here are some of the typical pain points that agencies come across when managing multiple accounts at once.
Posting the wrong thing to the wrong account
Having a variety of accounts to look after can quickly become confusing and disorienting. At best, it'll take time to find the account you're looking for, but at worst, you run the risk of posting the wrong content to the wrong account.
Many social media managers will have felt that stomach-churning sensation when hitting publish: Did I make any typos? Did I link to the right page? Did I offend someone? These are all valid thoughts; though one of the most sickening realizations is when you've posted to the wrong account, and did not catch it quick enough before other people noticed.
Brian Maniotakis, who manages two Instagram accounts, recognizes this feeling.
"When you [schedule posts] in the Later app, it says to 'check if you're in the right Instagram account,' but of course the one time I didn't check was the one time I crossed the streams and posted content across the wrong accounts," he recalled. "I didn't notice for about an hour and was met with 50+ messages from confused people asking if my account got hacked."
At best, it seems random and out of context, but posting the wrong thing to the wrong account can be damaging for both brands involved, whether it's a small business or a multinational corporation. So, it's super important to keep a tight view of which type of content should be posted where.
Different best practices and optimal posting times
A search for "the best time to post on Instagram" turns up thousands of results, many of them suggesting different times.
The truth is, there's no one-size-fits-all to optimal posting times. For example, if your client is a food purveyor or restaurant, they might see higher engagement rates during evenings and weekends. Meanwhile, a B2B business selling office supplies is likely to be more relevant on weekdays during working hours.
To find out the best times for each of your clients, use Instagram Insights to see when their target audience is most active. Simply go to the client's profile and click on the Insights option, where you'll see the following screen:
This helpful graph shows demographic information and data on when your audience is most active. View the data by day or by hour to get hyper-focused on your timing. Repeat this process for each of your clients and create an Instagram content strategy that reaches each account's audience when they're active.
Losing track of messages
Did you know that 40% of consumers expect brands to respond within an hour of contacting them through a social network? In some instances, it might be easy to stay on top of messages on Instagram, especially if customer service queries are few and far between. But when you're managing several accounts, it can soon feel as though you're drowning in messages.
One of the main issues agencies struggle with is managing a flurry of messages within multiple client accounts, which can lead to lost and forgotten inquiries. This situation can leave customers annoyed and clients' reputations in tatters if it becomes a recurring issue.
Time-consuming reporting
To drive growth through your client's Instagram account, the focus should be on creating and curating great content, building relationships with followers, and converting them into customers.
But many social media managers find themselves stuck in a reporting rut each week. In fact, almost a third of social media managers spend up to 10 hours per week on reporting, with another 14% spending even more than this.
While reporting on your activity and sharing Instagram analytics data with your client is an essential part of your Instagram strategy, this reporting time means time lost for focusing on growth.
Reporting on analytics is even more challenging when you're pulling insights from several accounts at once. Nobody wants to see a 4,000% increase in sales from Instagram only to find out the results are for another client.
How to balance multiple Instagram accounts as an agency
As you see (and probably already experienced for yourself), managing multiple Instagram business profiles is difficult. Here are four smart ways to handle several accounts at once with the goal of making your life easier and reducing the time you spend putting out client fires.
Add them all to the Instagram app
Instagram is an app-first social media network, which means it's much easier to post and interact from a smartphone than from the web app. The Instagram app allows you to add up to five profiles (alongside your personal account), so you can easily manage all your clients' profiles from one single app.
To add a client account to the Instagram app:
Hit the hamburger menu at the top right of your profile page.
Tap Settings.
Scroll to the bottom of the menu and select "Add account" or "Switch account" (if you're already logged in to multiple accounts).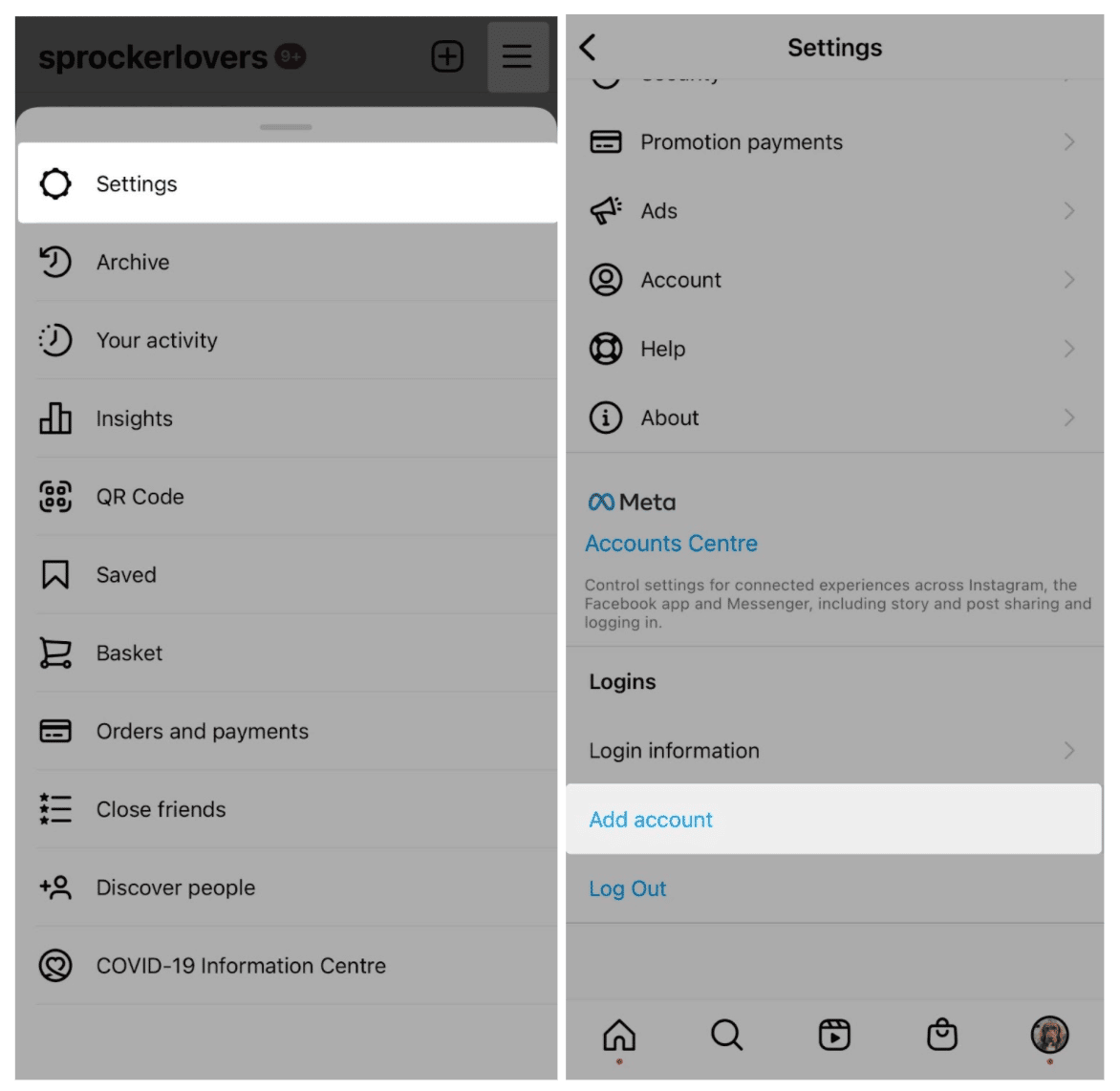 Having all your accounts on one app makes it easier to switch between them and keep up with comments, messages, and content.
There can be a downside to this, though. Not only is it easy to publish the wrong post to the wrong account, but it's also more difficult to "turn off" work, considering notifications from a client's Instagram account are connected to your personal mobile device.
Use a social media management tool
If you're a social media manager, there are few things that make your working life easier than relying on a social media management tool. Any agency balancing several Instagram accounts simultaneously can dramatically reduce admin time and minimize mistakes — hence why 81% of businesses use some kind of social publishing and analytics tool.
So, which social media management should you rely on? We recommend the following three tools, each of which allows your agency to post content to a client's account via desktop.
1. ManyChat
ManyChat has a suite of chat marketing tools designed to help agency owners manage leads coming through their client's accounts.
Rated 4.5 out of 5 stars on G2, ManyChat's Instagram Automation features help impress agency clients. With ManyChat, you'll be able to qualify leads, input email addresses into your client's email marketing system, and handle basic customer service queries, all of which relieve pressure for your client.
Taking those small, repetitive tasks off their plate — while also giving their Instagram followers the customer experience they need — is a brilliant value proposition for your social media marketing agency.
"After about two months, program sales had doubled and high-end services increased 74%. Overall increase in revenue: about $250,000."

Jason Swenk, agency growth consultant
For example, use the platform to build custom keyword triggers. Have your client's followers direct message (DM) their account with a keyword, such as "E-BOOK." The chatbot will respond with a question that prompts users to submit their email address during the DM conversation. ManyChat will feed that collected information through to your client's email marketing platform.
This process allows you to move a client's followers away from Instagram and engage them on a platform where noise is easier to cut through: their inbox. A short email marketing series could be the nudge that convinces them to convert.
Pricing: Free plan available for up to 1,000 contacts. Pro plans, ideal for social media agencies, start at $15/month.
Read more: How to Pitch Instagram Automation to Clients: Secrets from ManyChat Pros
2. Buffer
Buffer is one of the most well-known social media publishing tools and can be a great resource for agency owners looking to streamline Instagram account management. Manage a handful of client accounts through one dashboard to:
Require approval from another team member before posting Instagram content (like double-checking you're posting it to the right account).
Easily switch between analytics dashboards for each client account.
Respond to Instagram comments from a single dashboard.
Pricing: The Essentials plan starts at $5 per social channel, per month. However, to access agency features like approval workflows, exportable reports, and unlimited clients, you need the Team Pack add-on. This costs $10 per social channel, per month.
3. Hootsuite
For larger agencies running more than just a handful of Instagram accounts, Hootsuite is a solid option. Its all-in-one social media management tool allows agencies to:
Generate branded social media reports to prove the ROI of your Instagram strategy to a client — without spending hours manually pulling data from the Instagram app.
Manage their organic and Instagram ads strategy from one dashboard, including the ability to boost an Instagram post in just one click.
Control team member permissions. For example, junior staff only have reporting access, while posting directly to your client's Instagram account is a level of permission reserved for social media or account managers.
Pricing: Team plans start at $129/month. This allows you to connect up to 20 social media accounts accessible to three team members. A free 30-day trial is available, too.
3 bonus tips for managing multiple Instagram accounts
Social media management tools can certainly make your life easier, but when you're responsible for multiple Instagram feeds, there are some additional steps to make things even more stress-free.
1. Use Instagram automation
Instagram automation can be a real asset to your social media agency. Build your client's Instagram presence while simultaneously automating repetitive and time-consuming tasks.
If someone contacts your client's Instagram account inquiring about the availability of a product you've tagged in an Instagram Story, for example, configure a flow that pulls data from your client's eCommerce platform. Use a response like:
"Thanks for your message! This product is currently in stock, but it's selling fast and we can't guarantee it'll be available for much longer. Here's a link for you to buy directly: [LINK]"
Not only do you drive sales using this type of Instagram automation, but you respond to the potential customer immediately. (Remember, 90% of customers demand a response from brands within an hour of contacting them through social media.) This kind of automation is also a workaround to Instagram's one-link policy, and you have more flexibility to drive traffic to your client's website via DM.
Not convinced this works? Research shows that 15% of consumers have completed purchases using a chatbot. The majority of users had a positive experience — so much so, they would do it again.
2. Create brand guidelines for each client account
Differentiation is key to ensuring you keep your managed Instagram accounts separate from one another. This is where guideline documents really come into play.
"While campaign design and management can be greatly informed by another successful social ad account or group of accounts, you should not rely 100% on one framework and expect the same results. Every brand, industry, and audience is different and comes with a variety of opportunities and challenges."

Brad Hoos, chief growth officer at The Outloud Group
For each client and/or account you manage, create a document that outlines the brand's important information. Treat this as your team's first port of call when creating content for a client. This document acts as a one-page explainer for the client's:
Brand colors.
Tone of voice.
Logos, taglines, and slogans.
Customer profiles and target personas, including the Instagram hashtags they use.
Image style, particularly if they have an Instagram grid theme.
Save the guidelines in a shared location where colleagues can access it easily. That way, there's consistency across the Instagram content strategy for each client, no matter who's responsible for creating and publishing it.
3. Have a dedicated account manager
Another helpful way to maintain consistency across client Instagram accounts is to have a dedicated account manager who oversees each client (or a small number of clients). It's their job to control:
Approval processes. They should have the final say and sign off on content that's published to each client's Instagram profiles, minimizing chances for mistakes.
Reporting. Make them responsible for compiling metrics for each client, like the engagement rate of your content and the sales your Instagram strategy is credited with.
Building a rapport and relationship with the client. Over time, strong client relationships speed up the approval process, making it easier for your agency to be reactive to social media trends.
Streamline your agency's Instagram account management
Despite what some people might believe, social media marketing doesn't just involve scrolling through Instagram and posting a few pretty pictures — there's much more strategic thinking and planning behind it. And when you're managing accounts on behalf of multiple clients, social media marketing can be stressful and demanding.
The good news is by following the tips in this article, you can streamline your team's processes and make sure all your client accounts are given the care and attention needed to drive results.
Save time managing client accounts with Instagram Automation by ManyChat.
The contents of this blog were independently prepared and are for informational purposes only. The opinions expressed are those of the author and do not necessarily reflect the views of ManyChat or any other party. Individual results may vary.