What's Your Unique Selling Point on Instagram?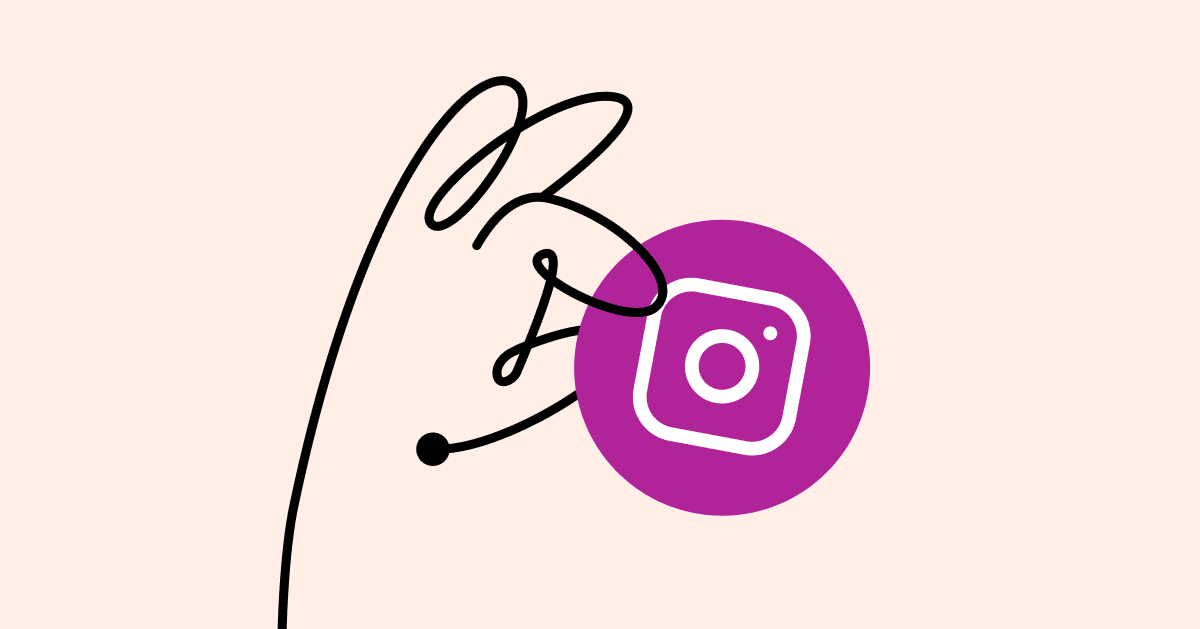 30 minutes. That's how much time Instagram's 1 billion-strong user base consults the Instagram app to share content with friends, discover new products, and stay in touch with their favorite brands every day. But to stand out amongst the sea of Instagram content published daily, you need something to set your brand apart. Cue the unique selling point.
A unique selling point (USP) does exactly what it says. It tells Instagram followers why they should hit the "follow" button on your profile. You're promising something new and unique — be that the content you share, the advice you give, or the products you sell.
Unsure of what your USP should be? In this guide, we'll share four tactics to find your USP, and some smart ways to use Instagram Automation to make sure it's obvious to everyone visiting your profile what exactly you're selling.
What makes an Instagram account unique?
Before we get into the details, it helps to understand what "unique" actually means. Let's take a look at three simple factors that could help your business's Instagram content stand out from the crowd.
Unique images. A themed Instagram account is eye-catching, but not many brands can stick to stringent aesthetic guidelines. Whether you're posting illustrations, landscapes, or product photos, high-quality photos stand out against other organic Instagram posts.
Unique captions. This could be anything from funny jokes, inspirational quotes, or interesting stories. (Hint: Instagram captions that use the word "comment" tend to generate more comments and likes than those without.)
Unique knowledge. If you're an expert in your industry, use your Instagram account as a vehicle to share your knowledge. Entrepreneur Gary Vee is the most prolific example. On his Instagram account, he posts videos of his thoughts on marketing news and trends.
How to find your Instagram USP
Unsure what your USP is? It could be unique images, captions, knowledge, or something completely different. Here's how to uncover the USP you should run with on your business's Instagram profile.
1. Run a competitive analysis
The first stage in finding your Instagram USP is to know who you're competing against. As Gregory Yong, chief experience officer at Convincely, said: "To ensure that customers know what separates you from the rest of the market, start by conducting competitive analysis. Instagram is saturated with big brands, which gives you the opportunity to look into their branding methodology and content marketing approach.
"Draw comparisons between their Instagram account and your own. What do they do well and what might they be missing? If you're able to identify what makes you different from the competition, you can start standing out because of it."
To start, find the Instagram profiles of businesses who sell similar products as you. For each one, figure out:
What people like/dislike about their Instagram content. Which posts get the most likes, shares, or comments? What do followers say in those comments?
Which influencers are they working with? This can tell you a lot about the target audience they're going after on Instagram.
What does their follower growth look like? Tools like HypeAuditor exist to make this competitive research easier. Look for any sudden spikes. Can you spot any changes to their Instagram content around that time to uncover what made more people follow them?
"Determine which features of your product or service your competitors are unable to replicate and mark everything that can't be easily duplicated, reproduced, or copied with a star. You can do this on Instagram by creating a competitor list and going through their post history to see what kind of content they publish and why yours is different. Do you have a unique approach to creating videos and stories that come down to an individual employee, or perhaps a unique editing style that is hard to copy?"

Caroline Hoy, chief marketer at Concord
2. Ask your entire team what makes you unique
Another great way to find your Instagram USP is to ask your team. Each coworker might have experience working elsewhere (maybe even for a competitor). They can lift the lid on the strategies you're competing against in a bid for your Instagram audience's attention.
"Creating a company's unique selling proposition is a collaborative effort, not a solo job. It should comprise representatives from all departments, including customer service, marketing, IT, product development, sales, finance, and human resources. Bring them together and start brainstorming," recommended Brian Dean, co-founder of Exploding Topics.
"Begin by asking your employees what they believe sets your company apart from its competition. You might get only vague responses at first, such as our product is better, we give better customer service, we have more experience, and so on. But that's all right," Dean continued.
"Don't pass judgment on others. Keep in mind that this is a brainstorming session, and all you're doing is collecting ideas. Keep track of everything since we'll come back to it later."
3. Analyze previous Instagram interactions
What better way to see the success of your current Instagram strategy than to look in your Instagram Insights? Keep a running tab of the engagement each Story, Reel, or grid post gets, and you'll notice patterns will begin to emerge.
Let's put that into practice and say your Instagram Insights shows data on the three individual grid posts. The visual itself is largely the same. However, each feed post has a different caption. Those mentioning the fact your skin care line is the only one proven to reduce blemishes get the most engagement.
(Note to only compare like-for-like when doing this type of analysis for your existing content. You don't want your insights to be skewed if your Instagram followers prefer one content format over another.)
"Brands can find their USP better by utilizing Instagram's Polls feature on Story to learn about their customers' wants and needs. A simple way to do this is by creating 10+ slides in a row on Instagram Stories that all have a unique question. Some can be just general, but work in some that help you learn who your customer is."

Sal Rosenblatt, president of Shout Me Out Marketing
Gergo Vari, CEO of Lensa, also recommends to "determine how your product or service addresses a certain emotional need. The way I typically do this on Instagram is to test out different captions on my posts that specifically mention an emotion and see how much interaction I get.
"You can also go into your comments and do a keyword analysis to see what kind of emotionally charged language people are using to describe your product and their experience with it," Vari added.
4. Ask your customers
Your existing customers are a goldmine of data. If you're struggling to find the USP you should use for your business's Instagram account, ask people who enjoy the content you're sharing — so much so, they purchased off the back of your Instagram content strategy.
This could be as simple as product knowledge, as John Frigo, the eCommerce manager at Best Price Nutrition, explained: "Think about when you go to Home Depot and you can't find someone to help you, and even if you do find someone to help you, they likely know little to nothing about any questions you have about a DIY project."
"Now compare that to going to a small, locally-owned hardware store where you get great customer service and where the staff is knowledgeable. I'd say that's where we stand out against a shop like GNC or Vitamin Shoppe."
Frigo continued with: "People call us as well as reach out to us on Instagram and other social media platforms to ask for advice about supplementation, how to run prohormone cycles, etc. People vocally tell us this is why they like us and why they shop with us, and I think that's in large part to not only why we're successful, but why our customers continue coming back."
How to showcase your USP with Instagram Automation
What do you do once you've found your USP on Instagram? Here are three smart ways to show your target audience that your business's account is worth following and engaging with using Instagram Automation by ManyChat.
Create a Keyword Trigger
Your product's USP is one of the biggest incentives for someone to purchase something you're selling on Instagram. So, make sure people have the opportunity to learn more about what makes your products or services unique by creating a Keyword Trigger.
Keyword Triggers are the starting point for conversation Flows. Create one like "USP" that sends an automated response via Instagram direct message (DM) to anyone who uses it. In your Instagram bio, Stories, and captions, tell people to DM the trigger to learn more about what makes your products so special. You can even provide an incentive — like a coupon code — for anyone thinking about buying.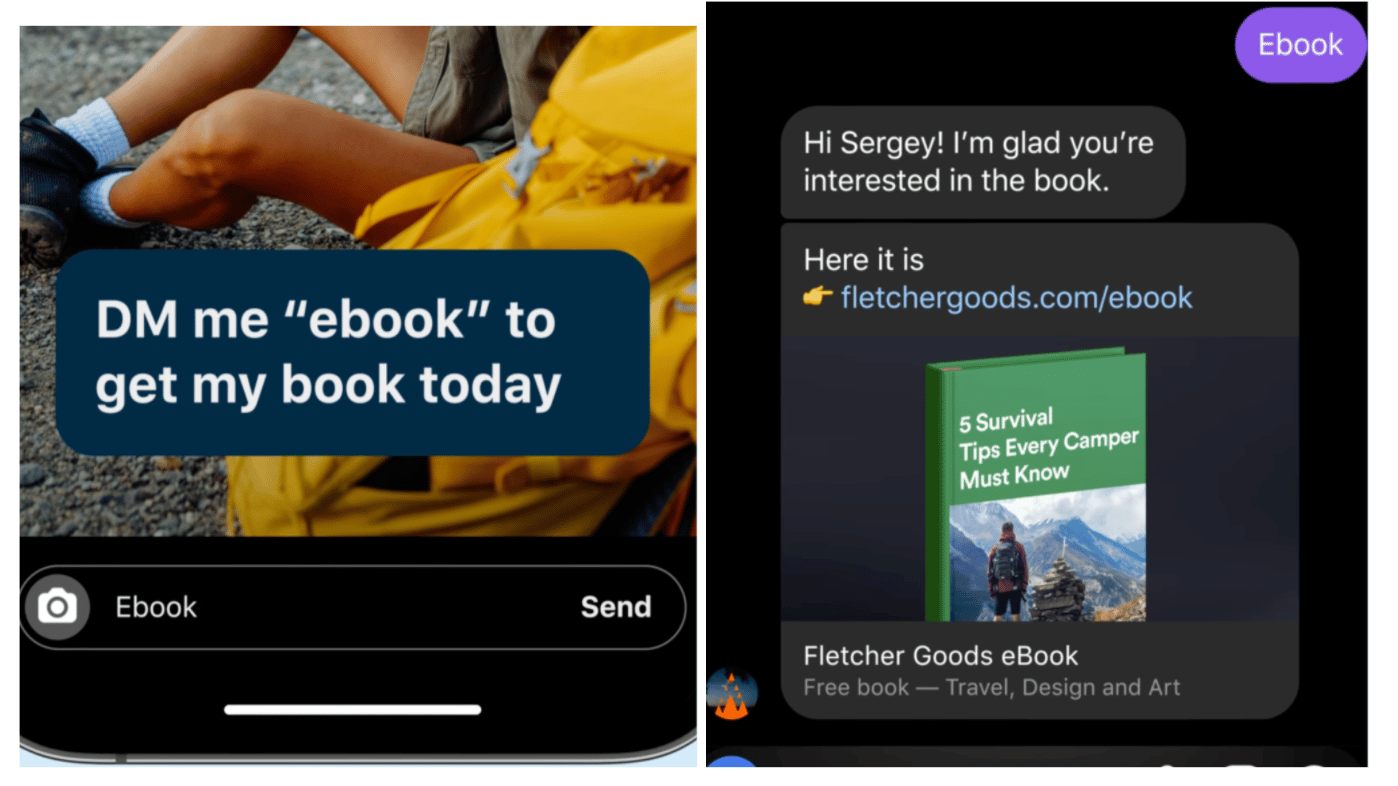 Deliver lead magnets
If your USP is your team's knowledge on a particular topic, package your advice into a lead magnet. That way, you can capture lead information about your Instagram users — including their email addresses for future retargeting.
To do this in ManyChat, create a new Flow using a lead magnet-related Keyword Trigger. If you're offering an e-book on camping tips, for example, get users to send a DM with the word "e-book."
Then, ask for the person's email address in return for the lead magnet. ManyChat will instantly pass their response through to your email marketing platform (like Klaviyo or MailChimp) so you can retarget them outside of Instagram in the future.
Use the Story Mentions trigger
While both of those tactics work, sometimes the most effective way of communicating your USP is to mention it before a customer searches for it. (In some cases, they might not inquire about what makes you different from other brands on the Instagram app.)
In that case, use the Story Mentions trigger to automatically respond to anyone who engages with your Instagram Story. Data shows that 50% of user-to-business messaging on Instagram happens off the back of an Instagram Story. So, treat that as your opportunity to showcase what makes your business special.
"Respond to your customer's main concern: What's in it for me? Make [the answer] short and sweet, and state it as a customer benefit."

Tyler Martin, certified business coach at ThinkTyler
Use your USP to drive sales from Instagram
Uncovering your business's USP on Instagram is a great way to build your brand. Not only will your follower count rise if you're posting content that your target audience wants to see, but a strong USP can divert people away from Instagram and towards your purchase confirmation page.
Let your USP take center stage with Instagram Automation by ManyChat.
The contents of this blog were independently prepared and are for informational purposes only. The opinions expressed are those of the author and do not necessarily reflect the views of ManyChat or any other party. Individual results may vary.