How to Build a Facebook Sales Funnel (2021 Playbook)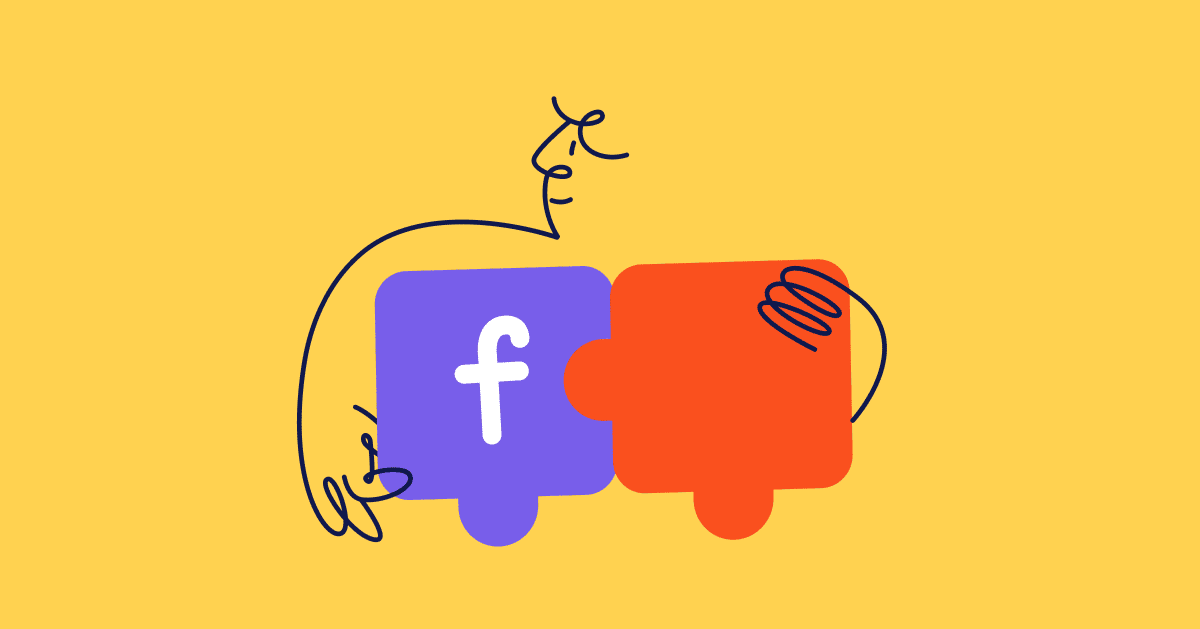 If you're looking to up your digital marketing game or spice up your business's marketing strategy, one process you can look into is building a Facebook sales funnel.
Facebook is the biggest social media platform in the world, with 3.45 billion monthly active users (MAU) using its core products (Facebook, Whatsapp, Instagram, Messenger) in 2021.
For most businesses, it makes sense to tap the audiences in the Facebook ecosystem, but how?
This guide will walk you through tools and methods that will help maximize conversions and build loyal customers at each stage of the funnel.
First, let's talk about what defines a Facebook sales funnel.
What is a Facebook sales funnel?
In the broadest sense, the Facebook sales funnel describes the customer journey you'd expect customers to have when going through the sales process on Facebook.
Just like a traditional sales funnel, a Facebook funnel is comprised of three main elements:
In this guide, each stage is designed to convert Facebook users into customers. Here's what an example of a Facebook sales funnel can look like:
Each part represents different stages of the buying process. The top of the funnel, for example, represents the brand awareness stage. During this stage, you'll typically start building an audience by running targeted Facebook ads and creating organic content that will help your brand to appear on their radars.
The middle of the funnel represents the lead generation stage of the process, where you'll narrow down your target audience to potential customers willing to buy your product or service. You'll also be retargeting customers who became interested in your business, but for whatever reason didn't continue.
Last, the bottom of the funnel represents your sales opportunity: the buying stage. Here you'll be working to convert hot leads using live chat, Messenger bots, and more.
As promised, next, we'll look at some of the best tools and strategies to help bring your sales funnel to life.
How to create a funnel on Facebook
This section is divided into separate elements of the sales funnel, so if you already know you need more ideas around the middle or bottom of the funnel, you can head straight to those parts!
For everyone else, let's take a look at some top funnel sales techniques and tools that move people from the top to the middle.
Top funnel
One of the first actions you can take to get the attention of a cold audience and get them into your Facebook tunnel is to run ads.
Facebook Ads
Many business owners recoil at the idea of spending money on advertising early in the game ("my product/service should speak for itself!"). However, people need to be aware of it in the first place before they can form an opinion. Facebook advertising can help with that.
There are multiple ad types you can run on Facebook, including:
You have the ability to target these ads at people with specific demographics and interests by creating Custom Audiences, or you can build a Lookalike Audience if you already have a customer base.
One ad type, click-to-Messenger ads, are quite underutilized but have proven to be very effective. Misfit Media, an international restaurant marketing agency, used them to drive $620,000 in sales for a brick oven pizza company.
Creating the best ad for your business is a broad topic, one you can read more about in our guide: The Beginner's Guide to Facebook Advertising.
Growth Tools
Of course, if you're relying on ads alone to entice potential customers, you're missing out. Why not try one of ManyChat's Growth Tools? These tools work alongside your Facebook ad campaigns to drive people towards Facebook Messenger (where you can automate the mid- and bottom sales funnel process—more on that later).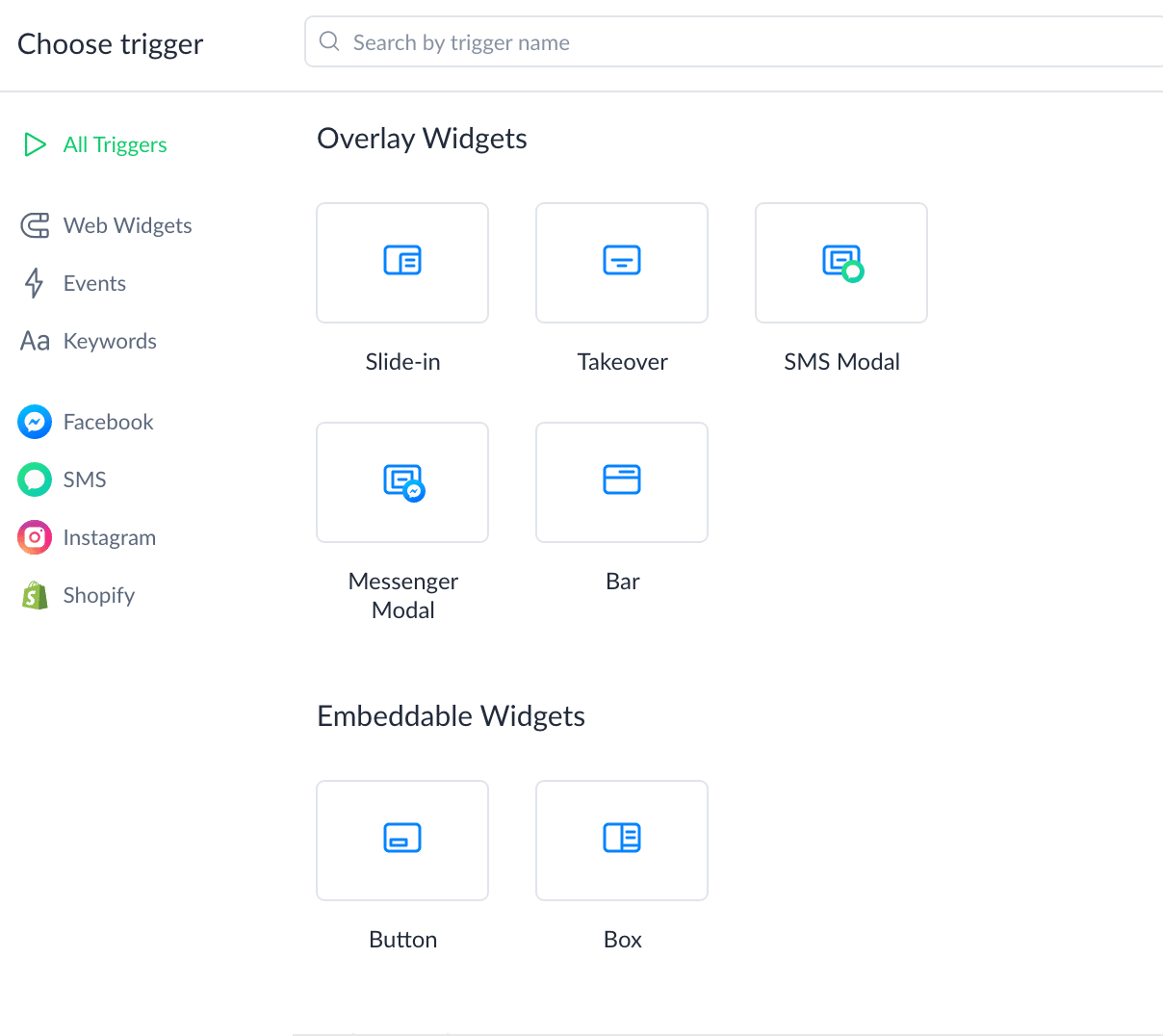 As you can see, there are plenty of tools to choose from that will support your top funnel goals. Some of the best tools for this stage include:
QR Codes. You can use a QR code to send people right into your Messenger bot with a quick scan. For those who opt for offline marketing (like flyers, events, product packaging, etc.), a QR code can help turn passers-by into contacts you can retarget later.

Messenger Ref URL. The Ref URL is one of the most flexible tools available; it's just a link you can place anywhere online that will lead people into your Messenger flow. Just be sure to let people know what to expect (don't be spammy).

Website Widgets. You have two main options with widgets: overlay and embeddable. Overlay widgets such as the bar, slide-in, Facebook modal, and page takeover work to grab attention. Embeddable widgets like the button and the box help to build warm audiences.
Using Growth Tools together with ads—such as overlaying a video ad with a QR code or including the Messenger Ref URL in the ad copy—can help maximize your chances of converting your lead with less ad spend.
Read more: Every ManyChat Growth Tool Explained
Organic Content
If you want to build a loyal customer base today, it's often not enough to simply run ads on social media. People want more than the feeling of being sold to. That's where creating organic content comes in.
There are generally two categories of organic content that help build brand awareness—entertainment and education (though sometimes posts can be both).
Here are great examples of both types from Huel's Facebook page:
The above post promotes Huel's product by showing an entertaining meme relevant to their target audience. It accomplishes two tasks at once: amusing the audience and educating them!
The second post includes an educational video of Huel's founder, Julian Hearn, talking about Huel's beginnings and his business ethics on the High Performance Podcast. Both pieces of content engage its audience, build trust, and help Huel become more relevant in the lives of its customers.
Pro tip: In these instances, it would have been fairly easy to place one of the Growth Tools in the post without making it too "salesy."
Read more: Facebook Marketing Strategy: Organic, Paid & Messenger
Mid-funnel
At this point, you'll have grabbed some of your audience's attention, but now you'll need ways to nurture those leads or bring them back to turn them into paying customers. Here, we'll look at some different ways you can guide prospective buyers towards the bottom of the sales funnel.
Comments Growth Tool
Another one of ManyChat's features, the Comments 2.0 Growth Tool, is an excellent way to start conversations (which leads nicely into the next tip).
To use it, create a new flow in your ManyChat automation tab, add a new trigger, and select the Comments 2.0 Growth tool as the trigger.
Once you've added the flow, you can change its settings to work on either a specific post (paid or organic) or all of your posts, whether they're already live or scheduled for the future.
Pro tip: Be sure to toggle "Track first-level comments only" so that you only automate responses to initial comments rather than all replies.
You can also set up the Comments 2.0 Growth tool to only respond to specific keywords, like "discount," "sale," "webinar," "ebook," etc. Once you've set the parameters, you can write your automated comment and Messenger response.
Using this tool can minimize the stress and time it takes to manually vet your engagement for leads.
Read more: Top Tips for Using The Facebook Comments 2.0 Growth Tool
Automate lead generation in Messenger
One way you can automate lead gen is by creating a Messenger quiz designed to drive your customer towards the bottom of the funnel. A great example comes from hideAWAY Handmade.
The artisan body product retailer created a fragrance quiz for first-time shoppers and rewarded them with a discount code when they completed the quiz.
This is just one example (there are many more!) that shows how building lead magnets like discount codes or referral bonuses into your automated messaging experience can help your customer feel valued and increase the likelihood of conversion.
Read more: How hideAWAY Handmade Generated $100K in One Month with ManyChat
Retargeting ads
Sometimes you just don't get 'em the first time around. Customers can visit your website or even start a Messenger bot sequence, but don't don't end up buying for one reason or another. "Remarketing" to these customers is another step you can take to win them back.
While a retargeting campaign typically delivers the best results for eCommerce businesses with abandoned cart stats, it also works for service-based businesses. Check out Eurail's ad:
Make sure to add the Facebook pixel across your website so that you can use the data for your Custom Audience in Ads Manager.
With Facebook pixel enabled, you can use the gathered data to create a dynamic ad campaign targeting website visitors who completed an action like adding an item to their cart or downloading an app.
As a bonus, the dynamic product ad type can also show multiple versions of the same ad for additional conversion optimization.
What's more, if you set up the ad to direct a user into Messenger instead of to an external landing page, you can send them into a brand new retargeting conversation sequence offering a discount to incentivize them to complete a purchase.
Read more: The 8 Best Facebook Retargeting Ads We've Ever Seen
Sponsored messages
Sponsored messages are another option to drive people to the bottom of your Facebook sales funnel. They are ads in message form that are sent directly to the inboxes of people who have previously messaged your Page (excluding people who have blocked your Page).
Since Facebook's Messenger policy forbids promotions outside a 24-hour window, sponsored messages are a clever way to remarket to customers after this 24-hour period has passed.
You can leverage sponsored messages in a few different ways. Promoting seasonal sales, targeting abandoned carts, or sending coupons are just a few of the most popular tactics utilized by businesses worldwide.
Culture Kings, a streetwear retailer, was able to get 3x higher click-through rates and a 50x return on ad spend using sponsored messages for its Black Friday sale.
These mid-funnel methods can help you direct customers into the final part of your sales funnel: the sale itself.
Read more: A Brief Guide to Facebook Sponsored Messages
Bottom funnel
For this final section, we will look at how we can convert those hot prospective customers into successful checkouts or service bookings within Facebook. For the best results at this stage, you want your customers to be in a Messenger flow or to have engaged with your brand at various touchpoints.
Live chat
If you have a sales or customer service team (or have been thinking about getting one together), you'll want to be able to provide them the tools they need to convert leads within the 24-hour window and deal with any issues. Cue the live chat!
The good news is that ManyChat has a native Live Chat feature that allows you to manage customer interactions without having to switch between platforms. As a bonus, you'll also be able to see CRM details like customer tags, notes, and sequences customers are subscribed to.
You might run into customers who have trouble using a discount code you might have given them during the mid-funnel stage and need help completing a purchase or just want some more information.
Whatever the reason, sending personal live chat messages can help put your customers at ease and presents opportunities to go above and beyond for them (which helps inspire customer loyalty and positive word of mouth).
Read more: How to Use ManyChat's Live Chat
Sell in Messenger
Another strategy you can use to close sales is to sell directly within Messenger, which eliminates the need to send customers to an external website.
The great news is that ManyChat can now accept Facebook Messenger Payments within a Messenger flow! This method works best when you're selling physical products but could also work for experiences or event tickets.
Here is what setting up a payment in Messenger can look like within ManyChat flow:
Taking payments directly within Messenger solves many of the top reasons customers abandon their carts before checkout, such as:
Having to create a new account (they already have one with Facebook)
Confusing checkout experience (the "buy" button takes them directly to the checkout)
Unable to find a coupon code (they can scroll up in the conversation or even initiate live chat to get one)
Reducing or removing these frictions can help to increase conversion rates.
Read more: How to Accept Facebook Messenger Payments
Send to Facebook Shop
Like accepting payments within Messenger, sending shoppers to your Facebook Shop helps reduce barriers to purchase.
Of course, you'll need to have a Facebook Shop where you can send customers. Adding each product and description during setup can be a tedious process, but a Shop is well worth the effort thanks to its conversion potential (not to mention how it unlocks more powerful ad types).
There are several benefits to using Facebook Shop at any stage of the sales funnel process, including:
Being able to tag products in posts
Built-in social engagement possibilities
A smoother sales process (similar to selling directly in Messenger)
The less friction between the different stages of the sales funnel, the more likely shoppers are to convert. Each of the methods outlined above will allow you to offer a quick and simple buying process that will help boost sales.
Read more: What Are Facebook Shops? How to Get Started + Best Practices
Create your Facebook sales funnel today
Using the methods and tools in this post can help you build an effective Facebook sales funnel. However, one last important point to make is that the funnel is not a one-time-only set-and-forget deal.
The best part about building a funnel is that you can optimize and expand the whole process to different channels over time if you strategize well.
Adding to your contact list throughout the process (and acquiring richer data on existing customers) will give you a great base to contact on different channels, such as email and SMS. This allows you to create an omnichannel marketing experience where you can sell at multiple touchpoints.
Take these Facebook funnel strategies and run with them and you'll be surprised at just how well you can do!
Other popular sales funnel articles:
Boost your Facebook Marketing strategy today with ManyChat. Start free today.
The contents of this blog were independently prepared and are for informational purposes only. The opinions expressed are those of the author and do not necessarily reflect the views of ManyChat or any other party. Individual results may vary.