The Beginner's Guide to Facebook Advertising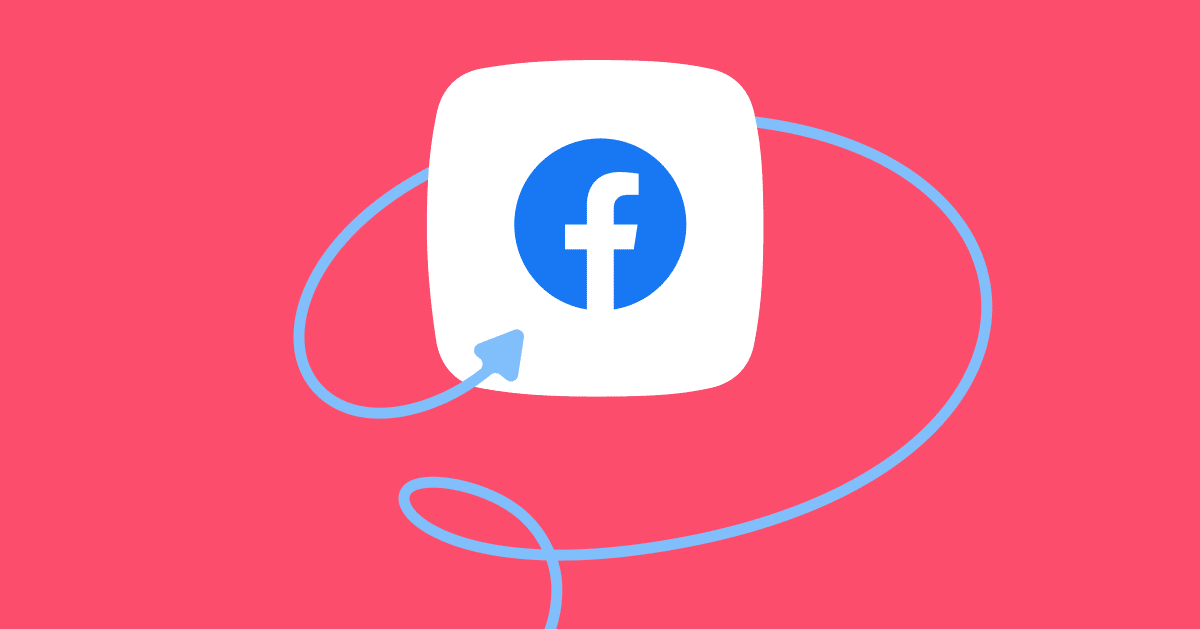 Facebook advertising is the most powerful tool in a marketer's toolkit.
Facebook ads can help you achieve several high-level business goals, including increasing brand awareness, generating leads, driving traffic to your business website, and more.
However, the process of setting up Facebook ads isn't always intuitive or straightforward, and making them profitable is a whole other ballgame. This guide will help you create your first Facebook ad campaign. It'll also provide proven tips and tricks you can use to help the ads achieve your objectives. 
Why advertise on Facebook?
Facebook is the largest social media network worldwide, with 2.8 billion monthly active users (MAU) as of Q4 2020. Of those users, 1.6 billion were connected to small businesses in 2018 (this number is likely to have increased since then).
Facebook's average conversion rate for ad campaigns across all industries was 9.21% in 2020. When you combine that stellar conversion rate with Facebook's massive audience, it's a no-brainer to allocate part of your ad budget to Facebook advertising.
Are you on board? If yes, let's review the common Facebook ad types you can use for your first campaign.
Types of Facebook ads
Avid Facebook scrollers may have noticed many different kinds of ads appear in their News Feeds (though we'll forgive you if you haven't noticed!). Depending on your business type, some ads will work better for you than others. Here is a list of all the possible ad types you can create in Facebook:
Single image
Video
Carousel
Collection
Instant Experience
Dynamic ads
Click-to-Messenger
Lead ads
Single image
A single image ad is the most widely used ad type on Facebook for a good reason: It's super easy! You can set up an image ad in mere minutes and start promoting your business right away.
When to use it
If you've got a product or service to promote and you want an easy ad to set up, a single image ad is for you. Image-based ads can be a great way to make your business stand out amidst a sea of text-based posts in a busy News Feed, especially if you use great photography and attractive colors and graphics.
Furthermore, a Facebook study found that static image ads outperformed the video/image combination, indicating that simplicity works! However, be aware that conversion costs can rise over time; if you notice a diminishing return on investment, it could be time to move away from static image ads towards other ad types.
Ad specs
Recommended image size: at least 1080 x 1080 pixels
Primary text: 125 characters
Headline: 40 characters
Description: 30 characters
Video
Video ads are the second most popular ad type. In terms of ease of ad setup, they're just as simple to make as a single image ad. However, you'll need to factor in the production of the video itself when estimating total ad creation time.
When to use it
Facebook video ads, like image ads, are a great way to break up a customer's News Feed. The bonus with videos is that they move, attracting more attention! A well-executed video ad can help promote multiple products or show one product in action, helping viewers better understand how it works in real life. If you have the video production chops (or the means to outsource), a video ad can help you stand out from the crowd.
Ad specs
Maximum file size: 4GB
Primary text: 125 characters
Aspect ratio: 4:5
Continuous looping available
Video can be up to 241 minutes long, but 15-30 seconds is standard
You can also use a 360 video as an ad
Carousel
Now we're upping the ante a little. The carousel ad can contain multiple images or videos, each with its own "link card" that viewers can scroll through and click its individual link to explore further.
When to use it
If you have multiple product listings or service pages on your business website, you might want to consider highlighting them individually using a carousel ad. Carousel ads can help you showcase every product individually; each card hosts a dedicated link that leads to a particular page on your website. You can also use the link cards to describe a step-by-step process.
If you're feeling extra creative, you could also use carousel ads to create a panoramic ad (similar to what you might see on multi-photo Instagram posts).
Ad specs
Number of carousel cards: 2-10
Maximum image file size: 30 MB
Maximum video file size: 4 GB
Video duration: 1 second to 240 minutes
Primary text: 125 characters
Headline: 40 characters
Description: 20 characters
Collection
Collection ads are one of the more complicated ad types to create. However, they are very effective when it comes to immediately engaging viewers from mobile News Feeds. They present as a cover image or video, followed by up to four smaller product images right below. Not only that, but if the viewer clicks anywhere on the ad, they'll move into an Instant Experience.
When to use it
Like carousel ads, it's best to use collection ads if you're looking to sell products; the ads are used to move customers from the discovery phase into the purchase phase via a smooth and easy transition that keeps users on Facebook or Instagram.

That being said, you can also use collection ads as landing pages to enable customers to perform specific actions (like buying a newly launched product) while allowing users to remain in Facebook.
Ad specs
Image type: JPG or GIF (other files are supported; these are just recommended)
Video type: MP4, MOV, or GIF (same as above)
Resolution: at least 1080 x 1080 pixels
Primary text: 125 characters
Headline: 40 characters
Instant Experience required
Instant Experience
Formerly known as Canvas ads, Instant Experiences show a full-screen landing page when a user interacts with the ad. If you've ever clicked an ad on Facebook that led you to an external landing page, you know how painful it can be to wait for that page to load. A Facebook Instant Experience fixes that.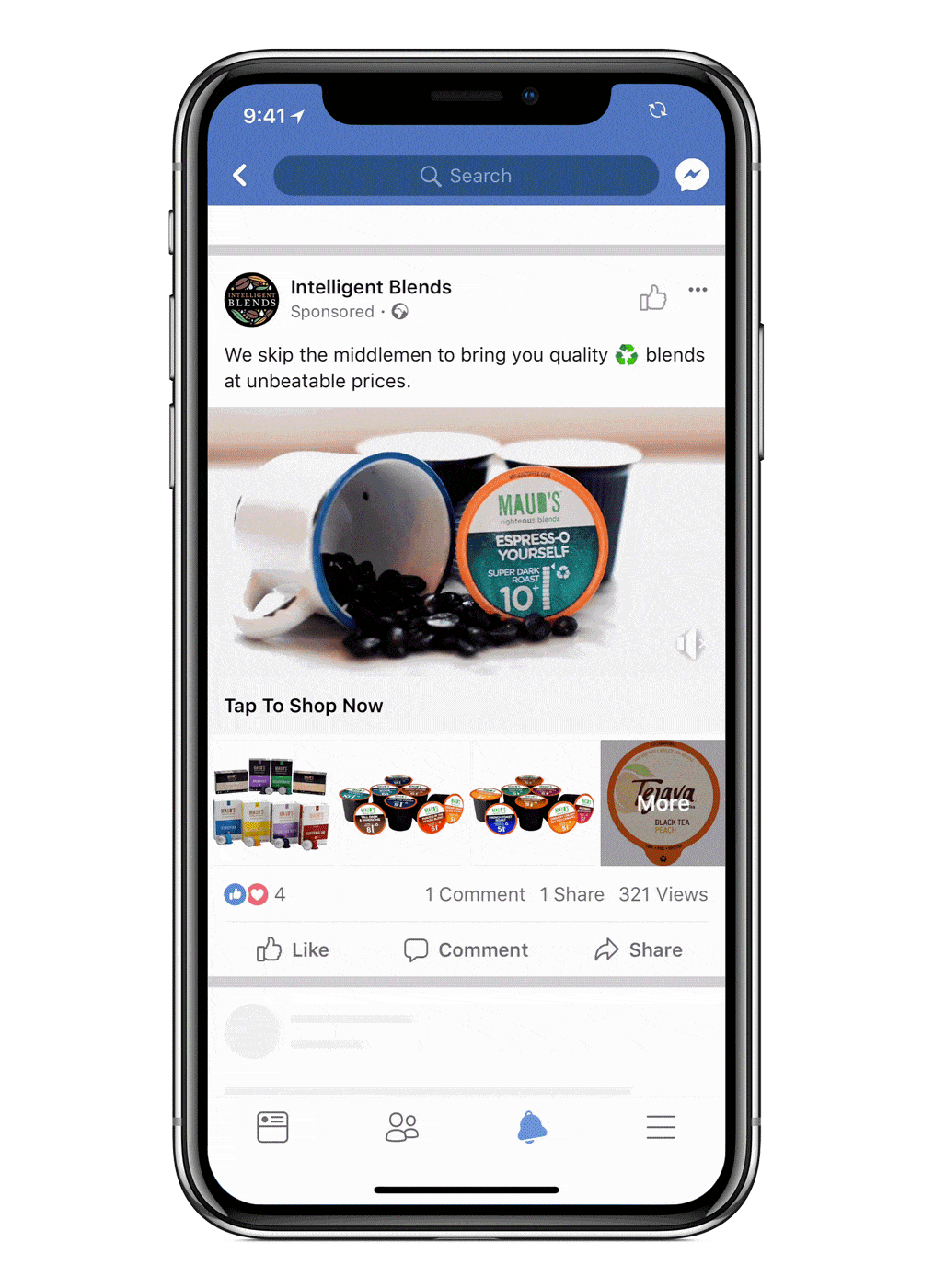 When to use it
If you want to drive traffic to a landing page (which is advantageous for many business objectives), consider building it into Facebook by using an Instant Experience instead of creating an ad and linking it to an external domain. Keeping people inside Facebook ensures their experience is seamless and more user-friendly.
Ad specs
Several varied specifications apply to Instant Experiences because you can use an Instant Experience in virtually all other ad formats. (Read the full specs list.) The basics still apply, but here are a few unique bits:
You can have up to 20 images (including tilt-to-pan images)
Images have two sizing options: fit-to-width (recommended) or fit-to-height
There's no limit to the number of videos, but the total video duration can't be more than two minutes
Instant Experiences can have multiple blocks of text up to 500 words each
Dynamic ads
Want to retarget shoppers on Facebook? Dynamic ads are your new best friend. Facebook can help you promote products to people who have already expressed interest in your brand by visiting your website, app, or clicking on an ad.
Here's the catch: you'll need to set up the Facebook pixel on your website to capture customer interactions and send the data back to Facebook. (You can add the Facebook pixel to your site's code manually or through an integration partner.) You'll also need a Business Manager account and a product catalog to run dynamic ads.
When to use it
It's best to consider using dynamic ads if you already have an eCommerce website set up and some traffic to funnel data back to Facebook.
If Shopify, Magento, or BigCommerce power your store, we've got good news! You can automatically set up dynamic ads instead of manually adding a catalog to Facebook.
Ad specs
Facebook creates dyanmic ads automatically. Just make sure you've got some eye-catching high-resolution product photos!
Click-to-Messenger
These last two ad types are unique in that they allow for active communication between your business and Facebook users (as opposed to just passively showing users pictures, videos, and links). In this case, click-to-Messenger ads drop individuals who have clicked on your ad directly into Messenger, even from Instagram!
When to use it
Building relationships with your customers is critical (there's a whole practice named after it — "relationship marketing"), and click-to-Messenger ads can help you initiate conversations with potential customers.
Check out our complete guide to Facebook Messenger marketing if you're interested in learning more! Some use-case examples include delivering content, acquiring registrations for live events/webinars, enabling bookings, or even just having a plain ol' conversation.
Ad specs
Click-to-Messenger ads work with images, videos, or carousel ad types (which means their respective ad specs apply). The only difference is that you'll select "Messages" as your ad objective when creating the ad (this will replace the usual web link URL with the Messenger link).
Connect with shoppers and grow your business on Facebook with ManyChat's marketing automation. Start free today.
Lead ads
You can also use Facebook lead ads to grow your business. When a user clicks on your ad, they'll be presented with a full-screen "Instant Form" to complete. You can use these forms to collect personal data like names, phone numbers, and addresses.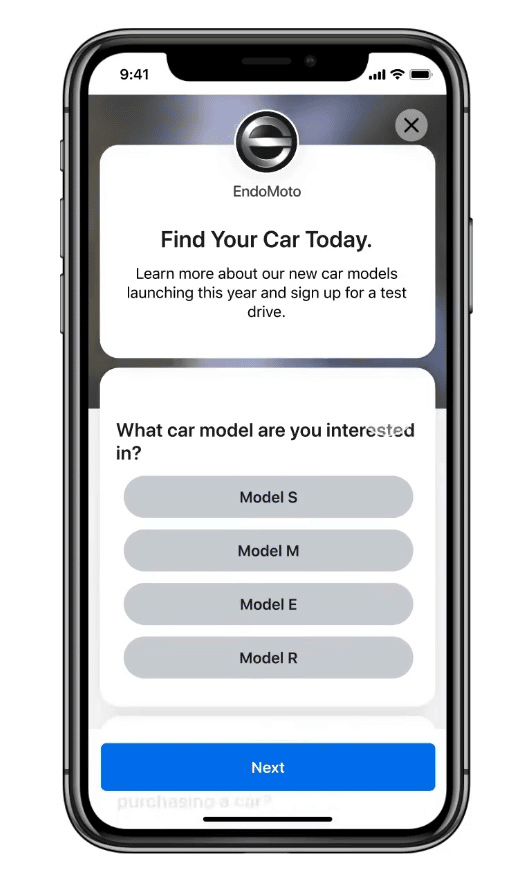 When to use it
If you're looking for hot, high-intent leads, you can use lead ads to book sales calls or consultations, arrange property viewings or test drives, even hire contractors, and more. You can also use this type of ad to add more contacts to your email list through event registrations or gated digital product downloads.
Ad Specs
You can use either an image or video as your ad hero, so refer back to those basic ad requirements. These requirements are unique to lead ads:
You can create up to 15 custom questions
You're required to link to your business's privacy policy
You also need to provide a prominent notice explaining why you're collecting personal information
Phew! We've reviewed all the different ad types you can create on Facebook, why you might choose a particular one, and the spec recommendations. Now we're going to walk you through setting up an ad of your own!
How to advertise on Facebook
Here's the basic tutorial for setting up an ad on Facebook. Of course, when you do this yourself, you'll have more steps in the Ad creative area, which is where you write your ad copy and add media, depending on the ad type you choose. Let's look at the basic steps:
Choose your objective
First, head over to your Ads Manager. (Psst: here's a shortcut.) Then hit the green +Create button on the top left.
From here, you'll need to Choose your ad objective. If you're struggling to choose one, ask yourself some questions like "What do I want my customers to do when they see my ad?" or "What sort of outcome do I want?" Try to align your ad's objective with your business goals (generate more leads, increase sales, improve brand awareness, etc.) Take your time on this; choosing a relevant objective is more likely to increase ROAS (return on ad spend).
Some of the ad types only work with specific objectives. Here's a quick summary of their restrictions:
Image: all objectives except video views (for obvious reasons)
Video: any objective
Carousel: all except engagement and video views
Collection: only traffic, conversions, catalog sales, and store traffic
Instant Experience: all except lead generation and messages (lead ads are automatically Instant Experiences)
Dynamic Ads: only catalog sales
Click-to-Messenger: only messages
Lead Ads: only lead generation
Set your budget
After selecting your objective, you'll encounter a screen asking you to name your campaign, if you'll be conducting A/B testing, and if you want to use budget optimization. Taking advantage of these options isn't essential, but they are there if you want to.
The first part of the next screen depends on the campaign objective you chose. For this example, we just picked "traffic." After your objective-based options, under Budget & schedule is where you'll set the budget for your ad. As a tip, Facebook will warn you if your pricing looks like it could be a typo:
The amount you allocate to your ad spend is totally up to you. Just remember, if you choose the daily budget option, the actual amount may vary, but Facebook will attempt to average it out over time. If you don't want variance, it might be better to choose the Lifetime budget option from the dropdown.
Another option is to set a cost control amount to prevent you from going over your budget. That option is at the bottom of this first page.
Choose your target audience
In the next area down, you'll see the option to set your target audience. Here, you'll be able to narrow down your audience to focus on those you want to see your ad. We recommend having a specific audience, like people who might already be familiar with your brand, as you'll have to work harder to win over people in demographics that are too broad.
Here's what it looks like by default:
The highlighted area in the screenshot above also lets you pick a Custom Audience or Lookalike Audience if you've previously set one up. However, if you're creating a new one, click the Detailed options button to target people who like particular Facebook pages or interests.
If you're unsure how to make the most of Custom Audiences, check out our guide, "How to Use Facebook Custom Audiences and Make Them Work for You."
Choose placement
The next step for setting up your ad is to choose where it will appear! Facebook will recommend choosing the Automatic placements option, which will optimize your ad across Facebook, Instagram, Messenger, and the Audience Network — depending on where it thinks the ad will perform best.
However, if you're looking to target a specific platform or only those using the Facebook mobile app, you can choose Manual placements. Once you've selected your placement option, move on to the next page.
Pick your format
The Ad creative area is where you'll start to see your ad take shape. Here, you can choose to name your new ad (if you haven't already) and select the business Page you want the ad to come from. First and foremost, however, you'll need to pick your Ad Format.
Remember, some ad format types are only available for specific campaign objectives. In our example, you can see the available formats for "traffic."
The screenshot above also shows the option to add an Instant Experience—which you can use a template to create, saving you time.
Choosing to create an Instant Experience will take you to another Ad creative area where you can work on it separately from the main ad. Needless to say, both will need some kind of media and ad copy, but it doesn't necessarily matter which one you complete first, as long as you fill out the main ad before you publish.
If you need some helpful advice for writing better copy, check out this guide: "7 Tips for Writing the Best Facebook Ad Copy."
Publish
Once you've written your most compelling ad copy to date (thanks to our guide, natch!), you can go ahead and hit the green Publish button in the bottom right.
Once you publish, your ad goes out into the wild (that is, Facebook ad auctions). You can learn more about how ad auctions work here, but in a nutshell, your ad is bidding against potentially billions of others and whoever wins gets an ad spot.
Don't worry too much about being outpriced, though; being the most relevant is better. Facebook states, "We subsidize relevant ads in auctions, so more relevant ads often cost less and see more results. In other words, an ad that's relevant to a person could win an auction against ads with higher bids."
Don't go skipping off into the sunset just yet! Rather than letting your ad work its magic on autopilot until your budget runs out, it's best to set aside time to measure your ad's performance and find ways to optimize it for the best results.
Measure and improve
While your ad is running, you can head back over to your Ads Manager to check out a variety of metrics, including:
Results
Reach
Impressions
Cost per result (CPC)
Amount spent
Unique link clicks
Relevance score
Facebook tracks these metrics by default, but you can also add others you might prefer, like click-through rate or even new customers from messaging connections. You can find these options by clicking the small + sign at the end of the columns:
If the numbers aren't as good as you hoped they would be, now is your chance to look at your ad critically. Does it need stronger visuals? A more compelling CTA (call to action)? Or maybe you need to tweak your Custom Audience. Whatever you determine to be the problem, be sure to check out our guide that will help you find more ways to improve Facebook CTR and boost your results if you're feeling stuck.
Tips for successful Facebook advertising
Now we've walked you through setting up Facebook ads for yourself. To finish off our guide, we're going to share some tips and tricks to help you make the most of your experience and improve your chances for success.
Retarget shoppers
A great way to add a layer to your marketing strategy is to retarget people who have already interacted with your brand. Such individuals may have previously visited your website or sent you a message through your business Page.
For example, you can set up a Custom Audience (which also happens to be a great way to lower Facebook ad costs) filled with people who went to your online store but didn't add anything to their cart, then target them with click-to-Messenger ads.
If you pair up these ads with ManyChat, you can set up chatbot flows to include a discount or a product gallery, enticing your customer to return to your site and potentially finish their purchase.
You can find real-life examples of retargeting ads in our article, "The 8 Best Retargeting Ads We've Ever Seen."
Run A/B split tests
We mentioned earlier that it's possible to run A/B tests within Ads Manager, but another option is to use the ManyChat Randomizer. It's less complicated and easier on the eyes.
If you use the Randomizer, you'll still be directing people to Messenger through a click-to-Messenger ad, but you can also send people through up to six different flows. Since you'll be able to see performance stats on your dashboard, you can immediately get a sense of which flow performs best. Once you've determined the best-performing flow, tweak the Randomizer percentages so more traffic goes through it.
There's another slightly more complicated (but worth it) tactic for split testing your Facebook ads: conversion paths. You can check out a case study of this strategy in action in our article, "How The Dream Workshop Shifted to Online Retail During COVID-19."
Use video
Images can be eye-catching for sure, and producing static ads is probably the easiest route to getting in front of a Facebook audience. However, using Facebook video ads wherever you can will help you catch the attention of an audience that's gone cold. Given the prediction that people will spend 100 minutes watching videos every day in 2021, video ads are more relevant than ever.
Pops, A Norwegian chocolate brand, became a video ad success story when it used three short made-for-mobile video ads to build awareness.
Pops' efforts resulted in a 23-point increase in ad recall and a 14-point increase in brand awareness — not bad considering a third of consumers had never heard of the brand. You can check out more details of the case study here.
More quick tips
Before you go, here are some final quick tips to get your ideas flowing:
Deliver different ads to different audience segments
Provide value before you ask for the sale, like offering a lead magnet download
Offer special promotions to people who've previously engaged with your brand
Make your ads conversational and friendly
Try adding a mix of GIFS, images, or videos in your ads and nurture flows to boost response rates
Hungry for more? Check out "9 Ways to Use Facebook Advertising to Grow Your eCommerce Business."
Facebook advertising use cases
As successful as a company can be relying on Facebook ads alone, businesses that use ManyChat see an even higher return on ad spend and lower customer acquisition costs. Here are a few great examples:
Improve your Facebook advertising strategy today
Getting started with Facebook advertising can sometimes feel like you're diving headfirst into the Mariana Trench. But relying on boosted Facebook posts alone just isn't enough to capture your audience's attention anymore. Instead of just asking should you boost posts on Facebook, Effective and profitable ads need to be targeted, personalized, and use language that resonates with your audience.
When done well, Facebook ads can help increase your brand awareness, generate leads, drive more traffic and revenue for your business, as well as connect with new audiences in novel ways. We know it can be intimidating to wrap your arms around the sheer number of Facebook ad options. Despite that initial obstacle, we hope this guide has answered questions you might have had and given you the confidence to try advertising out for yourself.
Connect with shoppers and grow your business on Facebook with ManyChat's marketing automation. Start free today.
The contents of this blog were independently prepared and are for informational purposes only. The opinions expressed are those of the author and do not necessarily reflect the views of ManyChat or any other party. Individual results may vary.