7 Facebook Video Ad Examples and Tricks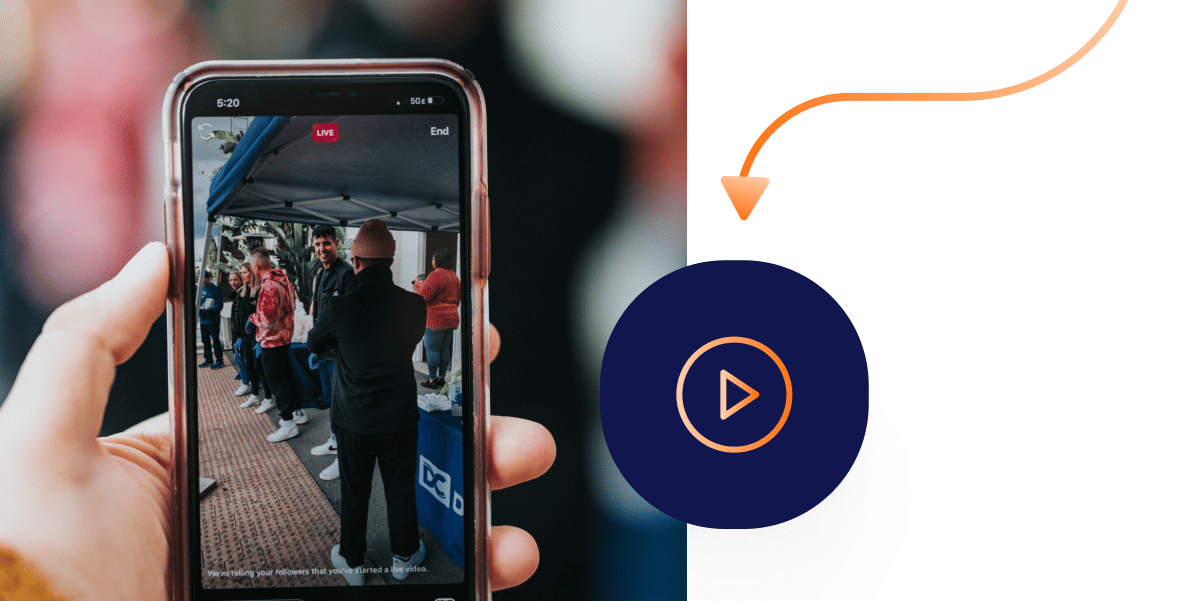 Struggling to gain traction with your Facebook video ads? You're not alone.
Many advertisers want to create video ads that are too good to ignore. Without it, you won't get clicks. You won't get engagement. And probably won't get the results you're looking for.
Whether you're a Facebook video advertising pro or running your first Facebook campaign, use these tips and tricks to captivate your target audience and show better ROI for your next Facebook ad campaign.
1. Research your competition
There's nothing wrong with checking up on your competition from time to time. In fact, it's a good way to figure out what types of dynamic ads are working in your industry. By staying informed, you will be better equipped with information when it comes time to build out your video marketing strategy. Facebook offers a simple way to do this with their Facebook Ad Library feature. It shows all ads currently being run by a brand.
Once you search the target company, you can find plenty of information about the dynamic ads that they're running and hopefully some insights for your own social media campaign)
Check out an example of results from Moroccanoil's page. You can view different types of data including:
Ad types
Target regions
When ads launched
Different versions of ad copy
By looking at their Ads Library page, you'll see the marketer is running short video ads with simple visuals. For example, a shampoo bottle with a white background is all that's featured in most of these ads. They are also heavy on in-video text to accommodate the type of Facebook user who watches without sound.
Armed with this information, you can go about creating more effective video ads for your brand and Facebook targeting audience.
2. Use captions and text
About 85% of people viewing your video will watch it with the sound off. Considering this, aim to create Facebook video ads that can be viewed on mute using text and in-video captions to uphold your value proposition.
Moroccanoil, a luxury hair and body care retailer, saw a 2.2X lift in website purchases and 2.4X increase in return on ad spend in their latest Facebook video ad campaign. The brand wanted to increase awareness and sales for its new hair color product, a category they were trying to break into.
The video ads showed women with colorful hair together with overlay text such as:
"Experience vibrant color that fades out over time"
"Enjoy color without commitment"
Following Facebook's video creative best practices, for example, showing the product and branding in the first three seconds and running for fifteen seconds maximum, this ad example was concise and to the point, yet thorough as it delivered its value proposition. It also included messaging that the viewer could grasp without sound.
This concept translates over to if you have a speaker in your ad. Whether it's an interview or creative, tongue in cheek ad type , include captions. As shown by countless Facebook ad examples, captions will help viewers understand what's going on can help elevate a brand's Facebook marketing strategy.
There are plenty of ways you can work text into your video ads. The important part is that you include it to increase awareness and conversions.
3. Mention your brand within the first three seconds
Facebook recently found that consumers are 23% more likely to remember you if a video features your brand name or logo in the first three seconds.
Think about your own behavior as a Facebook user. If something doesn't grab your attention right away, do you tap through and move on?
Most people do. In fact, a study released by Facebook revealed how quickly viewers drop off when watching video ads.
Notice how quickly viewers drop off when watching a Facebook feed ad. This is also common when people watch Facebook or Instagram stories ads.
So what can you take away from this? To create a successful Facebook ad, get to your point, fast, and make sure your company name or logo is visible to increase brand awareness and help people remember your business.
4. Choose vertical or square videos
When it comes to choosing your video ad specs, no two formats are equal. However, there are two recommended sizes to choose from to maximize views and engagement: 9:16 vertical videos and 1:1, aka, a perfect square.
On the viewers mobile News Feed, square videos take up 78% more view space than landscape — and over 95% of people use Facebook on their mobile devices. More view space for your video ad means your creative will more likely grab someone's attention and make it easier to read.
One case study from Buffer found that a square video ad format received up to 100% more engagement and 35% more views than horizontal videos.
The Jane Goodall Institute also confirms this recommendation for your Facebook advertising endeavors. The conversation organization ran an A/B test using both square and landscape versions of the same video ad, targeted at the same custom audience with the same ad spend.
The results? The square video got 3x the shares and 2x the likes, helping the institute bring in over 1,000 mobile donations from their Facebook video ads.
5. Place a call-to-action in the middle
If you want viewers to take a specific action from your video ad, put a call-to-action (CTA) mid-roll.
Place your CTA at the beginning, and you risk people not remembering your brand. Plus, you haven't done much convincing to encourage an action yet.
Place it at the end, and you lose out on the bulk of people who didn't finish the video. And there will be plenty, no matter how good your video creative is.
When you put a CTA in the middle of your ad, you engage a viewer who's interested and still paying attention to what you have to say.
Wisita, a video marketing software company, looked at over 300,000 videos with CTAs in them. They found that 95% had CTA's after the video ended, 4% had them in the middle, and .01% had them before the ad started.
Interestingly enough, CTAs in the middle of an ad performed best with a 16.96% conversion rate, compared to 3.5% at start and 10.98% at end.
The moral of the story here is while most advertisers put their CTA at the end of their ads, you should put yours in the middle to get the best results.
6. Run video ads that click to Messenger
If you want to lower Facebook ad costs and get the best bang for your buck, run click-to-Messenger Ads. These ads let potential buyers start a conversation with your business inside the Messenger chat window.
So when planning your video ads, consider what Messenger Bot flow you'll attach to it. It takes an hour to set up and can increase conversions by 600%. A bot flow paired with an effective Facebook ad copy can help drive more conversions and sales from your ad.
If you're not sure where to start with building a bot flow, grab the eCommerce advertising template below. Once you add the template to your ManyChat account, add your product images and copy, and off you go running successful Facebook video ads.
Check out the flow here. Then use download the template for your own click-to-Messenger ads.
7. Act on the right analytics
Vanity metrics are metrics that have little to no correlation with actual leads, sales, or conversions. They look great on paper, but don't have anything to do with informing future decisions or evaluating the success of a campaign, and shouldn't be heavily relied on as a means of social proof…
For an eCommerce store, a vanity metric could be ad impressions; it doesn't matter how many people are seeing their ad if they don't make a sale.
For a marketing agency advertising their website, a vanity metric might be click-through rate; just because people are making their way to the site doesn't mean they are qualified leads.
Understanding what metrics to look for can help you structure your videos to get more useful engagement and conversions. Here are a few metrics that you should keep an eye on:
Average view duration
Click-through rate
Cost per lead
Cost per click
Cost per 1,000 impressions (CPM)
For example: Logan Mayville, an expert Facebook Ads consultant, recommends you watch your average view duration. Let's say you have a 30-second video, and it's being viewed for an average of 15 seconds before people continue scrolling.
If you know people are watching for 15 seconds, you can redesign the video when you retarget customers to retain them for longer. When you restructure the video and use it in a retargeting ad campaign, include an offer or lead magnet between 10-15 seconds into the video – so you know people will see it. You'll have a better chance t of getting the potential customer to stick around for a few seconds longer.
Once you have established your brand and have become familiar with how to advertise on Facebook, remember to focus on metrics you can act upon and draw analysis from, such as conversion rate or sales generated.
Making the most of your Facebook video ads
Running ads that stand out is every advertiser's dream. With these tips, tricks, and Facebook ad examples under your belt, you're ready to start creating video ads that grab attention and drive conversions, whether on desktop or mobile.
Once you find what creative and style works best, use it to inform your entire Facebook marketing strategy so you can build an engaging custom audience and grow your business like wildfire.
The contents of this blog were independently prepared and are for informational purposes only. The opinions expressed are those of the author and do not necessarily reflect the views of ManyChat or any other party. Individual results may vary.