Is Instagram Right for My Business? Here's How to Decide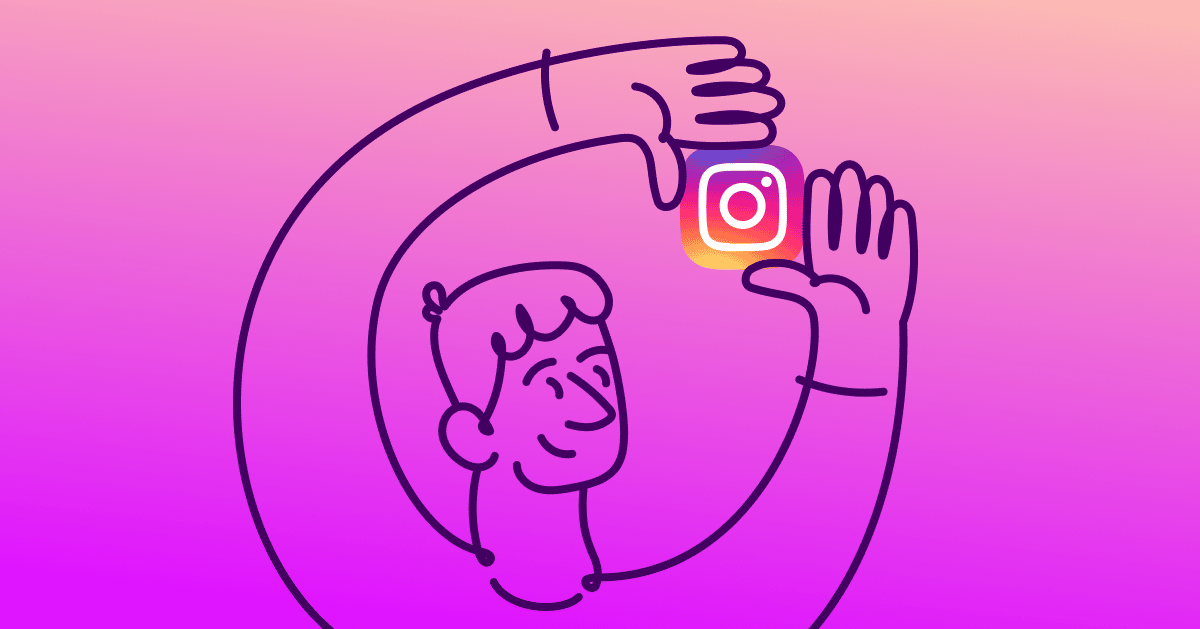 Seeing businesses share their products and services on Instagram is nothing new.
Since the social media platform was founded in 2010, 78% of marketers now use Instagram to increase brand awareness and position their businesses in front of potential customers. More than two billion global Instagram users are up for the taking.
That being said, Instagram marketing takes time, patience, and creativity. It's not always the smartest use of your time, nor the marketing channel that drives the best return on investment.
Wondering which camp your business fits in? In this guide, we'll discuss the different factors to consider when evaluating whether an Instagram account is right for your business.
Why do businesses use Instagram?
Instagram isn't just a place to share photos of your day. With over 90% of users following at least one Instagram business account with their personal accounts, consumers use the app to research new products, stay in the loop with their favorite brands, and make purchases. Let's take a look at how businesses meet them there.
Drive website traffic (and sales)
Ultimately, businesses use Instagram to make money. For some, this means setting up a digital shop or sending referral traffic to their website—either through a clickable link sticker or their Instagram bio. The platform itself reports that over half of its active users have visited a website after seeing it in Instagram Stories.
Brand awareness
Direct sales aren't always the goal. Instead, many businesses are looking to build trust and authority as a brand so that when a follower wants a specific product or service, their company is the first to come to mind.
Rachel Vandernick, Lead consultant of The Vander Group, explains: "Many companies won't make direct sales but can maximize it to nurture leads, build community, source user-generated content, and keep engaged with their audience. I encourage brands, especially small businesses, to look at social media as a path to purchase, a touchpoint in the consumer journey, not necessarily the final destination."
Customers will also use hashtags or searches to find your business on Instagram. It's a way for them to get your contact information, send you direct messages, and find your physical store location through geotagging. Creating interesting content with striking imagery is the best way to keep these new customers and encourage them to engage with your brand.
It's no wonder a recent report by Social Media Examiner found that 88% of marketers reported seeing additional exposure for their businesses when using social media, while 69% saw an increase in leads.
Diversify your marketing strategy
For a small business owner with limited resources, adding Instagram for business to your marketing strategy can quickly feel like another job to check off the list. While there is a significant time commitment with social media marketing, putting all of your eggs in one basket is never the most successful approach.
Whether you're focusing on SEO and rankings or building your email list, diversifying across different digital marketing channels opens you up to a wider audience and bolsters your brand against platform updates or unexpected traffic that could change your visibility overnight.
Take the UK ecommerce brand Partner in Wine, for example. While steadily increasing its following on Instagram, the business went viral on TikTok and saw an influx of sales and new followers across its social media accounts.
As this post shows, with an aesthetically pleasing product, the brand turned a successful TikTok campaign into an industry-leading Instagram marketing campaign.
Partner in Wine is a good example of why diversification matters. While audiences don't necessarily translate from one social media site to another, customers expect to see your business on different platforms. This is especially important if your competitors are on Instagram. If you're not playing in the same field, you're losing that audience entirely.
Is Instagram suitable for B2B businesses?
Instagram is a visual platform, which means that it caters more to certain industries. Beauty, fashion, food and beverage, hospitality, retail, and travel brands typically perform better than others. But that's not to say that others can't find success.
"Just because a brand or industry isn't inherently 'sexy' doesn't exclude it from using Instagram well. If the content matches the audience, any brand can find useful applications for Instagram in its greater marketing strategy."

Rachel Vandernick, founder and lead consultant, The Vander Group
Before launching into the Instagram app as a B2B company, though, do industry research and look at engagement levels for the site compared to a more business-focused platform like LinkedIn.
General Electric, for example, has gained many highly engaged Instagram followers with targeted educational content. Its use of relevant hashtags for their industry and products makes it easy for new users to find them and see the brand as an authority in the field.
How to decide if Instagram is right for your business
Armed with the knowledge of why so many businesses use Instagram, it's time to decide whether this is the right step for your business. Consider these five factors before you set up your business profile and post your first piece of content.
1. Understand Instagram's core users
The first place to start is with your audience. Does Instagram's core user base align with your target market? According to Statista, Instagram's primary demographic is:
Males under 35
Primarily between the ages of 18 and 34
The age range of users is fairly broad, and others outside of these core audiences do use the platform. Women over 35, for example, are more likely to use Instagram than men of the same age group. Take a hard look at who your typical customer is and decide whether they're more likely to use Instagram than another social media network.
If you do create an Instagram profile for your business, use the built-in Instagram analytics, Insights, to take a deeper look at who is interacting with your posts. This will help you to make more informed strategy decisions as you move forward with your Instagram content.
2. Ask your target audience
Market research is one of the best ways to find information about your audience and what they're looking for. Half of users discover new products or brands on Instagram, so knowing what kind of content they're after will help you stay one step ahead.
Make use of your existing marketing channels to talk to your customers. Add a poll or questionnaire link in your next email newsletter, set up a follow-up survey after a purchase on your site, or have in-person conversations with your customers when they next visit your location.
If you're on other social media platforms, ask those followers about their preferences. See if your competitors are sharing polls to their own profile. Take note of any responses they share publicly.
But remember: this isn't a once-and-done process. Talking to your customers should be an ongoing part of your marketing strategy, particularly if you haven't gathered any data in several years. Buying habits and the way people shop online has changed in many industries as a result of the COVID-19 pandemic. You can't assume that your pre-2020 data is still relevant or accurate.
3. Run competitor account and hashtag analysis
Another way to understand whether Instagram is worth investing in is by researching your competitors' accounts. Look at the type of content they post, who they follow, who their audience is, and what kind of engagement they see on their posts. Monitor what hashtags they're using and which other companies are in those hashtag searches.
Taking a look at what's working well, or not, can give you an idea of where to start with your own content and where there might be gaps that you can fill.
Tools like Buffer, Sprout Social, and Rival IQ can give you insight into how your competitors are performing on Instagram, too. Dig as deep as you can to assess where your business can fit into the digital market.
4. Look at the social media influencers your audience follows
On Instagram, your business might be tagged or mentioned by other users who are familiar with it. In many cases, these are happy customers who want to rave about your product. But working with influencers, especially those with whom your audience is already familiar, can add an extra level of credibility to your brand.
Research has found that 80% of men and 70% of women would be willing to make a purchase because their favorite influencer was promoting the product or service. And, with over six million sponsored influencer posts on Instagram by the end of 2020, this lucrative market is certainly worth investing time and money into when it comes to research and outreach.
There are plenty of ways to build partnerships with trusted influencers who your audience knows and loves. Missoma, a London-based jewelry company, recently worked with influencer Anna Newton on a custom campaign.
The final product fit naturally with the rest of Anna's organic content and clearly demonstrated her love for the brand. The numerous comments on her ad show followers' trust in Anna and the authority that her endorsement has given to the brand.
5. Review your team's bandwidth
Because it's a visual platform, whether you can stay up-to-date with your content is one of the most important things to consider before you set up an account. Analyze your team's current workload. Do they have the hours to plan and create content, then engage with your audience through comments and DMs?
ManyChat's Instagram Automation capabilities can help manage the workload here, but you need to be realistic about the capabilities that you have internally or if you have the budget to outsource your social media management.
Creating a monthly content calendar is one of the best ways to plan ahead and set yourself up for success on Instagram. Block out time to plan for the next month and decide what type of content you need to make. Videos are more of an investment than photos, but with 91% of active users watching videos each week on Instagram, this isn't an area to skip over.
Think outside the box, especially if your industry isn't traditionally exciting or visually appealing. Make Reels that your followers will want to share on their Stories, or go live with an industry partner to give your customers a behind-the-scenes glimpse into your operations. Wherever you can, build interactive elements into your posts for an additional boost in engagement.
Is Instagram right for your business?
Starting a business Instagram account comes with plenty of benefits, but taking the time to weigh the pros and cons is an important step to take before diving in. The most important factor to consider is whether your target customer uses it.
If you decide that it's the right move for your business, ManyChat is here to save you time and help grow your audience with automated tools and features.
Get help managing your Instagram account with ManyChat automation
The contents of this blog were independently prepared and are for informational purposes only. The opinions expressed are those of the author and do not necessarily reflect the views of ManyChat or any other party. Individual results may vary.