Take Your Email List from 0 to 1: A Simple Blueprint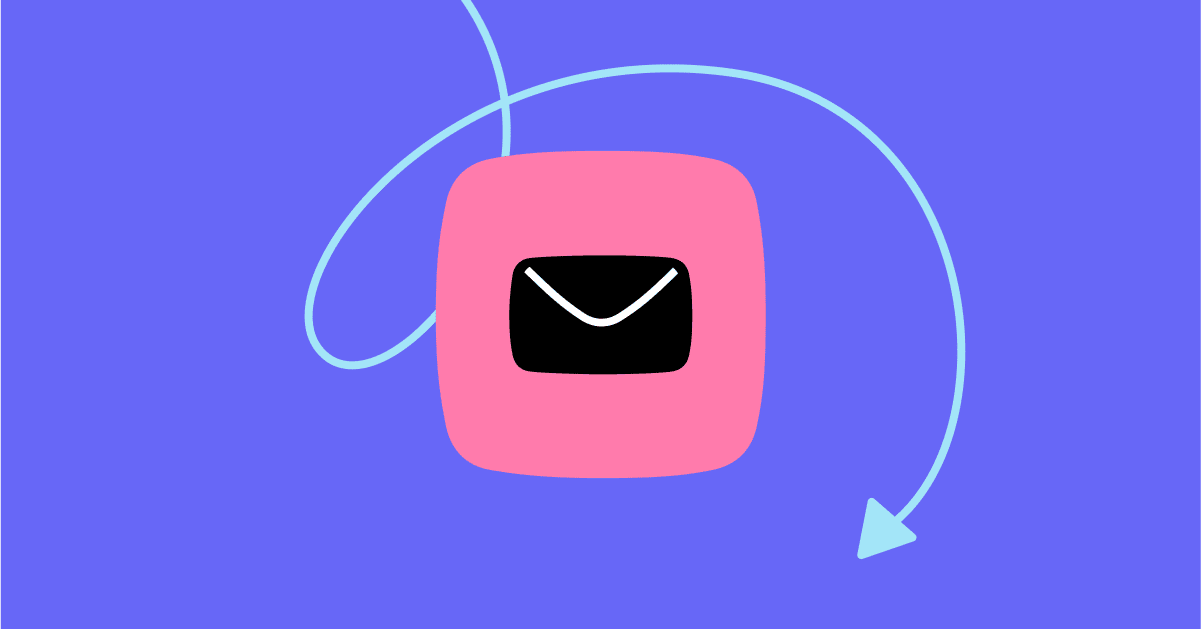 Email has a reputation for being a marketing channel with the highest return on investment (ROI); so by extension, creating an email list is one of the most productive (and lucrative) things you can do for your business. That's because when people subscribe to your email list —a process that takes conscientious time and effort — they are explicitly communicating that they want to hear from your business.
Use the following tips to capture and maintain their attention by implementing a strong email marketing strategy that will help you build out a robust email list one subscriber at a time.

Create your email list compliance foundation
Laws, privacy frameworks, and regulations
One important thing to recognize about email marketing is the differences in how it's regulated around the world. There are a number of consumer protection laws in place to protect email list recipients, and, for this reason, it's important to educate yourself on compliance topics before building a list.
Even before you build your subscriber list, create your first campaign, and send your first marketing email, it's crucial you understand how to be compliant by design. Taking the necessary steps at the outset of your marketing strategy will save your business time in the long run.
Here are a few rules to keep in mind. Note that this list isn't exhaustive, and should be used as a guideline to help get you started.
CAN-SPAM Act (United States)
The CAN-SPAM Act is legislation passed in the United States in 2003 and established rules for commercial email. The law covers the sending of "any electronic mail, the primary purpose of which is the commercial advertisement or promotion of a commercial product or service."
A newsletter email is subject to regulation by the CAN-SPAM Act, as is a promotional email announcing a product launch. For more information, visit the United States Federal Trade Commission to ensure that you are taking the necessary steps to remain compliant in your communication. The video from the FTC can help you become more familiar with the law.
General Data Protection Regulation (European Union) Implemented in May 2018, the General Data Protection Regulation (GDPR) applies to all companies that conduct business with European citizens. When you collect data from audience members, subscribers, and customers, it's more than likely the you are the data controller — also known as the decision maker for how data gets used.
Spend some time on the GDPR website to familiarize yourself with E.U. compliancy before signing up for an email service and launching your first marketing campaign. The video below will help you understand the GDPR within the context of your business.
Additional resources
Given the pace at which technology is evolving, rules and regulations are constantly changing. From time to time, be sure to check up on what's new with email marketing and data privacy legislation.
Keep in mind; however, that online resources are general in nature, and you'll benefit most from working with a lawyer. If you can't afford legal counseling , there are free and low-cost legal services, like New Media Rights, available to small business owners and entrepreneurs who are looking for more guidance beyond online resources.
With a better understanding of compliance basics, you're in a better position to get your email marketing strategy up and running.
Set up your marketing automation workflows
When you're starting from zero, investing in marketing automation software that manages your email list and corresponding campaigns can be invaluable.
One of the challenges of building and managing email lists is that there are several pieces to the puzzle. For instance, you need a landing page to explain the value proposition of your email list, describe your data management practices, share your privacy policy, and create your opt-in flows.

After audiences opt into an email list, there needs to be software in place to manage each subscriber's details, and to potentially integrate that subscriber data with customer relationship management (CRM) software.
Furthermore, your email marketing campaigns will likely expand across multiple channels, including social media platforms like Facebook, Instagram, and Twitter.
A marketing automation system will help bridge the gap between your email list goals and your business's long-term growth strategy. In this section, we'll show you how software can help you set up and manage your email campaign strategy. Here's a video from Salesforce and Matthew Sweezey, author of Marketing Automation for Dummies that can help explain the concept.

Create a landing page that describes the benefits of signing up for your email list.
Think of your landing page as the hub for your email list with its primary call-to-action being a form for lead generation. It can be as simple as an email opt-in form on a blog, such as the example from the ManyChat blog below, or it can be a separate landing page that articulates the value of your newsletter as a standalone publication.

No matter the approach you choose, the goal for your email opt-in process is to provide your audience a reason to subscribe, stay in touch with your brand, and become a list member. And adding a personal touch helps set the tone for a more enjoyable experience.
As a rule of thumb, you can expect to see higher email list sign-up rates when you ask your audience to provide less information. That's because people are often hesitant to share personal data and typically don't want to receive unwanted communications through phone calls or direct mail. Asking for a name and email address will help establish that initial sense of trust.

As a marketer, it's important to respect this build of trust by being absolutely clear about your marketing intent, including how often you plan to send messages and whether you plan to send promotional emails to subscribers. It's also helpful to share your publication plan for outreach.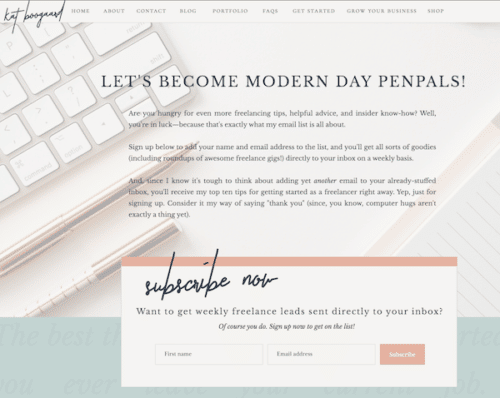 What and how you communicate can be as simple as setting the following expectations (like Kat Boogaard, a freelance writer and small business owner, did in the example above):
Share how often you plan to email subscribers.

Explain the type of content that can be expected in your newsletter.

Share why someone will benefit from subscribing.
Create an onboarding sequence for new email list subscribers.
An onboarding sequence will help set expectations for your audience and sets the tone for a high-performing list in the long term. For instance, after a new subscriber fills out a sign-up form, it's helpful to clearly explain what will happen next.
Asking new subscribers to confirm their subscription is a best practice known as a "double opt in." This is an extra confirmation step on behalf of the person signing up to receive emails from you and your brand.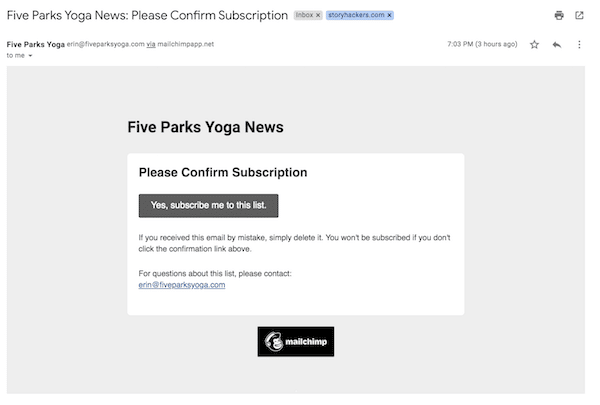 Often, these double opt-in emails will land in a new subscriber's promotions or spam filters. You can always remind your audiences when they sign up for your mailing list on your landing page, to check these folders and confirm their subscription.
After each subscriber confirms becoming a list member, you can start sending marketing emails. At this stage, a welcome campaign that includes a series of introductory marketing emails can help engage your target audience.
For an example of a simple welcome series, take a look at this 10-day public relations challenge developed by Crystal Richard, a media relations expert and founder of Crystal Richard & Co. digital PR company. Richard's goal is to help her audiences gain an understanding of and appreciation for PR as a discipline.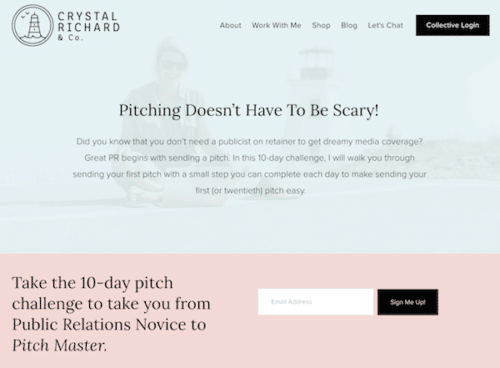 In addition to having educational value, this pitch challenge gives audiences an appreciation for what it's like to work with Richard's business. You'll see that one of her core strengths is setting expectations for and communicating clearly with her mailing list.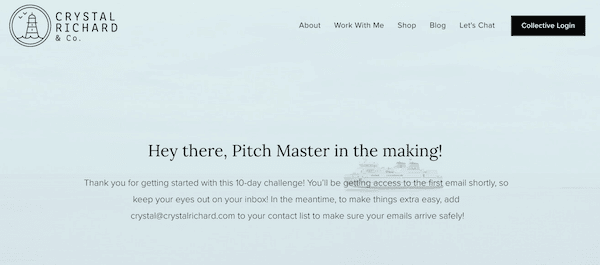 A well-planned onboarding sequence is equal parts motivational, engaging, and practical. The goal is to create excitement and motivate your audiences to learn more about your business. Give your email list members a reason to appreciate and value your marketing communications.
Advanced strategies for managing your email lists
You'll find, as your subscriber list begins to grow, that you'll be able to try out more sophisticated marketing initiatives, which provides more opportunities to get creative. It's never too early to start thinking about the future of your email marketing strategy — even if your approach in the very beginning is to start slow. After all, you have to crawl before you can walk and eventually run.
Build systems for managing your email lists as time passes and subscriber preferences change.
As a list owner, it's your responsibility to manage audiences with integrity; that means having a list management strategy that enables you to clearly manage subscriber preferences.
When sending emails, you should be able to identify which subscriber lists have signed up to receive which emails. A well planned list management strategy also includes implementing protocols for managing unengaged subscribers. Long-term, be sure to check up on people who become inactive. You can always automate these messaging flows, like the following example from San Francisco-based WITHIN Meditation.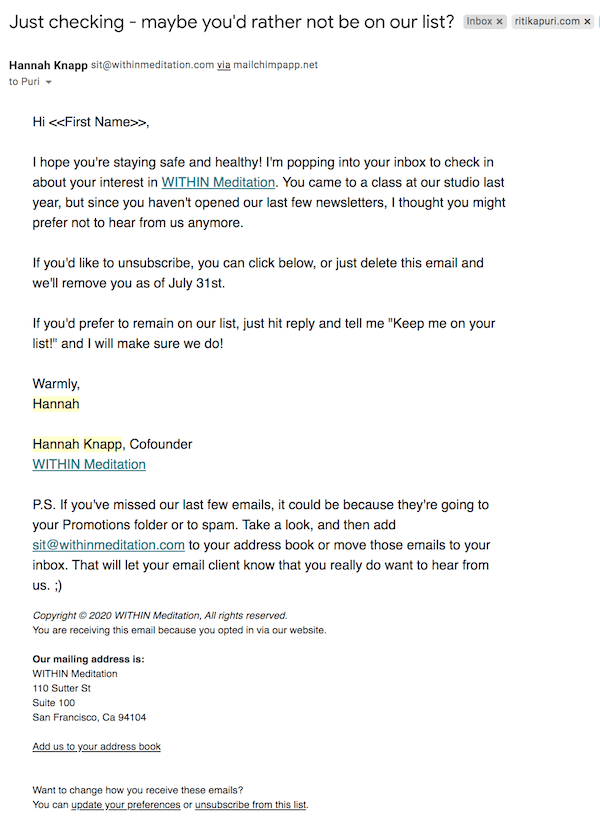 Integrate your email outreach strategy with other marketing campaigns.
One way to build and re-engage your list is to engage with your target audience across multiple platforms.
For instance, you can use your mailing list software to run a Facebook ad campaign. Once you start running Facebook ads, you can use your subscriber list to build lookalike audiences of social media users on Facebook and Instagram who may benefit from becoming a customer.
These campaigns can route your audience to a chatbot, which you can use to opt your audience into an email list. You can use omnichannel marketing software, like ManyChat, to create opt-in flows that keep your business compliant, as well as communicate the value of joining your email list.
The benefits to creating an integrated, multi-channel email marketing campaign are as follows:
Each medium can reach different audiences at different times.

If a user goes cold on one channel, you have other channels to re-engage.

You'll have three more opportunities to communicate with your customers.

You can mix and match communication tactics to better fit customer preferences when delivering content.

You have more ways to send reminders like reservations, appointments, webinars, abandoned cart, etc.
The content team at ManyChat uses its own chatbot platform to increase its subscriber base to its newsletter "The Chat" through an organic conversational experience.
As a general marketing strategy, the team relies on an embedded form on the blog to encourage email list sign-ups. (You read that right! It's a bot for bots.) The team wanted a way to increase this number, so they created a chatbot that led people to receive personalized emails with the materials that they requested.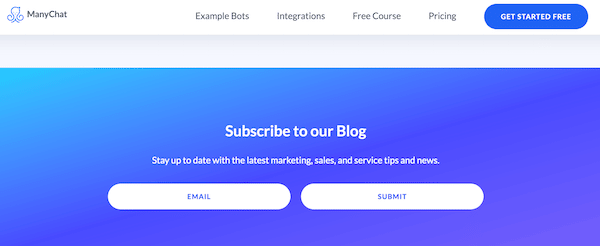 The first step was for ManyChat to route audiences to its chatbot, from its company website using a feature called the Growth Tool, which sets up a chat bubble on all pages with "/blog" in the URL. Once a website visitor clicked the chat bubble, they entered an automated flow that promoted the newsletter and asked for their email address.
Using GIFs, a Messenger from Facebook bot responded to someone's actions with different emotions. This visual language kept a text-based conversation funny, entertaining, and engaging.
At the end of the conversation, this bot routed audiences back to relevant information, such as a case study, free account trial access, or additional blog articles.
The result of one campaign was a 50% increase in lead generation to the ManyChat pro subscription product in two months. (You can try out the bot yourself by clicking on the Messenger icon in the bottom right corner of this webpage.)
If you're interested in using ManyChat for marketing automation, email list management, managing omnichannel marketing campaigns, or integration with Messenger, take a look at this article for a clear set of instructions. For further reading and optimization tips, check out this resource on email marketing best practices to improve your campaign performance. And who knows, a chatbot might just be the thing that helps you land your first email list subscribers.
Turn ideas into action
An email list is the key to making a meaningful impression with your brand. A successful email marketing strategy keeps human communication at its epicenter.
Rather than creating a distribution list to reach people with marketing blasts, your goal is to create a two-way conversational feedback loop for sharing information.With the right email marketing strategy in place, every list subscriber will experience the value of your organization.
Marketing automation can help you streamline your processes, so that you can focus your time and mental energy on the more creative dimensions of your campaigns. Especially with email marketing having so many moving parts, it's valuable to have technology and resources that can offer support.
Want to give email list building and marketing automation a try with your chatbot? Sign up for a demo with ManyChat.
The contents of this blog were independently prepared and are for informational purposes only. The opinions expressed are those of the author and do not necessarily reflect the views of ManyChat or any other party. Individual results may vary.