How to Turn Instagram Likes into Sales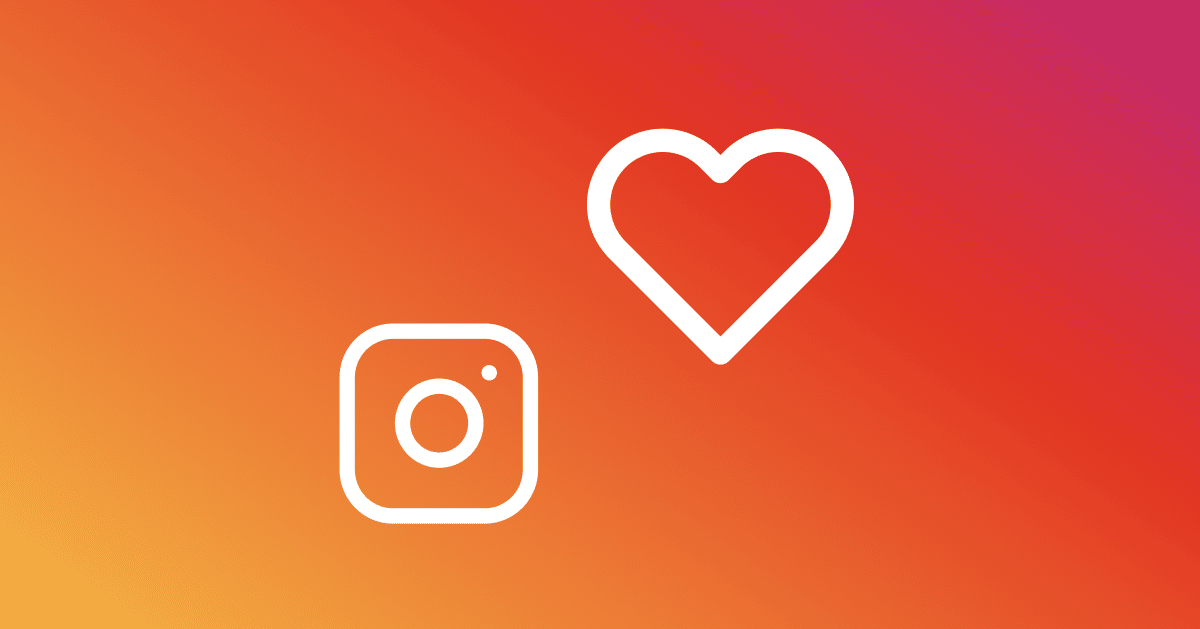 Bills and rent: 1,000 likes per month. Staff salaries: 10,000 likes per month. Gas for your car: 50 likes per month. Life would sure be a little easier, but the sad truth is you can't pay the bills with Instagram likes.
But that doesn't mean your Instagram likes are totally worthless. In fact, if businesses put a little thought into their marketing strategy, they could turn post likes into paying customers.
How? This guide shares the answer so you can turn Instagram into a revenue-generating machine.
The power of selling on Instagram
Did you know that 50% of users follow brands on Instagram? It's true. The social networking site has 200 million users that visit at least one business profile every day.
Instagram is no longer just a place for people to catch up with family and friends. Their 1+ billion monthly active users rely on the platform to stay in touch with retailers, buy products promoted by influencers, and research new products.
That means businesses have the potential to make a lot of money from maintaining an Instagram presence. But you need a strategy that nurtures potential customers and turns likes into profitable relationships.
How to increase sales on Instagram
Now that we know the power Instagram has to generate sales for your business, let's take a look at eight smart techniques you can use to turn Instagram likes into sales.
1. Respond to comments and messages quickly
Comments are a key way to build relationships with your Instagram followers. And once you have strong relationships, you build a loyal following of people waiting to buy from you.
It's crucial, however, to never leave your commenters hanging. Think about it: Would you walk away from a customer if they asked you a question face-to-face? Or hang up if they phoned your store? The answer is probably "no," which is why you need to prioritize responding to Instagram comments.
If you're still not convinced, just know that 40% of consumers expect a brand to respond within an hour of sending a message via social media. Plus, answering a query quickly helps with building loyalty with some 35% of consumers stating they're more loyal to brands that reply promptly.
In addition to responding to comments on your posts, keep an eye on your direct messages (DMs). Consumers send more than 400 million messages to businesses on Instagram every day. Keep on top of your inbox and respond as soon as you can.
2. Use Instagram Automation
Of course, it's not always possible to respond immediately, especially outside of business hours. However, tools like Instagram Automation by ManyChat can be deployed to give customers real-time responses to their comments and DMs — even if your human team isn't around to answer their queries.
Use the Conversation Starters tool to upload answers to your frequently asked questions (FAQs), such as product-related queries about sizing and stock. Then, set destination URLs to drive users to your website or product pages as part of your response.
It's a win-win for everyone involved. The customer gets immediate help with their question (which could influence a sale), leaving your social media team more time to grow the Instagram account.
3. Optimize your link in bio
Businesses have long been calling out for clickable links in Instagram posts. Yet despite many user's frustrations, it doesn't seem like it'll be a feature rolled out anytime soon.
The good news is that there's a workaround. Use a tool like Campsite or Linkinbio to optimize the link in your bio (on your main Instagram profile) and drive traffic to your site.
This can be the homepage of your site, but can include several links, including to a product you've just promoted, a new service you're offering, or a webinar you're hosting. Then, use the Instagram caption on your posts as a call to action (CTA) to direct people to your Instagram bio.
4. Tag products from your Instagram Shop
Most platforms are evolving to capture the 48% of people who purchase products through a social media network, including Instagram.
One of the platform's latest features, Instagram Shops, allows eCommerce businesses to upload their product catalog directly to the app. Customers can view the Instagram Shop to browse and buy items without leaving the app.
A whopping 130 million people click on Instagram shopping posts each month. If you're not using them, you're missing out on potential eCommerce sales and revenue. In fact, shoppable posts can boost brand traffic by 2,600%.
Shopping posts appear similar to standard posts, but with one key difference: They're clickable.
Make sure you've got an Instagram business profile and upload product photos to your profile. Tag any products you're talking about, directing users to a particular product page on your website and, ultimately, towards making a purchase without forcing them to head to your bio.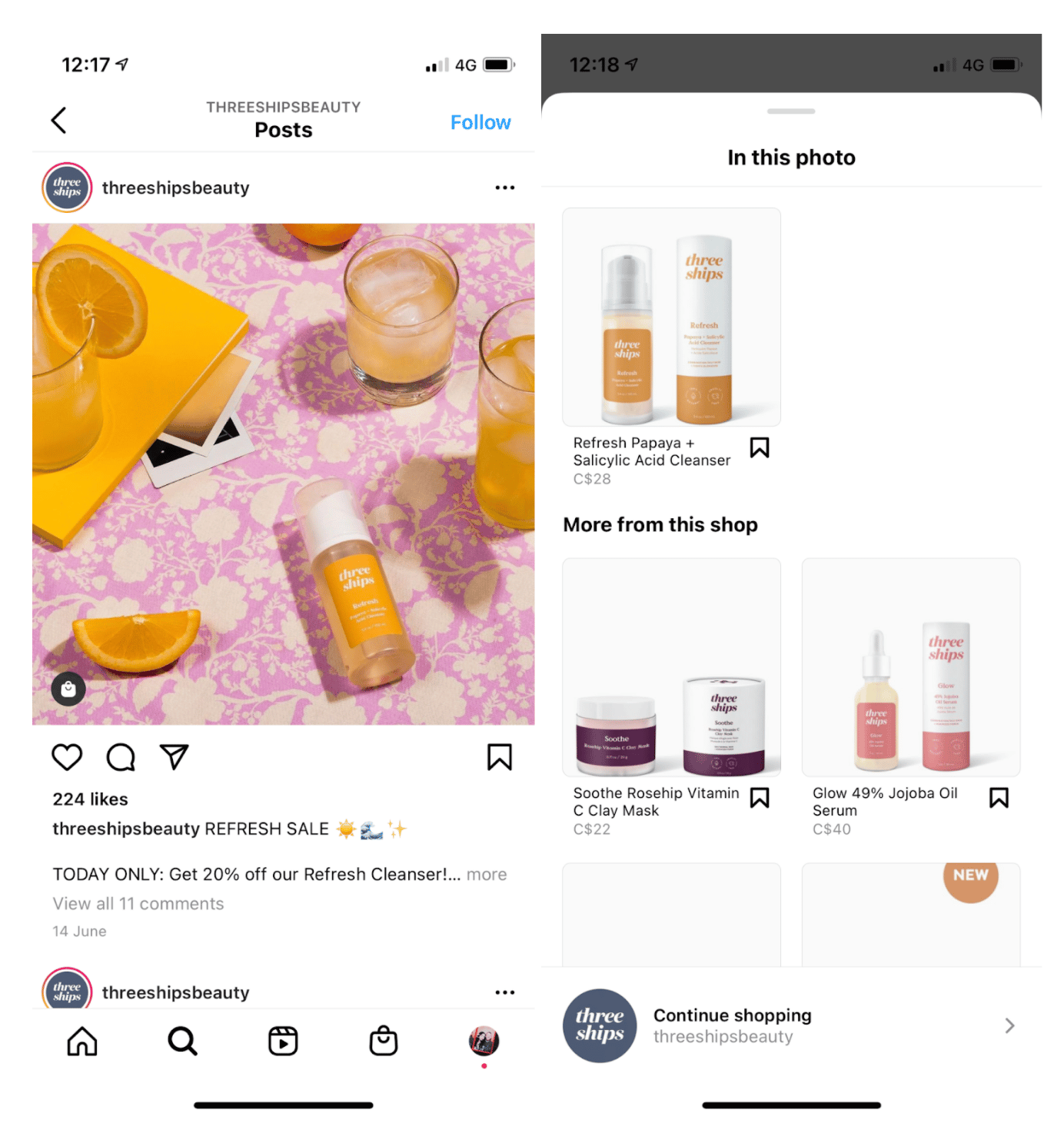 Promote your existing posts and turn them into clickable ads, or set up much more complex and dedicated advertising campaigns. Instagram will charge you each time a person clicks the link, but you can easily control your budget and maximum spend per day. (More on this later.)
5. Have your products promoted by Instagram influencers
Influencer marketing isn't a new strategy. But businesses that harness the power of Instagram influencer marketing are investing in a worthy strategy since 88% of people say they've been inspired by an influencer or blogger to make a purchase, with 80% of users clicking a link or image directly shared by an influencer.
Turn these influencer partnerships into money-making machines for your business. Simply ask the influencer to share a photo of your product or service, and repost it to your account with the shoppable tag.
(Word on the street is Instagram is creating new features just for creators and influencers, including the ability to shop a brand's products from their profile. This will make it 10 times easier for brands to reach an influencer's audience using products.)
6. Promote shoppable products in Instagram Stories
You can't afford to ignore Instagram Stories. An estimated 500 million people use Stories every day, with that number only set to grow.
Stories have huge revenue potential, too. Some 58% of Instagram users say they've become more interested in a brand after seeing their Stories. Another half have visited a website and purchased after seeing a product or service in Stories.
Follower count isn't everything, but it is when it comes to Instagram Stories. Only verified accounts, or those with more than 10,000 followers, can use the "swipe up" feature to send people from your story to a chosen landing page.
Don't meet that criteria? Don't worry. If you've created an Instagram Shop, you can tag products in your Instagram Stories. It gives you the chance to send people to a specific product, even though it's not directly to your website.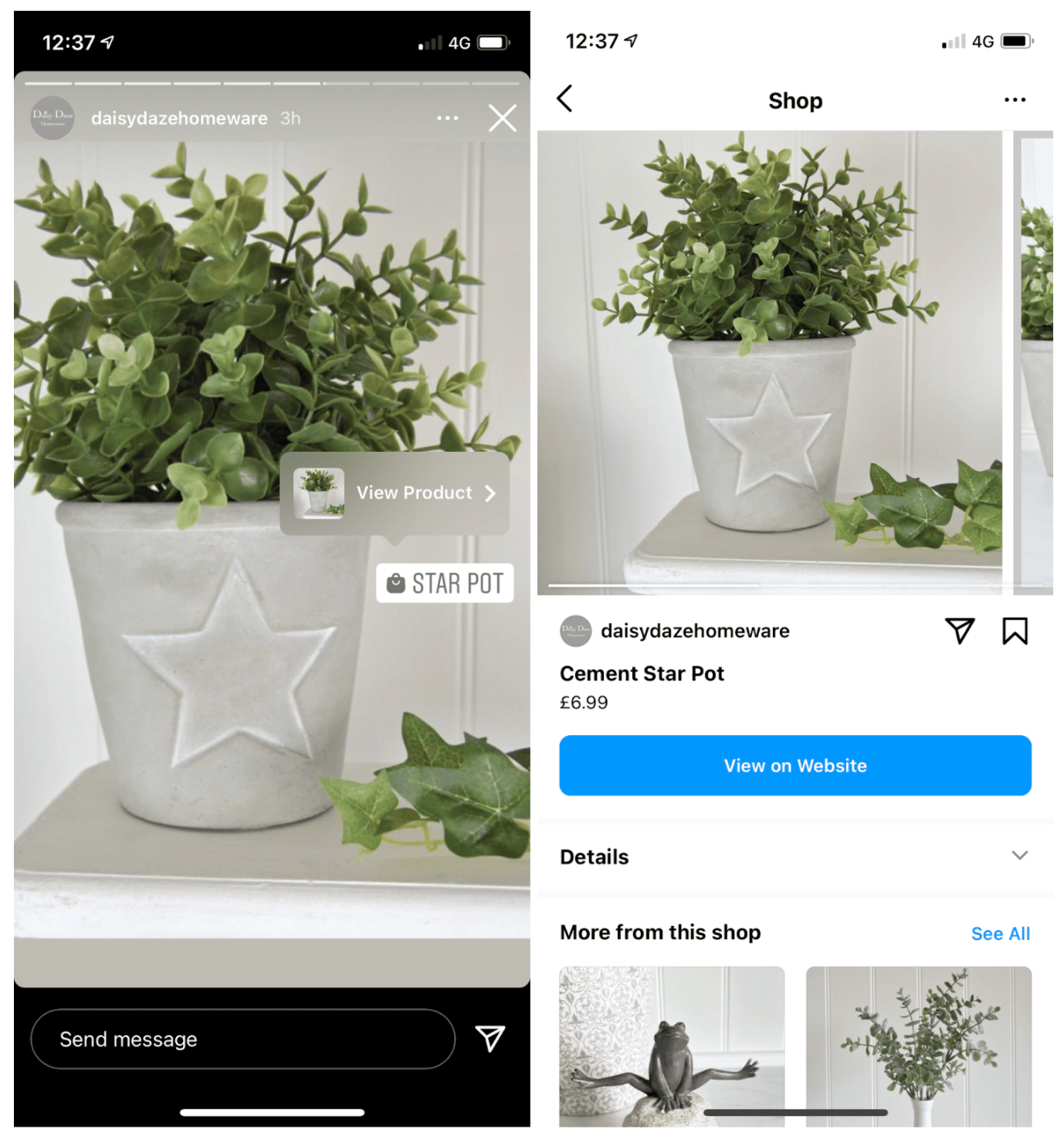 7. Build meaningful relationships with your followers
Instagram can connect you with your target audience, no matter where they are. That's super powerful, especially when you use the platform to develop deep and strong relationships with your followers.
The truth is, not everyone who likes your Instagram content will purchase something straight off the bat. It takes time to nurture leads to a point they feel comfortable trusting you with their purchase.
Here are some tips to build meaningful relationships that make your followers want to buy from you:
Share content consistently that nudges them to like or comment.
Get involved in their conversations by asking questions and responding to their comments.
Encourage them to share content about your company or products (which you can later repost as user-generated content).
Ask for their opinions on your new or upcoming products.
8. Turn popular posts into Instagram ads
While there are best practices to consider when creating Instagram content, sometimes, for reasons you could never predict, posts go viral.
Capture any virality that your Instagram post is getting by putting some cash behind it. Brands can boost top-performing posts and increase brand awareness directly in the Instagram app by turning that post into an ad. (Think of it like paying Instagram to share your content with other people.)
Sure, it's not essential to make sales off the back of Instagram content, but top-performing content is perfect advertising material.
Instagram likes can drive sales
It's always nice to be liked, so when your Instagram posts are racking up the likes, it can feel good. But, as good as likes are, they won't pay the bills, and you need a way to turn Instagram likes into revenue for your business.
The techniques we've shared here will help you to do just that. Remember to use the Instagram Shops to tag products in posts, optimize the link in your bio, and use automation to give real-time responses to comments or DMs.
Ready to harness the power of Instagram Automation? It's coming soon to ManyChat.
The contents of this blog were independently prepared and are for informational purposes only. The opinions expressed are those of the author and do not necessarily reflect the views of ManyChat or any other party. Individual results may vary.