Instagram Competitors: How to Find, Analyze, and Beat Your Competition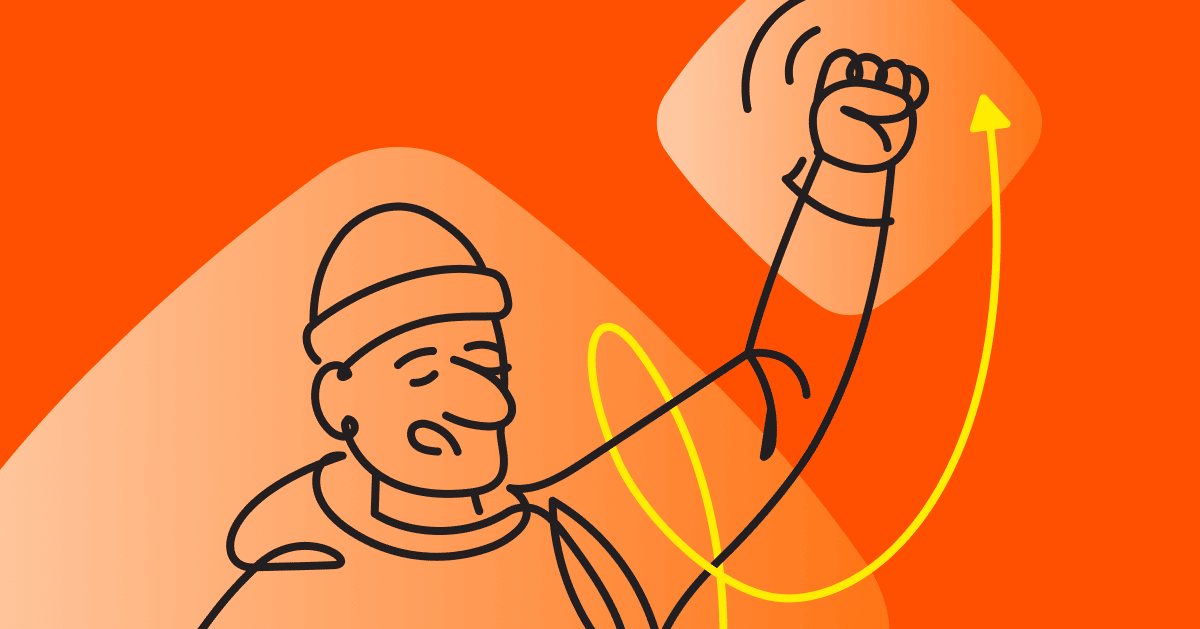 Instagram is a great place to connect with your target audience and potential customers. Unfortunately, your competitors are taking advantage of these benefits as well. With 90% of users following at least one Instagram business account, there's a lot at stake for brands that want to build relationships with followers.
While competitors might sound intimidating, healthy competition is a good thing; it keeps you from becoming complacent. Snooping on your competitors' Instagram marketing strategy gives you ideas for improving your own. This guide will explain how to do it.
What is an Instagram competitor?
An Instagram competitor is an Instagram account that shares the same or similar audience with your business, or that appeals to your target audience.
We can group them into three main categories:
Direct competitors: Other businesses selling the same products or services, and/or operating in the same locations as you.
Indirect competitors: Other business accounts selling services or products people can use instead of yours.
Influencers and key opinion leaders: Non-business users posting content related to your industry or area of expertise.
Each type of competitor is important to consider in your Instagram marketing strategy. They're creating content that's relevant to your target audience—an audience whose attention you're fighting for.
Why do Instagram competitors matter?
It's always helpful to have insight into what your competitors are doing as part of their marketing and sales strategies, whether on social media or other channels.. Being able to understand who your Instagram competitors are and what they're posting can be valuable to your business for a number of reasons. For example, you can:
Get inspired by their content: What are competitors sharing with their Instagram followers? Is it something you can use as inspiration for your own content strategy? Snooping on competitor pages can help you build a list of ideas for future reference, which you can draw upon when you need some new content for your social media calendar.
See what their audience likes: Reviewing your competitors' accounts allows you to observe which types of posts tend to generate the best reactions. Are they using video content or Instagram Reels that get lots of likes? Do they post quotes or questions that their followers respond to via comments?
Discover accounts to follow: If your competition regularly interacts and builds relationships with other Instagram accounts, you might be missing out on potential partnerships or collaborations you too can leverage.
Identify which hashtags to use: Many of the hashtags your competitors use will be related to your business or niche, meaning your target audience will search them or follow them. Bring these hashtags into your own Instagram strategy to reach the same users.
Uncover trending topics: You'll get insight into trending topics by regularly analyzing competitor's Instagram accounts. With this intel, you can also start creating content on them in a timely manner and become an industry leader in your space.
It's not all about what they're doing well; conducting an Instagram competitive analysis also helps you to understand what you can do better than your competition. For example:
Do they post at the same time each day? Do some analysis into your audience behavior to find the best time to post (e.g., when they're most active).
Do they take advantage of all the content types Instagram offers? Try Reels, Stories and carousel posts for greater impact.
Are they unresponsive to comments? Make sure you respond to each comment, automating the process with ManyChat's Instagram Automation.
How to find (and beat) competitors on Instagram
Although you'll usually have a good idea who your main competitors are, there's a chance that some may have slipped under the radar and may be surpassing you on Instagram.
Here are six smart ways to find—and more importantly, beat—your Instagram competitors.
1. Do a keyword search on Instagram
One of the best places to start when finding your competitors is by simply searching Instagram for keywords related to your business and industry.
Head to the Explore page and type your chosen keyword in the box at the top. Filter your search by account to see a list of accounts that mention your keyword in their name or bio. This list will include relevant competitors in your space: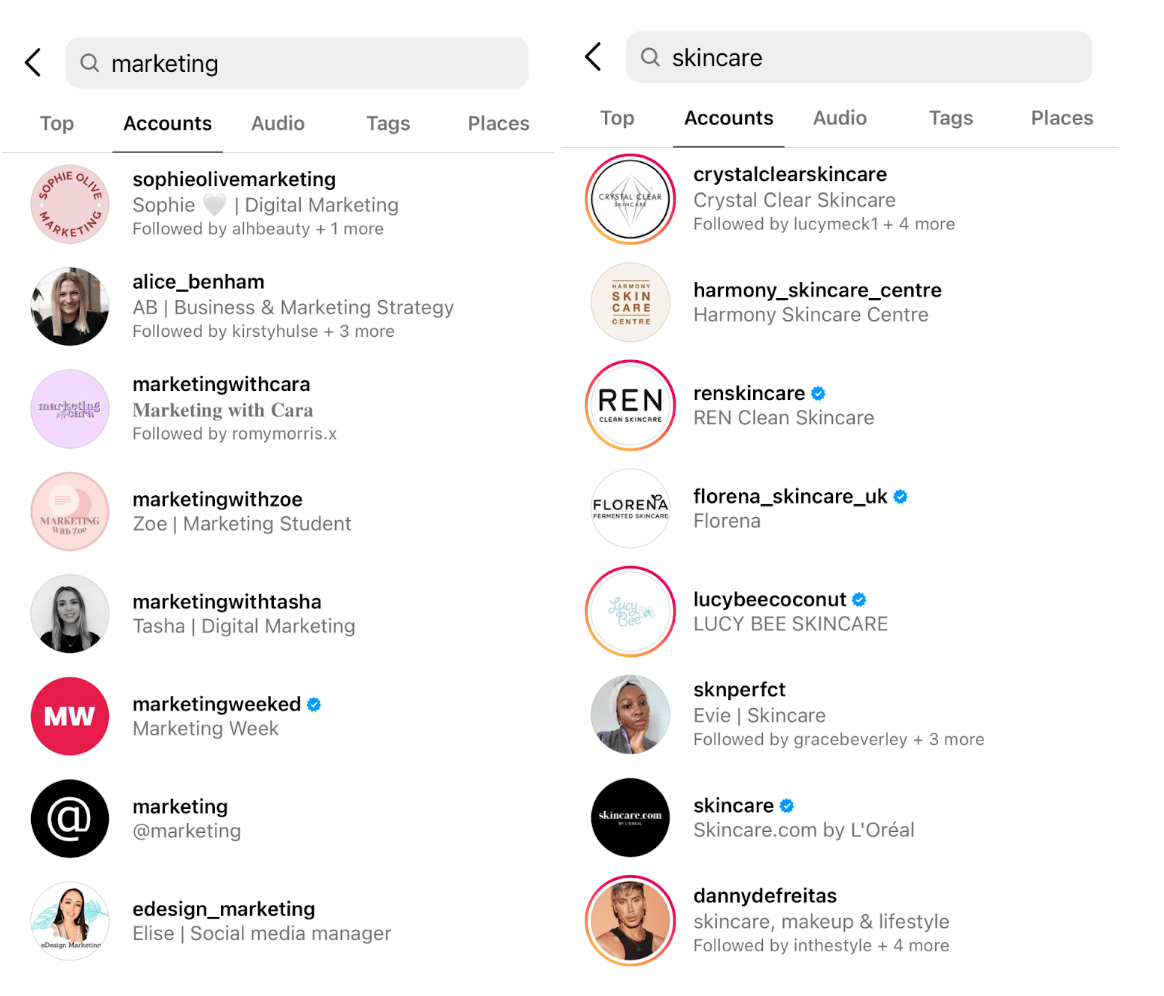 2. Survey your audience
Your existing customers and followers are a great source of information. Use them to your advantage by asking them directly who they see as your competition. For example, you could:
Ask your website visitors using a pop-up survey
Run a focus group with loyal customers
Use Instagram Automation to DM followers a question such as, "Which brands do you follow or admire?"
3. Monitor industry hashtags
Discover your competitors by learning which business accounts post about topics that are relevant to your industry. Do this almost on autopilot by following hashtags related to your products, services, or niche. You'll then see these posts in your feed—including competitors' content.
Similarly, use the Explore feature to search for keywords in your industry. Navigate to the tags tab for a list of related hashtags to browse and follow. Popular posts—such as those tagged by influencers—appear first:
To help inform your strategy going forward, follow relevant industry hashtags and monitor which business accounts are using them. Make a note of the formats they're sharing, testing similar styles as part of your content strategy.
4. Find influencers your competitors collaborate with
Partnering with influencers is a great way to expand your business's reach and sales on Instagram. In fact, it's the most popular tactic for marketers, 79% of whom work with influencers.
While browsing a competitor's Instagram profile, keep a note of the influencers they're collaborating with. Either approach those influencers to work with you, or find similar influencers (in terms of profile theme, engagement, and following) to work with you instead.
Clothing retailers, for example, might consider Primark their competition. In that case, add influencers like Yolande Macnon, Laura Dams, and Macy Fancy (or other accounts with similar audiences) to your influencer collaboration shortlist. 
5. Create superior content (that's better than your competitors')
It's one thing to know what your competitors are doing, but another to use that information effectively. To make your research worthwhile, use the insights you gain to create Instagram content that your audience will love.
Use your competitors as a source of inspiration, but don't forget to leave your own creative stamp on your content. That could mean:
Experimenting with different content formats
Testing which types of content your audience engages with
Partnering with industry influencers to amplify your brand awareness
6. Trial paid ads to steal your competitors' audiences
Once you know more about your audience and your competitors, try running some paid ads on Instagram (if your budget allows).
Target users by demographic or interest, or through Lookalike Audiences, which Instagram creates based on your existing audience. Effective targeting will ensure your content gets in front of the right audience–who may well already follow your competitors.
If they like what they see, they'll follow you, too… and may even turn into paying customers further down the line.
Start monitoring your Instagram competitors today
Competitors are likely already spying on your business' account. Return the favor and check out what they're doing, using the intel to beat their content and attract your target audience's attention.
Just don't directly copy them—not only is it obvious when you do so, but an accusation of plagiarism can land you in hot water. Instead, use the insights you've gathered during your competitive analysis to create a stronger content plan that appeals to your target audience.
Engage new followers on autopilot with Instagram Automation by ManyChat
The contents of this blog were independently prepared and are for informational purposes only. The opinions expressed are those of the author and do not necessarily reflect the views of ManyChat or any other party. Individual results may vary.