What is eCommerce? A Complete Guide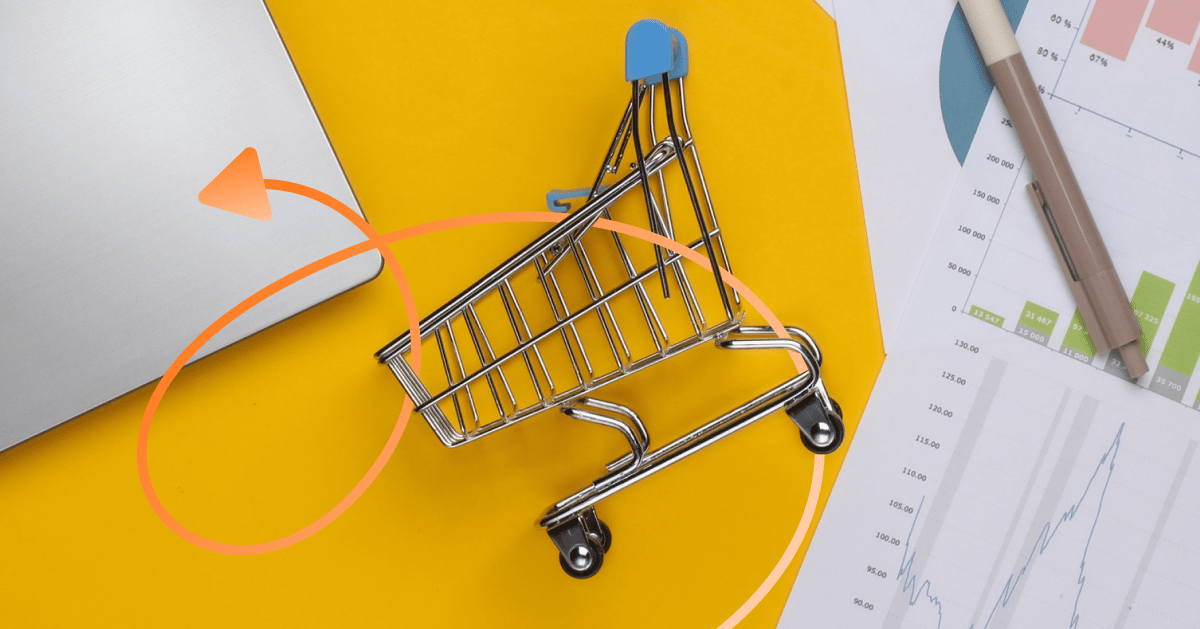 Online shopping is fast becoming the new norm for buying goods and services.
In 2017, online retail's market share was around 10%. That means for every $10 spent by consumers that year, more than $1 was spent online.
In 2020, that number increased to just over 16%, representing $4.2 trillion of the $26 trillion retail market. The U.S. eCommerce market also saw a 9.1% increase in sales from 2019, amounting to $374.3 billion in 2020. 
If you want in on the action, here's everything you need to know about eCommerce to get started.
What is eCommerce?
Ecommerce, also known as electronic commerce, refers to the buying and selling of products or services online. You can complete an eCommerce transaction using any device that connects to the internet (computers, smartphones, tablets, etc.), and you can buy almost anything: clothing, music, stocks, plane tickets, medicine, and more.
Ecommerce has helped online businesses reach a bigger market by providing affordable and efficient sales channels for their products and services. Corporations, independent freelancers, small businesses have all benefited from eCommerce, as have the customers worldwide who are now able to purchase from them
Advantages:
It's easier for sellers to reach new customers. Online sellers can build a store on their own website or sell on marketplaces like Amazon, eBay, or Etsy for their eCommerce transactions. Sellers are no longer limited to retailing to local customers; eCommerce makes it possible for them to reach customers around the world.
Lower barriers to entry. Since business owners don't need a physical storefront, they can start stores without high overhead costs like rent or staff.
Convenience. Ecommerce transactions can happen 24 hours a day, seven days a week. You can offer unlimited customer support using an AI chatbot and engage with shoppers even when you're not physically present. 
Greater product offerings. Ecommerce store owners are not limited by physical retail space, so they can offer a broader range of products. 
Disadvantages:
Customers can't touch products. Customers may want to try on clothes or shoes before buying them. But when buying online, they are limited to the information on your product page to get "hands-on" with your items.  
Shipping times. When a shopper buys something in your store, they'll have to wait for it to arrive at their home or office. Companies like Amazon have made it less painful by offering two-day shipping, but most online stores have to charge customers for expedited shipping, which can decrease people's willingness to purchase. 
What are the three types of eCommerce?
Ecommerce comes in many forms. Here's an overview of the three most common types.
Business-to-business (B2B) eCommerce
What it is: B2B eCommerce refers to online transactions between businesses. While businesses in this area are predominantly service providers, you'll also find office supply companies, software companies, manufacturing companies, and more under this category.
Benefits: With eCommerce, B2B firms can increase their reach to customers and make their products more discoverable than with traditional B2B sales. It also reduces overhead costs to help grow their bottom line. Ordering is more reliable and efficient; you can manage suppliers and customers all in one place; sales no longer need to take place at trade shows. Finally, automated upsell and cross-selling abilities help B2B firms sell more with less.
Platforms: The best platforms for conducting B2B eCommerce are Shopify Plus, BigCommerce, and Oracle SuiteCommerce. 
Business-to-Consumer (B2C) eCommerce
What it is: B2C eCommerce happens when individuals purchase products or services from online stores. The global B2C eCommerce market size was valued at $3.35 trillion in 2019 and is expected to grow at a compound annual growth rate (CAGR) of 7.9% until 2027. 
Benefits: Convenience is a major benefit and growth driver for the online shopping industry. Merchants can create an online store in a few hours, while customers can find their desired products by visiting a website online using their laptop or mobile device from the comfort of their homes.
Platforms: The best platforms for conducting B2C eCommerce are Shopify, Wix eCommerce, and WooCommerce. 
Consumer-to-Consumer (C2C) eCommerce
What it is: C2C is an eCommerce model that allows private individuals to buy and sell products from each other online. Advertising methods include free classified advertisements, auctions, forums, and individual pages for startup businesses.
Benefits: Since C2C eCommerce is more friendly and personable, sellers are often more accessible. Buyers don't need to contact support for pricing or product questions; they can ask the seller directly. It also tends to require less effort to complete a purchase and can be faster to fulfill on order if the buyer is local. There's no middleman, and anyone can sell without a business license or certification.
Platforms: The top C2C eCommerce platforms are eBay, Etsy, Facebook Marketplace, and Kickstarter. 
Ecommerce industry growth
Ecommerce is thriving worldwide. In 2019, an estimated 1.92 billion people bought goods or services online. In the same year, global eCommerce sales worldwide reached $3.5 trillion, and according to Statista's latest forecasts, e-retail sales will hit $6.5 trillion by 2023. 
Here are some additional interesting eCommerce growth stats:
How to start an eCommerce business
It's pretty clear that eCommerce is here to stay. But building an eCommerce business is challenging and requires strategic steps and decisions to bring it all together.
That's why we've compiled a step-by-step list to overcome the barriers you'll face when starting a successful online store.
1. Brainstorm what problems will your products solve
The first step to launching your eCommerce business is to think about what solutions you'll provide.
Think about:
Why you want to create this product
Who you plan to sell it to
What problem it will solve
How profitable the niche is
Create buyer personas with this information. Use these customer profiles to understand who you're selling to and continually refine your target audience. You can use this data to create relevant messaging and ads after you launch your store. 
Aim to create niche products and can't be found in giant marketplaces. Rhiannon Taylor, owner of RT1Home, tells us how "The pandemic has shown consumers that they can order anything and everything online. Most will prefer the convenience even after retail stores reopen to the public." 
"It'll always be hard to compete with big box stores on free shipping, cheaper pricing, and product selection. But there will always be a need for unique, high-end products that consumers want outside of Amazon and Target."
Learn: How to Define Your Target Demographic
2. Consider logistics
Once you have a solid business idea and understand the problem you're solving for your customers, think about how you'll make the product. You'll want to decide:
Will you make, pay to manufacture, wholesale, or dropship your products?
Where will you source materials?
How will you ship products?
How will you promote your goods?
Include these answers in your business plan to help you make smarter decisions down the road.
Learn: Ecommerce Logistics and Trends for 2021
3. Choose an eCommerce website builder
After you've established a solid product to sell, you'll need to find a place to sell it online. There are plenty of eCommerce website builders around today, including Shopify, WooCommerce, 3dcart, and more. Each one has a unique set of features and different degrees of sophistication.
If you're a computer wiz and want to customize everything, you can find a builder for that. If you prefer a simple drag-and-drop option to build a store quickly and easily, there are options for you as well. Research the best choices and select one that makes sense for your business and capabilities (more on this later)
Aim to find an eCommerce platform that:
Offers domains and hosting
Connects with marketplaces like Amazon, eBay, or Etsy
Handles inventory and shipping management
Connects with social media apps
Gives you access to other marketing tools or integrations
4. Build your online store
After choosing your optimal store builder, it's time to create the storefront for your online business.
Choose a domain name. A branded domain name makes it easier for shoppers to find and recognize you online. Keep it short, easy to spell, and easy to remember. 
Select a template. Most eCommerce website builders have one-click templates to get your store up and running as quickly as possible. Browse the options available and choose a design that aligns with your brand. Think about how you want your store to feel and how you want to showcase your products.
Add products. Once you've chosen a template, build out your product pages and add items to your store. You'll want to write captivating product descriptions and include high-resolution imagery to help customers envision owning your goods. Learn how to build product pages that sell.
Decide which payment methods to accept. Ecommerce store owners can offer various payment gateways like credit cards or digital payment services like PayPal or Stripe. Check the cost per transaction on payment methods and determine if there are any limitations to where you can accept them. 
Add a customer chat window. A customer chat window like ManyChat Live Chat allows you to help customers in real-time. You can answer questions about payments, products, or shipping, or guide customers to purchase. You can also create a customer service chatbot for your store so it can offer automated support 24/7.
Learn: How to Build an eCommerce Website
5. Create a go-to-market strategy
At this stage of starting an eCommerce business, you have everything you need to launch. Now it's time to promote your business and let people know your products exist!
Your go-to-market strategy should include:
The marketing channels you'll use (Messenger marketing, SMS, email, Facebook ads, etc.) 
The type of content you'll create and share
The marketing tools you'll use
A budget for monthly ad spend
A chatbot for lead generation and customer retention
For a more in-depth look at starting an online store, read How to Start an eCommerce Business. 
Grow your eCommerce business with ManyChat. Start free today.
Top eCommerce platforms
A good eCommerce platform can help you start an online store easily and make your products look good on any device. It'll also make managing your orders more straightforward and create a great experience for shoppers so they'll buy something and turn into customers.
There are a number of free and paid eCommerce platforms that you can use for your business. Here are a few top options for you to check out.
Shopify
Shopify is a leading eCommerce website builder for online sellers. It powers over 1 million businesses and is known for its ease of use, design templates, native marketing tools, and low prices. 
The platform connects with other apps like ManyChat and Oberlo, enabling you to centralize operations and make it easier to manage your business. You can find more apps in the Shopify App Store.  
Shopify offers a 14-day free trial, with paid plans starting at $29.99 per month.
WooCommerce
WooCommerce is open-source software for WordPress websites. It's not a standalone builder; rather, it's a plug-in you can add to a WordPress site to enable eCommerce functionality. Because it's open-source, there are no limits to your store design—you can customize everything and anything, add limitless products and users, and take unlimited orders. 
The platform is completely free. You'll have to pay for your domain name and any hosting fees (which is typical for any online business), or if you want to add extra apps to enhance your store's functionality.
3dcart
If you want a low-cost eCommerce add-on for your website, 3dcart may be the best eCommerce platform for you. It doesn't have a robust feature set like those found in Shopify or WooCommerce, but still offers mobile-responsive, SEO-friendly themes, solid sales analytics reporting, and payment gateway integrations with PayPal and Stripe.
3dcart offers a 15-day free trial, with paid plans starting at $19 per month.
Read more: Best-in-Class eCommerce Platforms For Your Online Store
Choosing the right eCommerce software
Ecommerce software is what helps online stores run. Different software makes it possible to add products, manage inventory and supply chains, calculate taxes, promote your store, and handle everything else you need to take and fulfill online orders.
There is no shortage of eCommerce software options today. Fortunately for you, we've handpicked seven key types of software that will help you drive operations and run a successful retail website.
Marketing automation
Personalize every customer experience, streamline communications, and reduce time spent on manual tasks with marketing automation software. You can use tools like ManyChat and Hubspot to drive new customers into your store and lower customer acquisition costs.  
Marketing automation can also help you recover lost sales. When a customer leaves an item behind in their shopping cart, you can follow up with them in Facebook Messenger and encourage them to buy.
Mobile marketing
Insider Intelligence predicts mobile commerce will account for 44% of eCommerce sales by 2024. You can use mobile marketing software like ManyChat SMS to connect with customers on SMS, Messenger, and mobile wallet to build relationships and promote sales.  
Order and inventory management
Shipping software helps you automate customer orders from purchase to fulfillment and allows you to track the entire process. You can use it as a part of a more extensive supply chain management system or a standalone product. Some providers like Shippo also help you easily manage returns to improve customer relationships and create more loyal customers. 
Customer relations
Customer relationship management (CRM) software helps you keep tabs on customers throughout the buyer journey. You can track every conversation, redemption, and purchase in one dashboard and share with your marketing, sales, and customer service teams to maintain excellent communications and sell more online.
Email marketing
Email remains a tried-and-true marketing channel for eCommerce brands, averaging a $44 return on every dollar spent. Popular email platforms like ManyChat and Mailchimp let you segment leads and customers and create automated campaigns that drive sales.
Analytics
It's tough to succeed as an eCommerce business without the ability to monitor your marketing and sales performance. Analytics software can uncover critical insights such as what your best-selling products are and what channels perform best, so you can make smarter decisions and boost sustainable growth. 
SEO
Reliable SEO software will help you find profitable keywords for your product pages, learn what competitors are up to, and optimize content for search engines. Tools like Ahrefs or SEMRush can help you drive organic traffic to your website, leading to higher sales. 
Get an in-depth understanding of each solution by reading Ecommerce Software: Choosing the Best eCommerce Solutions For Your Business.
Ecommerce examples
Ecommerce comes in many different shapes and sizes. It takes various forms depending on the type of transaction between buyer and seller.
Retail
Retail refers to the sale of a product from a merchant to a customer without a middleman. This is probably the most familiar type of eCommerce transaction, as many businesses fall under the retail category.
For example, hideAWAY Handmade, an Australian-based seller of bath and body products, is considered a retailer because they sell directly to customers.
Read more: How hideAWAY Handmade Used ManyChat to Generate Over $100K In One Month
Wholesale
Wholesalers sell products in bulk, often to retailers who then sell them to customers. You can typically find wholesale suppliers through wholesale directory websites like 4WholesaleUSA or Alibaba. 
Dropshipping
Dropshipping refers to selling a product that's both manufactured and shipped to the customer by a third party. Subtle Asian Treats is one of the top Shopify dropshipping stores and holds zero inventory. When a customer places an order, the order goes directly to the manufacturer who ships the product to the customer. Subtle Asian Treats is simply the storefront that offers people the ability to purchase items. 
Crowdfunding
Crowdfunding relies on raising capital through the efforts of friends, family, future customers, and investors to fund the launch of a product. During the COVID-19 pandemic, local businesses such as the Bipartisan Cafe in Portland, OR, used crowdfunding to raise money to stay open.
Subscription
The subscription retail revenue model relies on automatic recurring payments from customers for your product (unless they decide to cancel). Subscriptions can come in the form of monthly boxes, monthly app or membership fees, and in many cases, deliver value and a lower cost when compared to a one-time payment for the products.
The direct-to-consumer brand Bark Box is a good example of the subscription model. The brand offers a monthly box that provides dog products and services for pups, complete with toys, treats, and props. Customers can receive the box monthly, and customers can tailor each package to meet individual needs. 
Digital products
Digital products include templates, courses, or other media shoppers can purchase for a fee. For example, Peak Freelance, a membership community for freelance writers, sells handbooks and templates to the public. Once purchased, the buyer can use these products for their own personal use. 
Services
In a service eCommerce business, clients purchase a provider's time for an hourly or flat fee. This is common for agencies, independent contractors, or infopreneurs.
An example of a service-oriented eCommerce business is an agency like TBS Marketing. When a potential buyer lands on the consulting landing page, they can purchase a package on the company website. 
Final thoughts
Congratulations! You're ready to get into the world of eCommerce 💸.
Use the tips in this guide to choose a solid eCommerce platform that fits within your budget and supports your business needs. Then start building your eCommerce business and promoting your products!. You'll soon enjoy the benefits of selling online first-hand.
Starting your eCommerce business? Use ManyChat to help find new customers, connect with them, and sell more online. Sign up free.
The contents of this blog were independently prepared and are for informational purposes only. The opinions expressed are those of the author and do not necessarily reflect the views of ManyChat or any other party. Individual results may vary.