How to Build an eCommerce Website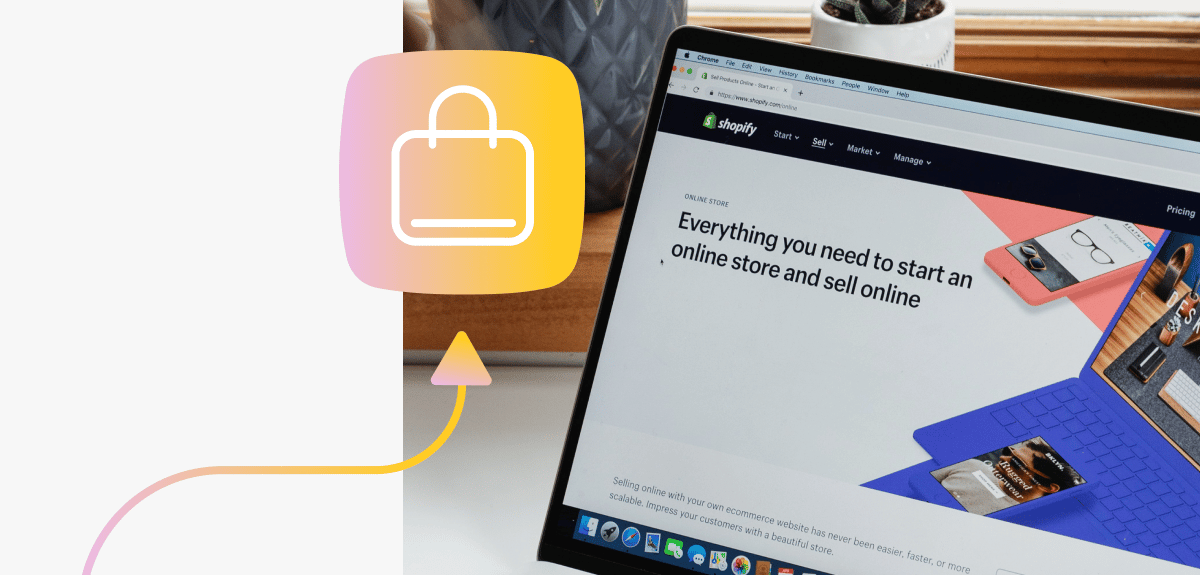 Building an eCommerce site is relatively easy. Building a successful one is hard, and it requires patience, hard work, and creativity.
Online shopping has been on the rise and is still growing. In fact, $4.206 trillion of $26.074 trillion value of the retail market in 2020 will be spent online, and eCommerce sales are expected to account for 15.5 percent of retail sales worldwide in 2020. So taking your store online makes sense.
Creating an eCommerce site requires various components, technologies, and choices. And, without the right web design structure, your online store will be hard to meet the demands and desires of your potential customer.
From site builder and product idea creation to the checkout process, customer service, and shopping cart abandonment strategies, learn how to make an eCommerce website, successfully.
Which website builder is best for eCommerce?
With template-ready sites, you can easily start building your online store within minutes. "You don't have to be a tech genius to start an online store. There are lots of builders to choose from, however, the most popular is Shopify and Wix," says Shari Smith, the founder of Shari-sells.
You can use the following website builders for your online store:
Wix
Shopify
Amazon
BigCommerce
WooCommerce
How much does it cost to build an eCommerce website?
Depending on your website needs will depend on the cost of your online store. The cost can be anywhere from $100 to $500, or go as high —or more— as $30,000. You'll want to figure out your budget and what you're willing to invest in. First purchase your domain name and hosting provider, then you can determine what you want to invest in. The great thing about many website builders is that they offer free web design templates so you don't need to spend money on a designer or developer. You can invest in the right tech stack and photography to make your online store look stunning and work efficiently.
Can you build your own eCommerce website?
Absolutely. Some of the best eCommerce platforms like Shopify makes it simple to build an eCommerce website.
How long does it take to build an eCommerce website?
The time to build an eCommerce website depends on a variety of reasons. If you want a clean, simple look with no bells and whistles, it may only take you a few short days. However, if you're building a custom eCommerce site with many features, pages, and loads of content, it may take up to a few months to really nail down the eCommerce functionality.
According to g2, "There are many factors that go into creating a timeline for your website. If using an agency, it can take as little as 18 weeks to launch. If you're using a site builder, you can create a basic website in as little as two hours."
How to Build an eCommerce Site
Figure out the problem
You can't create an online shop without items to sell. However, are the items you want to sell, relevant? Is that market oversaturated? And, is the product idea even good?
John Frigo, Digital Marketing Lead at MySupplementStore.Com, suggests, "Find your audience and figure out a problem they have that you can solve with a product or service."
"I can't tell you how many times I've seen e-commerce stores fail that are trying to sell the next fidget spinner without any differentiation. The number one factor in your success will be selling a great product that customers love," says Caroline Podgurski, co-owners of BirdRock Baby.
Next, take a step back and give some thought to your ideal marketplace, whether that be local, national or global. Once you have spent some time reflecting on the gaps in the marketplace and what pain points you can solve, Jessica Rose, Chief Executive Officer of Copper H2O, suggests to do a Google search. "Using Google Trends assesses the extent to which your product idea could address a need as reflected by what people are searching for on Google. If your concept is reflected in an upward trend— over the last 1 to 3 months—you may have caught onto something early," Jessica shares and continues, "Don't be discouraged if Google Trends does not support your concept, especially if your concept satisfies a new want or need."
Looking at Google Trends will also help you understand competitions and pricing.
Determine your online shop's name and domain
You can't create your eCommerce store without a name and domain. Spend some time brainstorming your eCommerce business name and then make sure that the URL name is available. You can use sites like Name or GoDaddy to help you look up if your domain name is free to purchase.
Find your platform
You've got the product and the name, now it's time to figure out what eCommerce platform you will sell on.
Using a popular eCommerce platform like Shopify, allows you to get started quickly, without dealing with custom design and breaking the bank. You can choose a theme or template to start and begin building out your online store.
One thing to keep in mind, security. "Customers are always concerned about security while paying online. Make sure to get an SSL Certificate to add a trust mark for the customers to pay online," shares Rameez Ghayas at PureVPN.
Design your site and research keywords
Spend the time writing product descriptions,researching product photography tips , and laying out what you want your site to look like. You want to make sure your eCommerce functionality is user-friendly and easy to eventually make a purchase. So, creating a home page that's easy to understand is the first step to your site.
Then do some keyword research to determine what people are looking for and use the keywords in your descriptions and imagery to make sure Google picks your online site up, this is SEO.
Create your content
There is more to your eCommerce website than just imagery and product descriptions. Instead of continually selling, offer value to your customers. Give them a reason to continue to come back to your website. Creating content delivers value to your customers offering tips, entertainment, and information.
"Most people are not experts on lawn care, and keeping your lawn green and weed-free is not the easiest feat. So for us having a place (our blog) where our customers can go to learn about things like seeding their lawn to nutrient deficiencies in grass really helps them understand lawn care in a new way, expresses Holly Maguire, Social Media Manager, Simple Lawn Solutions.
Connect a payment system and have a good checkout experience
After you select a name, create a site and connect an SSL security certificate, you need to connect a payment option like PayPal or Stripe—which easily integrate with most platforms like Shopify.
"Don't forget to add trusted payment icons to your site so consumers will feel safe when purchasing items or services," suggests Mike Falahee, Owner and CEO at Marygrove Awning Company.
In addition, make sure the checkout experience is easy and not time-consuming. The last thing you want is to frustrate your customer as they are about to make a purchase. Make input fields easy to navigate through, be clear and direct, and offer payment options.
Don't forget to collect the shopper's email or phone number so you can use the abandoned cart feature to recover lost sales if they happen to leave their cart.
Add call-to-actions for easy purchasing
Don't let a call-to-action (CTA) be an afterthought. Add CTA throughout your website so it's easy for the shopper to take action. A CTA can be anything of the following:
BUY
ADD TO CART
PURCHASE
ADD TO WISHLIST
CHECKOUT NOW
SHOP NOW
VIEW RELATED ITEMS
In addition to CTAs on your site, you may want to consider express checkout. "A quick Checkout Button will help customers avoid the hassle of conversion steps and take them directly to the conversion page," says Rameez Ghayas from PureVPN.
So essentially, the express checkout keeps the buyer moving so they don't have time to stop and rethink their purchase.
Determine shipping strategy
As you start to map out your shipping strategy, Ryan Roller, Founder of Bead the Change, suggests you ask yourself the following questions, "Are you going to be shipping the products yourself, if so via what carriers? Or, would you rather pay a fulfillment company to do it for you?" These questions will help you figure out how you will deliver products to customers and which is the best shipping option for you.
Have a strong customer service strategy
You've put so much thought into your name, product, and design, but don't let customer service slip your mind. A helpful customer experience strategy goes a long way, and will keep customers coming back. A happy customer equals a successful brand.
Holly Maguire, Social Media Manager, Simple Lawn Solutions, shares, "We get a lot of contact from customers through email and social media with specific questions about their lawns. Fertilizer is not common knowledge, so having our customer service strategy set up so that questions are answered in a timely fashion and consistently is important. Word of mouth is extremely prevalent in our customer community, so having a solid customer service strategy was definitely key!"
Using a Messenger bot on your social channels is a tool that allows you to interact with customers right away, answering common questions so you don't leave them hanging.
Master one marketing channel
Starting out, you can't do everything at once. You need to figure out what is the best channel for your audience and master that first before taking on too much. Wouldn't you rather be great at one thing than mediocre at all? 🤷
"A common reason e-commerce stores fail is trying to figure out paid advertising on Facebook, Pinterest, Amazon, Google, ManyChat, and so on —all at the same time. This just isn't realistic," says Caroline Podgurski, co-owners of BirdRock Baby, and adds, "Figuring out how to profitably use any of these channels individually is a difficult endeavor on its own. When we started using ManyChat, we dedicated an entire month to learning and implementing the steps in ManyChat's Ultimate Facebook Messenger Marketing Guide. Patience is important here, new marketing channels aren't going to deliver blockbuster results overnight. With time, we've built a respectable ManyChat audience and it has been a great way to interact with our customers."
Final Step
Once you are happy with the look, feel, layout, and overall shopping experience, go ahead and push live. Keep in mind that your online store can always be adjusted. So, if it's not perfect, don't worry. Continuously observe the customer journey, keywords that are driving traffic — and keywords that are missed opportunities — and add them to your site. Update product images and remain in communication with your customers.
Ready to create an online store?
The contents of this blog were independently prepared and are for informational purposes only. The opinions expressed are those of the author and do not necessarily reflect the views of ManyChat or any other party. Individual results may vary.