How to Use Instagram Search and Explore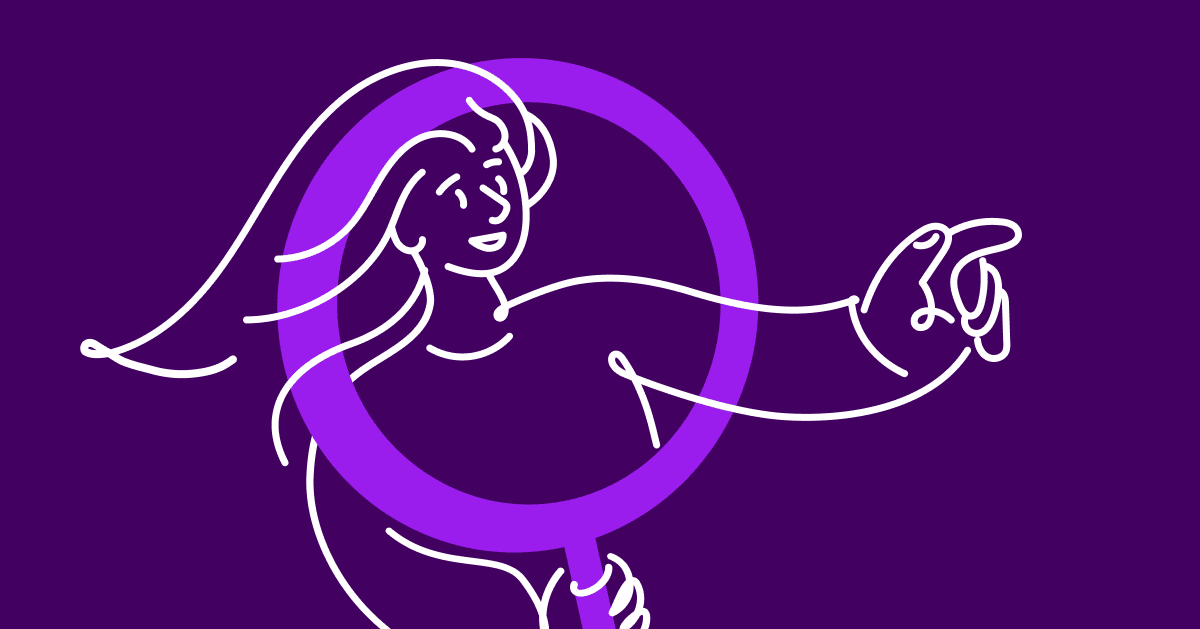 There are more than 2 billion Instagram users worldwide. An estimated 90% of those users follow at least one business on Instagram and one out two people surveyed by Instagram have used the app to discover new brands, products, or services.
These stats make it abundantly clear that your target audience is more than likely on Instagram and looking for you—so why can't they find you? This article will show you how to use Instagram Search & Explore to reach those audiences.
What is Instagram Search and Explore?
Search
The Instagram Search feature is Instagram's internal search engine. It allows you to search for top posts, accounts, audio, hashtags, and places by simply typing the relevant keywords into the search box.
Instagram's algorithm will rank your search results depending on what Instagram accounts you already follow, what Instagram posts you've liked, and who you're connected to on Instagram. It uses all that data to tailor your Instagram search results so the most relevant results are at the top.
For example, say you're a dog lover and you shop a lot for your dog on Instagram. When you type "pet" into the search bar, it brings up Instagram accounts involving pets.
Then in the tags, you can see that pet-related hashtags are the majority of the results that come up.
In locations, Instagram brings up Instagram accounts associated with pets that are closest to the your current location.
Explore
Instagram Explore is a discovery engine that curates the type of content that Instagram thinks you'll be interested in based on your past activity. Explore uses the same criteria as Search, but it also includes currently trending posts it thinks you'll like, as well as Reels, Instagram Stories, and posts that your connections have liked.
The point of Explore is to enable users who tend more towards passive browsing (as opposed to actively searching) to discover new posts, videos, and accounts that align with their interests.
Below is the Explore page for an Instagram account that was created for an embroidery enthusiast. On this account, all the user does is peruse embroidery and craft ideas. As you can see, the Instagram algorithm has chosen craft and embroidery posts that are similar to the posts this user has liked in the past or are from accounts that are similar to the ones they've interacted with previously.
How to appear in Instagram Search
Add hashtags
A hashtag is a way to mark your post so anyone using Instagram Search will find your post among their search results. For example, if you type "bbq" into the search box and toggle over to tags, you can find all the hashtags related to "bbq" and how many posts have used each hashtag.
Keep in mind that the best hashtags are not always the most popular ones. It's easy for your single post to get lost among the 32.8 million other #bbqs out there. The key is to use specific hashtags that will grab your target audience's attention.
This is where a little research will make all the difference in helping you maximize your social media presence. To find relevant hashtags:
Search for a hashtag and click on the ones that you're interested in using. An array of posts that have used that specific hashtag will appear. Click on those posts to see what sort of audience those posts are attracting and other hashtags those posts use.
Check out your competitors by finding Instagram businesses or user profiles that are in the same line of business as you and looking at the hashtags they're using.
Search on Google and and see what related searches come up for the keyword you're using. Below are the related search terms for bbq. You could turn any of these into hashtags for Instagram, like #bbqeater and #bestbbqinla.
Read more: Instagram Hashtag Strategy: How to Find and Use Hashtags That Will Grow Your Audience
Add a location tag
Location tags (or geotags) work similarly to hashtags. When you geotag a post, anyone who searches for that place can see all the posts that have been tagged with that location. For example, the screenshot below illustrates all the recent Instagram posts that geotagged Rome as their location.
Posts with location tags have a reported 29% higher engagement rate than posts that don't have them Geotagging is especially helpful for increasing the probability that Instagram app users on the Explore page will see your posts.
It's very easy to add a location to a post. Before you publish your post on Instagram, you'll see a box that gives you the option to add a location. Click on that box, then you can add the location you'd like to tag onto your post.
If you can't find the location you're looking for, you can create it yourself by following the prompts that Instagram walks you through.
You can also geotag your Instagram Stories by using stickers:
Click on the sticker icon at the top of the screen and the sticker page will pop up.
On the sticker page, select the Location sticker.
Select the location you'd like to geotag your Story with.
Place the location sticker in the desired location on your Story.
Read More: How to Use Instagram Geotags to Connect with Local Followers
Time your posts
Believe it or not, there are optimal times to post on Instagram. According to Sprout Social, in general, the best times to post are on Tuesday from 11am-2pm, and Monday-Friday at 11am. But that doesn't mean that's when your target audience will be active. And remember: if you want your target audience to find you in Search, you'll want to be active when they are.
The best way for you to figure out when your specific target audience is engaging with the platform is to set up an Instagram business account. This will give you access to Instagram's analytics, which can tell you things like:
Which of your posts generated the most interest
Your followers' age demographics
Where are your followers located
What time(s) your followers are most active
This data will give you a better idea of how you should time your posts. Because if your target audience is in Manila and you live in NYC, you'll have to adjust the timing of your posts to publish while your Manila audience is awake.
Thankfully, there are apps that allow you to schedule your posts ahead of time so you don't have to be chained to your phone or computer. Some great examples are Buffer, Hootsuite, and Sproutsocial.
Along with timing, consistency is key. According to the Data Never Sleeps 5.0 report, Instagram users post over 46K photos every minute. So if you don't want to get lost in the shuffle, you need to create content on a consistent basis.
Read More: The Best Way to Schedule Posts on Instagram: Stories, Feed Posts, and IGTV
Create relevant, engaging content
Even if you're able to nail your hashtag game, publish a number of posts every day, and perfectly time your posts, it won't make a difference if you're not creating engaging content.
The first step is to find your niche and your target audience. Once you know what you want to talk about and who you're talking to, it'll be a matter of appealing to that audience.
For example, take this post from ManyChat. We posted a dynamic video that appeals to Instagram businesses and entrepreneurs. In this post, Manychat uses several savvy marketing strategies like:
Solving a problem for our niche—Instagram business owners and entrepreneurs
Asking viewers to engage with the post for further information
Using relevant Instagram hashtags so our post gets in front of our target audience
If you're still unsure about what engaging content looks like, look at your competitors. See what sort of assets and posts they're creating and what sort of reaction the content elicits. Then experiment with your own content and see what works for you.
Read More:
Go Live
Instagram Live is a feature that allows users to broadcast live videos to other Instagram users. It also enables you to interact with your audience in real time.
To go Live:
Press the + icon at the top of the app screen
Select LIVE from the dropdown menu that appears
At the bottom of the next screen you'll see that the word LIVE is highlighted. Press the record button to the far right and your broadcast will start.
Below is what the screen will look like once you go Live. Some notable data points you'll have access to include how many people are watching your broadcast (in this case 14), when viewers join your broadcast, and real-time viewer comments.
In terms of social media marketing, going Live is one of the more direct ways you can engage with your demographic and get immediate feedback. It's a great feature that can be used for things like:
Q&A's
Collaborative/creative sessions
Live games (with Instagram Live Rooms you can invite up to three guests)
Big announcements
Product reveals
In order to showcase your creative genius and glowing personality, you need to let people know when to tune in. There are two ways to do so:
Advertise when you'll be going Live in advance. This gives users a heads-up so they know when to tune in. Similar to a scheduled TV broadcast—like the Superbowl—people won't know when to tune in unless you tell them ahead of time.
Be consistent with your broadcast schedule. Another track you can take is going Live at the same time and/or day weekly, monthly, etc., so that Instagram users will know exactly when to tune in.
Related: 9 Cool Things you can do with Automation for Instagram Live
Pro Tip: You can earn money by going Live. Viewers can buy badges and send them to you to support you. This is a great way to get your viewers more engaged with the broadcast, and creators currently receive 100% of the revenue from badge purchases.
Optimize your bio
Your Instagram profile is your identity on Instagram, so optimizing your bio is going to be important if you want to be visible in the Instagram Search and Explore features. So how does one optimize a profile?
First step is choosing an appropriateInstagram handle that's memorable and descriptive. For example, if you're a landscaping company like Garcia's Landscaping, garciaslandntreecare is a great handle. It's descriptive, uncomplicated, and easy to remember.
The second must-have is an eye-catching profile photo. Make sure that it's relevant to the audience you're targeting and the niche you're trying to break into. For example, thelitas chose their logo for their bio photo.
Then choose the right words to describe your Instagram personality. This should communicate your purpose and pique your target audience's interest. For example, @thelitas makes it very clear that they are about empowering women to ride motorcycles. They even includes a call to action in the form of a link to The Litas website and encourage people to come out and ride with them.
Finally, make sure to set your profile to public and include relevant hashtags in your profile description. That way, your profile will show up when people do searches for those hashtags.
How to use Instagram Search to find influencers
Approximately 61% of consumers trust influencers' recommendations, so teaming up with an influencer is an effective way to make yourself more visible on Instagram.
Account search
The most straightforward way to find an influencer is to do an account search. Toggle over to the account tab in the Search function and type in the relevant keywords.
For example, let's say you're looking for fitness influencers. After you type "fitness" into the search box, you can see that @_johnny_fitness, @hannaheden_fitness, and @fitness_picasso pop up along with fitness apparel brands.
From there, you can find more fitness influencers by taking a look at who these brands and influencers follow. For example, if you go to @popsugarfitness' profile page and tap on their followers, you'll get a long list of athletes and influencers like Louise Green, Jessie Graff, and Lindsey Jacobellis.
Followers search
Another great place to find influencers is within your own DMs and followers. Influencers are masters at finding content that relates to their target audience, so if you're posting quality content that's relevant to their niche, chances are you've gotten a like or follow from a few of them.
Now, if you have a massive following like @popsugarfitness, going through each of your followers might be a bit difficult and time-consuming. A better way to mine your followers for influencers might be to run a keyword search and review the followers who have those keywords in their profiles.
For example, maybe Popsugar is looking for an up-and-coming influencer they can use on an ad featuring boxing. They could go to their followers and search for "boxing," which will result in a much more manageable list to look through.
Another added benefit of going through your own followers to find influencers is that they've already made contact with you. That means they probably like your work and are more likely to work with you, if given the chance.
Hashtag and location tag search
If you have no idea who the influencers are in your niche, searching by hashtag or location may work better for you.
For example, let's say you're a native Californian looking for a dog that could promote your new dog food. If you type "dog food" into the search bar and toggle over to tags, you'll see several hashtags to choose from. Click on the hashtags that appeal to you to find influencers through their posts, like @theladylondon.
But let's say that 1.6 million posts are just too many to go through, so you decide you want to stay closer to home (i.e., California). If you toggle over to places, you'll find a bunch of shops and companies that specialize in selling treats and food for dogs and are based in California.
When you choose one, like PURE Dog Food, you'll see a bunch of posts featuring dogs in California eating PURE dog food. Using this method, you're sure to find a great furry influencer in this list!
Explore section
The great thing about Instagram's Explore feature is that it seeks to send influencers to you. It curates the most popular posts that are highly relevant to your interests—in essence, sending you new influencers in your field of interest on a daily basis.
However, the best way to ensure your Explore page doesn't get muddled is to keep separate Instagram accounts that each have a singular purpose. For example, if you're trying to start a health and wellness business, make a health and wellness Instagram profile and only do all of your health and wellness browsing on that account. That way, the Instagram algorithm will be able to curate a better Explore page for you.
Read More: How to Get on the Instagram Explore Page
Conclusion
Instagram's algorithm can be baffling if you don't know how it operates; that confusion can make it seem like you're just shouting into a void. But thankfully, Instagram offers great resources like Instagram Search and Explore that will help you find your target audience, find collaborators, and attract new audiences.
Grow your Instagram following and make sales with Instagram Automation by ManyChat. Start free today.
The contents of this blog were independently prepared and are for informational purposes only. The opinions expressed are those of the author and do not necessarily reflect the views of ManyChat or any other party. Individual results may vary.