9 Cool Things you can do with Automation for Instagram Live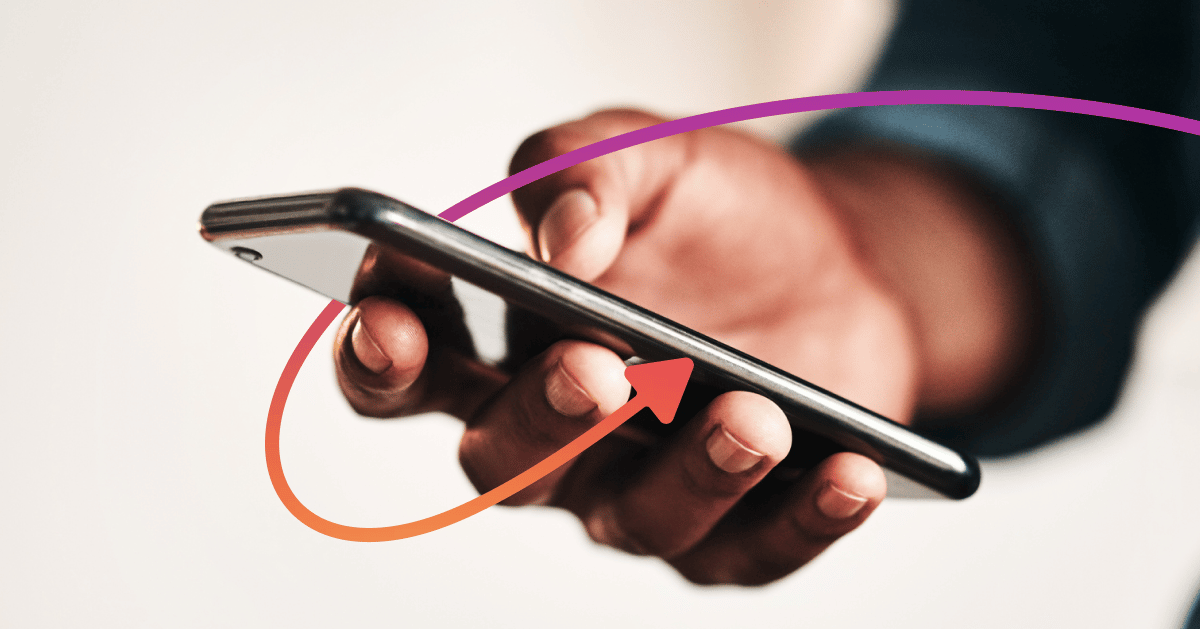 Instagram Live helps brands connect with their audience on a personal, unfiltered level in real time. Broadcasting live and engaging with users is also a great way to grow your audience.
Despite its advantages, Instagram Live poses some challenges for many brands, most notably tracking and managing comments from the live stream in a practical, scalable way.
Our Instagram Live Comments trigger is the perfect way to overcome this challenge. Instagram Automation allows you to instantly (and automatically) connect with users. Let's take a look at some of the cool things you can do to boost your Instagram Live's effectiveness when you combine the Instagram Live Comments trigger with other automation features.
Start a conversation with Conversation Starters
Conversation Starters are one of ManyChat's most popular Automation tools. These pre-filled customizable buttons appear to Instagram users the first time they chat with your business.
Users don't even have to send a message; they just need to open the DM window for your Instagram account, and the buttons appear. Then they can simply tap one of the buttons to receive your predefined response.
Use Conversations Starters while you're hosting an Instagram Live: Anyone looking to send you a DM while you're broadcasting will be able to see and interact with them.
Make your Instagram Live even better with the Instagram Live Comments trigger which allows brands to send an automated direct message reply to viewers who comment during an Instagram Live. When you use this feature, any DMs you receive while broadcasting live—including those sent through Conversation Starters—will set off an automated message that sends the person who sent the DM into a flow you've created.
Use Keywords to trigger conversations in the DMs
At ManyChat, a Keyword is a specific word or phrase that triggers an Automation when people message it to your brand via Instagram. These preset Keywords and phrases will start conversations with your business that correspond to a specific Instagram marketing campaign.
Use Keywords during your Instagram Live to get users into an Automation flow you've created. For example, tell Live viewers to send a message with the word "EBOOK" to download a free ebook. If you're using the Instagram Live Comments trigger, you can also encourage viewers to comment directly in the broadcast using a Keyword, which will automatically send them a DM.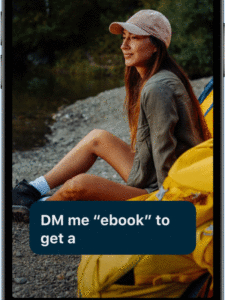 Immediately engage with your audience
Hopefully, you'll get plenty of people commenting during your Instagram Live. However, without ManyChat, you'll need to respond vocally by reading the comments during the broadcast or manually sending viewers an Instagram DM after the Live has ended. Not exactly scalable.
However, by using the Instagram Live Comments trigger you can instantly start a DM conversation with all viewers actively engaging with you during your Live in real time and send them into an automation flow you've created. These automated DM funnels will help convert Instagram followers into customers.
Send viewers into a contest or giveaway flow
Hosting an Instagram giveaway or a contest is a smart way to generate targeted leads, gain new followers, and create positive sentiment for your brand. After all, who doesn't love freebies or giveaway prizes?
During your Live, use the Instagram Live Comments trigger to send viewers who comment into a flow that enters them into a contest or a giveaway. This is a great way to boost engagement and simultaneously capture Instagram user information in the DMs during the Live. (Not to mention it requires zero extra effort on your part!)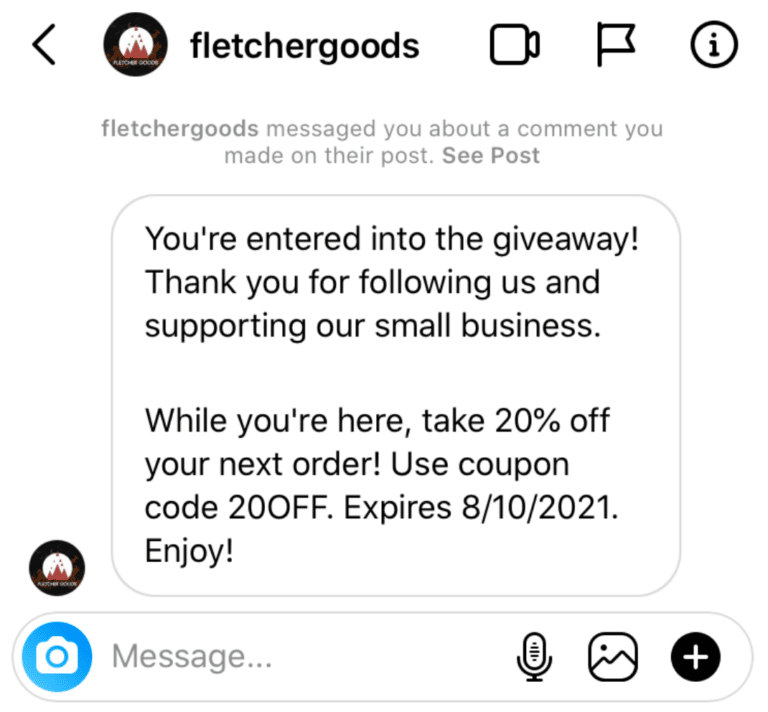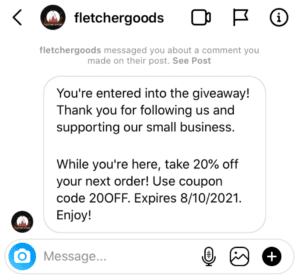 Give viewers a discount code for commenting
Did you know that ManyChat integrates with Shopify? If you host your eCommerce store on Shopify, you can send personalized coupons for products and limited-time deals through an automated flow.
You can also automatically answer product questions, create product quizzes, and send Instagram followers to the point of purchase. (If you're using the Instagram Live Comments trigger, tell viewers that all they have to do is comment during the broadcast to be entered into a contest.)
Send users through a registration or booking flow
Service providers can use the Live Comments trigger to enable customers to book appointments directly from their Instagram Live via DMs, thanks to ManyChat's integration with Calendly. If you're unfamiliar with Calendy, it's a scheduling tool that streamlines booking appointments with clients. ManyChat's integration allows prospects to book a demo right inside the bot conversation.
Generate sales with the Buy Button
ManyChat's Buy Button directly connects to your Instagram DMs for a user-friendly checkout experience. After connecting the payment system, you can add the Buy Button with Image Gallery, Card, and Video.
You can include the Buy Button into your Automation flows if you mention a product during your Instagram Live. When you're using the Instagram Live Comments trigger, anyone who comments during the broadcast can easily purchase with a single click right in the DMs.
Keep track of questions and the conversation
The Live Comments trigger even allows you to keep track of who's engaging during your Instagram broadcast. With ManyChat's help, you can enter any commenter directly into your DMs, and the ManyChat dashboard will store the information you collect for use in future Automations.
For example, you can send follow-up messaging after your broadcast to facilitate future sales. Even better: Since the contacts will live in the CRM, you can tag and segment your list for even more personable digital marketing efforts.
Build your contact list in exchange for something free
As we mentioned above, you can collect contact information via the DMs during your Instagram Live. Instead of sending users to book an appointment, you could also encourage them to comment on the Live by offering a free guide, ebook, or another download.
The Instagram Live Comments trigger adds another way to encourage Instagram users to engage with your brand in real time. This feature also resolves a significant pain point of Instagram live, which is not being able to track and manage comments from the live stream in a practical, scalable way. Now you can!
Ready to get started with Instagram DM Automation by ManyChat?
The contents of this blog were independently prepared and are for informational purposes only. The opinions expressed are those of the author and do not necessarily reflect the views of ManyChat or any other party. Individual results may vary.