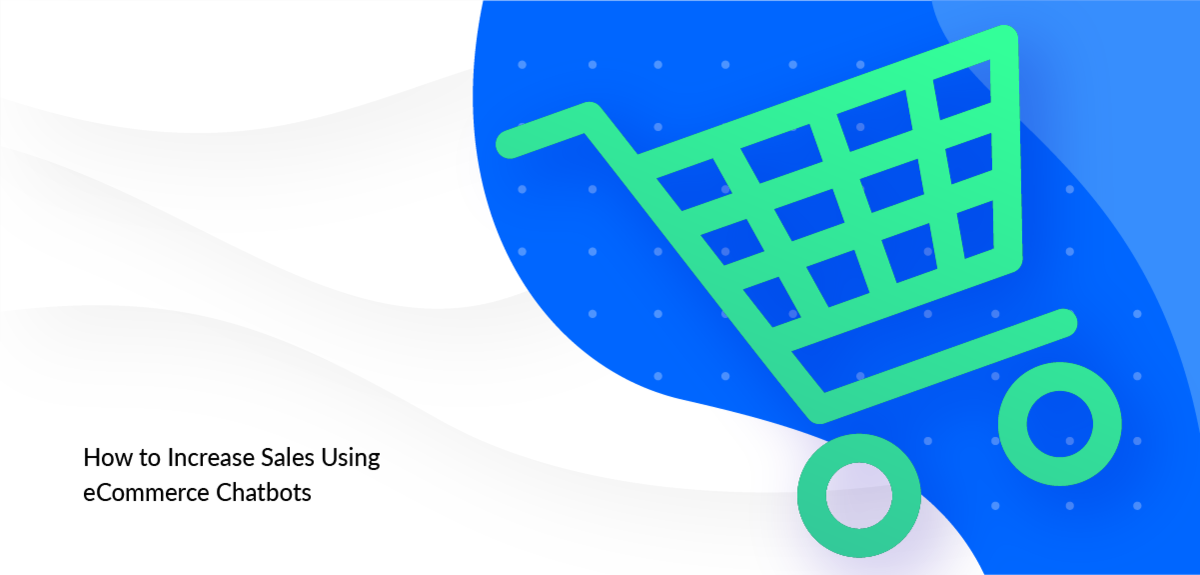 Increasing eCommerce sales is not easy.

Considering online retail sales are expected to reach $4.9T worldwide in 2021, competition is more fierce than ever.

And like many eCommerce businesses, you want to separate yourself from the pack. So you add a chatbot onto your Facebook Page to be more efficient and productive.

Problem is, your to-do list keeps growing …
Send that abandoned cart message
Jump into chat to answer a product question
Broadcast that coupon.
Optimize your product pages
But your sales … not so much.

What if there was an easier way to drive more eCommerce sales with your chatbot?

Spoiler alert: There is.

Increase your sales by turning your chatbot from an ordinary Facebook Page greeter to a polished digital salesperson. Gone are the days of trying to sell products on your own.

It's a tactic that helped Nike's chatbot improve CTR by 12.5X and sales conversions by 4X. One of the top performing campaigns in the brands' history.

So if you want to break away from the pack and increase online sales fast, here's everything you need to know about selling with your chatbot.
Note: Some of ManyChat's interface and information has changed. We're working hard at updating this content. Please stay tuned!
First, why should you use a chatbot for your eCommerce store today anyway?
Facebook Messenger is one of the most popular messaging apps in the world. With over 1.3 billion active users, Messenger has become a hotbed for eCommerce store owners to connect with shoppers.

Messenger also makes it easier to improve sales by letting you:
Chat with customers and aid buying decisions
Put an end to abandoned carts
Send personalized broadcast messages
Drive more repeat orders
Win back customers
eCommerce chatbots also give you insight into how to make your store more successful. When you use the tactics discussed in this article, you'll be able to achieve lower customer acquisition costs, higher repurchase rates, and healthy margins for your store.
How to Increase eCommerce Sales with Your Shopping Chatbot
1. Encourage action with coupons
Did you know that the number of people who use digital coupons is expected to hit 145.3 million users by 2021?

Using digital coupons is a great way to incentivize customers to return to your store — and remember your brand when they need something.

If you're not convinced to start couponing yet, here are some more stats to get you motivated:
97% of consumers look for deals when they shop
32% of shoppers prefer to get coupons on their smartphone
… which is why you should be including them in your chatbot sales strategy.

One excellent way to offer coupons is with the BotBlocks Loyalty Card integration. Or offering coupon codes in a sequence to win back customers, gain loyalty, generate buzz around your brand, and attract new customers.
2. Welcome New Customers
75% of consumers prefer brands to personalize messaging, offers, and experiences.

Why not meet them halfway and thank new customers after they make a purchase? And make them feel valued and welcomed.

You've done the hard part and sold your product the first time. The only thing left to do is turn them into a repeat customer.

In a time where relevance and personalization drive the consumer experience — even when it comes from a Facebook chatbot — it seems obvious that saying "thank you" or sending a special message to your customers is a no-brainer.
3. Start Conversations from Comments
Over 5 billion comments are left on Facebook Pages monthly.

And those who comment on a business page expect a response in under 24 hours.

With all the active and engaged users on Facebook, this also means there's a lot of competition for their attention. So why wait the 24 hours when you can talk with customers right away?

Start by identifying the context of the comment. You want to write different sequences based on whether they comment on a paid or organic post.

Once you've got a user talking with your bot, give them something that qualifies them as a lead.

You can offer a coupon, a quiz to discover their style, or recommend products based on what they commented on.

Then, you can continue to build a relationship with them over time. Allowing you to show more personalized products, blog posts, and more depending on what you learn about them.
4. Get to know customers with a quiz
Quizzes went from fad to fab real quick, becoming one of the most loved and shared interactive pieces of content around.

You might already know that, and if not — there are hundreds of blog posts out there on the same topic. So we'll list a few top benefits right here.
Quizzes are the most engaging type of content. Why? Because people like to talk about themselves
Customers automatically become subscribers when they take the quiz.
Delivers personalized content and messaging.
What's great about quizzes is that they can be quirky and unique. For example, you can ask customers what they put in their coffee. Or what type of yoga pose they are.
Then, you can target specific content based on their answers.

This video below, or this guide to build your first chatbot quiz should help you create an interactive, engaging, and fun experience for customers.
5. Upsell and Cross-Sell
Upsells and cross-sells are responsible for between 10-30% of eCommerce revenues — and for a good reason.

They're based on your customers' likes. Plus, they don't need to go in search of a product they may need.

… And that's the core of customer retention.

Why? Convince and Convert, a global customer acquisition and retention firm adds
Cross-selling accessories and the like can only take you so far, but by showing clients similar but more expensive options, it's easier to persuade them to upgrade to a service they're already satisfied with to something even better.
Product recommendations can be highly personalized in Facebook chatbots by combining everything you've learned about your customer. From quizzes, conversations, and other interactions, with actions like purchase history and engagement.
6. Prevent Shopping Cart Abandonment
So this may come as a bit of a shock. But did you know that 75.4% of shoppers abandon their carts globally?

For eCommerce stores, every abandoned cart is a missed opportunity to make a sale.

For example, say you have 50,000 monthly visitors to your site, and your average transaction is $40. Your conversion rate is 1%, or 500 customers.

If you increase your conversion rate by .25%, you could earn an extra $5,000 per month — or $60,000 per year.

Now imagine it automated by your chatbot.

One small study found that abandoned cart reminders sent by Messenger recover 13%-20% and generate 4x-10x more revenue than email. These are numbers you should take advantage of.

Overall, Messenger cart abandonment messages:
Get higher open rates than email.
Get more people to click without leaving Messenger.
Give customers a personal way of communicating with your brand. Plus, maybe you can find out why they abandoned the cart, and fix it.
Always get delivered — no spam or promotion folders. Chatbot messages go straight to Messenger and are typically always seen by customers.
7. Assist Customers with Product Guides
Why not turn your shopping chatbot into a tour guide of your latest products?

Customers don't always know where to go to find the information they need. Giving you a chance to strike up a conversation with them when they need help. It's an easy way to drive sales you might miss out on.

That's because 83% of digital shoppers need help completing an order. Most expect help in minutes. And if they can't get help, where do you think they'll go?

Yup, to your competitors. Diminishing any brand loyalty and customer lifetime value you've built up until this point.

By offering a help guide (whether you're explaining product benefits, or answering concerns), you can give customers the insight they need right away. That's bound to result in a sale — and drive customer loyalty for being proactive in your help.
8. Sell Through Your Chatbot
1-800-Flowers was the first branded chatbot available on Messenger — and arguably one of the best eCommerce chatbot examples around.

The 1-800-Flowers bot lets customers order flowers right in Messenger, or speak to a support agent if needed.

Chris McCann, president of 1-800-Flowers, said in a conversation with Digiday, that more than 70% of the company's bot orders are from new customers.

Thanks to their chatbot, the company has seen a total revenue increase by 6.3%.

The popular AI-powered Messenger bot asks you what you need, offers different options, takes delivery orders, and more. If it can't help you, it'll connect you to live support.

By selling through your chatbot, you can guide users to purchase fitting products, improve customer acquisition, and create a positive experience that customers look for from today's eCommerce stores.
9. Split Test Your Messaging
It's easy to think you can just set your bot up and it'll sell itself.

That's true if you're the average eCommerce owner who just wants to squeak by. But for those who want to drive more sales, increase their subscriber list, and boost conversions — you want to correctly run split tests to improve your sequences.

Chatbot platforms like ManyChat make it easy to test. If you're increasing ad spend to drive sales, split tests can help you identify your best performing sequences.

You can easily see which works best, and tighten up your best performers. Even better, it takes less time to update a script and see results. Versus say, updating your entire eCommerce site to run a simple A/B test.

For eCommerce companies, you could test the following things in your chatbot:
Call to Actions: For example, what drives more site traffic and revenue: shop now or shop sale?
Pricing: Or the difference between 50% off or half off in your bot copy. Ask yourself, what will get your customers to click?
Sequence orders: Even small changes can make a difference in your conversions — such as sequence order.
Images: Is that funny GIF raking in the cash? Or was a simple "Thank You" doing you justice (we bet it's the GIF!).
Of course, these are just a few ideas to get you started. Split testing will help you find out what works best for your audience.
Summary
Do you use any of these sales hacks to sell on Facebook Messenger?
As you can see, the benefits of using an eCommerce chatbot are clear.

Chatbots are more than a digital salesperson; they are your support team and product sherpa for customers — which makes them an excellent asset to any business.

… And ManyChat can help you get one of them. So you too can improve sales, increase conversions, and generate ROI in your eCommerce store.

If you're concerned about Facebook chatbot pricing, no sweat. Sign up for your free ManyChat account and build your bot today.